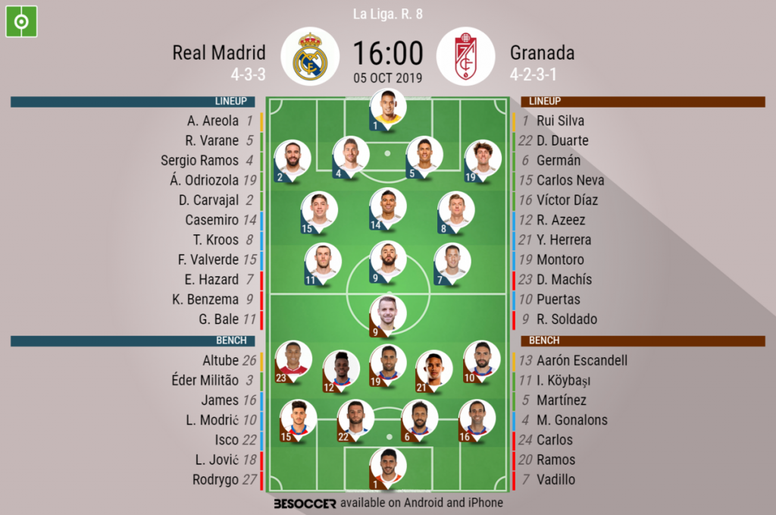 Real Madrid v Granada - as it happened
Real Madrid

Granada CF

Post.
Thanks for joining me today. Join us tomorrow for more La Liga action.
90'
FT: Real Madrid 4-2 Granada. Granada caused a late scare in a thrilling game at the Bernabeu. The visitors again looked very good but questions will be asked of the Real Madrid defence who conceded 2 for the 2nd game in a row.
90'
Real Madrid counter-attack. Great running from Valverde who crosses in for James, who taps in the net.
90'
GOOOOOOOOOOOOOALLL JAMEEEESSSSS
87'
Isco's shot is saved by Silva.
86'
The ball is crossed in and just when you think Benzema will burst the net, Silva makes a great save.
82'
Bale is coming off for James here.
81'
Another Granada booking. Puertas is booked for a bad challenge on Carvajal.
78'
The corner comes in, Diaz flicks it and Duarte fires home. 3-2 Madrid. Game on.
77'
GOOOOOOOOOOOOOOALLL GRANAAAAAAAAAAADDDDDDDAAAAAAAAA
76'
Granada have a header cleared off the line!!!
74'
Modric's free-kick is met by Ramos, but Silva tips it over.
73'
Duarte gets booked for a clear foul on Bale as he was breaking.
72'
Herrera goes into the book for a foul on Valverde.
70'
Hazard comes off for Isco.
69'
Machis slots it in the bottom left corner. 3-1.
69'
GOOOOOOOOOOOOOOAL GRANADAAAAAAAAAAAAA
68'
Areola is caught with the ball and trips Carlos up as he goes to kick it.
67'
Referee is looking at a possible handball. Another stoppage due to VAR.
64'
Granada sub: Soldado off for Carlos.
61'
Another mistake from Granada. Odriozola wins it and passes to Hazard down the line. He passes it to Modic in the centre, and he scores a 30-yard beauty into the top left corner. Game is done now.
61'
GOOOOOOOOOOOOOOOOOOOOOOOOOOOOOOOOOOOOOOOOOOOOOOOOAL Modric
56'
Soldado is booked for a challenge on Casemiro.
53'
Carvajal is booked for his protests against a free-kick.
51'
Granada sub: Azeez goes off for Vadillo.
48'
First shot of the 2nd half. Herrera takes a shot from the edge of the bix that Areola saves comfortably.
45'
HT: Real Madrid 2-0 Granada. The hosts have been the better side here, but Granada were still very much in the match until seconds before half time. Martinez will not be happy about the manner of the two goals conceded, they have been very prone to errors. A quick goal in the 2nd half for the visitors could throw this game wide open again.
45'
That is Hazard's first goal for Real Madrid.
45'
Mistake from Granada. The ball comes to Hazard who runs and chips it beautifully over Silva. 2-0
45'
GOOOOOOOOOOOOAAAAAAAAAAAALLLLLLL HAZAAAAAAAAAAAAARD
45'
2 minutes added time here.
43'
Casemiro gets booked for a foul on Herrera. High foot.
42'
The referee is consulting VAR here about a potential Real penalty. Bale was potentially fouled. Looks like it isn't a penalty.
40'
Another Real Madrid chance. Benzema crosses which goes across the face of goal and Silva has to react well.
34'
Kroos looks to have picked up a slight niggle. He is coming off for Modric.
26'
More great play from Madrid after Granada lose the ball. Carvajal ends up with the ball at the penalty spot and he just needs to slot it past Silva, but Silva saves well. Not the man they wanted hitting that shot.
24'
Ramos hits the wall and it goes out for a corner.
23'
Looks like Ramos will take it.
23'
Hazard is fouled just on the edge of the box. What a chance this is now.
18'
This time Machis crosses and Puertas heads wide. You just don't get these kinds of chances at the Bernabeú.
16'
Another great chance. Benzema crosses and finds Valverde, but his header is saved.
14'
Ball comes in the box and Benzema tries the ambitious volley which goes wide. All Madrid at the moment.
11'
Carvajal run up the right into the box and forces the save from Silva.
6'
Gonalons comes on for Montoro.
5'
Montoro is struggling here. Looks like a hamstring injury. He is coming off.
2'
Incredible cross from Bale with the outside of his foot takes out the whole defence, and Benzema taps it past Silva. Great start.
2'
GOOOOOOOOOOOALLLLLL MADRIDDDDDDDDDD
Prev.
The teams are in the tunnel. Who do you think will win?
Prev.
Last match between these sides was a 4-0 win for Real Madrid in 2017. The last game at the Bernabeú was 5-0 to the hosts. Someone called Cristiano Ronaldo scored that day. Anyone know who he is?
Prev.
Watch your hosts warm-up.
Prev.
6 players keep their place from the Real Madrid side that drew 2-2 against Brugge: Ramos, Varane, Hazard, Casemiro, Kroos and Benzema.
Prev.
The visitors field the exact same side that beat Leganés 1-0.
Prev.
Granada XI: Rui Silva; Víctor Diaz, Domingos Duarte, German, Neva; Azeez, Yangel Herrera, Montoro, Antonio Puertas; Machís y Soldado.
Prev.
Real Madrid XI: Areola; Odriozola, Ramos, Varane, Carvajal; Casemiro, Kroos, Valverde; Hazard, Bale y Benzema.
Prev.
Hello and welcome to the Bernabeú for this La Liga match between Real Madrid and Granada. It's 1st v 2nd here and the hosts haven't been playing so well. Can the visitors spring an upset? Team news to come soon.