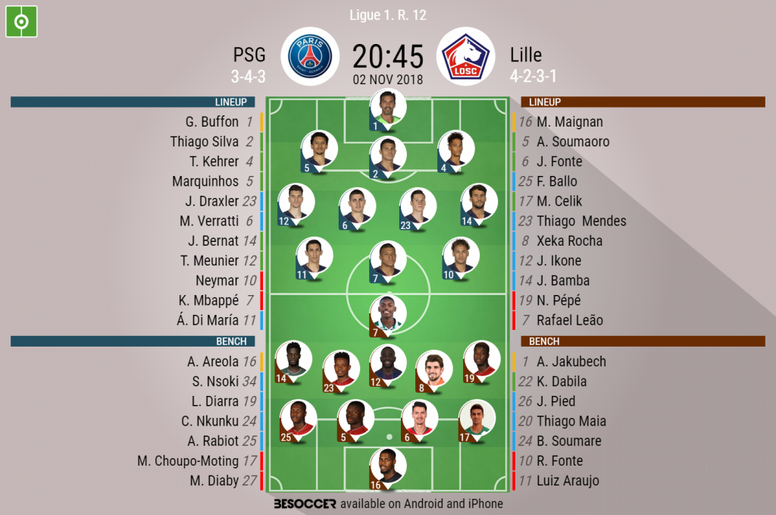 PSG V Lille - As it happened.
Paris Saint Germain FC

Lillestrøm

95'
That's the end of the game! Despite the late drama of that penalty, with the amount of chances they had PSG definitely deserved to win that. Even though they conceded a lot of chances, Lille should be hapopy with their performance as they held out for 70 minutes and managed to frustrate such a talented team.
92'
GOAL!!!! Pepe scores after Kehrer handles the ball in the box.
90'
Triple change for PSG as Marquinhos, Bernat and Verratti come off for Nsoki, Diaby and Rabiot come on.
86'
Mbappe with another chance on goal, but he drags his shot wide.
84'
GOAL!!!!! Neymar gets on the scoresheet as he weaves throug the defence before shooting, The effort is defelcted and flies in to the Lille net.
83'
Incredible save from close range from Maignan, denying Mbappe a second.
80'
Great run from Neymar on the left and he tries to sneak the ball inside the near post, but oit's out for a corner.
76'
Ikone is off and Araujo comes on for Lille.
69'
GOAL!!!! Incredible finish from Bappe as he makes the most aof a lucky ball, as he bends it incredibly in to the top corner.
67'
Neymar brought down after a Celik challenge.
58'
Wonderful turn form Neymar, but his shot is blocked and goes out for a corner.
56'
Celik gets a booking for a foul on Neymar.
53'
Rui Fonte replaces rafael Leao.
51'
Meunier through on goal, but he tries to square it and it's too far ahead of Mbappe.
51'
Mbappe has a shot on goal, but again Soumaroro is there to deny him.
50'
Wonderful skill from Mbappe to send Bernat through, but his cross is well blocked by Soumaoro.
46'
We're back under way at the Parc des Princes.
45'
That's the end of the first 45! PSG have had a lot of opportunities and will fell that they needed take at least one of them. Lille have done well in possession and have been bold on the counter, but will need a special performance to stop the Parisians in the second half.
44'
Buffon living dangerously, as his sttempted pass hits the back of a Lille player and luckily goes in to his hands.
39'
Neymar tries to catch the keeper out from a free-kick, but Maignan just about gets it away.
37'
Bernat is fouled on the left edge of the box. A good position for Neymar to swing it in.
32'
Mbappe goes down in search of a penalty, but the referee is having none of it.
30'
Mbappe with an incredible run through the Lille midfield and feeds Meunier, but the Belgian messes up his shot.
28'
Good run from Neymar in to the Lille box, but he's muscled off the ball by Soumaouro.
19'
Bernat in the book after Pepe draws a foul.
17'
Neymar slids in rashly, and even though he does win the ball a free kick is given.
12'
Bamba tries one on the half-volley, but his shot is wild and over the post.
9'
Great interplay between Mbappe and neymar, but his shot is just wide of the right-hand post.
2'
Balo-Toure gets in the book for pulling back Di Maria.
Prev.
GOAL!!!! The ball breaks to him fortuitously after a deflection from Fonte, but the teenager despatches it in to the corner with incredible accuracy. PSG finally ahead!
Prev.
Marquinhos has an excellent chance to head PSG ahead from a Neymar corner, but he heads it wide. Should have scored.
Prev.
Lille will line up as follows: Maignan; Çelik, J.Fonte, Soumaoro, Ballo Touré; Mendes, Xeka; Pépé, Ikoné, Bamba; Leao.
Prev.
Here's how PSG will look this evening: Buffon; Marquinhos, T.Silva, Kehrer; Meunier, Verratti, Draxler, Bernat; Di Maria, Mbappé, Neymar.
Prev.
Having won eight of their opening games of the season, the away side have alos had an excellent stat to their campaign so far, and sit second behind the Parisians.
Prev.
PSG have had the perfect start to their season so far, winning all of their 11 games so far including a tough match in 'Le Clasique' last time out. Regardless, they will be confident of another win here.
Prev.
Hello and welcome to this top of the table clash between PSG and Lille.