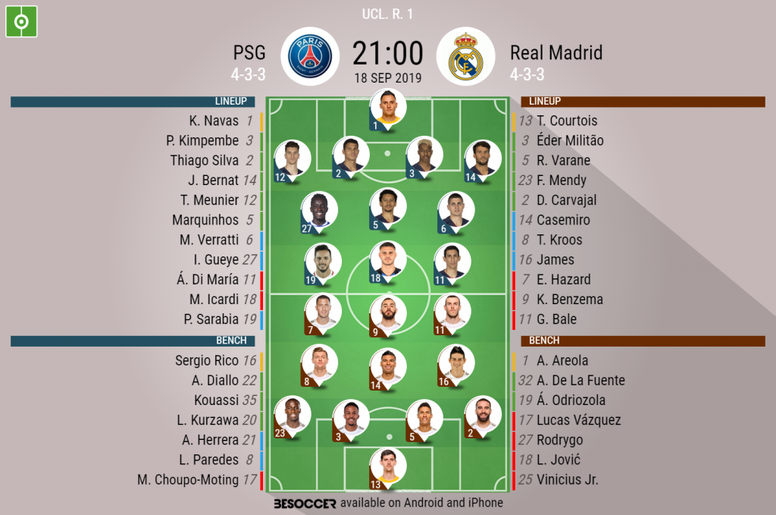 PSG V Real Madrid - As it happened.
PSG

Real Madrid

90'
FT: PSG 3-0 Real Madrid. Wonderful display from Tuchel's men despite his long list of injuries and lack of star power usually provided by Cavani, Mbappe or Neymar. Di Maria will no doubt receive some praise, but the real heroes of tonight's UCL clash were undoubtedly PSG's midfield with Verratti, Gueye and the now possibly injured Marquinhos. Zidane will have a lot of questions to answer here...
90'
Brilliant team play by PSG here as Thomas Meunier starts it off, racing forward and combining with Di Maria before laying it off to Bernat, who had charged up in support. The Spaniard pretends to shoot but instead returns the favour and, in composed fashion, Meunier slots home to make it 3-0!
90'
GOAAAAAAAALLLL!!!!!!! PSG MAKE IT 3-0!!!!
89'
Sarabia goes out for Diallo. Time wasting by Tuchel?
88'
Possession is surprisingly tied here: 51% for PSG and 49% for Real Madrid. This game is nearing its end and Tuchel's men have been superior by far.
84'
Another man down for PSG as Sarabia is fouled. No serious injury here, though.
81'
Yellow card for Vinicius Jr and Di Maria. Rare to see the Argentine so angry. Vinicius wastes no time in getting involved, tussling with Di Maria – who had run back around 40 yards to berate Madrid's young winger over a rash challenge.
79'
Vinicius comes on for Bale, who had a good night despite the result on the scoresheet.
78'
And yet another chance for Benzema who is finally providing some chances for Zidane's men against a tired PSG! What a header, but it's JUST wide!
76'
Benzema gets a goal for Real Madrid but it's offside!
73'
Choupo-Moting, off the bench for Icardi, gets a first chance to a goal, but his shot is badly taken.
69'
He is replaced by Herrera. Real Madrid also makes a change with Hazard and James coming out for Jovic and Lucas Vasquez.
68'
Possible injury for PSG. Marquinhos goes down and will have to be taken off despite his excellent job with Gueye and Verratti in the midfield.
67'
Hazard leads a rare Madrid attack, having got behind Meunier, who had committed himself high upfield. He links up with James before getting into the area, but he is quickly crowded out by several PSG defenders, including Marquinhos, who is now down receiving treatment.
65'
Real Madrid players are starting to get frustrated and their fouling shows it. Too many tackles from Casemiro and Co.
61'
Too many chances not enough time! Di Maria once again is face to face with Courtois with a sublime play, but it's off target. Real Madrid barely hanging on here.
59'
Icardi is replaced by Choupo Mouting.
58'
HOW DID HE MISS THAT! Di Maria was alone in front of Courtois but he shoots too wide and a hat trick gets away from him.
57'
Play resumes but it looks like Icardi is the one who will have to be replaced after somehow getting an ankle injury,
55'
Possible injury for goalscorer Di Maria. The match is stopped.
53'
Carvajal, James Hazard and Bale all starting to show up for Zidane's team. Corner for the visitors as PSG's Herrera starts to warm up.
51'
Beautiful dribling from Hazard... In his own box. What is happening to Real Madrid here?
47'
PSG starts it off right the same way they ended the firs half: loads of energy and surprising attacking power.
45'
HT: PSG 2-0 Real Madrid. Tuchel will be absolutely delighted with his side's display so far. Hazard has hardly been seen for Madrid, bar his snapshot earlier, while Bale and James have been having some snapshots of brilliance, but not enough to provide goals.
45'
SO CLOSE! Bale looked likely to leave Madrid in the last transfer window, but he has started this season in fine form and looks the man most likely to get Los Blancos back into this one. He combines with Benzema to get a shot off from around 20 yards out, though drags it just wide.
42'
PSG doing brilliantly at the moment! Gueye and Marquinhos have not allowed any space for Hazard or Bale to get close, despite Bale's stunning performance tonight!
38'
Chance after chance for PSG here as what's meant to be their second line attack get closer to yet another goal. Real Madrid trying to respond, but Zidane0s men are struggling to get the possession back.
34'
NO GOAL!! A VAR check intervenes after Bale is seen to have controlled the ball with his arm. Such a shame, as it was a beautiful finish from the Welshman.
34'
AND BALE RESPONDS!!! The Welshman gives Real Madrid a lifeline.
32'
It's another for the former Madrid man! Gueye drove infield from the right, keeping his cool to find Di Maria. The winger had plenty to do, but made no mistake with a powerful, dipping strike to the bottom right!
32'
GOAAAAAAAAALLLLLL BY DI MARIA!!!
31'
Dani Carvajal is shown the first yellow card of the game for a second foul.
31'
25 yard free kick for Real Madrid. Bale shoots... But it's JUST wide!
27'
Excellent work by Mendy, as the former Lyon left-back puts on the afterburners to beat Sarabia – who is certainly no slouch – to Icarid's through-ball.
24'
PSG are missing their star player but Neymar's presence is not missed in the slightest. Their defence is holding up a lot better than their rivals' at the moment, and their attacking power is proving problematic for Zidane's men.
20'
PSG fans have come in great strides and their voices are proving powerful. Tuchel's men currently dominating possession and chances, despite some brilliance from James.
16'
Good chance for real Madrid as Hazard takes his shot! Benzema flicks it onto Los Blancos' number seven, who despite being faced with a crowd of defenders manages to get a wicked shot off, but it's just wide!
13'
Well, after a bright start PSG had been on the back foot, but now they have the lead. Former Madrid man Di Maria has got the goal, prodding home a neat first-time finish from Bernat's cut-back.
13'
GOAAAAAAAAAALLLLL!!!!!! DI MARIA!!!!
10'
No clear possession or domination here from any side, who have both come out strong. A lot of whistling from the home fans any time Real Madrid players dare to even get close to the ball.
6'
Real Madrid are trying to win back some possession as the hosts start their domination, but no luck yet. Gareth Bale looks particularly keen here.
2'
PSG get the game going and it's a strong start from the hosts with a shot on target!
Prev.
We are only a few minutes away from kick-off now!
Prev.
Zinedine Zidane makes only four changes to the line-up which saw Real Madrid win against Levante. Eder Militao, Ferland Mendy, Eden Hazard and Gareth Bale replace Lucas Vazquez, Vinicius Junior, Marcelo and Sergio Ramos.
Prev.
A few changes to the line-up that won PSG the game against Strabourg. Neymar is off for two games after a reduced sentence.
Prev.
Real Madrid starting XI: Courtois, Carvajal, Eder Militao, Varane, Mendy, Kroos, Casemiro, Rodriguez, Bale, Benzema, Hazard.
Prev.
PSG starting XI: Navas, Meunier, Thiago Silva, Kimpembe, Bernat, Marquinhos, Gueye, Verratti, Sarabia, Icardi, Di Maria.
Prev.
Let's look at the line-ups, shall we?
Prev.
Hello and welcome to our minute to minute coverage of this clash of titans as Zinedine Zidane's men make their way to the Parc des Princes for their first UCL clash against PSG!