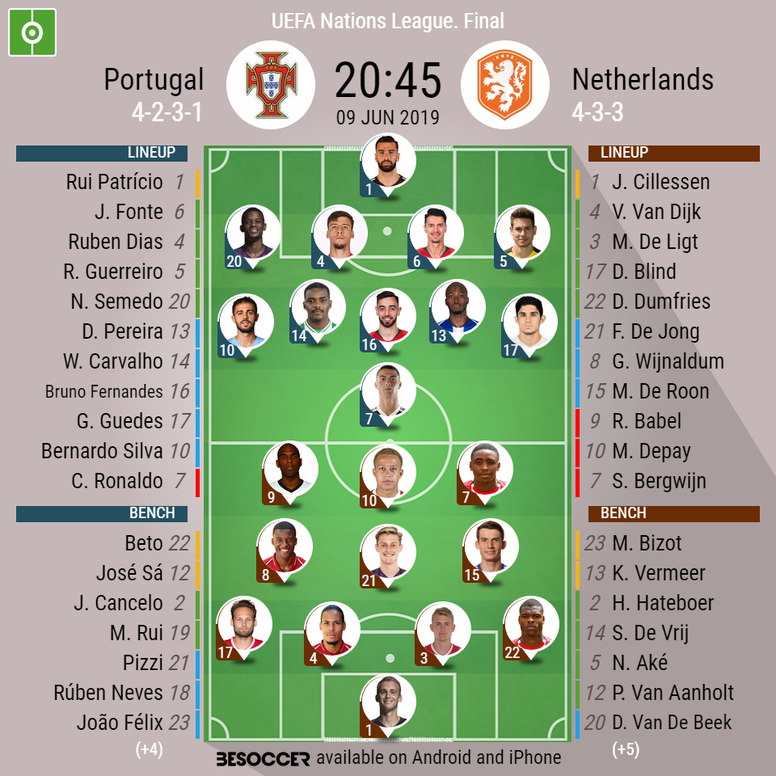 Portugal V Netherlands - As it happened.
Post.
FT: Portugal 1 - 0 The Netherlands. The Portuguese squad is celebrating their second major trophy in recent years. Portugal had way more chances and clearly deserved to win, but The Netherlands have again shown that they are a team that has huge potential.
93'
FINAL WHISTLE! Portugal win the first ever Nations League!
89'
He's known for his goals, but not his free kicks... That was a wide shot.
88'
Freek kick for Portugal... Cristiano goes down.
86'
That looked like a penalty... But the game goes on! Portugal appeal for a penalty when Joao Moutinho appears to be dragged to the ground. The referee isn't interested. Play continues, and moments later the underlapping Semedo drives a low shot that is comfortably saved by Cillessen. Replays suggest Moutinho may have been fouled by Blind, but not clearly and obviously.
86'
Messy action... could it lead to a penalty???
82'
A long, angled ball is headed down by Luuk de Jong towards van de Beek, whose poor first touch almost sneaks in at the near post. Rui Patricio scrambles it behind for a corner. That's taken short and crossed towards Luuk de Jong, who heads wide. Missed chance...
81'
Possible hand ball from Portugal?
81'
Fernandes out, Moutinho in for Portugal. The Netherlands also make a change, with Luke de Jong going in plave of Marten de Roon.
80'
Bruno Fernandes's 48th long-range shot of the night is well struck but comfortably saved by Cillessen. A fair try!
76'
This change in the squad is significant: the manager is looking to bring in more speed and pressure to a game that he really, really wants to win.
75'
Silva in, and goalscorer Guedes out!
69'
Blind's dangerous low cross is wonderfully cleared by Dias, stretching towards his own goal in the six-yard box. Dias, the young Benfica defender, has been really impressive.
69'
Portugal deserve to be ahead, although Koeman's youngsters are delivering a stellar performance, bringing intensity and speed to a game that is lacking it.
65'
HUGE miss for The Netherlands! Van De Beek goals for goal, but Patricio clears it. Important save for Portugal.
60'
The hosts lead after a thunderous strike from the forward and the crowd go wild. Guedes started the move with a lovely nutmeg that allowed a pass from the left touchline to run through to Bernardo Silva.
59'
GOAAAALLLLLLL!!!!!! Goncao Guedes batters Portugal into the lead!
58'
Van de Beek for Bewgwijn!
53'
Great persistence by Cristiano Ronaldo as he keeps the ball alive as Portugal break quickly. He plays the ball into the box for Rúben Dias but his cross is put behind for another corner.
50'
Failed attempt for Portugal! That was so close! Cillessen is truly on a good night!
48'
Fast start for the Oranje this second half! The Dutch seemingly more energetic... Will De Ligt or De Jong provide a goal for their national team?
46'
Koeman's team made a substitution at half time. Quincy Promes replaces Ryan Babel.
46'
Second half underway! Will the Dutch pick up the pace? Or will Portugal score that goal they've been chasing?
45'
HT: Portugal 0 - 0 The Netherlands. Netherlands will be the happier of the two sides with the scoreline. Will Portugal rue these missed chances? Portugal have been the better team without creating any clear chances. The Netherlands have been neat, tidy and entirely sterile. Back for the second half soon!
45'
And one last corner for Portugal to end the first half of this game.
44'
Corner for the Netherlands, but it doesn't lead to much.
44'
Another Barca man, Nelson Semedo, has shown he's worth more than a place at the bench. Good performance from the Portuguese man.
42'
Cillessen is definitely making up for all those times he didn't play for Barcelona with this game. What a performance he is having!
40'
The Dutch players seem to be keeping their best for the second half. But is it intentional? Knowing their coach, probably.
38'
Although individual performances don't show it, Portugal is definitely looking more likely to open the score right now.
35'
Ronaldo plays the ball back to Guedes, whose low shot from the edge of the area takes a deflection before van Dijk boots it away. Portugal have been much more threatening in attack.
34'
The Netherlands are playing beautiful football, but it has not translated in goals. On the contrary, Cristiano's Portugal has been a lot more precise, even though their performance is not the most impressive.
32'
The stats are a perfect summary of the game. The Netherlands have had 60 per cent of the possession and no shots at goal. Portugal have had 40 per cent and six shots.
30'
Bruno Fernandes, on the right, whacks an awkward, wobbling shot from distance that is palmed round by Cillessen. From the resulting short corner, Ronaldo flashes a header straight at the keeper, though he'd been flagged offside.
30'
Portugal bringing in some chances now! Second shot on target in the last few minutes for the Portuguese side, but Cillessen is proving his worth and demonstrating his goalkeeping skills!
27'
Another corner for Portugal, but it is comfortably saved by Cillessen.
25'
Wijnaldum is fouled 40 yards from goal by Guerreiro.
24'
Portugal is having their first good spell of the game, but for a game described as a clash of giants, the performances are not up to the standards.
22'
Corner for Portugal! Can they turn it into a goal?
20'
A tetchy start to this first Nations League final, neither side have been able to get a real hold of it thus far...
18'
A mistake in midfield gives Memphis Depay the chance to run at the Portugal defence. He gets to just outside the area but can't get past Ruben Dias, who sticks a vital foot in to clear the ball. Miss that and Depay was in on goal.
17'
Fernandes plays a dreadful pass straight to Bergwijn, who charges at the heart of the Portugal defence from the halfway line.
15'
Bruno Fernandes has brought most chances for Portugal, but the high tempo of the game might cause him some issues. These players have an entire season of European football on their back.
10'
Chances now for Cristiano Ronaldo, who is starting to wake his team up.
10'
Chances now for Cristiano Ronaldo, who is starting to wake his team up.
8'
Corner kick for Portugal!
7'
The Dutch Youngster de Jong and De Ligt have brought their A game today. Portugal looking a bit frightened.
4'
The atmosphere in Porto is amazing, with both players and fans belting out their national anthems with great passion. Hopefully, the game will have some of that same passion too?
3'
Kick off aside, Portugal haven't had a touch of the ball yet. Since gaining possession it has been all the Netherlands.
2'
The Dutch get the ball rolling! They are playing with a very unusual bright blue, which has startled some.
Prev.
The homecoming is sure to be a special occasion for him, as the last time Portugal reached a final on home turf, it was 2004 and his career was only just hinting what it could become. Portugal lost that final, and although they got their sweet revenge in the last Euro Cup, Cristiano Ronaldo will be looking to win a title in Portugal as a consolation prize.
Prev.
Could this be Ronaldo's last big game with his national team? The relentless Portuguese superstar is 34 now, but he also seems to be a gift that keeps on giving, as his pace has not slowed down in any observable way throughout the years.
Prev.
Portugal fans are lucky enough to witness this game on home turf!
Prev.
Netherlands may have to rely on their cohesiveness as a team to pull off a result on Sunday, but Portugal will be more than happy to let the Juventus star drag them to glory. However, the 34-year-old has a capable supporting cast too.
Prev.
Portugal, on the other hand, were firing on all cylinders in their semi-final against Switzerland, with Ronaldo rolling back the years to score three vintage goals in an all-action display.
Prev.
In a season which saw Ajax mesmerize Europe and the world with their dazzling brand of attacking football, the national team fell well short. They will have to improve on that display significantly in the final if they wish to pick up their first title since 1988.
Prev.
Koeman's men have restored some of the confidence that abandoned them in the past two qualification cycles, but it was notable that they struggled for large swathes of the semi-final against England.
Prev.
That, of course, is a simplistic depiction of the game that will play out at Estadio do Dragao, with plenty of distinguished stars - Frenkie de Jong, Bernardo Silva, Memphis Depay and Ruben Neves to name a few - littered throughout both sides.
Prev.
Tonight's Nations League final between Portugal and Netherlands has been touted as a battle of the captains : Virgil van Dijk on the Dutch side and Cristiano Ronaldo in the Portuguese corner.
Prev.
Netherlands starting XI: Cillessen; Dumfries, de Ligt, van Dijk, Blind; De Roon, F de Jong, Wijnaldum; Bergwijn, Depay, Babel.
Prev.
Portugal starting XI: Rui Patricio; Semedo, Dias, Fonte, Guerreiro; Danilo; Fernandes, Carvalho; B Silva; Guedes, Ronaldo.
Prev.
Hello and welcome to our live, minute to minute coverage of the first ever Nations League final!