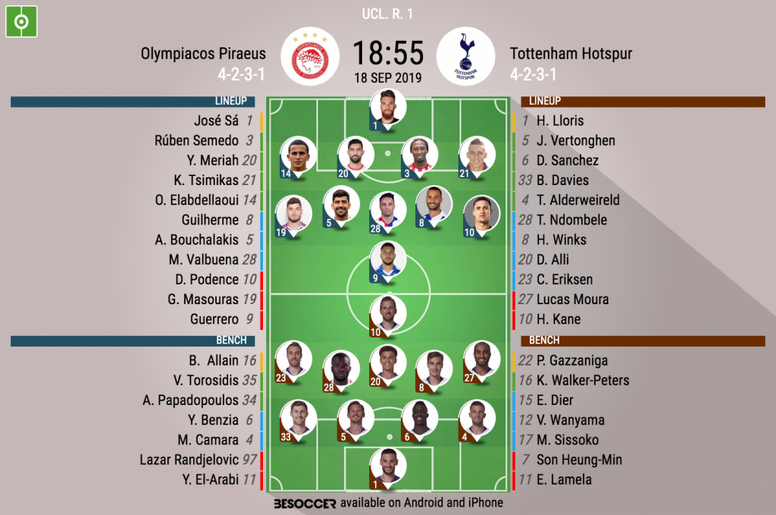 Olympiacos Piraeus V Tottenham Hotspur - As it happened.
Olympiacos Piraeus

Tottenham Hotspur

90'
FT: Olympiacos 2-2 Tottenham. Pochettino's men could not manage to get past Olympiacos' defence in the second half despite a more focused performance, with Sissoko proving a pair of fresh legs always comes in handy. Levelled game all around which leaves Pochettino with a few questions to answer.
90'
Sissoko has been having some good minutes as the game draws near it's end. He manages to get close to the box but Olympiacos' defense stop him in his tracks.
89'
Final change for the hosts as Guerrero is replaced by El-Arabi.
88'
Winks is shown a yellow card for a sliding challenge on Benzia.
85'
WHAT A CHANCE!!!! Harry Kane goes for the goal but is beautifully stopped by Jose Sa.
80'
Mistake from the hosts as Sissoko makes his way to the right flank, but he is stopped before anything came from it.
78'
Masouras comes off for Randjelovic.
78'
Pochettino looking frustated on the sideline as the hosts make their second change of the night.
75'
Fresh off the bench and it shows! Benzia is proving a good asset for Olympiciacos at the moment.
72'
Dele Alli makes way for Son. Can the Korean get the untying goal?
70'
Winks goes to the ground and Spurs are handed a free-kick. Eriksen clips it to the area, but the hosts' defense get to it first.
68'
Valbuena comes off after a great performance which even includes an assist. He is replaced by Benzia.
65'
CHANCE! Alli finds himself one-on-one with Sa after being slotted through on the right-hand side of the box and he strikes his effort low and with power, but it's tipped just wide of the far post by the seemingly talented goalkeeper.
64'
Both teams are now looking to break the tie. The hosts have brought their A-game to the second half and are proving they deserve their spot in the European top championship.
61'
First substitution of the night! Sissoko comes on for Ndombele!
59'
Jose Sa with the save! Corner to Spurs after Elbadellaoui puts out a cross by Davies. Davies' delivery is cleared as far as Ndombele, who shifts the ball on to his let foot and thrashes a decent effort goalwards from 25 yards only to have his efforts diminished by the Olympiacos goalkeeper.
54'
And Valbuena scores!!! Vertonghen trod on the striker's foot, after a mistake by Eriksen had put Spurs back under pressure.
47'
GOAAAAAAAALLL!! Maybe? Dele Alli scores from a distance after a superb pass from Erisken, but it looks like it's actually offside.
45'
HT: Olympiacos 1-2 Spurs. A lovely goal in the last few minutes by the hosts means the match is still very open-ended. The Greeks are no underdogs here, but Pochettino's men had been sluggish at best before a miracle penalty gave them their much needed opener. See you in 15 min!
43'
What an assist by Valbuena, who finds Podence at the right place and the right time. Lovely stuff from the hosts, who managed to cut through Spurs' defense with speed and precision.
42'
Dele Alli shoots from several yards out but his shot is off-target. Decent effort.
39'
Harry Kane tries to go for a second goal but his shot is too wide and Dele Alli can't intercept it.
38'
The hosts are trying to find a way to turn the score around. Tsimikas clips a ball down the left channel to Masouras and he then advances towards the edge of the box before lining up a long-range effort, but he bends it just wide of the right-hand post.
34'
Chance for the hosts! Tsimikas advances down the left channel and manages to clip an excellent ball into the box towards Masouras, but he volleys his effort into the ground and it bounces over the ball.
30'
Lucas Moura with Spurs' first on-target shot of the evening, and he scores! Davies intercepted a pass inside the opposing half then fed Moura, who took one touch and then swung his right foot to score with a spectacular shot into the net from 20 yards!
30'
GOAAAALLLLLLL!!!!! ANOTHER ONE!!!!
28'
Valbuena tries to level the score but he sends it right over the right-hand side of the cross-ar.
25'
The home team are outraged with the original decision, or at least making out that they are. But the decision stands - quite right, too, there was indeed a trip from Meriah, and it leads to the noew expert penalty taker, Harry Kane. Tottenham open the score.
25'
GOAAAAAAAAAAALLLLLL!!!!! HARRY KANE!!!
24'
Possible penalty appeal here... Kane goes down under a tackle by Meriah. But VAR need to look at it...
22'
Not a single shot on target for Spurs since the game started. Pochettino looks irritated in the sidelines.
18'
First real chance of the game here and it goes to the hosts! Podence switched play with a splendid pass from right to left. Tsimikas hurtled to the byline and send over a fine cross. Podence, near the penalty spot, helped it on with a delighted chested pass to Guerrero, who hammered a volley towards the far corner .... but it bounces out off the post!
17'
Guerrero picks up the ball on the edge of the box and manages to create space for a shot, but his low effort is straight into the hands of Lloris.
13'
Clear foul by Guilherme on Ndombele.
10'
Spurs starting to wake up. A useful buildup by Tottenham, until Eriksen misdirects a chipped pass from the left, sending to the goalkeeper rather than Moura, who was looking for a better ball over the top as he usually does. Big vote of confidence from Pochettino for the Brazilian player.
9'
Olimpiacos were pinned to be the underdogs here, but it's proving harder for Pochettino's men than expected. A mistake in midfield from Ndombele permits Podence with a shooting opportunity on the edge of the box, but Vertonghen makes a sliding challenge to block the shot and Lloris eventually claims it.
5'
Guilherme plays a quick low pass forward into the space vacated by Davies. Valbuena races on to it and into the right-hand side of the box. He cracks off a low drive from 16 yards that Lloris saves with little bother.
3'
Bright interplay by the hosts as Sanchez ends up giving the ball underway and it ends in a free-kick.
2'
Tottenham get the game underway in Greece with the fans' shouting ringing in their ears.
Prev.
As always, we thank you for joining us this evening! More UCL coming your way with Manchester City v Shakhtar and PSG v Real Madrid.
Prev.
Spurs have made it to Karaiskakis Stadium! We are ten minutes away from kick-off.
Prev.
Meanwhile, Spurs are also running on high note after beating Crystal Palace 4-0 at home.
Prev.
Olympiacos enter this match in fine form as they sit top of the Greek Super League after the first three matches. Pedro Martins' side will be stacked with confidence after beating Volos 5-0 on the weekend, and they are now targeting a first Champions League win since 2015 after failing to claim a victory during their last campaign in 2017/18.
Prev.
Daniel Podence, Olympiaks' talented Portuguese winger, may fancy having a run at him and Davis...
Prev.
Interesting line-ups as Pochettino gets a few of his injured men back! Tanguy Ndombele is back for Tottenham, who demote Moussa Sissoko to the bench. Lucas Moura gets a big vote of confidence in the form of a starting place ahead of Heung-min Son, while Dele Alli also returns for his first start of the season. Davinson Sanchez has a big challenge on his hands as he is deployed at right-back.
Prev.
Spurs starting XI: Lloris; Sanchez, Alderweireld, Vertonghen, Davis; Winks, Ndombele; Moura, Alli, Eriksen; Kane
Prev.
Olympiacos starting XI: José Sa; Elabdellaoui, Meriah, Semedo, Tsimkas; Guilherme, Bouchalkis; Masouras, Valbuena, Podence; Guerrero
Prev.
Let's look at the line-ups, shall we?
Prev.
Hello and welcome to our minute to minute coverage of this afternoon's Champions League game between Olympiacos and Tottenham!