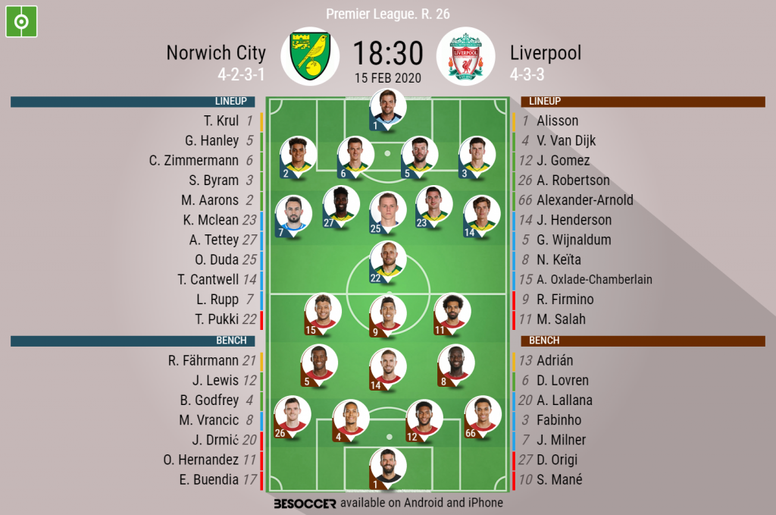 Norwich City V Liverpool - As it happened.
Norwich City FC

Liverpool

Post.
Thank you for joining us this evening! Tune in tomorrow for some more Premier League action.
93'
FT: Norwich City 0-1 Liverpool. Liverpool move another step closer to the Premier League title with a 1-0 win at Norwich City. Klopp's men were made to work hard for their 25th victory of the campaign, with substitute Mane scoring the only goal 12 minutes from time with a cool finish to beat Krul. Tettey hit the post for Norwich prior to Mane's winner, and Krul produced a few big saves, but Liverpool's winning mentality proved too strong for struggling Norwich.
90'
Firmino wins the fight for the ball with Lewis down the right. He concedes a foul, then kicks the ball away. But the referee lets that one go.
90'
Goalscorer Mane is booked for throwing the ball away after conceding a throw.
88'
PUKKI MISSES! Norwich manage to link up and outrun the Liverpool defense as Pukki finally gets a one-on-one chance with Alisson, but the Brazilian saves comfortably.
86'
A huge miss by Firmino! Alexander-Arnold whips a cross in from the right, waiting for a tap-in from the Brazilian, but the ball is too fast and he can only send it well wide and high.
84'
Klopp makes a change of his own as Keita comes off for Milner.
83'
Double change for the hosts. Rupp is replaced by Emiliano Buendia and Tettey comes off for Drmic.
82'
Naby Keita is booked for a foul on Cantwell.
80'
Salah and Alexander-Arnold take turns to busy themselves down the right, but neither player manages to produce anything significant. The away fans making plenty of noise now, nevertheless.
78'
NORWICH 0-1 LIVERPOOL!!!! There it is!! Henderson sends a long ball into the box, Mane controls it and fires past Krul. Norwich complain of a shove, but the goal stands after a VAR check.
77'
GOAAAAAALLLLLLLLLL!!!!!!!!
74'
Two corners in a row for Norwich and Carrow Road celebrates as if they'd won it! That chance a few minutes ago has made fans happy, but nothing comes of it.
72'
Cantwell runs down the left side. He rolls the ball across the the line of the box. Tettey lets it run across him. He looks as though he's taken it too far wide, but then unleashes a shot that goes straight to the the right-hand post and away! Norwich so close to taking a shock lead! Again!
70'
We are into the final 20 minutes at Carrow Road. Can Norwich hold on to become just the second team to take points off Liverpool in the Premier League this season? Mane attempts to fight his way through on goal but Krul makes yet another save.
66'
CHANCE FOR SALAH! Robertson pulls the ball back towards Salah. The Egypt international's right-footed volley from 10 yards is blocked, as is the follow-up.
63'
Liverpool holding the possession and having most of the chances now, but they are not the well-oiled machine we've become accustomed to. Krull makes another save, this time a tamer one, but the Reds have had four attempts on target in 20 short minutes.
60'
Klopp makes a double change. Oxlade-Chamberlain and Wijnaldum are replaced by Mane and Fabinho.
59'
Two stunning saves from Tim Krull!!! Salah blasts towards the bottom left, but Tim Krull is there and Norwich are safe! The ball sits up for Keita, who has a clear chance at scoring, but doesn't connect properly, allowing Krul to save again.
58'
Salah links up with Naby Keita... He sends a rising shot towards Krul, who is forced to tip over the bar. Corner, from which Van Dijk sends an uncharacteristically tame header into the arms of Krul.
54'
Liverpool are still looking well off pace, which is perhaps not surprising since their first-team players have had a two-week rest between games. Passes are being misplaced and there is a lack of urgency, but they do look better than the first half.
50'
Norwich barely touched the ball since coming back on. Liverpool pressing harder now.
48'
Firmino should make off down the right but McLean sticks to his back and eventually wrestles the ball away from him. The leaders have come out looking a little sharper. Wonder what Klopp said at half time...
46'
Back underway in Carrow Road!
45'
HT: Norwich City 0-0 Liverpool. We've got ourselves a classic Premier League clash in our hands! Norwich have been brave throughout this first half, getting a few decent chances and even defending well enough, but Liverpool's overwhelming defense and Alisson's stunning goalkeeping has all been a bit too much for the hosts. Meanwhile, the visitors have not yet in full gear, but clear signs of brilliance have shown, and both teams are coming off a two-week break... See you in 15!
45'
Oxlade-Chamberlain and Robertson combine and win a corner for the visitors. One last chance for Liverpool to take a lead into half-time, perhaps?
43'
Alexander-Arnold swings the free-kick into the box. There is not enough strength in his shot and Krul collects comfortably.
41'
Hanley is shown the first yellow card of the match for pulling back on Firmino and then fouling him from behind.
39'
The corner is blocked, and ends up back at the feet of Alexander-Arnold, who shoots it wide to the left.
37'
That chance by Norwich is enough of an incentive for Liverpool, who are back on the counter-attack. Keita and Salah take turns in taunting Norwich's back line. Salah's shot, an attempted curler towards the top left, is only good enough to become a corner.
35'
Norwich almost open the score!!! Rupp brings a long ball down the middle, and he escapes any offside ruling! He tries to avoid Alisson on the left - or is he trying to pass to Pukki, by his side? Either way, Alisson sticks out an arm and breaks up the move. What a save ... but Rupp should have done better.
34'
Norwich linking up nicely! Rupp combines with Cantwell down the right. For a split second it looks as though they've opened Liverpool up, but Rupp runs the ball out for a goal kick.
33'
Decent defending by Norwich as Farke's men manage to get several good chances away from Tim Krul's box the past minute. The action ends with Keita shooting from outside of the box, but he sends it wide and Norwich get the possesion back.
31'
Klopp's men yet to really get going here. There have been some signs of brilliance at the top but the Premier League break might have been too long for Liverpool. Lack of chemistry.
29'
Salah pulls the ball back for Alexander-Arnold, but he does not make the connection he would have wanted and the shot is blocked inside the box. Almost half an hour gone by now.
27'
Unlucky for Byram, who's been having a good season for the Canaries. Jamal Lewis replaces him.
25'
This is bad news for Norwich. After receiving the ball from Tim Krul, Sam Byram stretches to collect the ball and looks to have injured his right hamstring. Jamal Lewis looks set to come on in his place.
22'
The weather conditions might be influencing Liverpool's style of play at the moment. Alexander-Arnold's throw-in comes back out and it looks like the wind is to blame.
21'
Nearly a quarter of the match has been played at Carrow Road and Norwich remain all square - Farke will surely be delighted with that. Salah tries to get goals going in the box but the attack comes to little.
20'
Liverpool are definitely employing a long-ball tactic and have played the ball in the air on a few occasions. But despite some excellent Firmino touches, they have yet to really threaten as Oxlade-Chamberlain overhits his cross in their latest attack.
15'
Norwich are more than holding their own at the moment, though there is of course still a long way to go and Liverpool are looking more comfortable by the minute.
12'
Liverpool are starting to get more comfortable and create more chances. But credit to Norwich for some courageous defending and pressing. Cantwell has been particularly impressive today.
10'
Fun fact! This is the first time in PL history that the bottom team and the table leaders have such a large point difference. 55 points does seem like a lot...
8'
Norwich come again, Cantwell tries to get past Alexander-Arnold on the left. Nice skill, but it doesn't quite come off and he loses control. Goal kick. This could be the start of a promising back-and-forth...
7'
Oxlade-Chamberlain takes a chance 25 yards out. His attempt is easily saved by Krul. This match is lively and open.
5'
Trent whips a ball in from the right. Zimmerman tries to clear it with a header, but only manages to pass it to Keita... Who shoots but Krul saves comfortably.
2'
Liverpool are on the front foot immediately. Firmino drifts in from the left and links up Alexander-Arnold, who drags a shot wide left after 13 seconds. That would have been some start.
Prev.
Meanwhile, Norwich keeps the same team that earned one point against Newcastle on their last PL outing.
Prev.
Liverpool make one change to the side that beat Southampton 4-0 on the first day of the month. Naby Keita comes in for Fabinho, who drops to the bench. Sadio Mane is back from injury, and named as a sub.
Prev.
Liverpool are overwhelming favourites to take the three points, but who knows, they could be in for a surprise... After all, Norwich beat Guardiola's Man City 3-2 only three months ago!
Prev.
This is the bottom side hosting the Premier League runaway leaders, so it could be one of those painful or wonderful games to watch, depending whose side you are on. The 55-point difference between these two clubs speaks volumes about their respective situations.
Prev.
Norwich are bottom and seven points from safety, so this may not be the ideal time for them to face Liverpool – Jürgen Klopp's side have scored 28 goals against Norwich in their past seven Premier League encounters, including a 4-1 victory at Anfield on the opening day of the season.
Prev.
Liverpool: Alisson, Alexander-Arnold, Gomez, van Dijk, Robertson, Keita, Henderson, Wijnaldum, Salah, Firmino, Oxlade-Chamberlain.
Prev.
Norwich City: Krul, Aarons, Zimmermann, Hanley, Byram, Tettey, McLean, Rupp, Duda, Cantwell, Pukki.
Prev.
Hello and welcome to our minute to minute coverage of this afternoon's Premier League clash as Norwich host table leaders Liverpool!