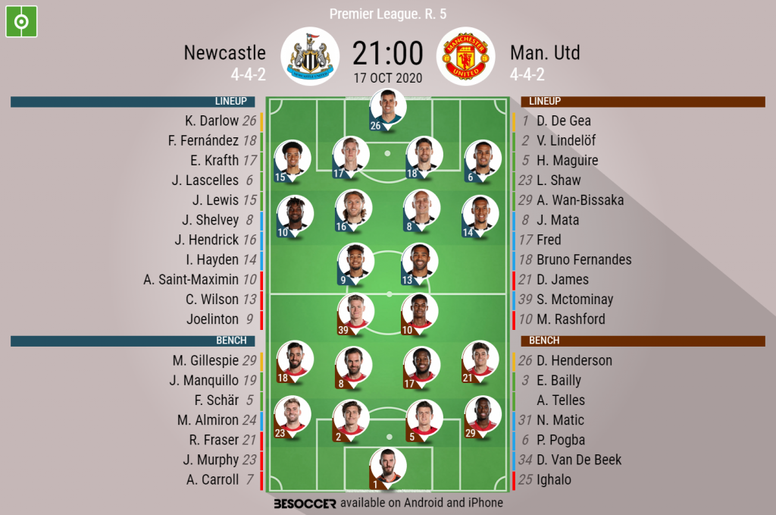 Newcastle V Man. Utd - As it happened.
Post.
Full time at St James Park as Manchester United bounce back from that Tottenham Hotspur embarrassment. They deserved the three points but the scoreline is very harsh on the Toon, who will remember a superb performance from Karl Darlow in goal.
96'
FT: Newcastle United 1-4 Manchester United.
95'
GOAL MANCHESTER UNITED! Oh, you have to feel for Newcastle now - they switch off thinking that they have the free-kick but Rashford are alert as Fernandes plays it over the top and Rashford beats Darlow with ease.
94'
The Manchester United corner is headed away by Newcastle.
93'
The scoreline certainly flatters United but to their credit pushed on towards the end like the Red Devils of old.
90'
GOAL MANCHESTER UNITED! Brilliant Wan Bissaka finish as Newcastle commit men forward in an attempt to get the equaliser. He fired it and beat Darlow at the top corner of his near post. An outstanding strike for his first Manchester United goal.
90'
United are killing the game in possession here as we head towards added time.
89'
Shelvey goes down in the box but nothing given!
88'
Saint-Maximin whipped it in but it was hooked away by Lindelof.
88'
Almirón on for Hendrick to try and add something extra in attack for Newcastle.
87'
You can't help but feel for Newcastle here - they've been so hard done by and really could've got a result here after weathering the worst of the storm.
86'
GOAL MANCHESTER UNITED! Newcastle committed men foreword and Rashford hit them on the counter - he tees up Fernandes at the last second who finishes quite brilliantly to surely win it for Manchester United.
86'
Shelvey's ball in is headed away.
85'
Pogba with the professional foul this time as he pulls back Callum Wilson.
84'
Henrick is cut down by Van de Beek on halfway.
83'
Bruno tries to thread a ball through into the box but it is behind for a goal-kick.
82'
Newcastle counter put Wilson and Fraser are all on their own and it comes to nothing as De Gea claims it comfortably.
80'
Maguire took it on and had a shot from outside the box. It wasn't half bad and arrowed just wide of the right post.
79'
United are just holding the ball in their own half - it is so finely poised here in Newcastle.
78'
A great clipped ball from Bruno over the defence towards Pogba on the six-yard box but Darlow gets in there to break it up and win the goal-kick.
77'
Darlow claims the free-kick well. He really has dominated his penalty area tonight.
76'
Dan James is off for Donny Van de Beek.
76'
Bruno wins a free-kick in a dangerous position.
75'
Darlow is limping and looks in some significant pain here. Unfortunately for the Magpies he might have to go off.
74'
Newcastle heave away another Bruno Fernandes cross.
73'
Joelinton makes way for summer signing for Ryan Fraser. He is the only Newcastle player who hasn't been at his best here tonight, out of position on that right-hand side.
72'
Mata thought about the shot but played it into James who has his shot blocked.
71'
Chaos in the Newcastle box but they manage to scramble it away in the end.
70'
Shaw this time with the shot from just inside the box but it's comfortable this time for Darlow.
69'
Paul Pogba is coming on in the place of Fred.
68'
Shelvey has a very good long-range effort saved well by De Gea diving down to his right.
68'
Karl Darlow is having the game of his life tonight - simply outstanding!
67'
Both are now ok to carry on.
66'
Both Darlow and Rashford are down injured.
66'
ANOTHER UNBELIEVABLE SAVE!!! Rashford sprinted forward on the counter put Darlow put his body on the line and made a stunning stop with his legs! The flag was up but VAR would've counted the goal.
65'
Another Newcastle throw as they enjoy this short period of dominance.
65'
Shelvey's ball in is cleared away for a Newcastle throw.
64'
Really poor Maguire tackle on Saint-Maximin earns Newcastle a free-kick in a good position.
63'
Shelvey looped a ball across the United box but it went all the way through and it is out for a Newcastle throw after taking a minute deflection off Lindelof.
62'
Fernandes denied by Darlow from outside the box.
61'
Wan Bissaka fires another cross across the six-yard box but Darlow is down to it superbly yet again.
59'
Ther resulting long-throw sees Harry Maguire have another great header cleared off the line by Jonjo Shelvey!
58'
SAVED KARL DARLOW - The keeper went the right way and got a big hand out to deny Bruno Fernandes brilliantly!!!
57'
PENALTY MANCHESTER UNITED!
56'
The ref has gone to the monitor to have a look...
56'
Who knows what they will give here - the contact was almost non-existent but you never know at the moment...
55'
They are! VAR check ongoing...
55'
Rashford went down in the Newcastle box on the counter-attack. I think VAR might just have a look at this.
54'
Henrick should've done better - he scuffs a shot and United come away.
54'
The ball in from Shar is cleared but Newcastle are starting to come into this!
53'
I cannot overstate how good that De Gea save was - Wilson was two yards out and fired it down into the corner. Somehow De Gea collapsed in an instant and got fingertips to it.
50'
WHAT. A. STOP.!!! Newcastle counter well and Saint-Maximin does superbly well before his cross finds Wilson but De Gea makes one of the best saves I've ever seen!
50'
So, Newcastle are forced into their first change as Shar comes on for the injured Hayden.
49'
Wan Bissaka cuts it back superbly but Bruno Fernandes' shot is awful and Newcastle have the goal-kick.
48'
Hayden is down and going to have to go off with a muscle injury here.
47'
A great run by Marcus Rashford before squaring it to Bruno Fernandes - the return pass is cut out though and Newcastle win it back.
47'
United come out dominating possession again - still in their own half for now.
46'
Back underway at St James Park!
45'
HT: Newcastle 1- 1 Manchester United. An enthralling first half here at St James Park - Newcastle struck early but the Red Devils will be pleased with their response. it is finely poised going into the second half!
45'
Dan James all of a sudden picks it up and drives at the Newcastle defence - his shot is disappointing and saved well by Darlow.
45'
As the first-half peters out a look at the possession stats show Man United with nearly 70% here at St James Park!
45'
Newcastle win the free-kick on halfway as we enter the three minutes of added time.
44'
Newcastle get the goal-kick after that attack breaks down.
43'
Shaw drives forward with pace and tees up Rashford who shoots very well from outside the box and forces yet another Darlow save!
41'
Jamal Lewis does brilliantly to win it off Wan Bissaka and get the free-kick.
40'
Rashford bombs forward on the counter and his teasing cross forces Darlow to rush off his line very well and claim it.
40'
Both of those two players are now back on - they've been the two best players on the pitch.
39'
The England striker has been superb so far tonight and he is hobbling off now - I think he'll be ok to carry on though.
38'
Saint-Maximin is still down after that Dan James tackle too.
38'
Marcus Rashford is down now...
37'
James cuts down Saint-Maximin with a disgusting tackle and is deservedly booked.
37'
Chaos in the area! Darlow comes to get it and in the end it comes to Rashford who sees his shot cleared brilliantly off the line by Jamal Lascelles.
36'
Dan James has bags of time before putting it wide to Wan Bissaka. His cross turns into a shot andDarow makes a great save!
36'
High foot from Callum Wilson and Manchester United have the free-kick.
35'
Darlow comes a long way to punch this one and succeeds in getting it away.
34'
James now has a shot deflected wide for a corner.
34'
Dan James injects some pace into the attack before Fernandes has his shot blocked out for a throw.
33'
A searching ball from McTominay is beyond Wan-Bissaka and out for a Newcastle throw.
32'
The Spaniard is going to continue but appears in some pain - Dean Henderson is a very good back-up option on the bench.
31'
Uh oh - David De Gea is injured here, he appears to have badly hurt his shoulder after colliding with the post.
30'
Saint-Maximin has a speculative effort from well outside the box but it forces a stunning save from De Gea!
29'
Rashford fires across the face after beating a couple of men and Darlow gets down well to save.
28'
Man United are looking very dominant - nothing comes of this one as Mata's ball is out for a goal-kick but this could be a long evening for Steve Bruce's side if they can't get a foothold in the game.
27'
Saint-Maximin drives forward well but he's tackled and United get possession back.
26'
Newcastle are being forced to play a bit more now but it is leaving a lot of space in behind if Manchester United can exploit it.
25'
Maguire cuts out a Shelvey through ball and Newcastle have the throw-in just inside the Manchester United half.
24'
GOAL MANCHESTER UNITED! - Juan Mata's delivery finds Harry Maguire who towers above the defence and heads an arrowed header into the bottom corner. Superb from him and he certainly needed it!
23'
Untied go up the other end and this time it is Juan Mata who tests Darlow - corner.
22'
A brilliant bit of football from Newcastle ends with a cross from Jamal Lewis that Shelvey gets on the end of to force the save from De Gea.
21'
Man. United will be frustrated but encouraged because that was a great move.
20'
It's ruled out for a Juan Mata offside! It was a brilliant finish into the top corner by Bruno but the decision is correct - Mata was well off in the build-up.
19'
GOAL MAN. UNITED! Fernandes fired in superbly but VAR are having a look!
19'
The searching cross from Shaw is headed away.
18'
It nearly fell for Callum Wilson on the edge of the box there but he loses it in the end and the Red Devils have it back.
17'
You feel like this is going to be the story of the game - Man. United dominating possession and Newcastle happy to sit back behind the ball and defend their lead.
16'
Rashford on the counter again but his shot from just inside the box is well wide.
15'
Its half-cleared several times before Saint-Maximin goes on a beautiful run all the way to the half-way line where he wins the free-kick - He must have beaten five or six players there!
14'
Rashford sees his shot deflected over after James brought it down for him well.
13'
Fernandes played a good ball into Rashford but the England striker couldn't do anything with it and the move breaks down.
12'
Callum Wilson holds it up well and wins the free-kick off Lindelof on half-way. Good work from the striker.
11'
Mata's cross is cut out this time - United looking encouraging.
10'
A superb little passage for Manchester United, Wan-Bissaka plays a one-two but his cross is cut out.
9'
The Red Devils are looking to settle into the game - we know they can dominate possession but now the question is whether they can do anything with it.
8'
Jeff Hendrick wins the Newcastle free-kick on halfway.
7'
James stole it off Callum Wilson but his shot is scuffed wide for another goal-kick.
7'
Lewis gave it away to Rashford before United counter with Fernandes and James. The move breaks down though as the Magpies reset and win it back well.
6'
Newcastle just keeping it simple, sitting behind the ball and holding possession when they can.
5'
What a shame there are no fans inside St James Park - the atmosphere would be electric right now!
4'
Manchester United earned a weak corner but Shaw's delivery is headed away and a weak shot from the edge is well wide for a Newcastle goal-kick.
2'
GOAL NEWCASTLE: Unbelievable start at St James Park!!! Things go from bad to worse for Ole - Saint-Maximin drives forward and gives it to Shelvey before Krath sees his cross deflected in at the near post by Luke Shaw!
1'
Man. United get us underway at St James Park!!!
Prev.
The players are out - not long to go now!
Prev.
Manchester United have, as expected, gone for a different approach after that Spurs embarrassment at Old Trafford. They bring in Lindelof for Bailly and also drop Pogba and Matic for Mac Tominay and Fred. Greenwood doesn't even make the squad and Dan James starts in his place. Magpies fans will be please to know that Harry Maguire keeps his place though at the heart of Ole's defence.
Prev.
So, Newcastle only make one change from that emphatic Burnley win - Lascelles is in for Fabian Schar.
Prev.
Manchester United: De Gea, Wan-Bissaka, Lindelof, Maguire, Shaw, Fred, McTominay, Mata, Fernandes, James, Rashford. Subs: Henderson, Bailly, Telles, Matic, Pogba, Van de Beek, Ighalo
Prev.
Newcastle United: Darlow, Krafth, Fernandez, Lascelles, Lewis, Hayden, Shelvey, Hendrick, Saint-Maximin, Joelinton, Wilson Subs: Gillespie, Schar, Manquillo, Murphy, Almiron, Fraser, Carroll