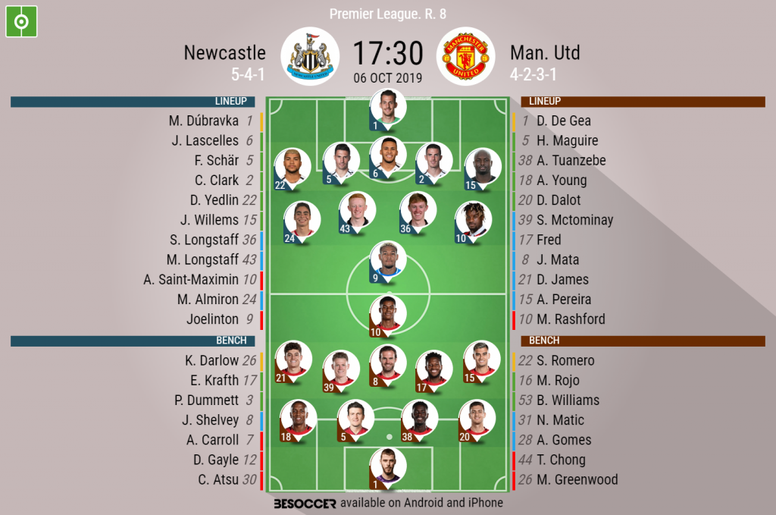 Newcastle V Man. Utd - As it happened.
Newcastle United FC

Manchester United FC

Post.
As always, thank you for joining us this weekend for all the Premier League action!
95'
FT: Newcastle 1-0 Manchester United. What a moment for Newcastle. Matty Longstaff, who had never even played a single minute in the Premier League, scored the winner for his home team and gave Steve Bruce his long-awaited win against Man United. Meanwhile. it's more bad news for Solskjaer as another Premier League loss sees him drop to the 12th spot on the table.
94'
AND IT'S OVER! What a moment for Steve Bruce and the Longstaff brothers.
94'
McTominay is hit in the face by Andy Carroll... God this stressful.
93'
Man Utd get a free-kick in the dying minutes of the game...
92'
McTominay and Fred combine to force a throw-in deep inside Newcastle's half as Man Utd attempt to launch the ball into the penalty area at every opportunity now.
90'
Almiron comes off for Kraft. Four minutes of added time. Steve Bruce is only four minutes away from the long-awaited win against Man Utd as a manager.
88'
Longstaff's heart must be pounding right now. He is wearing that shirt with real pride, but it's causing him some trouble with the visitors. He is put in his place by the referee and McTominay.
85'
Young comes off for youngster Chong.
84'
Young finds a little space to cross from the left, and he picks out Pereira in the centre of the box, but his header weakly bounces straight at Dubravka.
82'
Newcastle sub: Saint-Maximin for Atsu, who will be expected to replicate his predecessor's hard running. Great peformance from St Maximin today.
80'
Fred is jeered as he launches a shot that lands somewhere in the Jesmond area of Tyneside. United have been aimless and hopeless, even more so after the goal went in.
78'
Yellow for Marcos Rojo for a foul on Saint-Maximin.
74'
Man Utd try to respond immediately as Rojo rises highest from a free-kick, but his header drifts harmlessly over the bar.
74'
Man Utd try to respond immediately as Rojo rises highest from a free-kick, but his header drifts harmlessly over the bar.
72'
Matty Longstaff scores a screamer on his Premier League debut!!!!!! What a moment for the youngster! Right when Man United were starting to push back, a great run by Yedlin on the counter sees Man Utd face danger, but when the player realises he won't be able to shoot it himself, he looks back towards Longstaff who volleys it in from outside the box. Great positioning by Newcastle. What a fairytale moment for the youngster.
71'
GOAAAAAAAAAAAAAAAAAAALLLLLLLLLLL!!!!!!!!!!!!!!
69'
Well there is certainly more chances of a goal materialising now. A good chance by Man Utd with Greenwood making a great pass on the left of the box, but there's no one there to tap it in as Newcastle's defence reacts. Yedlin, on the counter, makes an amazing run but the exact same issue arises: no one there to tap it in or support him in his own try. And the score remains the same...
68'
Can youngster Greenwood provide a match winning strike for Solskjaer? He surely hopes so with this change, and if Greenwood's performances are any indication, he should be able to... But who knows with this Man United.
65'
Juan Mata is replaced by youngster Mason Greenwood.
65'
Almiron gets a yelllow card, we presume for simulation after making a decent run. To be fair, marcos Rojo did slightly tackle him, but it looks like a dive to us.
64'
Local hero Andy Carroll gets a chance!!! Longstaff makes a decent pass to Caroll inside the box, but it's an awkward angle for a header and it goes right over the bar. Unlucky.
60'
Solskjaer not happy on the sidelines. Man United have actually been decent this afternoon, as opposed to previous instances this Premier League, but Longstaff0's fairytale goal has given them another reason to worry.
60'
It's an odd substitution here, but we're hearing Dalot is reportedly injured. This means Tuanzebe is playing full-back, which is not exactly the player's natural position.
59'
Marcos Rojo replaces Dalot for Man Utd.
58'
Daniel James gets close to opening the score after a really good ball from Pereira, but he can't quite get to it on time as he tries to head it in.
56'
Is this Newcastle looking for energy injection? And also, most importantly, can Caroll be the one to provide it?
55'
Newcastle legend Andy Carrol comes on for Joelinton.
54'
Corner for MUFC by Young. Maguire tries his best to volley it in but he's met with a decently organised Newcastle defence.
52'
The struggling continues... Tuanzebe angles a precise diagonal towards James, but the United winger is left isolated and Willems is able to press him into surrendering possession.
50'
It looks like Young's receiving treatment for a head injury after a collision with Almiron near the away side's corner flag.
47'
Schar is booked for a cynical foul 30 yards from goal.
45'
HT: Newcastle 0-0 Man United. First half short of confidence, star names, and goalscorers. The expected first half here, despite some good chances for Newcastle occasionally. A surprisingly levelled game despite a big name like Manchester United. See you in 15!
44'
What a chance for Harry Maguire! Mata swings in a corner and Maguire gets free six yards out, but he makes a poor contact on the ball and it skims off his head and just wide of the far post! The defender should have headed that it and he can't quite believe he's missed that right on the stroke of half time.
44'
Better from Fred, as he stops Willems being able to cut inside and launch a shot.
40'
Pereira tries his best to shoot it from outside the box for Man U, but Dubravka makes a comfortable save. Newcastle creating the best chances here though.
38'
Almiron gets SO CLOSE! Longstaff picks out Almiron with a delightful clipped pass over the top of the defence and it appears as though the winger's one-on-one, before Dalot recovers to block his shot at the last moment.
37'
Andy Carroll seen warming up and the crowd is loving it.
35'
However, St-Maximin's actions results in a collision between Young and Schar, with both requiring treatment that seems to be enough to revive them.
33'
Wonderful bit of play from St-Maximin near the box, but it's finally cleared by Dalot. Still, a great piece of dribbling here.
30'
The hosts complain about the seriousness of the tackle and it is now being checked by VAR... And it stays a yellow!
29'
McTominay gets a yellow for a really unnecessary tackle to Newcastle's Schar.
28'
It's just over the bar again for Newcastle's Schar who heads it in after a corner. A bit of bad luck for the hosts at the moment despite some good chances.
27'
Longstaff hits the ball brilliantly from outside the box but it hits the bar! So unlucky for Michael Longstaff, who is playing with his brother Sean today!
25'
The first goal of this game will be absolutely crucial for whoever scores it. Both these teams are looking for a morale boost... And St-Maximin is really pushing for one at the moment. If only his team could react in the same way he does.
23'
The away side win another free-kick in a promising position, but Young's delivery can't find an attacking head and Newcastle comfortably clear the danger again. Both teams struggling to find real chances here.
16'
McTominay and Mata combine well with a slick one-two on the edge of the penalty area, sending the former through on goal. However, the flag's raised against Mata's original position and the move is halted before McTominay can shoot.
14'
And now it's Yedlin who fouls the opponents for a terrible tackle to McTomnay, who is lucky not to be injured from it.
13'
Daniel James desperately tries to stop Yedlin who was making a dangerous run. A bit reckless from the midfielder, who's been one of the few good things about Man U lately.
11'
Saint-Maximin, who's clearly the best of Newcastle at the moment, tries to fire a shot from at least 25 yards out, but he shoot too wide on the left.
10'
The first ten minutes had been encouraging but it seems that both teams are struggling to create real danger here.
5'
Newcastle have a made a strong start today, but their manager, Steve Bruce, has a terrible record against the away side to come away with three points. Steve Bruce has managed more Premier League games against Man Utd without winning (21) than any manager has against an opponent in the competition's history. Not the most encouraging stat...
3'
Fast paced start to this game! Danger for Man Utd, as Fred fouls Almiron, and gets a very quick booking. The resultant free-kick is cleared readily enough but the home team and very much on the front foot.
Prev.
Meanwhile, Bruce has made the promised changes and gives Matthew Longstaff his debut alongside big brother Sean. Emil Krafth, Paul Dummett, Issac Hayden, Yoshinori Muto and Christian Atsu have been dropped. Longstaff the younger, Ciaran Clark, Allan Saint-Maximim, Jetro Willems and DeAndre Yedlin are given a go. All looking like a rather dull line-up, unfortunately. Can these teams prove us wrong?
Prev.
Even allowing for Newcastle's problems this season, that is not a very strong Manchester United team. Far from it, in fact. Two defenders playing out of position, no Paul Pogba, the enigmatic Fred in midfield and an attack that is youthful yet not exactly dynamic.
Prev.
Hopefully, both struggling teams will be at their best this afternoon, and not just for their sake, but also ours.
Prev.
For Manchester United, Monday's draw with Arsenal was perhaps the lowest-amped match ever between another pair of fallen giants while that 0-0 draw with AZ Alkmaar was the most action-less game to date this season.
Prev.
Both teams have much to improve on. Newcastle's 5-0 pummelling at Leicester was relegation writ large, and the team's worries are only growing.
Prev.
It's an interesting game this afternoon, but not for the reasons we are used to in the Premier League. It's not the goals, it's not the comebacks. The fans loathe the owner and are not sure of the manager, even though he professes to be one of them, a long-standing lover of their club. The football is turgid, and goals are hard to find. Yes, take your pick of which of Newcastle United and Manchester United that refers to. The cap fits both of them.
Prev.
Man United starting XI: De Gea, Young, Maguire, Dalot, Tuanzebe, Fred, McTominay, Pereira, Mata, James, Rashford.
Prev.
Newcastle starting XI: Dubravka, Clark, Schar, Lascelles, Willems, Yedlin, S Longstaff, M Longstaff, Saint-Maximin, Almiron, Joelinton.
Prev.
Let's look at the line-ups, shall we?
Prev.
Hello and welcome to our live coverage of this afternoon's clash between Newcastle and Manchester United as both teams try to get a morale-boosting performance, along with the three points!