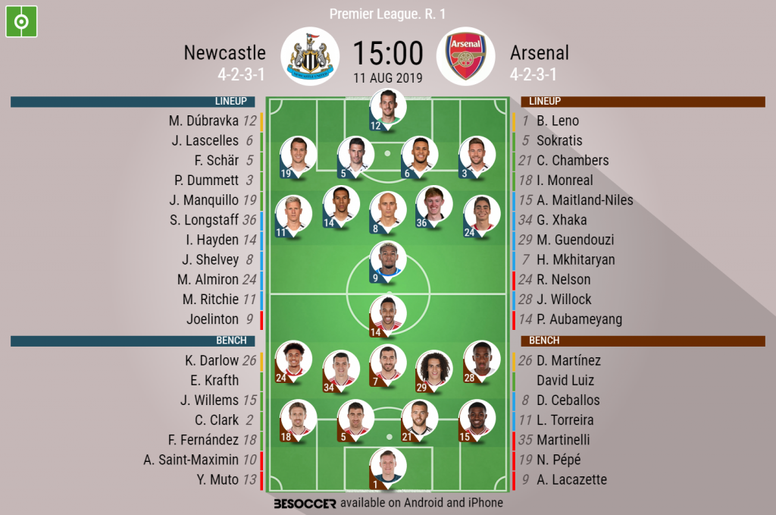 Newcastle V Arsenal - As it happened.
Newcastle United FC

Arsenal

94'
FT: Newcastle 0-1 Arsenal. A decent and encouraging performance from Bruce's side was not enough to beat a disjointed Arsenal. Not the prettiest of wins for Unai Emery, but enough to take the 3 points. Newcastle showed plenty of spirit – Joelinton was lively on debut and Allan Saint-Maximin busy off the bench – but Arsenal always held the upper hand after taking the lead.
93'
Leno makes one last good save seconds away from the final whistle!
92'
Xhaka scarpers to the corner and draws a foul out of Javier Manquillo. Arsenal take an age to play the free-kick and, when they do, they almost free Aubameyang over the top in search of a second goal. But Dubravka is alert to it.
90'
Four minutes of added time!
88'
A great effort from new (and for now, brilliant) signings Joelinton, Almiron and Saint-Maximin, with Joelinton shooting from outside the box. Too high, but great effort.
83'
New signing Martinelli comes in for an exhausted Mkhitaryan.
83'
Saint-Maximin with a good chance!
82'
The former Nice forward has made a healthy first impression in 20-odd minutes off the bench.
82'
Willems nudges the ball into the path of Saint-Maximin, who drifts out wide on the left. Then the winger comes bouncing inside, beyond Maitland-Niles and Guendouzi before taking aim. Saint-Maximin's effort does not lack power but a deflection off Guendouzi takes the sting out of his strike.
80'
Yellow card for Xhaka after a hard tackle to Almiron.
77'
Saint-Maximin breezes beyond Maitland-Niles, whizzing beyond the full-back in a flash but the Newcastle winger slips at the crucial moment. That bit of movement gave Arsenal a fright after they had seemingly got a bit comfortable knocking the ball around the back.
74'
A good few minutes for the Magpies and control from Almiron and Joelinton, but it does not lead to much.
71'
Substitution! Reiss Nelson comes out for record Arsenal signing Nicolas Pépé!
68'
Decent effort! Ritchie drills a low ball into the penalty area from a corner, which Almiron meets at the near post, but his drilled effort is blocked and goes out of play for another corner. However, Arsenal defend this set piece well.
67'
Another Newcastle change now, with Longstaff coming off and he has been replaced by new signing Saint-Maximin.
63'
Dani Ceballos makes his Premier League debut ! He is for youngster Willock.
60'
Surprisingly, Newcastle are actually holding the possession now.
57'
Aubameyang scores a great goal after an even better pass from Maintland-Niles, in what was basically the first defensive mistake from a strong Newcastle. Maitland-Niles gallops down the right and clips in to Aubameyang, who is completely unmarked in the middle. One touch to control it, and he lifts beyond Dubravka.
57'
GOAAAALLLLL!!!!!!!!! AUBAMEYANG!!!!
56'
Arsenal still dominating possession, but still no clear or frequent chances. The Magpies' defence and pressure is proving too strong.
53'
First subs of the afternoon! Willens in, Shelvey out for the Magpies.
51'
Aubameyang reaches the box after a great pass from Xhaka but his shot it too wide!
50'
Ceballos, Lacazette and Pepe warming up. This is about to get good...
47'
Same strong energy from Newcastle in the first few minutes of the second half, particularly standout performer Almiron. It's proving a bigger challenge than expected for Emery.
45'
HT: Newcastle 0-0 Arsenal. An amazingly strong performance by Newcastle has caused some trouble for Arsenal. Good position and constant pressure from Almiron and Joelinton are worrying Emery, even wtih Mkhitaryan proving to be useful. Arsenal are going to need some imagination here, although it's nothing Lacazette or new signing Pepe can't fix... See you in 15 min!
45'
2 minutes added to this first half. Emery will no doubt have to bring out the big guns to face a much stronger Newcastle than initially expected.
43'
Not long to be played in this second half now... Can Arsenal better their performance? Can Newcastle score that goal they've been pushing for?
39'
Almiron tries his luck from long range, but his curling effort has too much on it and the ball flies high over the crossbar.
37'
Mkhitaryan is booked after his late sliding tackle on Hayden, deep on the left touchline as the Newcastle man tried to clear the ball. Silly challenge that didn't need to be made in that area of the pitch.
36'
The Arsenal pressure is starting to build now, they are spending more and more time in the Newcastle half, who are having to sit deep.
35'
Maitland-Niles is getting some treatment on the pitch after Ritchie clips the ankle of the Arsenal right-back, causing him to twist it. However, he should be fine to continue.
33'
Newcastle haven't won their opening league game of a season since 2012-13 (2-1 at home to Tottenham). Since then, they have lost five and drawn one of their opening day matches in the last six seasons, including one game in the Championship. Could this change today? Very open match at the moment!
30'
AUBAMEYANG! What a save from Dubravka! The Gabonese player makes a solo run and finds himself head to head with the goalkeeper, but the Newcastle man saves it!
26'
Joelinton is proving he's worth the money! Another chance for the Newcastle signing, who avoids the entire Arsenal defence by himself but his shot is too weak and therefore comfortably saved by Leno.
25'
Yellow for Nelson after a really bad tackle to Schar.
23'
Arsenal have their first chance at a goal with Mkhitaryan taking a shot, but they are definitely struggling at the moment. Not the game we were all expecting at the moment.
20'
What a headache this is proving to be for Arsenal! Almiron is having an outstanding performance for his new team, creating chances often. There's even a shot on target by Shelvey who goes at it with a terrific strike from the edge of the box, he volleys it towards the top left-hand corner of the net. However, Leno manages to get across just in time and pushes it around the post. The resulting corner comes to nothing. Newcastle having some very strong minutes.
18'
Yellow card for Almiron who clearly goes for a dive in the box. Unfortunate, as it could have lead to a goal for the home team and the Paraguayan new signing is having a good performance.
16'
Two chances for Newcastle! Joelinton heads it after a pass from Manquillo, but it is just too wide! So unfortunate! The crowd goes wild at the chance of starting with a goal.
14'
Maitland-Niles comes alive down the right flank, wheeling towards the byline, flying beyond Matty Ritchie before cutting inside and leaving the Newcastle wing-back on the turf back. His pass inside looks dangerous but Newcastle clear their lines. That was the first real zip in Arsenal's play.
12'
Slight worry here for Newcastle as Shelvey is down injured following a challenge on Guendouzi, the Arsenal midfielder just caught him late. However, it looks like Shelvey will be fine to continue and is going to try and run the injury off.
11'
And indeed, the stats confirm it: Arsenal are currently holding 77% of the possession, but no chances yet.
10'
Fantastic positioning from Newcastle at the moment. Very encouraging. Meanwhile, Arsenal are trying their best and they're dominating possession, but Newcastle players are just not letting them go through at the moment.
9'
Arsenal are just controlling the ball, playing it around the pitch at their own pace and Newcastle are starting to sit deep in order to soak up the pressure. It looks like the hosts are trying to break forward on the counter when they can, with Almiron already using his pace to beat Sokratis.
7'
Strong, energetic start from both teams, but Newcastle's performance is worth singling out. Bruce should be pleased. Almiron-Joelinton is particularly good.
3'
It's pouring down in Newcastle, which makes for quite the amusing image: Unai Emery's head sticking out of a huge Arsenal raincoat.
2'
Here's a great stat as the game gets underway, courtesy of Opta: Arsenal have named two English teenagers (Joe Willock and Reiss Nelson) in their starting XI for a Premier League game for the first time since February 1998 (Paolo Vernazza and Matthew Upson vs Crystal Palace), before either Willock or Nelson were born.
1'
Aubameyang and Willock link up neatly but the former is flagged offside after being slipped in. He was about a yard off. Encouraging start.
1'
And we're off in St. James' Park!
Prev.
The teams are in the tunnel. Jamaal Lascelles looks in the zone and ready to rumble. Granit Xhaka, the Arsenal skipper, is also limbering up. Kick-off is imminent!
Prev.
We are 10 minutes away from kick-off!
Prev.
There has been scepticism over the appointment, but the Magpies turned in a strong display against Saint-Etienne in a friendly victory last weekend.
Prev.
Newcastle, meanwhile, are coming off the back of a complicated summer that saw Rafael Benitez depart at the end of his contract. While speculation whirled for weeks, it was ultimately Steve Bruce who was the man anointed to replace the ex Real Madrid boss.
Prev.
With both ends of the field strengthened, the Gunners will hope to return to Europe's top table in little over 12 months, having narrowly missed out last time around by finishing fifth in the league last term and failing to overcome Chelsea in the Europa League final.
Prev.
While the summer addition of Nicolas Pepe seemed to set the Emirates side up for a thrilling all-out-attack approach this season, Emery subsequently moved to secure the signings of defenders David Luiz and Kieran Tierney over the final hours of the transfer window, suggesting that some effort will be made to shore up an area that has long been considered an Achilles heel for the team.
Prev.
The Gunners had a satisfactory first campaign with the former Paris Saint-Germain boss in charge, though they missed out on the Champions League, something they will be eager to rectify between now and May.
Prev.
Interesting line-ups here! You can tell Steve Bruce is taking his first Premier League match as a challenge, with Newcastle's £40m record signing Joelinton is in from the start. Meanwhile. Unai Emery opts to keep his raft of new signings – David Luiz, Dani Ceballos, Nicolas Pepe and Martinelli – on a very strong Arsenal bench.
Prev.
Arsenal starting XI: Leno; Maitland-Niles, Sokratis, Chambers, Monreal; Xhaka, Guendouzi; Nelson, Willock, Mkhitaryan; Aubameyang
Prev.
Newcastle United starting XI: Dubravka; Schär, Lascelles, Dummett; Manquillo, Hayden, Shelvey, Longstaff, Ritchie; Almiron, Joelinton.
Prev.
Let's take a look at the line-ups shall we?
Prev.
Hello and wlecome to our minute to minute live coverage of this afternoon's Premier League clash between Newcastle and Arsenal, where new coaching arrival Steve Bruce will have a lot to prove amid ongoing protests to Newcastle's owner Mike Ashley, while Unai Emery's newest and most exciting signings (hopefully!) make their Arsenal debut!