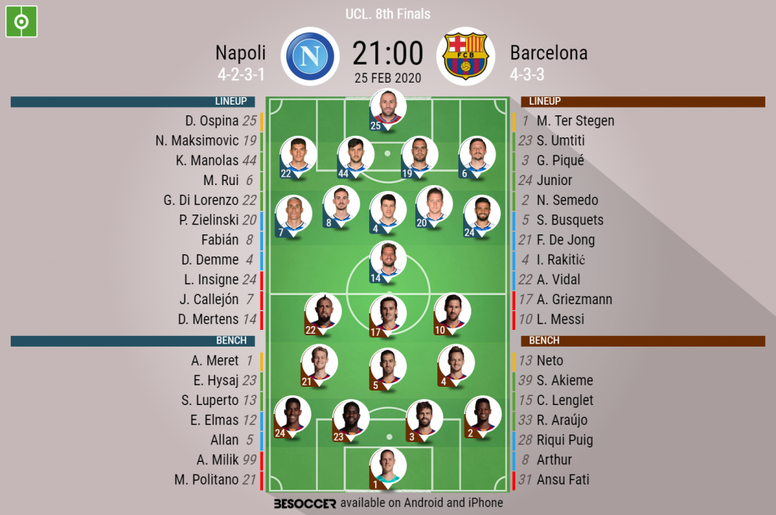 Napoli V Barcelona - As it happened.
Post.
As always, we thank you for joining us this evening! See you tomorrow for some more Champions League football.
95'
FT: Napoli 1-1 Barcelona. Barcelona have a slender advantage at the end of the first leg, but will have to do without both Busquets and Vidal for the second. It's yet another shaky performance from Setién's men, who consistently lack some pressure into the final third, except for the odd brilliance from Messi. Bad news with Vidal getting sent off and Pique possibly getting injured.
90'
Corner for Napoli. Nerve-racking last few minutes.
90'
Gerard Pique falls awkwardly on his ankle and he twists it. He is receiving treatment and will have to come off. Lenglet replaces him.
90'
Five minutes of added time. Gerard Pique falls to the ground...
89'
Rui is booked for his part in the melee with Vidal after the late challenge.
88'
Arturo Vidal loses it and receives two yellow cards in the space of a minute. First, he is cautioned for a foul on Mario Rui, and then he collects a second booking for rubbing heads with the Napoli man, who takes a booking for his role in the confrontation. ¡
87'
Griezmann is subbed and whistled at. The Frenchman is NOT happy with that change. Ansu Fati comes in his place.
86'
Messi tees up Arthur, who from 25 yards shoots well over the bar.
84'
Both teams are tired and it's starting to show, but there's been no relay in the search for goals. COrner for Napoli, who look for a second...
83'
Brilliant skill from Messi very nearly leads to another opening as Rui gets back to make a good tackle before Griezmann cynically hauls back Insigne to go in the book.
79'
Demme is replaced with Allan for the hosts.
76'
OVER! Messi swings the corner into dangerous area and Umtiti rises to head at goal ahead of Ospina, but he can only glance it over from six yards. The Frenchman just mistimes his jump to miscue his effort.
72'
Politano replaces Callejón for the hosts.
70'
Messi twists and turns in the final third as only he can do, but he cannot find the space. Semedo collects on the right flank, only to send his cross behind for a goal-kick.
66'
Messi had to go for that challenge, but referee Brych has belatedly shown him a yellow card as Ospina slowly gets back up to his feet.
65'
Messi and Ospina remain down after running into each other. The Napoli keeper has come off worse, holding his chest. It seems Messi might have hit him with his studs, although it's clearly not malicious.
64'
And a chance at the other end! This comes from a long clearance from Ter Stegen, and ends with Messi playing in Vidal on the right and then flinging himself at the low centre, but he only makes contact with Ospina, who palms the ball away.
63'
And a fantastic chance for Napoli! Busquets' pass is intercepted and the home side spring forward. The ball is played to Milik, who passes to Callejon, in space and inside the area, but Ter Stegen is out quickly to get in the way of his shot yet again.
61'
Chance! Insigne run down the left, cuts between Vidal and Pique into the area, and spears a shot towards goal from the left side of the area, which Ter Stegen saves.
60'
Another decent run from a full-back, this time Junior Firpo being found by Umtiti's long pass, but he checks back and the momentum is lost.
58'
Finally, Barcelona unpick the Napoli defence! Semedo's barnstorming run down the right is the key, and after he's picked out by Busquets a first-time centre finds Griezmann in the middle, whose finish is excellent.
57'
GOAAAAAAAAAALLLLLLLLL!!!!
56'
Barcelona make their first change, replacing the midfielder Ivan Rakitic with the midfielder Arthur.
54'
Mertens will have to go off as a result of that challenge with Busquets. Arkadiusz Milik comes on. Hopefully, the goalscorer is back on the pitch soon.
50'
Mertens is helped rather gingerly back to his feet by a doctor and you do wonder if he is going to be OK to continue. It was at some speed that he was crunched by Busquets.
49'
BOOKED! Ouch, that's nasty from Busquets as he catches Mertens in his attempts to clear the ball. Felix Brych brings out the yellow card from his top pocket, and that means he will miss the return fixture in Barcelona next month.
46'
Back underway! No changes at half time, but Ansu Fati starts to warm up on the sidelines.
45'
HT: Napoli 1-0 Barcelona. It's a slow-paced first half in Naples. The hosts are winning after a stunning strike from Mertens, who have not created much, but still deserve the lead against a very passive Barça. Setién will have to make some changes if they intend on taking some away goals home. Very passive and slow game, bordering on boring.
44'
Vidal collects on the right flank from Rakitic and lifts a cross into the box. It's an awkward one under Ospina's bar, but the keeper holds his nerve to make the claim.
42'
Napoli win a free-kick on the left wing, Busquets punished for obstruction after sitting on a loose ball. It's centred, cleared, re-centred, squared and finally Manolas sidefoots a yard wide! Napoli have done a lot more chance-creation than Barcelona so far.
39'
Ospina takes a gamble at the back offloading towards Demme under pressure from Messi, but the midfielder scoops it away from danger.
37'
Busquets tries to lift a ball over the top for the run of Semedo, but the ball skips off the pitch and out for a goal-kick. It has been that sort of evening so far for the visitors.
34'
Rakitic's driven cross deflects to Ospina, who stoops to pick it up. Barcelona have had 65% of possession but this is the most work he has had to do tonight.
29'
MERTENS!!! What a stunning goal that is! Zielinski robs Firpo of possession and charges forward. He cuts a low pass back towards the edge of the box for the Belgian. Mertens takes one touch before curling it into Ter Stegen's net. Stunner!
27'
Barcelona win the ball on the halfway line, and Messi turns and for the first time sees space in front of him. There are three defenders, and Griezmann in support to the left, but he waits too long before passing and the ball hits Manolas.
25'
Demme gets caught late by Busquets, but the home side are awarded a foul only in their own half. It might be Busquets last warning before a card is produced, who would miss out on the second leg if booked.
22'
Messi drifts out to the right flank and angles a cross into the box. Vidal tries to nod it towards Griezmann, but the flick evades the Frenchman.
18'
Busquets brings down Insigne on the counter, but the referee gives the decision in the favour of the visitors. The Napoli winger is not happy with the official.
16'
Callejón goes on a solo run but Firpo blocks it and sends it directly to Ter Stegen's hands. Napoli looking more likely to open the score in the last few minutes.
14'
Fabian tries to work the ball through to Mertens in the left inside channel, but Pique gets across on the slide to clear it away from danger.
10'
Mertens has an effort on goal on a solo run, but Ter Stegen saves comfortably. It would have been offside anyways.
9'
Messi plays a one-two with Griezmann and shoots over the bar from 20 yards, with four defenders closing him down.
7'
Callejón is called-out for a foul on Junior Firpo.
3'
Barcelona hold the possession in the early stages, but none of it is very threatening as off yet.
1'
And we're off in San Paolo!
Prev.
Clement Lenglet and Arthur have dropped out for Barcelona - Samuel Umtiti and Frenkie de Jong have been handed recalls by Quique Setien. Vidal also earns a call-up as Messi's favourite partner at the moment, but he'll have to answer to the call and provide assists and goals if he intends on keeping that place.
Prev.
Napoli have made two changes from Friday's victory at Brescia, with Piotr Zielinski and Jose Callejon replacing Elif Elmas and Matteo Politano. Koulibaly is still out despite making a recovery from his hamstring injury, but Gennaro Gattuso has said it's a precaution due to some "swelling".
Prev.
However, Barça are in the midst of an institutional crisis that has spilled over onto the pitch and affected the performance of the team itself... Something Napoli knows a thing or two about after sacking Carlo Ancelotti earlier this year.
Prev.
Napoli host Barcelona in their legendary San Paolo stadium, where they hope their crowd will be making the difference against Messi's Barcelona. The visitors are on a high after a strong performance over the weekend which including a first-half hat-trick for the Argentine star.
Prev.
This is the first competitive match between the two sides, which seems a bit hard to believe given both the club's extensive history. Lucky us that get to witness it!
Prev.
Barcelona starting XI: Ter Stegen, Semedo, Pique, Umtiti, Firpo, Busquets, Rakitic, de Jong, Vidal, Griezmann, Messi.
Prev.
Napoli starting XI: Ospina, Di Lorenzo, Manolas, Maksimovic, Mario Rui, Fabian, Demme, Zielinski, Callejon, Mertens, Insigne.
Prev.
Line-ups are out! Let's take a look, shall we?
Prev.
Hello and welcome to our minute to minute coverage of this evening's Champions League round of 16 clash as Napoli host Barcelona in the legendary San Paolo stadium!