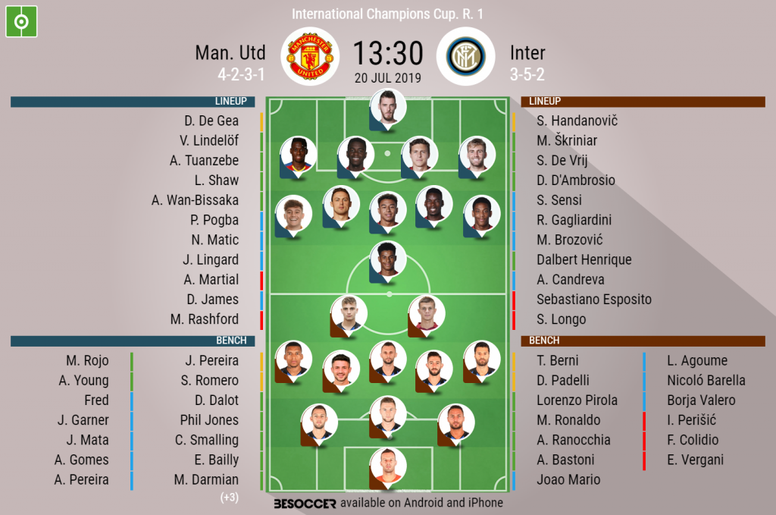 Manchester United v Inter Milan - As it happened
Post.
As always, thank you for following our minute to minute commentary. See you soon!
94'
FT: Manchester United 1-0 Inter. Another really encouraging game against a side expected to challenge for the Italian title next season. Once again, new signings Wan-Bissaka and James impress, while players such as Chong and Greenwood have enhanced their reputation.
93'
Chong is being replaced by Andre Gomes. The former does not look injured, but he has taken some really heavy challenges since entering the field here.
90'
Four minutes of added time to this second half!
89'
United's Pereira is booked for a poor tackle on Skriniar.
88'
Free kick for Man U, but it doesn't lead to to anything of interest. Now a corner kick for Man U.
87'
Skriniar is booked for a cynical check on the Chong, who has been really impressive since coming on.
85'
There are some very tasty challenges coming in at the moment and the United players are not too pleased. Inter have already picked up two yellows, but there could have been many more.
83'
Inter now bring on Agoume, Colidio and Valero for the closing stages.
82'
Inter are just not in the match at the moment as United continue to work the ball into wide areas before delivering. It does appear that the Red Devils will soon find a second goal... The new signings and acedmy product youngsters are delivering stellar performances this preseason.
80'
Now Greenwood hits the bar with a volley! What a talented young player he is.
76'
BRILLIANT footwork and finish from Mason Greenwood to give United a deserved lead!
76'
GOAAAAAAAALLLLL!!! GREENWOOD MAKES IT 1-0!
74'
And an array of subs for Inter now! Candreva, De Vrij, Gagliardini, Sensi and Dalbert leave the field, they are replaced by Barella, Pirola, Joao Mario and Ranocchia.
71'
Candreva goes in the book for hacking down Chong near the left-hand corner flag.
69'
Dalot plays a neat one-two down the right wing, but the full back's whipped centre is just about cleared by the Inter defence for a corner.
63'
Solskjaer switches up the team almost entirely. Ten substitutions in total, with Romero, Dalot, Bailly, Young, Pereira, McTominay, Fred, Mata, Chong and Greenwood all on.
60'
Free kick to United on the right edge of the box after Brozovic - on a yellow - hacks down Wan-Bissaka. However, Pogba's free-kick hits the wall.
54'
Lindelof limps off the field to be replaced by Jones. It does not look too serious for Lindelof, but no chances are being taken with the Sweden international.
54'
Inter just manage to calm things down with a period of pressure and Tuanzebe has to make a smart clearance in front of his own goal to deal with a low cross from Candreva.
50'
OFF THE LINE! Brilliant defending from D'Ambrosio as the Inter centre-back manages to clear an attempt from Lingard off the line after an excellent piece of work from Martial. So close!
46'
Inter have made one change at the interval with Ivan Perisic taking the place of Dalbert. It is the same United XI, which is a nice surprise when considering the amount of changes that have happened at the interval of both of their tour games this summer.
45'
HT: Man U 0-0 Inter. Man U have steadily kept up their posession and upper hand, but Conte's men had flashes of brilliance towards the end of the first half. Manchester United certainly look like a more dangerous team than they did a few months ago at the end of the Premier League. Meanwhile, Conte is doing his best for a team that has lost it's way in recent years. See you in 15 min!
45'
Great anticipation by Handanovic, who races off his line as Rashford looked to latch on to Pogba's gorgeous defence-splitting pass.
45'
3 min of added time to this first half.
43'
Man U's Lukaku has been given some screen time while at the bench, and it seems intentional... The Belgian star has been heavily linked to Inter in the past few weeks.
41'
Some brilliant play between Lingard and Martial cuts Inter open. Martial looks certain to score, but is denied by Handanovic.
39'
D'Ambrosio has just had Inter's best chance, but he heads wide at the far post.
38'
Again it is smart defending from Wan-Bissaka, who clears ahead of Dalbert. Eventually Brozovic mangoes to deliver a dangerous cross towards Dalbert, but the number 29 cannot convert.
32'
Both teams are clearly not handling the heat very well, which is not at all surprising... 30 degrees and high levels of humidity do not mix well with football. Short break from play in order to cool down and drink some water.
31'
Rashford is fractions away from opening the scoring after Shaw's run and cross, while Handanovic just pushes the ball out of Rashford's reach.
27'
Brozovic gets booked after hauling Lingard down on the edge of the box. He hands United a free-kick, but Rasfhord's volley hits the wall.
24'
SAVE! Martial, in space some 25 yards out, drives a low shot goalwards which Handanovic does well to gather down to his right.
23'
Tuanzebe firstly gives away a free kick in a dangerous area, before then doing well to rise high to head clear a curling ball in from the free kick.
18'
Inter only managed to get a bit of possession earlier on. Conte's men haven't gotten the ball away from the Man U attacking trio or Pogba further back in the midfield.
14'
CLOSE! So close to the breakthrough as Shaw finds space outside the Inter box before striking towards the bottom corner, but the ball moves wide of the post. Pogba had also been involved in the move and the France international has been bright early on.
13'
Wan-Bissaka has already won a couple of battles down the right - it is incredibly difficult to beat the defender in a one-on-one, as he showed at Crystal Palace last season. We are still waiting for the first chance of this game despite United making the majority of the early running here.
11'
Brozovic complains to the referee after being booed for a tackle to James. He seems pissed but avoids a booking.
8'
Youngster Daniel James is once again on the starting XI, and fairly so. He has been impressive the past two games, and is proving himself once again tonight. Fluid front three at the moment with Rashford, Greenwood, and James.
4'
It has been a bright start from United with Rashford and Lingard already having the chance to run at the Inter defence. The fans are raising the roof with Solskjaer's side on the front foot.
Prev.
It's a sea of red at The Singapore stadium... It seems they've picked their side, then. Match is seconds away from kick off!
Prev.
The teams have arrived at Singapore's National Stadium; we are 15 min away from kick off!
Prev.
As team news go, Inter has regularly appeared in the press due to the controversial Mauro Icardi, who is not travelling with the squad for the pre-season, and the equally polemical Radja Nainggolan, who has made the trip this time, but will be on the bench for today's game.
Prev.
The Nerazzurri secured Champions League qualification on the final day of the 2018-19 Serie A campaign and will be looking to get closer to Juventus in Italy's top flight next term. The gap from the champions to fourth-placed Inter was 21 points last season, showing the bridge that the team will have to overcome. The Milan team has already made some big moves this transfer window, most notably Atletico's Diego Godin who joined on a free transfer; although he is not playing yet after his particia
Prev.
Meanwhile, Inter, now under the management of Antonio Conte, will be looking to build on their friendly win over Lugano last weekend when they face tougher opponents Man United today. They are behind in terms of training, as the Premier League starts notoriously early compared to other European football leagues, but this should not prove too much of a problem for Conte's men.
Prev.
Manchester United are fresh from victories to Perth Glory and Leeds United in Australia, which has definitely been a positive for the widely criticised team, as stars Marcus Rashford, Phil Jones and Anthony Martial all scored goals, and Paul Pogba - who is now seemingly leaning towards staying at Old Trafford - gave a beautifully delivered assist.
Prev.
It is difficult to read too much into pre-season results, but there is no question that United boss Ole Gunnar Solskjaer will have been pleased with what he has seen from his team in their two matches this summer.
Prev.
Inter XI: Handanovic, D'Ambrosio, De Vrij, Skriniar; Candreva, Gagliardini, Brozovic, Sensi, Dalbert; Esposito, Longo.
Prev.
Man Utd XI: De Gea, Wan-Bissaka, Tuanzebe, Lindelof, Shaw, Matic, Pogba, James, Lingard, Martial, Rashford.
Prev.
We are live at the Singapore National Stadium, with the usual 30 degrees Celcius Singapore's tropical weather offers. Line-ups are out, so let's take a look shall we?
Prev.
Hello and welcome to our minute to minute live commentary of this International Champions Cup game, where Solskjaer's men will have their first go at a European club in this pre-season - Conte's Inter Milan, no less - after two successful games against Australian teams!