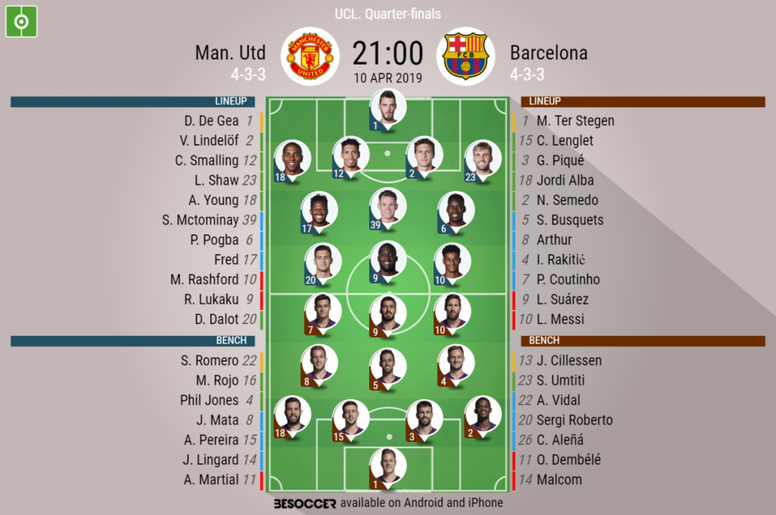 Man. Utd V Barcelona - As it happened.
94'
FT: Man Utd 0-1 Barcelona!!!
94'
Last ball in by Pogba, Smalling beats Vidal to it and knocks it over the bar! Smalling claims a corner and doesn't get it. Alba then goes down to waste a bit of time.
93'
Barca final sub: Alena on for Busquets
92'
Another minute of Barca possession. 2 minutes of Barca passing in the Man U possession and now Vidal commits a foul. 40 seconds left.
91'
Barca have just been passing around in Man U territory for a good minute. Poor Alena is getting cold on the sideline waiting to come on.
90'
Three added minutes! Barca just trying to play out time.
88'
Man U launch the ball into the box a couple of more times without success. Barca are clearing those easily. Pique is playing very well. They will have to score from a set-piece or a well worked move.
86'
Smalling gets it for a shove in Suarez's back.
85'
Man U final sub: Pereira comes on for Rashford
84'
Shots: 9-5. on target: 0-3. 61% possession for Barca.
83'
Brilliant defence once again by Pique otherwise it was 1-1.
81'
Free-kick for Barca in Messi territory. Messi goes under the wall, it takes a deflection and De Gea manages to stop it!
80'
Ball into the box by Rashford is headed away by Lenglet who is fouled in the process.
78'
Barca starting to pick up now. Roberto has the ball down the near side and his cross back for Messi is way underhit.
76'
Lingard kicks Vidal and is carded.
74'
Man U sub: Dalot makes way for Lingard.
73'
It looks like Man U are attacking much more and huffing and puffing. Barca are attacking little, but could score when they do. Barca defending well.
73'
Barca force a corner now!
71'
Vidal has his name taken and he isn't a happy bunny. Fred went down. Hardly touches him.
70'
Rashford boots it well over the crossbar!
69'
Martial has made a dangerous run now in Barca territory and Man U now get a free-kick. Pogba was brought down by Vidal.
68'
Man Utd sub: Martial replaces Lukaku.
67'
De Gea!!!! Brilliant move, Messi was fouled on the edge of the box, the ref played advantage and Jordi Alba forced a save out of the GK! Barca picking up now.
66'
Barcelona double sub: Sergi Roberto and Arturo Vidal on for Arthur and Coutinho
65'
What a glorious opportunity for Barca! Nelson Semedo on this near side plays a beautiful ball for Suarez. He tried to beat De Gea at the near post instead of across the goalie and he finds the side-netting.
63'
Shots: 8-2 in favour of the Red Devils. Barca are going to make a double change. Not surprising really. Barca have been non-existent since the break.
62'
Alba got his head to the resulting free-kick.
61'
Lenglet commits a foul on Rashford.
60'
Pogba sends a cross field ball for Dalot who is then unable to beat Semedo on this near side.
58'
Suarez wanted a handball after the ball hit Shaw from close distance. The linesman has given it. Was quite close really. At least he didn't give him a second yellow.
57'
Fred has a pop now and the defence block. Man U trying to find a way through.
55'
Barca with a long attack which concludes with a wayward pass by Messi for Alba.
53'
And then Man U went up the other end and Rashford nearly got on the end of a long pass.
52'
Barca go into the box for the 1st time! Rakitic spotted Semedo, he received and then Dalot stopped him after the Portuguese tried to cut inside.
51'
Lukaku looks for Rashford, but Pique clears and then Rashford mishits a volley after a Young cross is parried by Ter Stegen. Barca on the ropes.
51'
All United at the moment.
50'
Man U want a handball by Busquets just outside the box! Rocchi not interested. It was a clear handball. Good start by the hosts here. Could have been a 2nd yellow.
49'
Ashley Young forces a corner for Man Utd! The set-piece is headed away by the defence.
48'
McTominay fouls Arthur. Free-kick for the Catalans.
47'
Long ball sent forward for Rashford ends up going for a goal kick.
46'
Welcome back everyone! Man U got us back underway! There were kept waiting by Barca for a couple of minutes. The Barca manager reached the dugout late.
45'
HT: Man Utd 0-1 Barcelona!! Half-time at Old Trafford where the two teams have played in different ways. Barca have had long possessions and have looked for the crack in defence, Man U have been more direct. Barca lead thanks to a Shaw OG which was initially disallowed for offside. Rashford has had a couple of shots for United, but I think Ter Stegen hasn't had to make a save yet. Coutinho could have easily made it 0-2. Join us in less than 10 for the remainder of this one!
45'
Man U finish the half with possession and try to get one last cross into the box. The Barca defence have other ideas though and they keep them out.
45'
Luis Suarez shoots wide now after a lovely backheel by Coutinho! Barca finishing the half well.
43'
Corner for Barca after Alba plays it against Young.
41'
What is Alba doing now? He gets up, bumps gently into Young's body and then goes down again!
40'
What has Dalot done? Lukaku passes to Rashford, the Warrington man crosses for Dalot who inexplicably heads across the goal. instead of into it.
38'
Both teams have just had a dangerous move. Barca's superb chance came rather unexpectedly. A draw would be fair, but Barca are clinical.
36'
What a tremendous save by De Gea! Long ball forward to Luis Suarez, Lindelof lets the ball bounce, Suarez gets there first and controls in the box before Lindelof with his foot touches it to Coutinho. The Brazilian's shot is fired at De Gea who stops with his left foot.
34'
Pogba tries to chip the ball into the defence. Pique, however, reads it.
33'
Man U have done most of the attacking in the last 10 minutes.
31'
Messi is up now, but his nose looks in a bad way. Could be broken. Looks like he has been in a boxing ring.
30'
Messi is bleeding! In the centre of the pitch, Smalling jumps for the ball and his right arm catches the Argentine on the nose. It's not an elbow, but Smalling clearly commits a foul. A yellow for me.
29'
McTominay wants a PK for a foul by Pique. He is close to committing a pen, but I think he just about pulls his leg away.
27'
The goal has actually gone down as a Shaw OG. Suarez's header across goal was an attempt to score and it hit Shaw's shoulder which diverted it into the net.
26'
Good play by United again. They attack down Barca's right once again and the move ends with Pogba sending a ball in for Lukaku. It is overhit though.
24'
The game is similar to before. The Spanish side are controlling possession and territory, but Man U causing trouble when they attack.
21'
Rashford shoots over from 25 yards
20'
Jordi Alba commits a terrible error in Man U territory and Man U break swiftly. The cross from Young was dreadful though.
20'
Shaw sees yellow after bringing down Messi and that comes with extra punishment. He will have to spend the second leg at the Sagrada Familia rather than on the Camp Nou pitch.
19'
Pogba strikes the yellow wall with his free-kick. Goal kick for Ter Stegen.
17'
Busquets goes in the book after pulling back Pogba. Pique had a shocker and forced his teammate to take a card for the team.
16'
That is a key goal for the visitors. It's an away goal and they have made their possession count.
14'
I think the linesman gave Messi offside at the start of the move. I think there was one man offside, but Messi came in from behind. VAR provides justice once again.
13'
The VAR gives it!!!! The ball was looped into the box for Messi who took a bad touch, he recovered and then crossed for Suarez who headed it across goal and actually into the net. Coutinho tried to get his head on it, but he didn't reach it. Neither Messi nor Suarez were offside so the goal was given.
12'
Barca score, but it is chalked off!! Suarez scores, but it is disallowed
10'
Semedo looks for Suarez in the box and a defender cuts out the pass then Rashford is rapid on the counter. Could have been trouble for Valverde's side if Pique had not got back to clear.
9'
Barca are attacking with long possessions, Man U are playing more direct and looking more dangerous at the moment.
8'
Great work by Ter Stegen! Pogba puts in a through ball for Rashford and the German goalie sees the danger and comes out to clear before Rashford can reach.
7'
The away side are attacking with a lot of long possessions
6'
Barca make a very good move! Semedo attacks down the far side, finds Messi in the middle, he looks for room in and around the D, but he is forced out.
5'
Naughty challenge from behind by Young on Coutinho. Could have seen yellow. The Barca players understandably took exception to it.
4'
Rashford goes for goal and it flies just wide! First real chance of the game.
3'
Man U have a free kick 25 yards out after Busquets fouls McTominay.
3'
Two minutes of Barca dominance so far.
1'
Barca get the first corner! Young deflected Alba's attempted cross. The first corner didn't beat the first man, the second wasn't great either.
1'
Barca in yellow get us away! By the way, Aleksandr Ceferin, the UEFA president, is in attendance.
Prev.
Young and Messi, the two captains, shake hands with the ref. Almost time.
Prev.
There's an amazing atmosphere here tonight! The CL anthem sounds as the sun sets in North-West England.
Prev.
The players are coming out onto the pitch at OT! Barca are in yellow tonight.
Prev.
It's a dry night in Manchester at the moment and 10 degrees celsius. Remember Barca were drawn to host the first leg at home, but the tie was reversed after Man City were also scheduled to play the first leg away.
Prev.
Remember Barcelona beat Man Utd in the 2009 and 2011 CL finals in Roma and London respectively. Barcelona's last visit to OT was in the 2007/08 season when Utd knocked out the Spanish side thanks to a Paul Scholes goal.
Prev.
We have Italian officials for tonight's game. Gianluca Rocchi is the referee and Massimiliano Irrati is in the van outside Old Trafford.
Prev.
They also make just one switch from that fixture. Nelson Semedo replaces Sergi Roberto at right back.
Prev.
Barca, on the other hand, played just four days ago and had to put out a full strength side for the Atletico clash where they basically sealed the La Liga title with a 2-0 win.
Prev.
Man Utd lost 2-1 at Wolves eight days ago in their last fixture and they make one change from that starting XI. Rashford starts and Lingard drops to the bench.
Prev.
The away side field the following side: Ter Stegen (GK); Jordi Alba, Lenglet, Pique, Semedo; Arthur, Busquets, Rakitic; Coutinho, Suarez and Messi.
Prev.
Let's get straight to the line-ups. Man Utd: De Gea (GK); Shaw, Lindelof, Smalling, Young; Pogba, McTominay, Fred; Dalot, Rashford and Lukaku.
Prev.
Good evening and welcome along to our live coverage of the Champions League quarter-final first leg between Manchester United and Barcelona from Old Trafford in potentially the tie of the round. Stay with us for all the pre-match info!