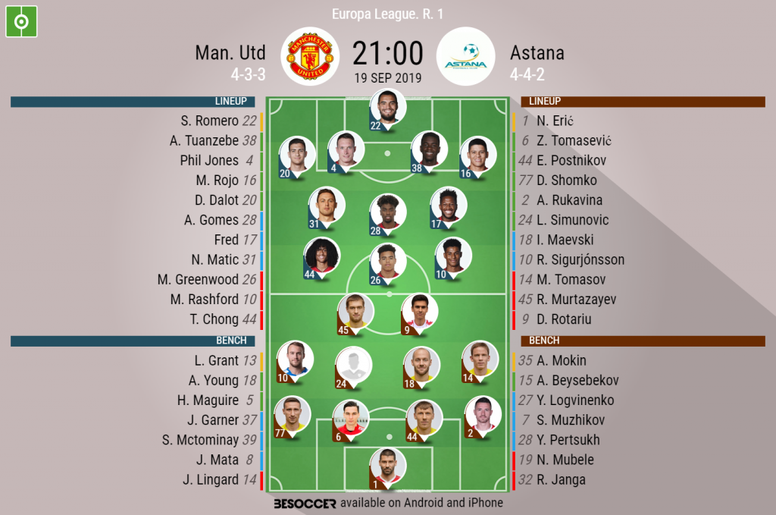 Man. Utd V Astana - As it happened.
90'
FT: Man Utd 1-0 Astana. The expected win for Utd but perhaps not the expected amount of goals. Too many inexperienced players against a frail side have meant that Man U have not scored much despite many chances.
90'
Two minutes of added time in Old Trafford!
87'
The pace of play has slowed right down since Greenwood's goal and it's a case of just keeping hold of the ball for United. Astana though are still on the attck, Rukavina attempting a cross, but Tuanzebe is there to head it away.
84'
Rashford's pace scares Tomasevic and he lunges for the ball and hoofs it out for a corner. Meanwhile the ref pulls Fred for a tackle a few moments ago, and puts him into the book. Mata's corner swerves in and Eric clears.
82'
Astana's final change sees Rotariu come off for Ndombe Mubele.
78'
Rojo - making his first appearance of the season - goes off to a round of applause for Young.
76'
What an effort from Rojo! He lines one up from distance and it swerves right through a busy defence, but sails just wide for a goal-kick. It seems Eric got a touch on it, but the referee doesn't agree.
75'
Finally we have it, and it's a first ever senior goal for Mason Greenwood! The youngster is fed the ball from Rashford, and begins toying with his marker on the right.He cuts inside, before driving to the byline, and then cuts inside again. The keeper is unsure whether he will shoot or cross, and Greenwood slots it across goal beneath him. Great finish as United break the deadlock on the 74minute mark.
74'
GOAAAAAAAAAALLLLLL!!!!!!!
67'
A few changes for Man Utd here: Gomes in for Mata; Chong for Lingard in double change.
61'
Astana with a chance to attack, Tomasov picking up the ball out on the right. He crosses and it's a decent one, but it sails over Janga's head and Rotariu at the far post can't get proper contact on it! United caught out there and a great chance for the away side to go in front!
59'
Another free-kick for United, Tomasevic catching Gomes to give it away. It's Rashford and Fred over the dead ball and it's Brazilian to take this time. Not a bad effort, but Eric gets across to make a good save.
55'
Maevski again involved in the action with a meaty challenge on Rashford on the edge of the area. The United man gladly takes the foul, and lines the freekick up instantly. His 30-yard effort is a dipping one, but is just the wrong side of the bar. The keeper looked to have it covered.
46'
CHANCE! Another great ball across the face of goal from Rojo, zipping into a very dangerous area. Neither Rashford or Chong can get the final touch, as it floats pass them both and behind.
45'
Second half underway! Astana have made two changes, which sees Simunovic come off for Logvinenko and Murtazayev make way for Janga.
45'
HT: Man Utd 0-0 Astana. A really tame Manchester United struggle to find a way past a stubborn Astana side as we head into the break without a goal. Fred hit the bar from distance in the fourth minute, but Rashford's had the best chances of the lot; he saw a shot from a poorly defended corner saved from two or three yards out in the 13th minute and again Eric denied him from a volley eight minutes later.
42'
Rashford picks out Dalot in space with an excellent pass to the flank, but the right-back takes a touch too many and again his cross is poor! How many of these opportunities is he going to need? That's six now already!
37'
Look at this for domination! 75 percent possession so far and nine efforts in total! Solskjaer should rightfully be disappointed if this remains goalless at the break.
36'
rare, rare break for Astana sees star man Murtazayev squander the chance. He perhaps couldn't quite believe he'd been played beyond the United line, and hit his shot way too early from the left-hand side, towards the Stretford end.
33'
United come again through Gomes, picking out Dalot wide on the right. He nearly loses the ball as he slips, but does well to recover it and beat Shomko with some silky feet, but his cross is poor.
27'
Chong wins a corner after he's beaten to the ball at the byline by Postnikov. Gomes pings it in with a lovely delivery, but Tuanzebe can't quite get his head on it.
21'
SAVE! Rojo tries another long ball into Rashford running beyond the defence and he's onside this time, but the shot's weak and Eric smothers it! He should probably have two already today!
16'
WHAT A CHANCE FOR GREENWOOD! Very close to his first senior United goal after neat interchange with Rashford on the right of the area. Rashford tees him on the inside edge, and Greewood arcs his body across the ball expertly. He aims for the far corner, with a vicious effort. It's just over.
11'
Superb close-range save from Eric in the Astana goal! A corner dropped at the near post and Rashford simply smashes the ball from two yards. It's on target, but somehow the keeper makes himself a big enough obstacle.
8'
it looks as though Astana have moved from a 4-4-2 to a 4-1-4-1, Maevski dropping inbetween the defence and midfield just to reinforce the middle third. The aim, you would think, is to win that midfield battle and stop United playing through, but it's not exactly working yet.
4'
OFF THE BAR! Fred gets his head up from distance, hits one with his left towards goal and it cracks off the bar and out of play! Good effort from the Brazilian!
2'
First big chance of the game as Fred launches a stunning shot from distance which grazes the bar.
Prev.
Manchester United is 3,700 miles from Astana in Kazakhstan, and in football terms Thursday night's Europa League combatants are arguably even farther apart.
Prev.
A big night for 17-year-old Greenwood! He only made his competitive debut in March - coming on as United beat Paris Saint-Germain in the Champions League last-16. He went on to make three league appearances last season and has four under his belt in this campaign, but is today the day he opens his club account?
Prev.
Ole Gunnar Solskjaer makes nine changes from the weekend as he names a youthful XI including the likes of Tuanezebe, Chong, Greenwood and Gomes - these four have a combined 26 senior appearances for the club. There are also starts for forgotten men Fred and Rojo, while Rashford and Matic survive from the Leicester win.
Prev.
The players jump into the pitch and the match is about to start now! Quick run over team news before we get underway at Old Trafford.
Prev.
Astana starting XI: Eric, Rukavina, Evgeni Postnikov, Tomasevic, Shomko, Tomasov, Maewski, Simunovic, Sigurjonsson, Rotariu, Murtazaev.
Prev.
Man Utd starting XI: Romero, Dalot, Jones, Tuanzebe, Rojo, Fred, Matic, Gomes, Rashford, Greenwood, Chong.
Prev.
Let's have a look at the teams
Prev.
Hello and welcome to our minute to minute coverage of this evening's Europa League match between the Red Devils and the Kazakhstan giants!