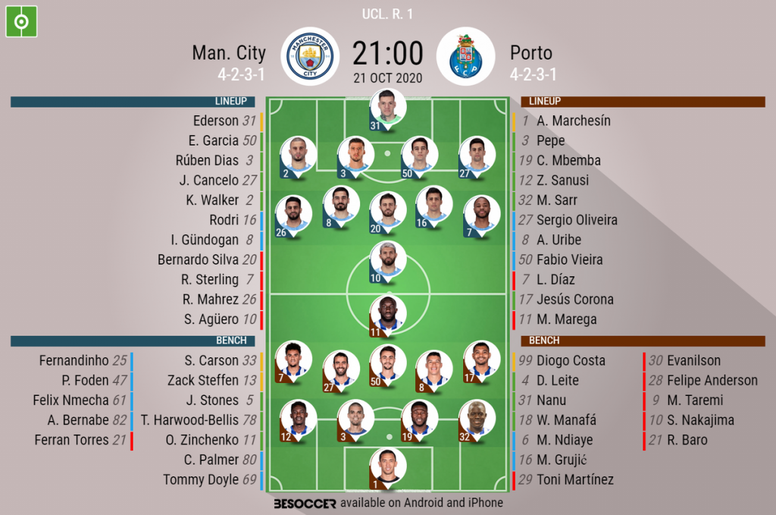 Man. City V Porto - As it happened.
Post.
FT: And that is that! City walk away victorious having been the better of the two sides in the second half. Thanks for joining me! Until next time.
90'
+2: Fernandinho will come off just minutes after coming on with an injury. Stones replaces him to finish the game.
90'
+2: It's been an even match at times but City have dominated the possession and definitely shown that they have the edge when it comes to quality.
90'
+1: Barring a miracle, City walk away with all the points today.
89'
City clear the attack and kill the ball. Fernandinho is booked for a tough tackle in the centre of the pitch.
88'
Porto are attacking relentlessly hoping to find a gap around City's area.
86'
Porto FK in City's half is wasted and put out for a goal kick.
85'
Fernandinho comes on for Rodri.
82'
Pepe fouls Sterling and Pepe accuses him of diving! Tensions are high on the field.
82'
Mahrez should bury that! Sterling put the perfect ball to Mahrez's feet after an intercepted Porto pass caught out the Porto defence.
80'
Dangerous move by City! Foden had almost an open net but couldn't get on top of the cross in the box.
78'
Marega finds himself in space from the edge of the area but puts it well over. Never any danger for Ederson.
76'
Nakajima and Nanu come on for Porto who need to do something to salvage this.
75'
Foden fouls Vieira from behind. He could have been booked for that!
73'
Poor Pepe was left for dead with that move! Class from Torres.
72'
GOAL CITY: Torres came on and scored! Dribbles past Pepe and scores a great goal in the area.
71'
City keep probing, pushing for a 3rd and to kill the match.
67'
Aguero comes off for Ferran Torres.
64'
GOAL CITY: Brilliant FK form Gundogan. Unstoppable with a great curve.
63'
FK on the edge of the area for City!
60'
Scramble in the box as City just can't seem to find the net!
58'
Aguero handles the ball in the area after receiving a cross from Walker. Unintentional but the ref has seen it and marks an end to the attack.
57'
Offside. Wasted opportunity for City.
56'
City FK in a dangerous position out wide of the area. They'll want to put this in the box rather than shoot.
53'
Porto attack from Diaz gets worryingly deep! City manage to track back in time to stop him on the edge of the area.
52'
Great penetrating run down the wing from Cancelo is cut short and cleared by the Porto defence.
51'
City maintain their dominance of the possession in the second half too.
50'
City Corner is played short and whipped in from an angle. Marchesin leaps and pulls it out of the area. Competent keeping once again.
49'
Gundogan has a shot from a deflection on the edge of the area put wide by Marchesin. Great save from the keeper!
47'
Walker was almost caught out dribbling across the mouth of his own goal then! Cancelo came to the rescue
46'
Who will score first in the second half? Let's go!
45'
HT: A fairly even game today so far. With City having more of the ball. Both teams have performed well so far.
44'
Porto and City will be content to leave it at 1-1 at HT and reset after both teams have had great chances.
41'
Walker clears it off the line as Ederson is once again caught out! Porto throw in.
40'
Sanusi goes down after an aerial contest with Walker and calls for a second yellow. Didn't look to be much in that and the referee agrees.
38'
Fantastic pass finds Mahrez on the wing who crosses it across to Aguero who is just a bit too far ahead to get on top of it. Good chance for City.
36'
That makes three silly yellows now from City. Will we see a red today?
35'
Yellow for Cancela after a silly aerial challenge where he elbowed Marega.
33'
Yello for Silva who body-checked Diaz off the ball. Looks like Diaz had the wind knocked out of him.
32'
Great run and pass from Sanusi who shoots from the edge of the box but stopped by Ederson.
28'
And then that happens, Porto steal the ball and a launch a quick attack down the wing. Kyle Walker put an end to the attack with force.
27'
City are controlling the possession but not really doing much with it... Continue to play it around the midfield looking for openings but finding nothing.
24'
Now that was subtle! Mahrez steals the ball to facilitate a City attack. Can City apply enough pressure?
23'
walker smashes the ball from his half hoping to find Mahrez in the box. Way too much power on that. Not the most subtle of tactics.
21'
City were let off then! what was Ederson thinking! passing the ball through two strikers when he was not only off his line but out of his six-yard box. Porto put it over an open net.
19'
GOAL CITY: Aguero didn't flinch. A low hard strike, the keeper had no chance despite getting a hand to it.
19'
Penalty given! Aguero steps up...
17'
VAR is checking for the penalty...
16'
Penalty! Sterling goes down after a goal-line clearance and Pepe came in hard.
15'
The pressure is on City now to try and level the game out before Porto get some real momentum behind them. Their goal came from a counterattack/passing error.
14'
A Punishing mistake from City that Díaz took advantage of with style.
13'
PORTO GOAL: Great strike from Díaz. What a goal! He strokes from the edge of the area after a great run from an intercepted pass from Walker.
12'
Porto corner after a great run by Marega down the wing is cleared by Garcia.
11'
City ramp up the offensive pressure. They've had several attacking moves now but few clear chances.
10'
Mahrez gets flagged offside but he didn't reach the ball anyway. Probably best since he didn't look at all offside...
8'
Great through ball to Sterling in the area is just a touch too long as Marchesin collects.
7'
Great passing from City around the opposition area but Porto remain solid at the back.
6'
City seem to have the upper hand as they probe Porto's defences around their area.
4'
City quickly clear the attacking move and are trying to play it out from the back.
4'
Porto FK from their own half finds sanusi on the left-wing. What a great ball.
3'
An unremarkable start from both sides so far. Pep is shouting from the side to try and inject some energy into the match.
1'
Porto have their work cut out for them away at City tonight, it's important that City make a good start to the competition too!
1'
No De Bruyne today for City. Let's go!
Prev.
Kick off is coming! Match predictions in the comments?
Prev.
This is what happened the last time these two teams met.
Prev.
Porto are in the building!
Prev.
City come to the clash at home today with quite the record in Europe...
Prev.
Porto XI: Marchesin, Mbemba, Pepe, Sarr, Corona, Sergio Oliveira, Uribe, Sanusi, Vieira, Diaz, Marega.
Prev.
Man City XI: Ederson, Walker, Dias, Garcia, Joao Cancelo, Bernardo Silva, Rodri, Gundogan, Mahrez, Aguero, Sterling.