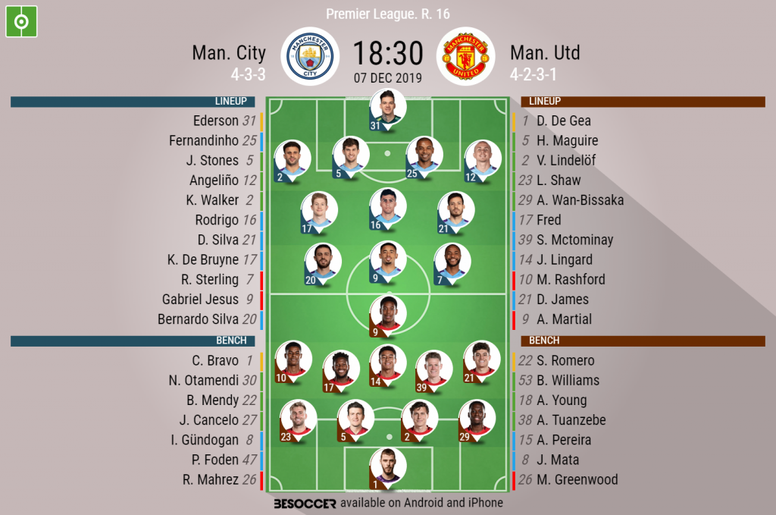 Manchester City v Manchester United - as it happened
Manchester City FC

Manchester United FC

95'
FT: Man City 1-2 Man United. United were breath-taking for 30 minutes then defended manfully for the remainder whilst being in control of the game. What a week it's been for Manchester United, goals from Rashford and Martial saw off an out of sorts Manchester City, who must be out of the title race now... And Liverpool are now 14 clear! The Premier League, as wonderful as ever.
94'
Sir Alex Ferguson is seen in the stands... With a huge smirk on his face. One minute left.
93'
Yellow card for Walker for a harsh tackle to Ashley Young.
89'
SUBS! United are now trying to slow the game down. Shaw limps off with cramp. Young is on. Tuanzebe also is on for Lingard - he's been excellent this evening.
87'
THAT COULD HAVE BEEN THE EQUALISER!!! Mahrez cuts inside as he is wont to do and fires a low shot at De Gea's goal, but the keeper gets down quickly and makes a one-armed stop!
86'
Manchester City immediately make a change after the goal, as Rodri is replaced by Gundogan.
85'
OTAMENDI BRINGS IT BACK TO 2-1! Mahrez swings a corner into the 18-yard box, and Otamendi meets it with a thumping header! The substitute makes a difference as City cut the deficit!
84'
GOAAAAAAAAAALLLLLLLLL OTAMENDI!!!!
81'
If this match remains the same, this would be Guardiola's worst start since he started his professional career as a coach.
76'
Manchester look out of ideas as they pour forward with no real cohesion. Manchester United, thanks to the early goal, have been able to sit back in their positions and hold shape - attacking rapidly whenever the hosts misplay a pass.
75'
Talk about an immediate involvement. The Brazilian lashes out at Sterling's leg to stop a quick-fire counter attack. Immediate yellow.
74'
Looking to settle the final 15 minutes of the match - Solskjaer removes Martial and replaces him with Pereira.
70'
PENALTY APPEAL...NOT GIVEN! Sterling charges to the by-line but Maguire comes across to usher him away. Sterling hits the deck and looks at the referee....but Anthony Taylor waves it away.
68'
Fred and Lingard go over to take the corner and are pelted with objects from the crowd. The camera shows at least three lighters and a bottle around the United players. Fred then is struck by an object on the back of his neck. He's OK to continue. But it's not nice to see.
67'
James leads a counter-attack after winning the ball from Angelino, and he sends a pass across the penalty area for Lingard, who draws a save at the near post from Ederson. The Welshman has been outstanding today.
66'
Mahrez is on for Bernardo Silva. Good call, he's not been the best today and caused the penalty...
63'
RODRI FORCES DE GEA INTO A DIVING SAVE! Rodri receives a pass from the left and fires a thunderbolt towards the City goal from 18 yards out, but a diving De Gea does just enough to get fingertips to it to push it over for a corner! Incredible save!
57'
Really bad news for Guardiola... Yet another possible defensive injury. Central defender John Stones is going to have to be replaced through apparent injury. Otamendi will take his place.
55'
WHAT A BLOCK!! Wan-Bissaka makes some vital challenges on Sterling in and around the box but De Bruyne still sneaks through the heart of the defence. He pulls the trigger from 12 yards but Lindelof is across very quickly to deflect the ball over the crossbar. Superb defending at the moment.
53'
Yellow card to De Gea for time-wasting. Such is Utd's wish to win that they're pulling this kind of move... at the 53rd minute.
50'
Fred takes a free-kick on the right wing, but it doesn't have the lift required - allowing De Bruyne to hammer it away easily.
49'
SHOT! City are probing. Angelino plays a clever ball inside to David Silva who can charge into the box. Jesus is waiting but the Spaniard clips a terrible ball straight out for a goal kick.
46'
Back underway! Can Guardiola's men come back from this?
45'
HT: CIty 0-2 Utd. The first 45 minutes of the Manchester Derby come to a close, with the Red Devils protecting a comfortable 2-0 lead. The visitors have played the better football, attacking in waves with pace and an up-tempo passing rhythm. Bernardo's tackle on Rashford presented the local boy an opportunity to take the lead from the penalty spot - which he did - before Martial's slotted finish gave United a two-goal advantage. Manchester City have looked off... See you in 15!
45'
De Bruyne crosses from the right. David Silva nearly bundles in at the far post, but can't hook the ball goalwards, and De Gea was on point anyway.
44'
City are completely on top. United can't get out, and after 30 minutes of freewheeling around like they own the place, will now be desperate to hear the half-time whistle. Strange game, this one.
43'
David Silva wafts a dismal effort towards the top right. It's weak, and easy pickings for De Gea.
39'
ALMOST! DE BRUYNE! Sterling draws a foul of Wan-Bissaka right on the corner of the area. De Bruyne has the option of shooting or crossing and goes for the greedy option. It's not one of his best. De Gea sees it over the crossbar...
38'
CHANCE!! Best moment from City going forward. De Bruyne shows he only needs half a yard to put one on a plate. His curling cross finds Jesus about 10 yards out but his diving header skews horribly wide of the post.
37'
James puts a dangerous ball across the face of goal for Martial, but the striker is a step behind as it rolls on for Walker. The Manchester United right winger has delivered fantastic service thus far - constantly tempting team-mates to attack. City just don't like defending...
34'
SHOT! De Gea gets a touch - how kind of City! David Silva jinks forward and drives one from 25 yards. De Gea reads it and gets right behind it. The stadium has quieted in disbelief.
31'
Man Utd are clearly the better team here. Manchester United could be 5-0 up. Rashford is destroying City's defense and there's nothing Guardiola can do about it at the moment.
29'
Anthony Martial finds the bottom corner. A sublime turn saw Martial find some space, before exchanging a quick give-and-go. He gets the ball back and drills it under Angelino and into the corner, off the post. What a start by the visitors!
28'
GOAAAAAAAAAAAAAAAALLLLLLLLLLLL!!!! They had it coming....
27'
RASHFORD CLIPS THE CROSSBAR! He's in a confident mood as he receives a low cutback from the right on the edge of the area and takes a second to square his body to goal.
26'
Manchester City have nothing going for them right now. It's shocking to see. The visitors dominating in all ways.
25'
United have a swift counter-attack as Martial sweeps it forward to Fred, who finds Rashford inside the penalty area. The England international opts for a first-time curler towards the far post, but he misses the target by the narrowest of margins! The visitors are in the ascendancy!
24'
It's a deserved lead, as Manchester United have frankly been better here. Their match plan is clearly going, while City have not managed to keep theirs. It's all counterattack at the moment... But who cares when you're winning, I guess?
23'
MARCUS RASHFORD WITH COLD BLOODED FINISH!!!!!!!!!!! Rashford coolly steps up and rolls a penalty low into the bottom-right corner of the goal, sending Ederson in the wrong direction! The visitors have the lead!
21'
Bernardo Silva is given a yellow for protesting VAR's decision... Golden chance for Utd who have been better the past few minutes.
20'
VAR checks... PENALTY GIVEN!
19'
PENALTY SHOUT... Fred breaks up play in midfield and Rashford gets going into the box. He takes on Bernardo Silva who dangles a leg out and Rashford goes over....the referee says no penalty.
17'
Lingard gets free inside the box but can't beat Ederson. Chances are falling United's way at the moment!
15'
Chance!! A good break from United sees James cut back a pass for Martial. He hits a powerful effort, and again Ederson is there to save.
14'
PENALTY APPEAL...! NOT GIVEN! Super play from City. Bernardo Silva gets away down the right and rolls a ferocious cross into the six yard box but Lindelof slides in to clear it away. Jesus screams for a penalty as the ball did hit his arm but there's nothing he could have done. VAR agrees with the on-field call.
13'
Walker switches play with a powerful cross, but it's for nought as Sterling's pass through for Angelino is overhit, allowing De Gea to watch it out for a goal-kick.
11'
lovely interchange between Sterling and David Silva goes to waste as Angelino - who made the overlapping run down the flank - puts in a shocking delivery which exits the box on the other side for Shaw to recover.
9'
David Silva turns in midfield and hits it long over the top for the run of Sterling, but it rolls into the penalty area where De Gea can come off his line and grab.
6'
Kyle Walker beats Martial on a run towards the box... That must have required so much body strength.
5'
Silva is leading the charge for the hosts and Manchester United can't breathe at the moment. They're trying very hard to score an early opener.
2'
Daniel James almost opens the score at the rivals home! Possession has been shared, and both teams have had their shared chances! This is a derby, people!
1'
And we're off! The fans are making their presence heard!
Prev.
The Red Devils do, however, hold the superior head-to-head record: 21 wins to City's 15, with the points split on eight occasions.
Prev.
Meanwhile, Guardiola's record in the Manchester derby is sure to make City supporters happy. The champions prevailed 2-0 at Old Trafford in April, the Catalan's seventh win from 11 meetings with the team across town
Prev.
United head across town fresh from a morale-boosting reunion with former manager Mourinho but have issues to rectify against fellow 'big six' teams. They have won one of their past five away to such opposition and weaknesses were evident in recent trips to Bournemouth and Sheffield United, which reaped a solitary point.
Prev.
Form guide for both teams! City returned to winning ways against the Clarets after drawing on the road at Newcastle United, a result that left them 11 points adrift of Liverpool, who remain 11 points away temporarily after beating Bournemouth. The club's record over their past 10 top-flight matches now reads seven victories, one draw and two defeats, those coming against Wolves and leaders Liverpool at Anfield.
Prev.
Guardiola makes just one change in that team that saw him beat Burnley, while Solskjaer brings back the trusted Rashford and James duo, but Jesse Lingard is dropped.
Prev.
Man Utd starting XI: De Gea, Wan-Bissaka, Maguire, Lindelof, Shaw, McTominay, Fred, Lingard, James, Rashford, Martial.
Prev.
Man City starting XI: Ederson, Walker, Fernandinho, Stones, Angelino, Rodri, De Bruyne, D Silva, B Silva, Jesus, Sterling.
Prev.
Teams have started to arrive as the sun sets in Manchester... Nothing but a win for the hosts would be a shocking result today, but as it often happens with these derbies, form could very well go out the window.
Prev.
Hello and welcome to our minute to minute coverage of this afternoon's Manchester derby!