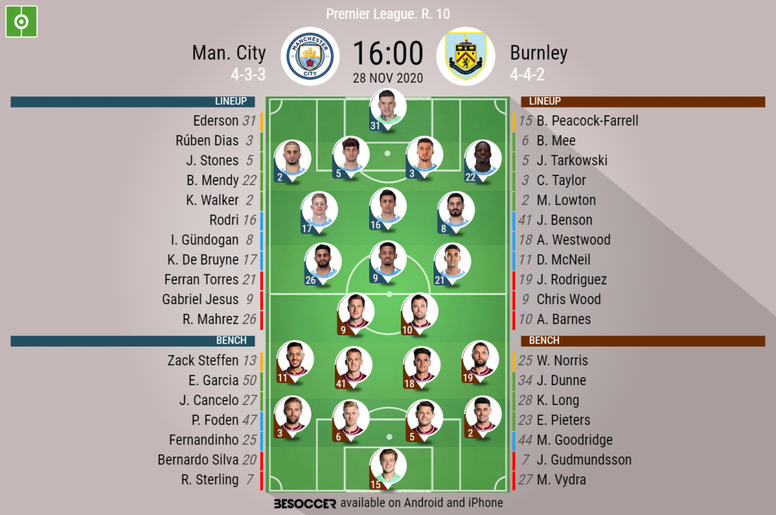 Man. City V Burnley - As it happened.
Post.
So, that's that at the Etihad after a stunning Manchester City performance. Dominant from start to finish as De Bruyne and Mahrez shone, the latter scoring a hat-trick of brilliantly taken goals. Burnley didn't play badly but were simply outclassed - anyone who had ruled the Citizens out of the title race needs to rethink!
94'
FT: Manchester City 5-0 Burnley
93'
Yet another Burnley long ball and Ederson collects it with ease.
92'
Stones heads away a deep ball in.
91'
Taylor's cross is blocked out for a throw.
90'
De Bruyne strikes the post! His shot from a very tight angle smashes against the near post - it's still shaking!
89'
City have just taken their foot off the gas here now - they have a throw now on the nearside.
88'
Foden concedes the free-kick on the edge of the City box.
87'
Foden's shot is charged down and eventually cleared away by Lowton.
86'
Jesus loses it inside the Burnley area after the De Bruyne through ball.
85'
Burnley win the free-kick inside the City half.
83'
Chance for Burnley as the ball is flashed across the face and Rodriguez's misses the header, Mendy sweeps up.
82'
Mendy sweeps up another long ball.
81'
Vydra is on for Barnes up top.
81'
Taken short yet again and the eventual Mahrez cross is headed wide by Fernandinho.
80'
Mendy presses well to win it back and Foden beats a couple of men before seeing his shot deflected behind for a corner.
79'
Ederson comes well out of his own box and deals with it brilliantly.
79'
Garcia send the long ball out for a Burnley throw.
78'
Pieters heaves the ball out for a City throw in an attacking possition.
77'
Jesus was half an inch offside and the goal is ruled out.
76'
VAR are checking for an offside.
75'
GOAL CITY!!! A painful one that for Burnley... The cross came in from De BRuyne and Jesus' shot is saved superbly by Peacock-Farrel but he deflects it off his own leg and the ball is in the net for an own-goal on his Premier League debut.
75'
Burnley are still pressing very high and this could get worse yet for them.
74'
City are slowing things down a bit with possession inside their own half.
73'
Benson gets under his shot and his horrendous over is behind for another City goal-kick.
73'
Good Burnley press but City have the throw inside their own half.
72'
Barnes curls wide and behind for a goal-kick from just outside the box.
71'
Burnley win the free-kick on Jesus inside their own half.
70'
Eric Garcia replaces Ruben Dias.
69'
GOAL CITY!!! There's the hat-trick for Riyad Mahrez! De Bruyne plays Foden through down the left before the youngster crosses in stunningly first time to find Mahrez at the far post for his hat-trick!
68'
Burnley win the throw on the far side.
67'
Foden on for the goalscorer Torres. Pieters replaces Chris Wood for Burnley.
66'
GOAL CITY!!! Another brilliant City move and this time it is Torres who taps home! Stunning Walker run down the right before a one-two with Mahrez and his cross is flicked on by Jesus who tees up Torres to sweep home!
66'
Torres got into the area before Tarkowski cut it out.
65'
Back underway now and Tarkowski is back playing!
64'
Really worrying signs here for James Tarkowski - he is still on the floor and the stretcher is out.
63'
Replays show that the Burnley centre-back caught a punch from Ederson as the cross cam in, he is still down for now.
62'
The counter is stopped as Tarkowski goes down with a head injury in the City area.
62'
Ederson gets something on it and City look to counter...
62'
The Burnley free-kick from right on the edge of the City box in a central area is deflected behind for a corner.
61'
Rodriguez forces a good save from Ederson from a tight angle.
60'
Barnes flicks on a long-ball but Walker sweeps up and plays it back to Ederson.
59'
Taylor's last-ditch challenge denies Mahrez.
59'
Out for a City throw on the far side after a very very short spell of Burnley possession.
58'
Mahrez loses it inside the Burnley box after a sensational Kevin De Bruyne run on the counter.
57'
Walker fouls Macneil unnecessarily.
56'
Taken short again but Stones concedes the attacking free-kick.
56'
De Bruyne takes it short and the eventual cross is headed behind again.
55'
Lowton heads behind a long-ball for a corner.
54'
Walker's deflected cross is carried away by Westwood.
53'
Macneil hits it from 35 yards out and it goes high and wide of the right-hand post.
52'
De Bruyne shoots wide with his left from outside the box.
52'
Ashley Barnes was down briefly but we are back going again here now.
51'
Ederson claims it off the head of Chris Wood.
51'
Corner to Burnley after the Westwood cross is flicked out.
50'
Stones heads away the long Westwood free-kick.
50'
Lowton picks off the Mendy pass and earns a free-kick.
49'
Tarkowski cuts out the De Bruyne pass on the counter.
49'
De Bruyne turned into Rodriguez and the Burnley man breaks up the City counter.
48'
Mahrez hits it first time with his left foot and skies it over the bar.
47'
Barne's shot is well well wide.
46'
We are back underway again at the Etihad - will City score more?!
45'
Fernandinho on for Rodri as City make one half-time change.
45'
HT: Manchester City 3-0 Burnley
45'
Jesus' effort is over the near post and into the stand for a goal-kick.
45'
Ederson manages to claim it and get it out - off his line just so quickly.
44'
Ederson is impeeded and City have the free-kick.
43'
Vydra wins it in a good area and Dwight McNeil earns a corner.
42'
Burnley look to send it long again but lose possession.
41'
GOAL CITY!!! Sensational from City again! The De Bruyne clipped ball is inch-perfect to Mendy out wide and the Frenchman volleys home sidefooted past Peacock-Farrell for his first Manchester CIty goal!
40'
Taylor beats Walker to the ball and City will settle for a throw inside their own half.
39'
City win it back again though...
39'
De Bruyne is tackled in midfield and Burnley will look to create something.
38'
Burnley are holding the ball but CIty's press means they can't go anywhere with it.
37'
The ball is whipped in and cleared by Walker after a Gundogan header.
36'
A chance maybe here from Burnley as they win a freekick in an attacking area out wide on the far side.
35'
Good hold-up play from Vydra in midfield to win the free-kick.
34'
Poor from Mendy as he loses it in midfield.
33'
City keeping possession and a high tempo as they look to carve out another opening.
32'
De Bruyne loses it in midfield but City press back in a flash to win the ball back.
31'
De Bruyne drops back into the box and heads away - superb work from him in defence.
31'
Burnley do press well and manage to win it of Walker on halfway.
30'
City free-kick on the far side.
29'
The low De Bruyne cross is blocked and cleared.
28'
Another corner for City after Mendy's volleyed delivery is blocked behind.
27'
VAR checked it and confirmed that the goal will not stand.
26'
Jesus put it in the net at the far post but it has been ruled out for offside!!! The ball came in from the corner.
25'
De Bruyne's cross from the right is just about tipped over by Peacock-Farrell.
24'
Tarkowski cuts out a Mendy cross again before Gundogan shanks it well over the bar.
23'
City are already right back on the edge of the Burnley box - this is true dominance.
22'
GOAL CITY!!! Brilliant again from Riyad Mahrez! Walker throws it straight into the Algerian before he dances around Ben Mee and slams home beautifully of the right-hand post!
21'
Barnes volleys away the Mendy cross.
19'
Socking Walker effort from outside the box flies into row z.
18'
Taken short and Stones' shot from the edge of the area was blocked and cleared - City retain possession.
18'
Taylor tackles Mahrez and puts it behind for a corner.
17'
Dias loses it on the edge of the Burnley box after a poor touch.
16'
Tarkowski heads the De Bruyne cross away but City have it back.
16'
More good patient attacking play from City as they reassert their dominance here at the Etihad.
15'
Benson cuts out the De BRuyne cross.
14'
Stones heads away the Peacock-Farrell clearance again.
13'
Another Burnley long ball that Stones has to deal with - he does so well.
12'
Torres' through ball has too much on it and Peacock-Farrell collects.
11'
Burnley trying to create something here with their first real period of possession.
10'
Mahrez's header is collected easily by the Burnley keeper.
9'
Rodri heads it away at the near post.
9'
Dias clears a Burnley free-kick behind for a corner.
9'
90% possession so far for City...
8'
Walker can't keep it in on the Burnley byline and Peacock-Farrell will take the goal-kick.
6'
GOAL CITY!!! Superb Manchester CIty goal - the Citizens hit Burnley on the counter after stealing it just past halfway. De Bruyne played in Mahrez who curls it around Peacock-Farrel with ease and City lead inside 6 minutes!
5'
Great bit of control from Ferran Torres but his shot curls just wide of the left post from outside the centre of the box.
4'
Barnes heads Kyle Walker's cross out for a throw.
3'
Headed away before Gundogan's cross is blocked by the ref.
2'
City free-kick in a good area out wide.
2'
Kyle Walker has started ahead of Mahrez on the right-wing! Presumably he'll come back later...
1'
An early Burnley long-ball is brought down by John Stones.
Prev.
A minute of applause here in memory of Diego Maradona, a great gesture!
Prev.
Not long to go here at the Etihad, the players are out and ready!
Prev.
Pope is out for Burnley after picking up an injury against Palace with Jack Cork, Dale Stephens, and Robbie Brady also missing out.
Prev.
So, still no Aguero for City with Sterling benched too. Laporte and Zinchenko are also out of the squad altogether, presumably injured or in need of a rest. Torres beats out Silva to a place in the starting line-up too.
Prev.
Burnley: Peacock-Farrell, Lowton, Mee, Tarkowski, Taylor, Westwood, Benson, Rodriguez, Barnes, McNeil, Wood. Subs: Norris, Gudmundsson, Pieters, Vydra, Long, Dunne, Goodridge.
Prev.
Manchester City: Ederson, Walker, Dias, Stones, Mendy, Gundogan, Rodrigo, Mahrez, De Bruyne, Torres, Jesus. Subs: Steffen, Sterling, Silva, Fernandinho, Cancelo, Foden, Garcia.
Prev.
Thanks for joining me at the Etihad where Manchester City are taking on Burnley - team news to come!