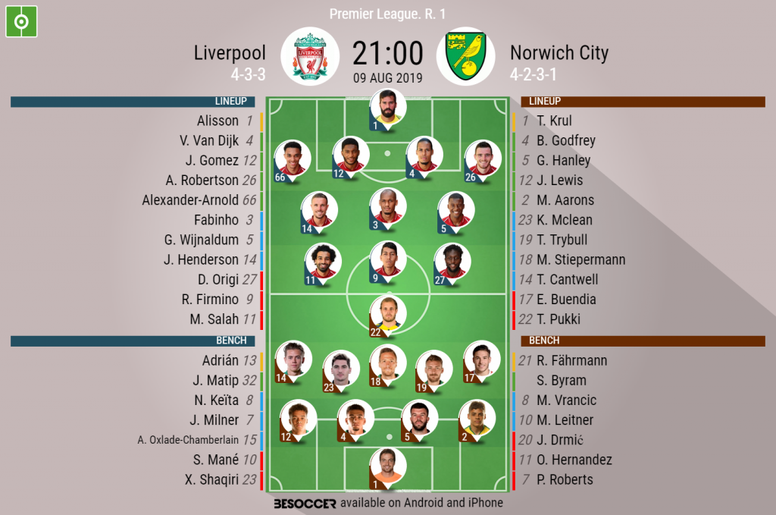 Liverpool V Norwich City - As it happened.
Liverpool

Norwich City

Post.
As always, thank you for joining us this evening. See you tomorrow for some more Premier League action!
90'
FT: Liverpool 4-1 Norwich City. A decent performance by Farke's Norwich City, but it was not enough to stop Klopp's overwhelming team. Still, encouraging performances from both teams and a great Premier League opener.
90'
NEARLY A SECOND FOR NORWICH! Godfrey's long-ranger is parried by Adrian and Hernandez is the first player on the loose ball. He gets a shot away from an angle but Gomez slides in to make a vital block.
90'
2 min of added time to this second half!
87'
Corner for Norwich! Last chance for the Canaries? Farke's team has been pretty decent throughout despite the score. Encouraging performance.
85'
Firmino is replaced by veteran Milner.
84'
What a save! Three Liverpool players stand over the free-kick a few yards outside the area. Salah and Henderson leave it to Alexander-Arnold, who curls the ball around the wall but is denied by Krul.
81'
Goalscorer (and best Norwich player tonight) Pukki is replaced by Josip Drmic.
80'
Adrian tested! The visitors win a free-kick and Buendia opts to take it on. The shot is on target but Adrian barely has to to move to make the save.
79'
Fun fact for you all: Norwich's Hernandez is the first Cuban player to ever feature in the Premier League.
78'
Good chance for Norwich as Hernandez makes a run for it but is eventually caught offisde. Harsh call.
76'
Van Dijk is unhappy with the positioning of central-defensive partner Gomez as Liverpool are nearly caught out again. Mane controls the ball on the left and brings it inside, but his cross towards Salah in the middle is cut out.
73'
Goalscorer Origi out for none other than Sadio Mane!
71'
Salah directs another corner towards Van Dijk but this time Norwich are wise to it and head clear.
70'
And indeed, Trybull is replaced by Hernández.
67'
Nice guy Firmino helping out Tom Trybull, who seems to have gotten injured.
65'
Buendia catches Origi on the ankle and joins teammate Leitner in being shown a yellow card.
64'
Pukki once again gets in behind Liverpool's defence and this time he manages to convert with a smart finish across Adrian, who perhaps could have done more to keep it out. Norwich have a lifeline!
63'
GOAAAAAAALLLLLL FOR NORWICH!!!!!! Pukki deservingly scores!!!
59'
First booking of the game! Yellow card for Norwich's Leitner right after coming on.
58'
Mortiz Leitner is on for his first taste of Premier League action, replacing Stiepermann, who missed a few good chances early on.
57'
Admirable from Norwich, who are still trying to play proper football. I say trying, not succeeding...
54'
What a chance for Salah! A defensive mistake by a Norwich City player seems him find the ball right at his feet, but he shoots it too wide!
48'
OFF THE BAR! Origi cuts the ball back for Henderson, whose shot is touched on to the crossbar by Krul. The danger is not dealt with and Alexander-Arnold fires the ball to the back post, where Firmino and Origi get in each other's way. Firmino cannot squeeze his shot on target.
45'
HT: Liverpool 4-0 Norwich City. Always painful to see a team like Norwich give the lead with an own goal... A strong start from Klopp's men despite Norwich's all-around decent performance gives them the lead at half time. Some worries for Klopp as Alisson goes injured. See you in 15!
45'
Three minutes added to Norwich's suffering...
42'
Liverpool have themselves a fourth goal before half-time and it is Origi, filling in for Mane, who scores it. Alexander-Arnold sends a cross into the box and Origi gets across to guide the header past Krul. Klopp's men making it look easy...
41'
GOAAAAAALLLLL!!! It's Divock Origi this time!!!!
38'
And indeed... Adrian comes in for Alisson. Hard blow for Klopp.
36'
Liverpool goalkeeper Alisson has gone down off the ball and is in need of treatment. This could be a big blow for Klopp early in the season, with Adrian potentially being required to come on for his debut.
35'
Norwich have another decent chance, but it's off-target by a lot... Consolation goal on the way?
32'
Chance for Liverpool! Firmino and Salah exchange passes, before the latter plays the ball out to Henderson on the right. Krul's amazing save is what has kept the score as it currently stands...
31'
This is turning into a very hard lesson for Norwich who, I promise you, have been decent. My heart breaks for Farke as he watches from the sidelines.
28'
Salah's excellent corner lands just right, and Van Dijk barely even has to get off the ground to head home. Classic Liverpool here.
28'
GOAAAAAALLLLL!!!! VAN DIJK!
26'
Norwich are finding it far too easy to create chances, which says a lot. It's Max Aarons this time who picks out Stiepermann, and this time his strike is crisp and on target, forcing Alisson to make the effort. The visitors genuinely could be level. Exciting stuff at Anfield.
21'
WHAT CHANCE FOR NORWICH! Another chance as Pukki is put in behind Gomez but the offside flag goes up. This game isn't over yet but the next goal is key.
18'
There's a bit of fortune about the way the chance comes about as Alexander-Arnold's attempted cross is blocked into the path of Firmino. From there it's so sharp though, the Brazilian nudging into the path of Salah, who takes one touch and slots it past Krul.
18'
GOAAAAAALLLLL! MO SALAH IS BACK!!!!!
17'
Some stats for you! The Premier League reports that it's only the second time in Premier League history that the first goal of the season has been an own-goal, along with 2015-16 when Kyle Walker scored one for Tottenham against Manchester United.
15'
Roberston with another chance! Origi plays the ball into his feet, but he shoots it JUST too high! A goal is imminent...
13'
Origi's latest cross into the six-yard box is headed away. Norwich are looking dangerous when they get forward, too, with a cross from the left being fizzed right across the face of goal. There should be more goals in this game!
11'
Like we saw regularly in pre-season, Liverpool are being exposed down the flanks. Norwich have already managed to get in behind and Stiepermann should have been doing better from that chance a couple of minutes ago. Decent response from Farke's men considering the disappointing start!
9'
Chance for Norwich! Stiepermann has now had two decent opportunities. The visitors get in behind Alexander-Arnold and Pukki flicks the ball into the path of Stiepermann, who slices his shot... Off target, but good effort!
7'
GOAAAAAALLLLLL FOR LIVERPOOL! And it's an own goal at that... Norwich's Hanley will no doubt be regretting that poor clearance. Hard blow for Norwich. Sad to see.
5'
It's the away side who have the first shot at goal this evening as Pukki pounces on a poor Alisson clearance.
2'
It's an uphill battle for Norwich from here on. It's 44 seconds before Liverpool get a touch. Decent start for the Canaries considering the rival?
1'
And we're off! Norwich gets it underway.
Prev.
The teams have walked onto the pitch! Anfield looking beautiful (and very full!) tonight. You'll Never Walk Alone is ringing loudly in all our ears. Kick-off is imminent!
Prev.
Teams are arriving at Anfield... The Premier League kicks off in 25 minutes!
Prev.
The flattery was mutual, as Liverpool coach Jurgen Klopp said: "Norwich deserve all our respect because how they got promotion last season was exceptional. They are a special team."
Prev.
Although Norwich City surprised crowds and managed to win the Championship last season, head coach Daniel Farke has it clear: "This is a new challenge for us, one of the places you can go. Liverpool are one of the top teams in the world, if not the best."
Prev.
In fact, this tie consistently produces plenty of goals so we can hope for more of the same this evening; Liverpool have put at least three past their opponents in six of those nine matches. Exciting to say the least!
Prev.
But this is a match which has been far more entertaining and unpredictable than those statistics might suggest. The latest encounter was a thrilling 5-4 Liverpool victory at Carrow Road during the 2015/16 season, while they also secured a narrow 3-2 win in the 2013/14 campaign.
Prev.
As head to head records go, Liverpool has unsurprisingly had the better of this fixture, having won seven and drawn two of the nine fixtures since the turn of the millennium.
Prev.
It's safe to say these are two sides with completely different ambitions for the upcoming season. Liverpool will be aiming to go one better after finishing second behind Manchester City, while Premier League survival will be more than satisfactory for Championship winners Norwich.
Prev.
It's the same lineup that started the Community Shield, with Sadio Mané deemed only sharp enough for the bench. Norwich, meanwhile, do not include any of their summer signings, but they'll be looking to the slinky Emi Buendia to pull strings for them in midfield.
Prev.
Norwich City starting XI: Krul; Aarons, Hanley, Godfrey, Lewis; McLean, Trybull, Buendia, Stiepermann, Cantwell; Pukki.
Prev.
Liverpool starting XI: Allison; Alexander-Arnold, Gomez, Van Dijk, Robertson; Henderson, Fabinho, Wijnaldum; Salah, Firmino, Origi.
Prev.
Let's look at the line-ups shall we?
Prev.
Hello and welcome to our minute to minute coverage of tonight's Premier League opener between freshly promoted Norwich City and Champions League winners Liverpool!