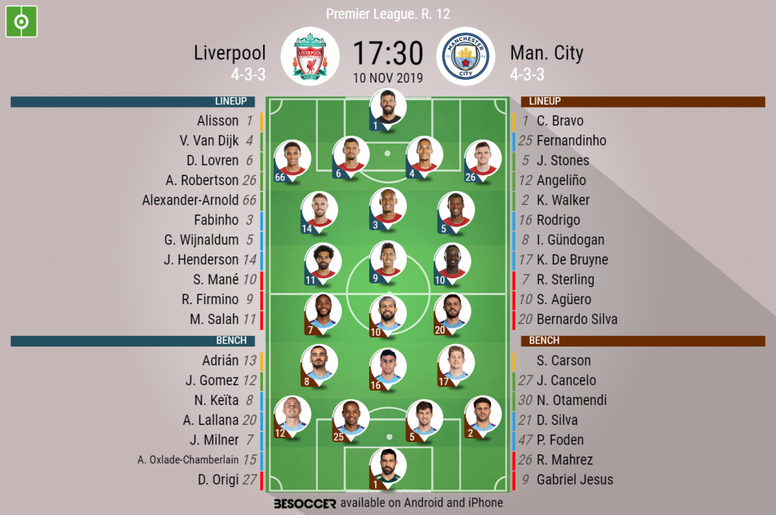 Liverpool V Man. City - As it happened.
Liverpool

Manchester City FC

94'
FT: Liverpool 3-1 Manchester City. Liverpool go nine points clear of Manchester City and maybe put one hand on the Premier League trophy! City will be fuelled by a sense of injustice after an early handball by Alexander-Arnold was deemed not a penalty by VAR but Liverpool took over from that moment. Fabinho, Salah and Mane got the goals before Silva got one back for City.
91'
Fernandinho attempts a cut flick over the top to Angelino near the byline, but Liverpool drop to hack clear the danger once again.
90'
Four minutes of added time!
88'
It looks as though Gomez is now marking the rampant Sterling to try and limit the City attacks down that flank. Veeery tense at the moment.
85'
The time-wasting begins... Joe Gomez comes on for goalscorer Mo Salah, who takes his sweet time to leave the pitch.
84'
PEP IS FUMING ON THE TOUCHLINE! He's making the point he thinks his team should have had two penalties. His post-match is going to be worth a watch.
83'
PENALTY APPEAL...NOT GIVEN!! Sterling attacks Alexander-Arnold inside the box and his cross hits his hand, which was down by his side. The referee waves it away.
82'
Liverpool are camped inside their own half. You can feel the nerves inside the stadium. Wave after wave of City attacks now...
81'
Another chance for Sterling but his low shot is narrowly saved by Alisson! Sterling's persistence and drive is truly admirable. He's tried to score from all angles and he's still pushing for it.
79'
Firmino is replaced by Oxlade-Chamberlain as Liverpool try and tighten up their defence.
79'
Angelino's low cross deflects to Bernardo Silva, whose low shot clips the inside of the post on its way in! It's a deserved goal for City, who've had an array of chances but luck has not been on their side today.
78'
GOAAAAAAAAAALLLL FOR CITY!!!! LOVELY FINISH FROM BERNARDO SILVA!
74'
Andy Robertson angles through a clever pass to Milner inside the box, but Stones stretches to intercept just in time.
72'
Mane is down with a head injury after Sterling innocuously caught him with his arm, however it looks as though the attacker will be okay to continue.
70'
Sergio Aguero comes off for Gabriel Jesus. Frustrating afternoon for the Argentine.
67'
Sergio Aguero had it!!! He got so close it's actually ridiculous. He's one of the best goalscorers in the Premier League but it just doesn't seem to happen at Anfield. Ten visits to Anfield, no goals.
65'
City howl for another penalty after Mane appeared to push Sterling from behind in the box, but once again, the referee and VAR remain unmoved.
65'
Rodrigo is booked for some excessive protesting after the push on Sterling.
65'
Corner for City. De Bruyne does his best but it's deflected by the Liverpool defense and it eventually leads to Alisson's hand.
61'
Jordan Henderson comes off for Milner. He'll be replaying that assist in his head for a while.
58'
Well, it's going to be incredibly difficult for City to work their way back now. Even if they do commit more men forward in pursuit of a route back, they still have to contend with incisive Liverpool counter-attacks that could extend the lead. They'll be fourth in the table if the score remains the same...
56'
The camera focuses on Ben Mendy sitting on the bench, and one does wonder why he is not on the pitch today. He's exactly what Guardiola needs right now.
53'
Sterling tries his best to score, and boy does he get close! He's by himself against a well organised Liverpool defense, and he almost gets past it, but a clinical move by Lovren, who goes down to stop the ball, means Man City are still three down. The former Reds player has been unlucky today.
51'
AMAZING STUFF! What a cross from Jordan Henderson! Gundgoan affords Henderson too much space on the right-wing and he flights in a cross from deep towards the back post, where Mane charges past his marker and powers a header beyond Bravo at the near post! What a finish! What a pass! Such good football.
50'
GOAAAAAAAAAAAAAAAAAAALLLLLL!!!!
48'
Sterling sizes up Alexander-Arnold on the left flank, before beating the defender and winning a corner. From the set-piece Liverpool clear to the edge of the area, where Gundogan has a shot deflected over.
46'
We are back underway! Reports from SkySports say that Guardiola has officially complained about Alexander-Arnold's handball which then lead to Fabinho's opening goal. Oh boy.
45'
HT: Liverpool 2-0 Man City. City had all the good early touches but the hosts' confidence and the Anfield pressure is too much for Guardiola's men at the moment, who look messy at the back and aren't defending very well. An uncharacteristic lack of authority is giving Liverpool the advantage, who got chance after chance in the last 15 min. More goals left in this? Can City answer back? See you in 15 min to find out!
45'
Two minutes of added time. There's a clear lack of authority and presence from Guardiola's team that's preventing them from playing better. You can feel a little bit of desperation at the moment.
44'
Here comes Liverpool again! Salah lets a curling effort fly from 25 yards, but Bravo is equal to the shot and he manages to leap to his right and gather the bal
43'
City get a bit of possession but nothing significant comes off it. Oh man, the boos when Sterling gets the ball are kind of terrifying. I would not like to be him right now.
41'
Aguero on a solo run! He finds himself head to head with Alisson but his shot is just wide to the right. The Argentine has never scored in Anfield, and the pressure is mounting...
40'
Some worries for Mo Salah as he clutches his ankle after a foul from Fernandinho, which has been giving him trouble in recent weeks.
38'
Chance after chance here as Alexander-Arnold drives at the heart of the City defence before laying the ball off to Firmino. The Brazilian striker gets a shot away but Bravo makes himself big to make a smart block.
35'
Liverpool attack again. Salah runs free on the left this time; his cross towards Wijnaldum is headed to Firmino, who jinks into the area and then shoots high.
34'
Tense moment between England internationals as Alexander-Arnold pushes Sterling away near the box. A corner ensues, but it's cleared by Alisson.
30'
City are reaching Alisson¡'s box frequently and with confidence, but Aguero is struggling to make the kind of clinical finish his Liverpool counterparts do so easily.
27'
City's defence is bearing gifts. They half-clear the ball straight to Salah, standing all alone on the edge of the area, but then he passes to Firmino and the ball is nicked away.
25'
Great save from Alisson! Aguero cuts inside from the left before thumping a powerful effort at goal from just inside the box, that Alisson does brilliantly to palm away from danger!
21'
CHANCE! Liverpool are turning on the style here. Wijnaldum and Mane exchange passes but the Dutch midfielder cannot steer his shot on target. He does win a corner though, but City clear their lines.
20'
Part of City's troubles at the back so far could come from the fact that this defence has little experience of playing together. Fernandinho - who's usually deployed in midfield - has looked particularly uncomfortable so far
19'
The pace of this game in the opening stages and it's only starting to settle down now. Still, Aguero is really pushing here...
16'
Manchester City have actually had the better chances here, they just haven't managed to actually score. Pep Guardiola is expecting more, and I think Sergio Aguero could deliver soon if he continues to create chances.
13'
Two attacks, two goals from Liverpool! It's full-back to full-back as Alexander-Arnold plays a wonderful cross-field pass to Robertson. The left-back then plays a brilliant pass of his own to pick out Salah at the far post. Fernandinho misses with an attempted clearance and Salah makes no mistake, heading the ball back across goal into the bottom corner.
12'
Tight angle and it looks like it could be offside... VAR checks... And it stands!
12'
AND ANOTHER ONE!!!!!!! LIVERPOOL DOUBLE THEIR LEAD WITH A GREAT HEADER FROM MO SALAH!
9'
WHAT A CHANCE! City have an immediate chance to respond as Sterling runs in behind to meet De Bruyne's free-kick. He has a free header but he fails to test Alisson as the ball sails over the crossbar.
8'
Okay, apparently there's an explanation here. The ball bounced into Alexander-Arnold's arm off Bernardo Silva's arm. In those particular circumstances, the two handballs cancel each other out and the referee has to play on. I think that's right, no?
7'
Aguero looks very pissed... And rightfully so, there's definitely a handball from Alexander-Arnold there. Still, the goal stands. Oh well. Frantic game, this is!
6'
City think they should have had a penalty for handball, after the ball flicked off Alexander-Arnold's thigh and into his arm. The referee waves play on and Liverpool raid down the left. Mane's low cross is poked clear, but Fabinho runs onto it, takes a touch and blasts it inside the post from 25 yards!
5'
LIVERPOOL OPEN THE SCORE!!!!!!!! WHAT A STRIKE FROM FABINHO!
4'
City have started brightly here and another corner leads to Stones glancing a header off target.
2'
City wins a corner early on, but it's cleared by Salah and we're back to safety. A lot of whistling for the visitors here...
Prev.
Memorial services for remembrance day underway now. A minute of silence before the game kicks off.
Prev.
It's four changes from the Champions League win over Genk with Andy Robertson returning at left-back, Jordan Henderson coming back into midfield and Roberto Firmino and Sadio Mane rejoining the forward line for the hosts.
Prev.
As for Liverpool, Jurgen Klopp has gone for his tried-and-tested big game line-up this afternoon, which makes perfect sense. After all, their Premier League lead is in danger here, and against their biggest rival, no less. Lucky us who get to witness it. It's a hard hype to live up to, but here's hoping it does!
Prev.
Speaking about taking the bus... That welcome was rowdy, wasn't it?
Prev.
Guardiola's pre-match thoughts showed he's still as confident as ever, with the Catalan coach stating he's "never gone into a game feeling like an outsider or an underdog," And he went ever further, claiming he's "not going to take the bus to Liverpool thinking I am going to lose the game. That has never happened in my career."
Prev.
As advertised, Ederson is missing and Claudio Bravo - not Kyle Walker - starts in his place behind a back four of Walker-Sotnes-Fernandinho-Angelino. Besides that, there are no surprises for Guardiola's side, with a strong front three made up of Sterling, Aguero and Bernardo Silva.
Prev.
Man City: Bravo, Walker, Stones, Fernandinho, Jose Angelino, De Bruyne, Rodri, Gundogan, Bernardo Silva, Aguero, Sterling.
Prev.
Liverpool: Alisson, Alexander-Arnold, Lovren, van Dijk, Robertson, Henderson, Fabinho, Wijnaldum, Salah, Firmino, Mane.
Prev.
The teams are out! let's take a look shall we?
Prev.
Hello and welcome to our live coverage of this afternoon's mouthwatering clash between Liverpool and Manchester City!