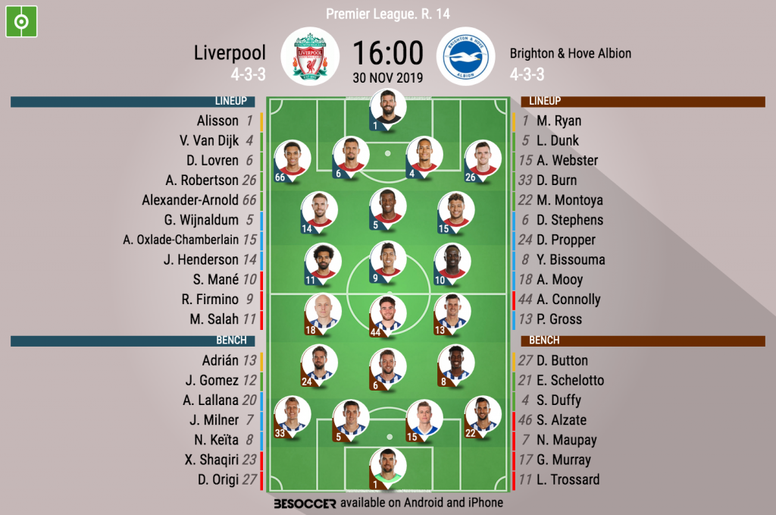 Liverpool V Brighton & Hove Albion - As it happened.
Liverpool

Brighton & Hove Albion

Post.
As always, thank you for joining us! See you soon for some more Premier League action!
94'
FT: Liverpool 2-1 Brighton. After a very comfortable start, things started getting increasingly stressful for the hosts as Brighton started to wake up and provide more chances. it was a nervy finish after Alisson's send off, which changed the pace of the game, but Liverpool get their win in the end.
93'
Last few moments of this game at it looks like Liverpool will get their hard-fought win in the end.
90'
Liverpool have yet again failed to keep a clean sheet at home this afternoon.
90'
Four added minutes! Remarkable how the attitudes have changed now. Anything could happen in the next few minutes.
88'
That won't help the tension! Adrian spills the ball after making a save and Neal Maupay was lurking ready to pounce. Liverpool get away with it.
86'
CHANCE! What was that! Brighton pushing hard for an equaliser and that was a fierce shot by Aaron Mooy that Adrian needed to get his palms behind to block.
83'
CHANCES! Propper has an effort blocked from outside the box, before Burn steers a left-footed effort wide from inside the box! Brighton are pushing for an equaliser!
82'
Alisson is the first Liverpool goalkeeper to be sent off in a Premier League game since Doni against Blackburn Rovers in April 2012.
81'
Clear nervousness in Anfield now... They want the Premier League, but they'll have to work hard to get it, clearly...
79'
Dunk drills a low cross into the bottom left corner with Adrian rooted to the spot! Liverpool players appeal, but the goal stands! It's now 2-1!
79'
SHOCKING SCENES!!!! BRIGHTON SCORE FROM THE FREE-KICK THAT SENT ALISSON OFF!!!!
78'
Oxlade-Chamberlain is the man to be hooked for Adrian as Klopp replaced the dismissed Alisson.
76'
The Brazilian goalkeeper charges out and handles the ball outside of his area as he stops the ball going over his head and is rightly sent off. At least Liverpool can bring Adrian on...Shocking scenes!
75'
Firmino comes off, Divock Origi on. Supersub to provide the goal?
74'
Divock Origi seen on the sidelines warming up... Can the supersub provide that last goal?
71'
At the start of this game, it looked like the hosts would be thrashing Brighton, but the visitors have hung on surprisingly well here. A goal could be a game-changer for either side.
69'
A few changes here: Bissouma coming off for a winger in Trossard, Montoya also comes off for a midfielder in Alzate.
68'
Liverpool making the first change and it's Adam Lallana coming on for Mohamed Salah.
67'
Liverpool have gone up a gear at the right time. Trent Alexander-Arnold races down the wing once again and space opens up for a shot that is deflected wide.
67'
Liverpool have gone up a gear at the right time. Trent Alexander-Arnold races down the wing once again and space opens up for a shot that is deflected wide.
64'
Liverpool almost make it 3-0!!!! Masterful pass from Roberston who manages to gain possession back and sends it towards the Reds' strikers, with Oxlade-Chamberlain making it on time, but he shoots JUST wide.
61'
GOOD CHANCE! Lovely bit of football from Connolly whose shot is deflected by Alisson after going past the Liverpool defense. Klopp should be a bit frustrated about his side giving away possession like that.
59'
We approach the hour mark at Anfield and you sense a third goal will completely kill off this contest. Liverpool comfortable enough but going through the motions.
56'
Propper is down after a collision with Mane and is receiving treatment. He gets up and trudges to the sidelines, and looks like he will be able to continue.
54'
A couple of sloppy passes from Liverpool allow Brighton to earn a corner. There should be more goals in this, but it's too early to call it.
50'
Liverpool are re still the stornger team the second half. They're working the ball from one wing to the other. But no way through the Brighton back line for the time being.
46'
No changes in the break for neither side here, but it's another strong start from Klopp's men.
45'
HT: Liverpool 2-0 Brighton. Liverpool started off a lot stronger, with two comfortable goals in the first 30 minutes, but the visitors started to wake up in the last ten minutes! There will no doubt be more goals in the second half... See you then!
45'
Great chance by Oxlade-Chamberlain after an amazing team set-up. Firmino, Salah and Mane all involved, but the Chamberlain's strike is not as powerful as it should have been and it's saved by the goalkeeper.
40'
The visitors are starting to get a bit more comfortable and are finally creating some danger here. Propper swings at another long-range effort as Bissouma lays him off on the edge of the box, but Van Dijk blocks it behind for a corner.
37'
MISS! Best chance for Brighton this first half! Bissouma is offside as Burn's low cross comes in but Dunk is on and somehow scuffs his effort wide of the bottom corner under no pressure! He had to score there
36'
What a chance for the visitors! Propper tests Alisson with a firm shot from outside the box that the Brazilian is forced to palm behind for a corner!
33'
Brighton play their way out of trouble and launch it forward for Connolly, but the flag rescues Liverpool as the striker is caught offside.
30'
Brighton surge forward and there's a brief chance to unlock the Reds defence, but Mooy dallies too long on the ball and picks the wrong option, allowing Liverpool to set themselves. Encouraging stuff for the Reds.
26'
This game starting to look done and dusted... Liverpool are feeling confident and it looks like it's there could be more goals in this.
24'
Brighton are not managing to keep up with Liverpool at the moment. More poor marking - this time from Dunk - as Alexander-Arnold's corner delivery finds the centre-back, who powers home his second headed goal of the game! It's 2-0!
23'
ANOTHER ONE FROM VIRGIL VAN DIJK!!!!
20'
SAVE! Oxlade-Chamberlain's deflected shot breaks kindly for Mane, who's completely free at the far post. He takes the shot on but Ryan flies off his line to deny him! Great save!
19'
Virgil van Dijk opens the score for Liverpool and scores his first goal in the Premier League this season! Alexander-Arnold whips a free-kick into the box and Webster is caught under it, allowing Van Dijk a free header, which he loops into the net! It's 1-0 to Liverpool!
18'
GOAAAAAAAAALLLL VAN DIJK!
17'
SAVE! Mane beats Montoya with ease down the left and rolls it into Firmino in the box, but his well-struck effort is saved well by Ryan!
16'
Connolly tries to make a run for it but the flag goes up.
14'
Another Liverpool attack breaks down at the edge of the box and Brighton break, but it comes to nothing. The visitors' don't seem to be up for this one.
12'
SIDE-NETTING! Salah takes a lovely ball from Henderson down on the right, plays a neat one-two with Firmino and tries to clip it inside the near post, but it's into the side-netting!
9'
Firmino gives the ball away cheaply in the middle and Liverpool are forced to scramble back and defend. That was sloppy from the Brazilian.
4'
Brighton just about defend a Liverpool attack after a sloppy giveaway from Burn allows Oxlade-Chamberlain to shoot at goal, but it's blocked and the Seagulls craft a dangerous move of their own that forces a corner.
Prev.
And we're off in Anfield!
Prev.
No surprising changes in either line-ups, but Liverpool are doing their best to deal with the fact that Fabinho is out for an extended period... They have not been at their best in recent times but the prospect of Brighton at home should be enough to secure victory. Oxlade Chamberlain does get a starting eleven spot, which I'm sure he'll enjoy.
Prev.
Brighton: Ryan, Montoya, Dunk, Webster, Burn, Gross, Stephens, Propper, Bissouma, Mooy, Connolly.
Prev.
Liverpool: Alisson, Alexander-Arnold, Van Dijk, Lovren, Robertson, Wijnaldum, Henderson, Oxlade-Chamberlain, Mane, Salah, Firmino.
Prev.
Hello and welcome to our minute to minute live commentary of this afternoon's Premier League game at Anfield!