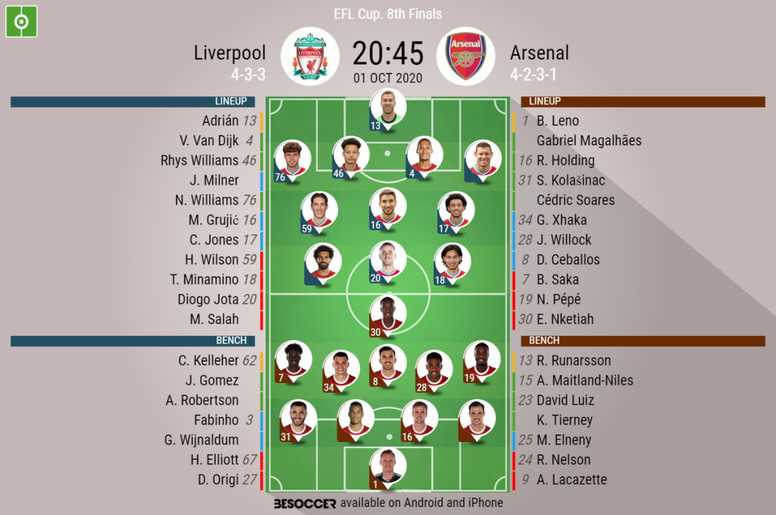 Liverpool v Arsenal - as it happened.
Post.
FT: What an end to a tight match where Liverpool probably had the upper hand! Arsenal win 5-4 on penalties. Thanks for joining me, see you all next time!
100'
Liverpool 4 - 4 Arsenal Willock wins it for Arsenal!
100'
Liverpool 4 - 4 Arsenal Leno stops Wilson!
100'
Liverpool 4 - 4 Arsenal Pepe scores!
100'
Liverpool 4 - 3 Arsenal Jones!
100'
Liverpool 3 - 3 Arsenal Maitland-Niles!!
100'
Liverpool 3 - 2 Arsenal Leno stops Origi!
100'
Liverpool 3 - 2 Arsenal Elneny misses!!
100'
Liverpool 3 - 2 Arsenal Minamino!
100'
Liverpool 2 - 2 Arsenal Cedric.
100'
Liverpool 2 - 1 Arsenal Wijnaldum.
100'
Liverpool 1 - 1 Arsenal Lacazette!
100'
Liverpool 1 - 0 Arsenal Milner scores!
90'
Penalties! As the game ends without a goal.
90'
Controversy as Milner appears to manage the ball in the area with his hand.
88'
Bad delivery for Milner leads to a Liverpool corner.
88'
Liverpool have a FK and will look to cross it into the box.
85'
Saka off for Maitland-Niles.
81'
Both sides are lacking a decisive touch for their attacks. Lacazette is coming on for Arsenal, can he provide what they need?
80'
Liverpool in control on the left wing looking to put the ball into Minamino.
74'
Yellow for Wilson as he trips Pepe on an Arsenal counterattack.
73'
Arsenal stop the attack after a pass goes astray and immediately try to counter.
72'
Liverpool once again on the attack with a throw in at the corner flag.
69'
Holding heads it straight towards Adrián in what is Arsenal's first good opportunity this half.
67'
Elneny comes on for Arsenal, some fresh legs for the Gunners.
67'
Van Dijk swipes at Pepe to give Arsenal a FK.
64'
Arsenal owe Leno a raise after this match, they could easily be 2 or 3 down by now.
62'
Jota has a great shot on target stopped by Leno after a looping ball over the top leaves him in space.
60'
Van Dijk has had an excellent game for Liverpool so far but as it stands Leno has to be man of the match if nothing changes, some brilliant saves have been made tonight.
56'
Just seconds later they prove it with a shot from outside the area that turned into a corner!
55'
The second half is starting to look a lot like the first, both teams are struggling to find opportunities but Liverpool seem the more dangerous of the two.
52'
A low quick shot is stopped by Leno after a Liverpool corner. Great save once again!
50'
A high looping ball finds Saka on the wing but Liverpool have him covered within seconds. Tight defending from Liverpool.
48'
Now it's Arsenal's turn to have a freekick out wide. Nothing comes of the quick play from the Gunners though.
46'
First foul of the second half. Liverpool FK from out wide. This could be dangerous!
46'
Let's go! Neither team had many opportunities in the first so let's see if they make any changes in the second half.
45'
A dramatic end to the first half but the score remains 0-0!
45'
What a save! Minamino was denied by the crossbar on a rebound after Leno saves a close range header.
44'
A FK just outside the area for Liverpool, cleared by Arsenal but the Liverpool attack isn't over!
43'
Foul on the edge of the area! Liverpool could have penalty.
40'
Liverpool have looked dangerous up front so far but despite a few Arsenal mistakes at the back, have been unable to find any openings.
38'
Arsenal clear the dangerous attack after a failed cross by Jones.
37'
Liverpool in possession looking for any gaps at the back. They have men up!
34'
Arsenal almost gave it away at the back then, it might take either side forcing a mistake at the back to break the deadlock.
32'
Pepe brought down my Minamino in the centre of the field.
31'
Neither team have the upper hand as both are playing solid defensive games today. Arteta doesn't want a repeat of last time!
28'
Nothing came from Wilson's lacklustre delivery but Liverpool have a throw-in.
27'
Wilson brought down in a dangerous position outside the box.
24'
Liverpool have men up looking to get it to Minamino in the box.
23'
Brilliant attacking run down the wing by Wilson leaves Liverpool in a great attacking position.
22'
Arsenal tried to put in a short cross but Liverpool saw it coming and cleared it early.
21'
Freekick for Arsenal after a foul by Grujic.
19'
Klopp's side are looking good on the ball today but the pushing and shoving still hasn't stopped from both sides. It could be a scrappy game.
15'
Arsenal FK looked dangerous with a delivery into the box. Half the arsenal forwards were offside.
15'
Some off camera pushing and shoving has led the referee to have a word with the captains. Arsenal FK.
12'
Arsenal are insisting on passing it around the back 4 and GK, very dangerous against a high-pressure Liverpool who are looking dangerous up front.
11'
Liverpool corner leads to an Arsenal half-clearance which left the door open for another Liverpool shot on goal.
10'
Liverpool have men in the box, waiting for a delivery from Williams
7'
Adrian saves Liverpool from a dangerous Arsenal attack that came from a long ball from the halfway line! Great goalkeeping.
6'
Arsenal are pressing Liverpool hard up front looking to force mistakes from their defence.
5'
Arsenal cross the ball in from out wide only to find 4 Liverpool players and 0 Arsenal players...
3'
Liverpool are looking calm and collected tonight, they'll want to avoid any silly mistakes at the back that plagued them last time.
3'
Let's hope that there is less controversy after last match's elbow-gate situation!
Prev.
"It's tough going up against the same opponent twice, especially if it's Liverpool!" - Arteta
Prev.
Not long to go now! Who do you have to win this match up?
Prev.
Can Arsenal overcome their 3-1 loss just days ago to Liverpool? Arteta has his work cut out for him that's for sure.
Prev.
Arteta will be hoping to break Arsenal's Anfield curse tonight!
Prev.
Jota will make his first start for Liverpool.
Prev.
Arsenal XI: Leno; Soares, Gabriel, Holding, Kolasinac; Willock, Ceballos, Xhaka; Pépé, Nkeitah, Saka
Prev.
Liverpool XI: Adrian; N Williams, R Williams, Van Dijk, Milner; Grujic, Jones, Wilson; Minamino, Jota, Salah