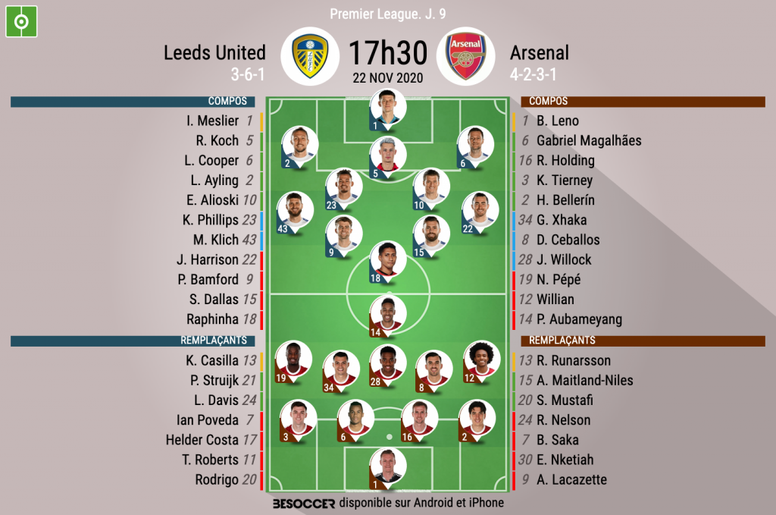 Leeds United V Arsenal - As it happened.
Leeds United AFC

Arsenal

Post.
FT: Both teams will be utterly disappointed with the result tonight although it could be argued Arsenal were lucky to escape with a draw tonight. Thanks for joining us tonight!
90'
+4: Raphinha hits the post in what will most likely be the last chance of the game.
90'
+2: After a lengthy stop for Saka now Ceballos goes down as Phillips is booked.
90'
+1: Arsenal look to run down the clock with some injuries on the field. They'll be happy with a draw tonight.
89'
Leno will have to change his shirt after he cuts his arm and has a blood stain.
88'
Bamford hits the post! A header from the striker was just a hair away from scoring.
87'
Nothing comes of the FK as Leeds counter with speed. Arsenal still defending well under pressure.
86'
Arsenal could go ahead from this FK situation. Leeds hold their breath.
85'
Cooper booked for fouling Aubameyang on the wing. He protests but it was a clear booking.
83'
Meslier saves the day for Leeds in a one on one with Saka after Bellerin creates a play from thin air. Leeds can breathe for now.
82'
Poveda comes on as a sub and then shoots just a minute later. Way too easy for Leno who has had a good game tonight.
81'
VAR checks for handball in the Leeds area but nothing is given and play continues.
79'
Rodrigo hits the bar from the edge of the area! He's been a good sub for Leeds and has had most of their chances in the second half.
78'
Corner finds Bamford on the front post and ends up in a Leeds throw.
77'
Arsenal win a corner and will have to take advantage of the set-piece if they want to go ahead tonight!
76'
Rodrigo shoots from outside the box but puts it wide. Leeds look frustrated as Arsenal defend well.
75'
Xhaka puts the FK well over the crossbar.
74'
Aubameyang has a FK in a great position.
72'
Leeds attack once again can not find the net! They could not have asked for many more chances tonight. If they walk away with anything other than a win they will be severely disappointed.
69'
Ayling should have put Leeds ahead there, open goal but he fumbles the first touch and Leeds still struggle to go ahead.
67'
Dallas crosses it in after some great passing in the corner of the pitch between him and Phillips but Arsenal have all 10 men back defending the against the Leeds onslaught.
65'
Arsenal have their first bout of possession brought to an end by a Bellerin error that goes out for a Leeds throw.
63'
Great shot from Dallas after a quick move from Leeds. Leno once again makes a fantastic save.
62'
Leeds continue to dominate but are struggling direly to generate chances, even with an extra man!
61'
Leeds cross from a central position is cleared by a Saka header. Leeds still in possession but can not break down the Arsenal defence.
59'
Ayling tries to put through a pass down the wing but puts way too much on it. Arsenal goalkick.
57'
Leeds in control of the match. Arsenal haven't seen much of the ball even before the red card.
55'
The 'Yorkshire Pirlo' may yet play on and Saka will come on for Arsenal.
54'
Kalvin-Phillips freshly back goes down in pain. Bad news for Leeds...
53'
Leeds seem comfortable on the ball tonight but have lacked a killer touch to put them ahead. Arsenal have been disappointing so far but anything could happen!
52'
If Arsenal were struggling before, let's see how they do with 10 men...
51'
What a silly decision from Pepe who headbutted Alioski. Alioski exaggerated the impact no doubt but it was a clear red card.
50'
Red card for violent conduct of Pepe!
48'
ARS FK from out wide is delivered but doesn't make it past the first white shirt.
46'
Miscommunication between Leeds means a promising long ball will be left to go out for an Arsenal GK.
46'
Leeds had 13 shots in the first half, they will need to take advantage of some of them now if they want to win! Arsenal will have to change their approach to the game tonight equally, they were well beaten in the first half.
45'
HT: Leeds end the half as they have played it, with another failed attack that seemed full of promise. Arteta will not have much positive to say in the dressing room...
43'
20 minutes since Arsenal's last chance and Pepe has a shot from far out that goes wide.
42'
FK goes short and finds Ayling on the edge of the area who puts the ball in the stands!
41'
Leeds have a FK near the corner flag, could this be what they need to pull ahead before the break?
40'
Fantastic passing from Leeds builds up to an attack that Klich should have put on target. Leeds have momentum.
38'
Leeds 2 shots on target, Arsenal 0. Leeds' style leaves them wide open to counterattacks so anything could change at the drop of a hat.
36'
Leeds still on the attack! Cross from Kalvin-Phillips just misses Bamford's head who would have surely put that one away.
35'
Leeds have had the better of the possession and chances so far but are lacking precision in their passing and shooting that has really hurt their chances so far.
33'
Arsenal have found a second wind and will not let Leeds breathe on the ball. Despite that Leeds find the space to shoot from the edge of the area and Dallas should have really done better than that!
30'
Bamford strikes a volley in the area but Leno makes a great save! What a combination and shot but an even better save.
30'
Leeds have created space around the area and have men up but Arsenal are presenting a solid wall around the area!
29'
Great combinations from Leeds around the area have won them a corner.
26'
Raphinha strikes from far out and almost finds the net! He had a hand in creating the chance and might have just redeemed some of his failed passes earlier...
25'
Great anticipation from Meslier who came well out to clear the Arsenal attack, Willian was alone 1 on 1 with him!
23'
Ceballos has fluffed that one badly, no power and off-target from the Spaniard.
22'
Kalvin Phillips slides/falls into the Arsenal player to give away a FK in a bad position for Leeds.
20'
Pepe has Ayling's number! He had him thoroughly beat and nearly put it in from an incredible angle.
19'
Bamford brought down on the half way line for a Leeds FK. Nothing malicious just a small shove.
17'
Raphinha has a lot of the ball today but has also given it away with several poor passes. Leeds need to do better with their possession.
16'
Arsenal corner ends up being a pass and a cross that finds Aubameyang offside.
16'
Arsenal FK in a dangerous position is crossed to the middle. Cleared for an Arsenal corner.
14'
Phillips delivers and finds Ayling at the front post. Several posses around the area lead to a failed cross that Leno collects comfortably.
13'
Leeds corner won by Ayling.
12'
What a great play from Leeds! A beautiful pass down the wing leads to a short cross to Bamford who couldn't get a good angle on the shot.
12'
What a great play from Leeds! A beautiful pass down the wing leads to a short cross to Bamford who couldn't get a good angle on the shot.
11'
Leeds are struggling to create chances with the possession that they have had in the attacking third. Arsenal are looking solid so far.
9'
Ceballos shoots in space from outside the area. He wasn't far off but puts it out wide.
8'
Arsenal have struggled in the middle of the field so far, finding it difficult to get the ball up to the strikers but when they do they look dangerous!
6'
Good defending from Leeds cuts out the Arsenal attack before it had chance to get off the ground. Good precise tackling.
5'
Raphina cuts inside and runs down the centre, couldn't find a pass and goes for goals but sends it way over as he slips when shooting.
3'
Harrison crosses in from far out wide looking for Bamford but there was never any danger for Arsenal.
2'
It will be interesting to see how the game changes as both teams become tired. Both sides are pressing hard. Can they keep up the pace?
1'
Kalvin Phillips is back for Leeds, a massive boon for Bielsa tonight.
Prev.
Just moments from kick-off, check out these great stats ahead of the game!
Prev.
Bielsa spoke before the game and said that Leeds plan to keep Arsenal under pressure in their own half to counter their attacking talent. A risky strategy, will it pay off?
Prev.
It's bound to be an entertaining match with Leeds' attacking style that Bielsa has become a great proponent of. Will Arsenal hold back or take the fight to Leeds?
Prev.
Nothing too surprising to see from today's lineups, Lacazette starts on the bench and could come on as a super-sub to break any deadlocks later in the match.
Prev.
ARSENAL XI: Leno; Bellerin, Holding, Gabriel, Tierney; Xhaka, Willock, Ceballos; Willian, Pepe, Aubameyang.
Prev.
LEEDS XI: Meslier; Ayling, Koch, Cooper, Dallas; Phillips; Alioski, Raphinha, Klich, Harrison; Bamford