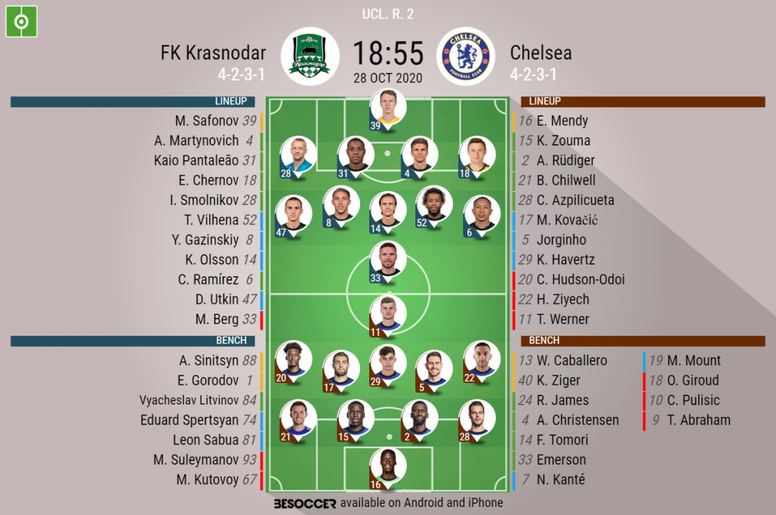 FK Krasnodar V Chelsea - As it happened.
FK Krasnodar

Chelsea

Post.
FT: Chelsea definitely had the edge in quality tonight but Krasnodar shone at times! The first half looked like it was anyone's game and the second was a different story... Thanks for watching!
89'
Pulisic ends things with a bang! Krasnodar were nowhere to be seen as Pulisic puts it through the keeper's legs from the corner of the six-yard box after a great run down the wing from Abrahams.
87'
Mendy has had a great game tonight. Lampard will be happy with his signing.
84'
Ramierez shoots from the corner of the area with a good movement to beat the Chelsea defender. Mendy made a comfortable save.
83'
0-3 to Chelsea is a scoreline that Lampard can travel back to England with happily. All they have to do now is hold on.
80'
Abraham comes on for Ziyech.
79'
Chelsea goal. Ziyech turns inside the area and puts a great shot between two defenders and past the keeper into the far bottom corner.
77'
Chelsea can breathe a little with a 2 goal gap but Krasnodar have shown what they are capable of tonight. There could be more goals yet.
75'
Werner buried that one! Chelsea 2 - 0 Krasnodar.
74'
Chelsea penalty after a shot is blocked by a handball in the area.
71'
Chelsea have dominated the possession so far but in terms of chances the match still seems to be even.
69'
Triple sub for Chelsea. Mount, Kante, and Pulisic come on.
66'
ZIyech goes for glory with a weak shot on goal instead of aiming for the 3 other forward in the box. Questionable choice in an otherwise good performance.
65'
Well he worked for the FK but couldn't do anything with it in the end. He out that well over the crossbar.
64'
Utkin does a front flip to earn a FK on the edge of the area. Whether or not it was a FK is one thing but the acrobatics are another...
62'
This is way too close to call which will be a great source of worry for the London club! Both teams have created some great chances this half. It really could go either way.
59'
Lampard looks worried on the touchline. He knows that this is anything but decided.
57'
Chelsea continue with 10 men while Zouma recovers on the touchline. He will continue.
56'
Zouma clashed heads in the melee in the box and might have to come off.
55'
Gazinskiy clashes with Chelsea players going up for a header in the area. Mendy was all over the place but had it covered.
53'
Another counter almost ended with a KRA. Complaints from Chelsea as Chilwell was on the floor at the other ended of the pitch after a blow to the head.
52'
Krasnodar have shown that they can be deadly on the counterattack. They have speed down the wings that has almost caught Chelsea out several times already.
48'
Kovacic strikes from outside the area after a KRA clearance. It had power and wasn't far off target.
47'
Mendy arguing with his defence, telling them to listen after they gave away a corner by clearing a cross that was going out for a goal kick.
46'
Chelsea probably had the better shake of things in the first half although it was by no means a rout. Let's see what Chelsea and Krasnodar can bring to the second half.
46'
Second half has begun, let's go!
45'
HT: Chelsea have had the edge on quality tonight but it has been close! There's sure to be more goals before the final whistle.
45'
Krasnodar pull of a great attack just before the whistle. Mendy plucks the cross from the air.
44'
Chelsea can be happy with 1-0 at HT. This really could have gone either way so far.
42'
Kovacic was just offside from a great cross that he should have finished with his head!
40'
Only one goal so far but the game is screaming for more. Both teams have quality going forward, it's a wonder more haven't been scored.
37'
The keeper should have done better than that. Regardless, Chelsea go in front with 1-0 after having missed a penalty early on.
36'
Hudson-Odoi breaks the deadlock! It was a powerful shot that was initially stopped by the keeper but it bounced over him as he couldn't get behind it enough!
35'
Great attacking momentum from Chelsea is well defended by Krasnodar. Can't help but think with a little more precision they could have gotten something from that attacking move. They had men in the box but couldn't find them.
33'
KRA FK after Vilhena is brought down. It could take a set piece for anyone to pull ahead in this game.
32'
Chelsea have so far failed to impress. Impressive individual performances from Mendy and Ziyech haven't materialised into anything so far.
29'
Ziyech fires off from outside the area but Safanov was on top of things. No problem for the keeper there.
28'
Chelsea switch the play to Chilwell on the left wing desperately searching for any opening in the defence of KRA.
25'
Havertz puts his arm into Utkin's neck in the area. The game is only stopped after the fact but that could have been a penalty.
24'
Krasnodar are growing as the match goes on! Chelsea could be in trouble...
22'
Krasnodar player handles the ball in Chelsea's area. He was through one on one with Mendy too. Chelsea were lucky there!
21'
Havertz is brought down by a sliding tackle from Ollson. He protested but there was no doubt that was a bookable offence.
19'
Corner is cleared to make way for a long shot that Mendy easily collects. Chelsea in possession once again.
18'
KRA shot is deflected out wide for a corner.
17'
Corner finds a KRA defender and the danger is ended. KRA look to take advantage of the counter.
15'
Krasnodar can breathe a sigh of relief after that! The game is still all tied up.
13'
Chelsea hit the post! What a wasted opportunity, he had the keeper beat too. Poor Jorginho.
12'
There wasn't much contact but the defender did come in late.
12'
Chelsea penalty as Werner goes down in the area!
8'
Ziyech makes a great little run into the edge of the box and fires a missile at the keeper. It was a tough angle but a brilliant effort.
7'
Chelsea take the lead with the attacking plays down the wing but neither team has really dominated the possession to this point.
5'
Around 10,000 fans in the stadium tonight according to Chelsea's official Twitter account.
4'
Chelsea have been warned, Krasnodar are not pushovers.
3'
Two great saves from Mendy so far! Chelsea will be happy to have a steady hand in net tonight.
2'
Great little run around the edge of the box from Hudson-Odoi. Chelsea have a lot of talent on the pitch tonight.
1'
Lots of fans in the stadium tonight! An unusual sight in the Champions League so far.
Prev.
And we are off, who will strike first?
Prev.
Not long until kick off now!
Prev.
Remember to put your scoreline predictions in the comments for bragging rights!
Prev.
Chelsea's last 3 encounters have all ended in a tie! Can they do one better tonight?
Prev.
Mendy starts in net tonight for Chelsea. A safe pair of hands at last?
Prev.
It has to be said... Krasnodar have quite the impressive stadium.
Prev.
KRASNODAR XI: Safonov, Smolnikov, Kaio, Martynovich, Chernov, Utkin, Vilhena, Olsson, Gazinsky, Ramirez, Berg.
Prev.
CHELSEA XI: Mendy, Azpilicueta, Rudiger, Zouma, Chilwell, Jorginho, Kovacic, Ziyech, Havertz, Hudson-Odoi, Werner