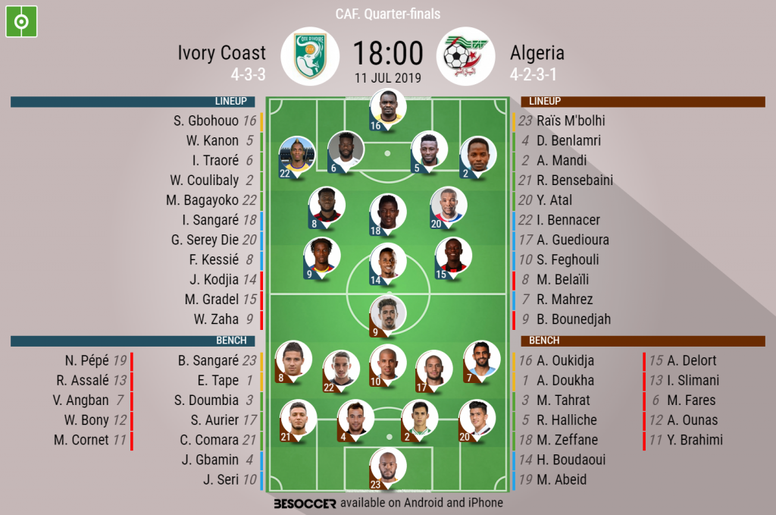 Ivory Coast v Algeria - as it happened
Costa de Marfil

Argelia

Post.
As always, we thank you for joining us this afternoon!
120'
FT: Ivory Coast 1-1 Algeria. The North Africans have done it. They are now in semifinals after what has been one of the most exciting games in this Africa Cup of Nations. The teams were fairly even, and they both provided very good chances, with Ivory Coast having the numbers of shots in their favour and Algeria shooting less, but with better aim.
120'
Penalty missed! Serey Dié hits the left post with a right footed shot, and Algeria are through!!!!!!
120'
Penalty missed! Youcef Belaïli's hits the left post with a right footed shot!
120'
Goal! Max-Alain Gradel converts the penalty with a right footed shot to the bottom left corner... stress is mounting!
120'
Goal!!! Adam Ounas converts the penalty with a left footed shot to the bottom right corner for Algeria!
120'
Penalty saved!!!!! Wilfried Bony fails to capitalise on this great opportunity, right footed shot saved in the bottom right corner... This could mean the end for Ivory Coast.
120'
Goal !!!! Andy Delort converts the penalty with a right footed shot to the top right corner for Argelia!
120'
Goal!!!! Maxwel Cornet converts the penalty with a left footed shot to the bottom left corner.
120'
Goal! Franck Kessié converts the penalty with a right footed shot to the centre of the goal.
120'
Argelia starts... and Bensebaini scores! Gbohouo almost saves, but it's a goal!!!!
120'
The teams are gearing up for the penalty shootout. It's been an intense quarter-final to say the least. Very even teams. The nervousness can be felt all over the stadium. The semifinals are at stake.
120'
Yellow card for Comara. Free kick for Algeria!
120'
Missed chance for Argelia, and to penalties, we go!
120'
Delort in, Feghouli out for Algeria.
114'
What a save from Gbohouo! Algeria almost had it, but the Ivory Coast goalkeeper gets the ball mid-jump!
108'
Gradel does brilliantly down the right, leaving Benlamri in his tracks and squares it towards Bony but Algeria put it behind for a corner.
105'
And that's half-time in extra time. We're 15 minutes away from penalties!
104'
The question on everyone's mind is... How did that not go in????
103'
Such a messy action... Ivory Coast gets close to goal, but a surplus of defenders and strikers leads to a confusing play where the ball can barely be spotted between the player's feet.
99'
Gradel, who has arguably been the best player on the park in terms of providing a consistent threat, has another dig from distance but it's just too high and hits the top of the net. There's a VAR check but it doesn't lead to anything.
98'
Guedioura makes up fantastic ground to block a shot from Ivorian substitute Cornet.
97'
The players are quite unhappy about this turn of events... The heat and tiredness is understandably getting to them now. It is 33 degrees in Suez right now.
96'
Wilfried Bony replaces Jonathan Kodjia because of an injury.
94'
Cornet in, Zaha out for Ivory Coast.
91'
30 minutes separate one of these teams from the semifinals... Or could it lead to penalties?
90'
And extra time it is! The reglementary 90 minutes are over, so two 15 min slots of extra time will be played.
90'
Ounas goes on a brilliant run, skipping past Gbamin and Coulibaly as though they weren't there but just as it looks as though he will advance into the area and go one-on-one, he checks his run and Ivory Coast get bodies back.
89'
VAR drama? Ounas dribbles into the box and goes down... No penalty...
88'
Franck Kessié is shown the yellow card for a bad foul.
86'
Surprinsingly, Mahrez comes off anyways. Adam Ounas replaces Riyad Mahrez.
84'
Gbohouo with a controversial save... It looked like the goalkeeper, who already has a yellow card, lifted his knee dangerously and hit Algeria's Mahrez. But when seen from another angle, the goalkeeper was definitely far enough to know his high knee kick was not going to cause any harm.
82'
Algeria has not had their best second half, but when they provide shots, they're on target... Mahrez had it. Ivory Coast can't say the same. It is starting to like this will go to extra time.
78'
Jean-Philippe Gbamin replaces the injured Sangaré.
78'
Substitution, Algeria. Islam Slimani replaces Baghdad Bounedjah.
76'
Sangaré goes off injured.
75'
Ivory Coast again with a missed chance... Their lack of on target shots will haunt them later on,
74'
What a chance! Gradel picks out Zaha at the far post with an excellent ball. He tries to volley it home but miss-times it and Algeria can breathe. He should have scored there...
68'
WHAT A CLEARANCE!!!! Mahrez's shot is beautifully cleared by Vagayoko, who appears from nowhere to make a goal-saving block.
66'
Corner for Algeria, which turns into a nasty run-in, but no one seems seriously inured.
65'
Bounedjah misses a chance to atone for his penalty miss, with Gbohouo quick off his line to block an effort from the striker, who was played in by a wonderful through ball.
62'
Jonathan Kodjia's left footed shot from the centre of the box to the bottom left corner makes it 1-1! He's been having a stellar game, along with Wilfried Zaha who provided the assist.
62'
GOAAAALLLL!!!! The Elephants equalise!!!
61'
Belaili tries it with a shot from outside the box, but it's off target. An Algerian teammate in the box could have possibly taken it, but it would have been offside.
56'
Delay in match because of an injured Gradel.
54'
Cheick Comara replaces Wilfried Kanon because of an injury.
50'
Ivory Coast cheers, but they still need to at least level up in order to remain in the tournament... Kodjia's ball across the face of goal takes a nick off Mandi and brushes the top of the bar. They keep trying.
48'
THE SCORE STAYS THE SAME! Baghdad Bounedjah hits the bar with a right footed shot!
46'
The quarterfinals of the AFCON have VAR, and this is it's first use... Penalty awarded after the VAR check. Right decision.
46'
And in the very first action of the second half, a penalty could be awarded... Mahrez tries to avoid the goalkeeper and jumps, but Gbohouo tackles him, and it looks bad. He is awarded a yellow card.
45'
HT: Ivory Coast 0-1 Algeria. If the score remains the same, Algeria would be through to the semi-finals. But that remains to be seen, as Zaha and Gradel have been making a real effort to equalise. Their shots will have to be a little more on target if Ivory Coast plans on remaining in Egypt and getting to the next round. Meanwhile. wonderboy Mahrez remains wonderful with his clinical football, but will it be enough? We are back in 15 min, don't go anywhere!
45'
Ivory Coast tries it one last time before half time! Gradel and Zaha have switched wings and the Palace winger squares it to the Toulouse man, whose shot from just outside the box is straight at the keeper... 3 min of added time.
45'
The Algeria full-back appears to grab Zaha's arm and pull it towards his face in an effort to try to get the Crystal Palace forward sent off... Terrible foul from Bensebaini.
44'
Algeria may not be having as many chances as Ivory Coast, but they are definitely more clinical with their finish. Mahrez almost makes it 0-2!
43'
Mamadou Bagayoko is shown the yellow card for a really bad foul.
37'
Missed chance after missed chance for Ivory Coast at the moment. The team has some great attacking midfielders and strikers, but there is still underlying messy plays within the team. They've reached the goalkeeper's box a few times in the last few minutes, but no real shots on target. It's a shame.
32'
Sangane heads over from corner. That could have lead to more from the player... The Elephants still pushing for that equaliser.
30'
Atal is indeed replaced after that hard blow. Zeffane comes in his place.
29'
He is booked... Only a yellow, so he got lucky, but the Crystal Palace player will have to be careful for the rest of the game. Bensebaini is also given a yellow card.
28'
Zaha in trouble after pushing an Algeria player after s dispute for the ball. Looked pretty bad. Messi was given a red for less just last week during the Copa America.
26'
Algeria's Atal might have to be replaced due to injury. Atal sprints into the box with a fantastic turn of pace but he can't quite escape the attentions of Kanon, who puts in a robust but fair challenge. Algeria wants a penalty.
21'
Ivory Coast should be up by a goal, but it is Algeria who has opened the score. Before the goal took place, Bagayoko had found Kanon, who shot it just too wide for it to even get close. The counter-attack got them!
20'
Feghouli was at the right place, at the right time. A wonderful pass from his Bensebaini lands as his feet right as he reached the goalkeeper's box, and he shoots it in!
19'
GOAAAAAAAAAAAALLLLLLLL BY ALGERIA!!!!!
18'
Corner for Ivory Coast, conceded by Kodjia.
17'
And Ivory Coast with the counter!c Gradiel tries to bend it from the left-hand side of the box, but it goes straight to M'Bolhi's hands.
15'
What a chance for Algeria! Mahrez outruns the entire defense and gets close to a goal, but his shot is wide by a few meters to the right.
12'
The first 10 min of the game show that Ivory Coast has come on strong.Will Algeria react?
8'
And the second chance in under two minutes for the Elephants! A wonderful pass from Zaha is just missed by Kodjia, who falls on the ground before managing to kick it in.
5'
WHAT A CHANCE FOR IVORY COAST!!! And the first of a game which will for sure bring many more. Serey Die goes for a wonderful right footed shot from outside the box, but it is saved a few inches.
3'
First save of the game! The shot did not look on target anyways, but Ivory Coast are not taking any chances. Gbohouo saves it.
2'
Ivory Coast has started off with the possession, winning a free kick in the first minute after a foul by Algeria's Atal.
1'
Algeria immediately tries to get the possession but they are flagged offside.
Prev.
Hymns are being sung, the players have warmed up; the match is about to start!
Prev.
Algeria starting XI: R. M'Bolhi; Y. Atal; A. Mandi; D. Benlamri; R. Bensebaini; S. Feghouli; I. Bennacer; R. Mahrez; A. Guédioura; Y. Belaili; B. Bounedjah
Prev.
Ivory Coast starting XI: S. Gbohouo; W. Coulibaly; W. Kanon; I. Traoré; M. Bagayoko; S. Dié; I. Sangaré; F. Kessié; W. Zaha; J. Kodjia; M. Gradel
Prev.
In seven Afcon meetings between Ivory Coast and Algeria, the former have won three times to the latter's two, with the two other games ending in draws. This should give The Elephants optimism going into Thursday's tie.
Prev.
The coming match presents The Elephants a good opportunity to win back some respect and sound a caution about their title ambitions at the tournament following a run of unimpressive shows so far despite securing three wins.
Prev.
Ivory Coast, who lost to Morocco in the group stages, have won matches against Namibia, South Africa to reach this stage.
Prev.
Algeria beat Senegal, Kenya and Tanzania in the group stages before demolishing Guinea in Sunday's last-16 match (3-0).
Prev.
Algeria who have won all their four matches and are yet to concede a goal at the tournament are favourites to go all the way to the final, but they have to overcome Ivory Coast, a team that's not done their best this tournament, but are sure capable of it.
Prev.
Stay tuned for team news and line-ups, we are 45 min away from kick off!
Prev.
Today's game will be an interesting one, as Algeria have come in particularly strong to this edition of the Africa Cup of Nations, and Ivory Coast have not had their usual "oomph" but are still expected to break through at any point.
Prev.
Hello and welcome to our live, minute to minute coverage of this afternoon's clash of African giants, where Ivory Coast's Elephants will battle it out with Algeria for a spot in the semi-finals!