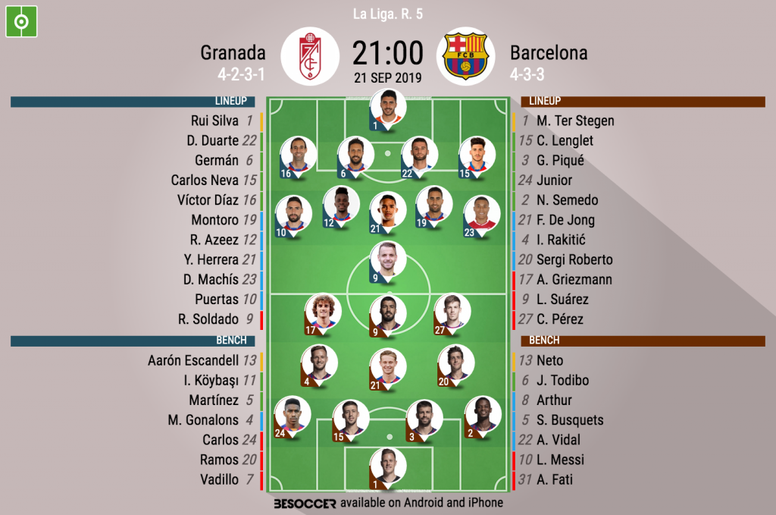 Granada V Barcelona - As it happened.
Granada CF

Barcelona

90'
FT: Granada 2-0 Barcelona. Barcelona is having a hard time starting off this year and fingers will point to Valverde. A shock loss to Granada tonight can only mean more bad news for the coach, and with a team with so many stars, the coach is in trouble. As for Granada, this is their best start in La Liga EVER. Home fans will celebrate this like a title.
86'
Yellow card Fernández Luna... Time wasting here.
84'
Barcelona will definitely be complaining about the referee tonight. Been a few shady actions here and there that will cause some issues.
82'
Final Granada substitution, with Herrera heading off the pitch and he has been replaced by Gonalons.
78'
Decent effort! Puertas with a long range effort, but it's straight at Ter Stegen, who makes a comfortable save
76'
Barcelona have certainly ramped up the pressure now as we enter the final 15 minutes of the game, but Silva is yet to make a good save to deny them. The Granada defence have been excellent.
72'
At the moment it looks like Granada want it more, they are winning the first and second balls, chasing everything down and they look comfortable. Griezmann and Suarez unrecognisable.
68'
Barca improvise a free-kick and Fati gets away into the area, but his angled shot is saved by Rui Silva...
65'
Home fans can't quite believe it. The newly-promoted team is somehow winning 2-0 against the legendary Catalans. Meanwhile, Barça fans are once again having a tough one... Rough start to the season here.
64'
Insane scenes in Granada as the hosts get a penalty and Vadillo scores!!!!!!!
63'
Messy action here as a chance for Granada ends with a handball by Vidal... And it leads to a penalty.
61'
The Venezuelan Machis is out for Vadillo while Rakitic comes out for Arturo Vidal.
58'
Arturo Vidal is coming on; Valverde is trying to make some quick and effective changes here... But will this work out for him?
56'
Roberto Soldado, who already has a yellow and could possibly get another one, comes off for Fernández Luna.
52'
Granada almost get their 2-0!!! Granada so close to doubling their lead, but Ter Stegen just manages to stop the ball from going over the line. It's a mistake from the keeper, he drops a simple catch and it drops down towards the goal, but he manages to get hold of it just before it crosses the line and luckily he did as Soldado was lurking nearby.
51'
Messi steps up to take a free-kick, but he drills the ball into the wall and Granada then clear the danger.
50'
Herrera has also taken a yellow card for a foul. Not necessarily worthy of a yellow, but definitely an unnecessary foul.
49'
Soldado is booked after his high challenge on Pique, catching the centre-back in the stomach with his studs. A painful one for the Barca man.
46'
A few logical changes for Barça here. First things first, Leo Messi is called upon to create his usual magic and save his team; as is new wonderboy Ansu Fati. They replace Perez and Junior Firpo, with the latter having a particularly bad first half on his second outing.
45'
Messi and Ansu Fati seen warming up. See you in 15!
45'
HT: Granada 1-0 Barcelona. The hosts have given the LaLiga champions an early shock and Valverde's men have not managed to come back from it. Granada are not exactly at Barça's standards normally, but their confidence and skill have seen them take advantage of all of Barça's mistakes. A lot of mistakes from the referee, too.
45'
Yellow card for Gerard Pique, which he protests. In his defense, the referee is not exactly doing a good job here.
45'
Greizmann is helping out defensively but the Frenchman has not had much of a role tonight. Four minutes of added time.
44'
Stoppage in play here as Montoro is down injured, it looks like he is winded. The medical team are on the pitch, but he should be fine to continue.
41'
Lenglet makes an important intervention in his area and the ball falls to Carlos Neva outside the box, but his effort is wild and well over...
40'
Only five minutes left and Barcelona are struggling a lot here. The Catalans' defence have not had a break against a very strong and confident Granada who've managed to take advantage of their mistakes.
36'
Granada still pressing and Barcelona's attack have not had a chance to do much. Barça at their worst right now.
31'
Granada are pressing high and are putting the Barcelona defence under a lot of pressure right now, forcing the errors. Poor passes and a clearly disjointed Barça on display tonight.
28'
junior Firpo runs with the ball into midfield, but gives it away. A debut to forget so far for the youngster...
25'
We're midway through the first half now and Granada still look very comfortable, the hosts haven't really been tested by Barcelona yet and they are frustrating the champions. Semedo and Pique are not up to the Barça standards tonight.
21'
Luis Suarez is booked for a foul. Quite a few of those at the moment.
20'
Barcelona with a free-kick opportunity in an excellent position after a heavy challenge on De Jong by Sanchez, an excellent run by the midfield, beating a couple of Granada defenders before laying the ball off and getting clattered into.
19'
Barca struggling to find openings without Busquets and without Messi. Granada solid so far. Shocking to see.
15'
Possible injury to Suarez as it looks like as Granada player might have unintentionally put their finger in the Uruguayan's eye...
14'
CHANCE! Puertas with a good opportunity to double Granada's lead! Ter Stegen has to get down quickly and push around the post. The winger was given far too much time and space to cut in from the right wing, onto his left foot and he tries to drill the ball into the bottom right-hand corner, but the Barca keeper does well.
11'
Barcelona get their first taste of the comfortable possession they are usually used to, and Rakitic gets a good run to the goalkeeper's box, but Rui Silva makes a comfortable save.
8'
Ernesto Valverde is seen on the sidelines loudly yelling out indications to his player. Not the greatest start for the Catalan giants.
6'
The hosts are keeping the ball well in the opening few minutes, Barcelona just haven't got going just yet and they look nervous at the back.
2'
Granada lead 1-0! Azeez with a simple finish from close range after a huge mistake by Junior. The left-back took too long on the ball and Soldado nicks the ball off his toes, sprints forward and plays a ball forward Puertas, who then chips the ball into the box for Azeez to finish at the far post. What a start!
1'
GOAAAAAAAAAAAAALLLLL!!! THE HOSTS OPEN THE SCORE!!!!
Prev.
We are moments away from kick-off!
Prev.
... Is Barcelona trying to send a message here? If Leo Messi were to play tonight, it would be only his second outing of the 19-20 season.
Prev.
Granada started their season with a stunning 4-4 draw at Villarreal before losing 1-0 to Sevilla on August 23. Two impressive victories have been secured in their last two, though, winning 3-0 at Espanyol and 2-0 at Celta Vigo either side of the September international break. Some injuries will be a worry tonight, but Carlos Neva and Ramon Azeez, new to the line-up, might bring some interesting stuff here.
Prev.
As for Granada, the newly promoted team spent six straight seasons in Spain's top flight before being relegated at the end of the 2016-17 campaign. El Grana finished 10th in the Segunda in 2017-18 but secured a return to La Liga last season by ending the campaign in the second position behind Osasuna.
Prev.
However, their win last week against Granada will have been a morale booster, and Barça will be looking to get back-to-back LaLiga wins tonight, and with Messi on the bench and Griezmann and Suarez starting, it looks like Granada could be in danger.
Prev.
Valverde's team have had a bit of a modest start this season - winning two, drawing one and losing one of their four matches to collect seven points, which is enough for fifth position heading into Week Five. It has not been plain sailing this term, but the champions are only three points off leaders Sevilla.
Prev.
Barcelona starting XI: Ter Stegen; Semedo, Piqué, Lenglet, Junior; Sergi Roberto, Rakitic, De Jong; Carles Pérez, Luis Suárez and Griezmann.
Prev.
Granada starting XI: Rui Silva; Víctor Díaz, Germán, Domingos Duarte, Carlos Neva; Azeez, Montoro; Antonio Puertas, Yangel Herrera, Darwin Machís; and Soldado.
Prev.
Some interesting line-up choices from both teams tonight! Let's take a look, shall we?
Prev.
Hello and welcome to our live coverage of tonight's LaLiga clash, which will see newly promoted Granada meet the title holders Barcelona in the Andalusian city!