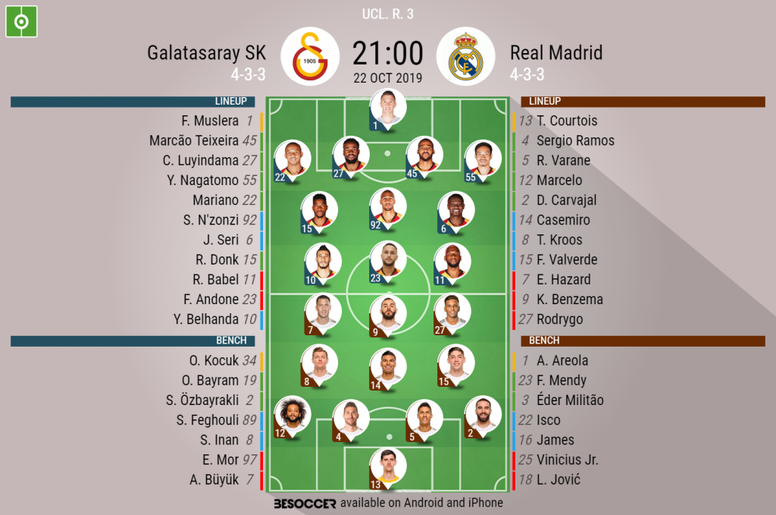 Galatasaray SK v Real Madrid - as it happened
Galatasaray SK

Real Madrid

94'
FT: Galatasaray 0-1 Real Madrid. The visitors narrowly get the win after a hard-fought win over Turkey's Galatasaray. Zidane will be happy about the result, but his team's performance was not as brilliant as to calm the waters.
94'
Yellow card to Galatasaray's Mariano.
92'
Now Courtois is booked for time-wasting.
91'
Toni Kroos receives a yellow card for an unnecessarily harsh tackle.
90'
Four minutes of added time!
86'
As it stands Real Madrid will secure their first victory of the Champions League this season, with a 1-0 victory, unless Galatasary can change things late on. They are pushing forward, but Courtois hasn't really been tested yet in the second period.
83'
Two good chances for the hosts as the ball is first fired up towards Courtois but marcelo clears it, and then Nzonzi heads the corner but it's just wide!
81'
Last change as Jovic replaces Rodrygo for Zidane's team!
78'
Double change for Real Madrid as Vinicius comes on for Benzema and James Rodriguez replaces Fede Valverde.
77'
Jean Michaël Seri won't risk another yellow card; he is replaced by Emre Mor.
75'
CHANCE! Another good opportunity for Real to make it 2-0! Marcelo does well down the left and he pulls the ball back to Benzema in space in the box, who should fire the ball into one of the bottom corners and score. However, Muslera makes another good stop to deny the visitors.
69'
The second yellow card of the game is shown to Nzonzi, after his late challenge on Casemiro. The Madrid midfielder just got to the ball first.
66'
Belhanda is replaced by OmarBayam in Galatasaray's second change.
64'
WHAT A CHANCE FOR HAZARD!!!! OFF THE BAR! It should be 2-0! Hazard somehow misses the target. Benzema played a quick ball through to Hazard, who skipped past Muslera and then strikes the crossbar, when he had an open goal to aim at. So close.
63'
Toni Kroos makes a decent run on the left flank, but it gets tangled in Benzema's feet. Real Madrid really trying here, but it's not proving good enough.
59'
Chances are flying for both teams! Hazard forces Muslera into a decent stop at his near post, after the winger was played through by Benzema and fired the ball towards the goal from a tight angle. There are defnitely more goals in this match.
57'
Poor effort! Galatasaray work the ball well to Nzonzi down the right wing, following a corner and the midfielder should pick out a team-mate in the box with a cross. However, he opts to go for goal himself and lashes it high over the crossbar.
53'
Another chance for Real Madrid!
52'
Solo run by Benzema sees him shoot powerfully and Real Madrid get very close to doubling their lead, but Muslera is right there on cue to make a clinical save!
49'
Decent spell from Galatasaray, The home side win a throw on halfway, then get it down the right and cross goes into the box, but it's straight to Courtois. At least the Belgian is having a slight better night than last time.
46'
Yellow card for Galatasaray's Seri.
45'
The hosts have made one substitution, with Ryan Donk coming off for Sofiane Feghouli.
45'
HT: Galatasaray 0-1 Real Madrid. The visitors are winning by one goal, but not exactly because of their superior quality. Errors from both teams have shown that there is still some work to do, but Zidane's team deserve to be leading here.
45'
One minute of added time!
42'
Corner for the hosts as things start to get heated. Both teams seriously lacking quality though.
37'
CHANCE! Superb run down the left by Babel, he skips past Carvajal, who dived into the tackle. The winger the picks out Belhanda in the box, who got away from Kross and he sidefoots the ball towards goal, but it's too close to Courtois, who makes a good save, gathering the ball on the rebound.
34'
Ah, there we go, the erratic Real Madrid is back. A messy defense allows Galatasaray's Belhanda to get dangerously close to scoring despite his team's disorganisation.
31'
A very messy Galatasaray midfield is allowing Real Madrid to move freely and comfortably, and they therefore look better than they have in weeks. A silver lining?
27'
Free-kick to Real in a decent position, which Kroos whips in the box and Ramos tries to meet it, but his header goes well wide. Still, Real Madrid currently have the upper hand here.
23'
Real Madrid have woken up and are now ustoppable in the attack. Benzema and Rodrygo are linking up effectively. Very encouraging stuff for Zidane, who's job had been threatened.
18'
Real Madrid take the lead, it's 1-0! Kroos breaks the deadlock after 18 minutes. Hazard made a good run down the left, he cuts it back for Benzema, who misses it and instead it falls to Kroos, who sidefoots the ball into the back of the net, virture of a slight deflection, that takes it past Muslera.
17'
GOAAAAAAAAAAAAAAAAAAAAAAALLLLLL!!!!!
14'
And Real Madrid react accordingly! Opportunity for the visitors now! It's end-to-end here and Real break forward quickly, they work it to the penalty area and Benzema lays it off to Rodrygo on the overlap, but he fires it straight at Muslera, who makes a good sav
10'
Galatasaray first make a great run in the counter, and Real Madrid's defensive cracks are on full display as Andone is face to face with Courtois, who makes a clinical save. Almost the same action repeats itself moments later. The hosts have woken up and they could cause real trouble for Zidane's men now.
9'
TWO HUGE CHANCES FOR THE HOSTS!
8'
Real Madrid have a really strong start and it looks like it could be the night to turn things around for Zidane. Hazard and Marcelo are linking up well down the left wing, with Hazard looking lively and he gets to the byline, before dragging it back towards Benzema, but it's well cut out.
4'
Strong tackle to Hazard by Luyindama. He looks like he's in pain, but moments later he is back up. Should have been a yellow...
2'
Real Madrid makes a strong start to the game as they make a point of keeping possession early on.
1'
And we're off! Fun fact... Galatasaray have players from four continents, eight countries, and not a single Turkish footballer in the line-up tonight!
Prev.
Players have walked onto the pitch and are shaking each other's hands; kick-off is imminent!
Prev.
Meanwhile, Galatasaray face a similar situation with just one point out of three games. Their star signing Radamel Falcao is sidelined with an injury, but the coach Fatih Terim will be hoping Real Madrid's poor performances will be in their favour.
Prev.
Real sit bottom of Group A with just a single point after two games following a 3-0 defeat at Paris Saint-Germain and a 2-2 home draw with Club Brugge in which they trailed 2-0, a uncommon result for a Champions League winner just one short season ago.
Prev.
It's a night full of tension for both teams... Zinedine Zidane is refusing to bow to the pressure amid speculation that Jose Mourinho is being lined up to replace him, and a bad result tonight could very well endanger his position despite his starred track record before it.
Prev.
An interesting head to head record! These two sides have faced one another on seven previous occassions. Real Madrid just shaded it with four wins to Galatasaray's three. There has never been a draw in this fixture, but who knows what tonight will bring...
Prev.
Galatasaray starting XI: Muslera, Mariano, Luyindama, Marcao, Nagatomo, Donk, Nzonzi, Seri, Belhanda, Andone, Babel.
Prev.
Real Madrid starting XI: Courtois, Carvajal, Varane, Sergio Ramos, Marcelo, Kroos, Casemiro, Valverde, Rodrygo, Benzema, Hazard.
Prev.
Hello and wlecome to our minute to minute coverage of this evening's Champions League clash, where both teams could be left without a spot in the UCL if they don't manage to get the win, and Zidane's track record could be harmed for good!