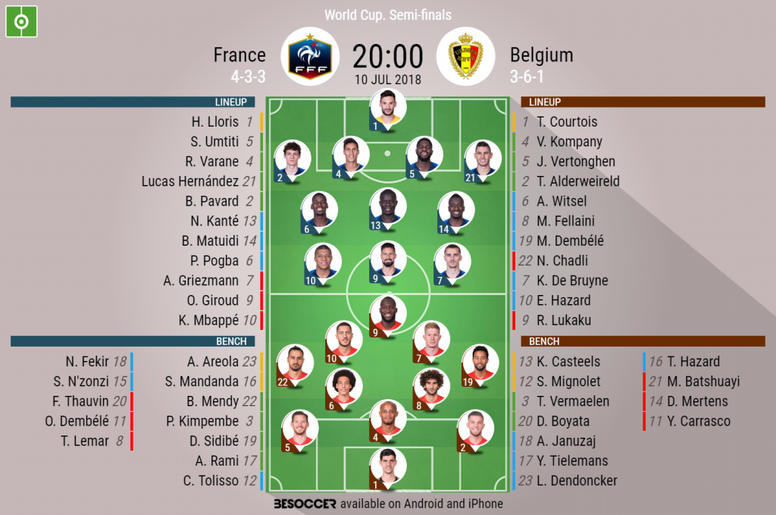 The teams are in!
97'
FT: France 1-0 Belgium. Samuel Umtiti's headed goal is enough to send France into the World Cup final. It's heartbreak for Belgium, but the French are now just 90 minutes away form being proclaimed world champions.
96'
CHANCE! Tolisso is all alone on the left-hand side of the box, but Courtois gets down to his left to deny the midfielder's low effort. The Chelsea goalkeeper has had a great tournament.
94'
Heads are going left, right and centre here. Vertonghenpicks up a booking for pushing Mbappe in the back of the head long after he had passed the ball on.
93'
CHANCE! Pogba feeds Griezmann on the edge of the box but his low right-footed effort is gathered by Courtois low to his right.
92'
Mbappe is booked for some of the most shameless timewasting you are ever likely to see.
91'
The last throw of the dice for Belgium as Batshuayi replaces Chadli.
89'
De Bruyne looks for Lukaku with a flighted ball over the top but it has just too much on it.
88'
The delivery briefly threatens to cause problems, before Mbappe hacks the ball to safety.
87'
Kante is booked for bringing down a marauding Hazard and De Bruyne has the chance to swing a ball into the mixer.
86'
France make another change as Tolisso replaces Matuidi.
85'
France look to shut up shop as N'Zonzi replaces Giroud.
84'
A couple of minutes' stoppage as Hazard and Matuidi receive treatment after a collision but they're both back to their feet now.
81'
WHAT A HIT! Witsel just about tears the leather off the ball as he has a go from 20 yards, but Lloris punches it away down to his left.
80'
Off goes Fellaini and on comes Carrasco. Belgium need inspiration, can Carrasco provide it?
79'
Pogba heads a Griezmann free-kick from the right high over the bar.
76'
De Bruyne blazes over left-footed from some 25 yards. The Belgians need to create better chances than that if they're going to stand any chance of getting back into this one.
74'
The stats bode well for France seeing this one out:
71'
Another booking for Belgium as Alderweireld clips the heels of Matuidi down the France left.
67'
Mbappe leads a counter before finding Griezmann. He pulls the ball back for Giroud, but his effort on the run flies high over Courtois' crossbar.
65'
CLOSE! Mertens has had an instant impact and his latest act is to swing in an inviting ball for Fellaini from the right, but the towering midfielder's header flashes inches wide of the post with Lloris scrambling across his goal line.
63'
Eden Hazard takes one for the team by tugging back Matuidi as France looked to launch a counter. He is immediately and correctly booked.
61'
More pressure from Belgium already as Mertens' cross is headed away by Varane, before De Bruyne fails to connect properly with a volley. Belgium need the next goal otherwise this one could get beyond them.
60'
Belgium are going for it. Dries Mertens replaces Mousa Dembele, with Kevin De Bruyne presumably now dropping into the deeper role he featured in earlier in the tournament.
56'
Kylain Mbappe stop it! The teenager produces the piece of skill of the tournament as he flicks the ball through for Giroud, who appears to be in on goal, only for Dembele to come from nowhere to make a vital challenge to deny the striker.
53'
Matuidi is brought down on the left-hand edge of the box but Dembele and France have another chance to get the ball into the box.
51'
GOAL! FRANCE! UMTITI! 1-0! Simple as you'd like. The centre-back gets the run on his man at the near post to flick Griezmann's right-wing corner beyond Courtois and into the back of the net. Advantage France.
51'
Giroud spins Kompany and looks for the far corner but the defender recovers enough to block his effort away for a corner.
48'
Lukaku finally has his first effort of the game as he meeds Witsel's ball in from deep but he can only head over.
46'
Belgium get us back underway here! There's only room for one of these two in the final. Who will it be?
45'
HT: France 0-0 Belgium. Nothing to chose from between the two sides at the break here. It's been an entertaining affair, with both sides looking dangerous going forward, but we're no closer to knowing which of these two teams will be playing in Sunday's final.
45'
Danger! Umtiti makes a meal of clearing De Bruyne's cross and it comes through to Lukaku but he isn't expecting it and there is nothing he can do as the ball bounces off him and into touch.
45'
Griezmann takes it but he clatters an effort straight into the wall.
44'
A free-kick in a very dangerous position for France here. 25 yards out, suiting a left-footer.
40'
GREAT SAVE! Pavard gets in down the right after being slipped in by Mbappe and he has a clear sight of goal. He tries to fire the ball across Courtois and into the far corner but the strapping stopper gets a rangy leg to the effort to deflect it away for a corner, which is clear.
38'
Giroud looks to be in trouble here. He and Dembele collided off the ball during that move and the striker is looking in some discomfort.
37'
Griezmann drives from deep in his own half before taking aim from 25 yards but he doesn't catch it at all and the ball dribbles well wide.
34'
CHANCE! Mbappe does brilliantly to cushion a long ball across goal and into the path of Giroud, but he can't generate any power or direction on his strike and it trickles wide.
31'
Griezmann takes the fee-kick short for Pavard and he crosses from deep, but Giroud's header loops a yard or two wide.
30'
Vertonghen goes through Mbappe 25 yards out and there are calls for a booking but the referee decides that a word in the ear will suffice.
28'
Umtiti scrambles away De Bruyne's low centre with two red shirts primed behind him.
27'
For all Belgium's dominance so far the French still carry considerable danger when they go forward. This one could still descend into a goalfest.
23'
Giroud gets in behind Kompany as they chase a long ball, but the Chelsea striker can't connect cleanly with his prodded effort and Courtois watches the ball wide.
21'
GREAT SAVE! Chadli's corner drops to Alderweireld and he produces a fine curling effort on the turn, only to see Lloris produce an equally impressive diving stop away to his right.
20'
Lloris has to fly off his line and punch away a cross to prevent it from reaching Fellaini. This is a good spell for the Belgians.
19'
CLOSE! Hazard cuts in from the left and whips a fierce effort towards the far corner, but Varane does just enough to get his head on the effort and deflect it over the bar.
18'
Matuidi drills in an effort from 25 yards but his rising drive is safely pouched by Courtois, it's heating up this one.
16'
CHANCE! France give the ball away deep in their own half and De Bruyne slips in Hazard. He looks for the far corner left-footed but just drags his effort wide of Lloris' left-hand post.
15'
Both of these teams are terrifying on the counter. De Bruyne attempts to burst away this time but Kante is there to sweep up as he does so well.
13'
CLOSE! Pogba bursts away from a challenge in his own half and looks to slip Mbappe through. He does so, but the pass is a yard too strong and Courtois comes off his line to gather before the PSG star can get there.
11'
The ball is scooped over the top for Mbappe, but he tries to find Giroud rather than improvising an effort on goal and the chance is lost.
7'
Chadli takes the corner but his delivery is over-hit and it sails out for a goal kick.
6'
Hazard races past Pavard and to the byline down the left but Umtiti turns his low cross behind.
3'
France dominate possession for the first few minutes but the Belgians burst into life when the ball is given away in the middle of the park. Chadli swings in a couple of crosses from the right but they are both cleared.
1'
An early raid down the right from Mbappe sees him find Griezmann with a low cross but he has the ball nicked off his toe.
1'
France get us underway here in Saint Petersburg!
Prev.
The players are out on the pitch and we're minutes away here!
Prev.
Warm-ups are done here and we're closing in on kick-off!
Prev.
Here's how these two sides have fared recently coming into this one:
Prev.
An interesting sub-plot today is the presence of France legend Thierry Henry on the Belgium bench. The former Arsenal star is Roberto Martinez's assistant and his loyalties will likely be put to the test and then some tonight.
Prev.
The two teams have arrived here ahead of this one:
Prev.
Belgium are unbeaten in 24 games (W19, D5, L0).
Prev.
Excluding penalty shootouts, France have lost just one of their last 13 World Cup knockout games (W10, D2, L1).
Prev.
A solitary change from the French as well as Blaise Matuidi returns from suspension to take the place of Corentin Tolisson on the left of midfield.
Prev.
France: Lloris; Pavard, Varane, umtiti, Hernandez; Pogba, Kante; Mbappe, Griezmann, Matuidi; Giroud.
Prev.
Just the one change for the 'Red Devils' then and it is a surprising one, as Mousa Dembele comes in at right wing-back for the suspended Thomas Meunier. Kevin De Bruyne continues in the attacking role in which he shone against Brazil, menaing Dries Mertens is once again made to do with a place on the bench.
Prev.
Belgium: Courtois; Alderweireld, Kompany, Vertonghen; Dembele, Fallaini, Witsel, Chadli; De Bruyne, Lukaku, Hazard.
Prev.
The two sides have met three times at major tournaments, with France winning all three encounters.
Prev.
Belgium boss Roberto Martinez: "This group has to play with no fear at all. If we approach this match with fear within us, we will bring ourselves down and we'd be able to do so much less than what we can actually do. To play without fear would probably be the one thing which would help us the most. We will need to anticipate Mbappe and be well-positioned. We need to defend spaces more than the player himself."
Prev.
France boss Didier Deschamps: "All I am going to say now is that we are in the semi-final and we have the chance to play in the final of the World Cup, so let's try to do everything ... Portugal is not the Belgium side we face tomorrow, we have to give everything to get there. The potential is there, the individual quality is there, this side is younger than the side that was in the final of Euro 2016 but they have a lot of club experience at [a] high level. We will be more competitive."
Prev.
In many ways this is the experienced heads of France against the new kids on the block in Belgium, with 'Les Bleus' featuring in their sixth World Cup semi-final to Belgium's two.
Prev.
Hello and welcome! A huge game in store tonight as two of the strongest national teams out there go head-to-head for a place in the World Cup final!