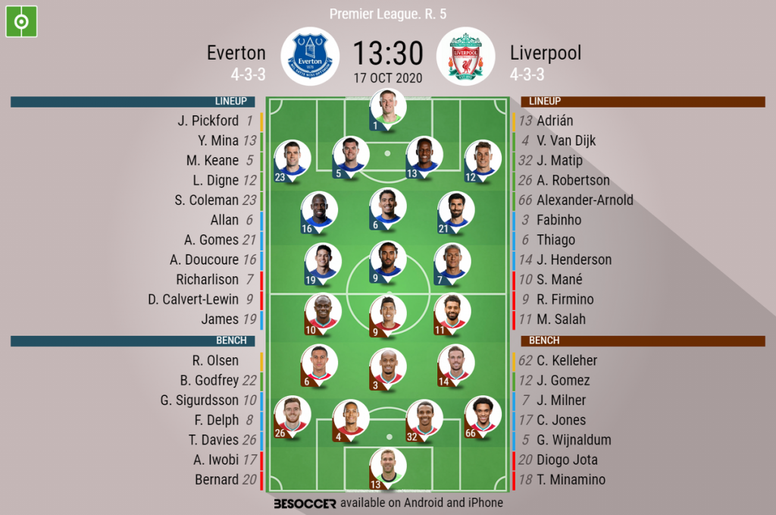 Everton v Liverpool - as it happened.
90'
FT: Incredible scenes to end the Derby 2-2. This match will certainly cause controversy over VAR once again. Thanks for joining us today!
90'
NO GOAL! A questionable offside VAR decision means Henderson's goal has been disallowed!
90'
GOAL LIVERPOOL: Henderson wins the game for Liverpool after a scrappy defence from Everton just bounces over Pickford who stopped the shot but not the bounce.
89'
Everton should have finished this on 9 players if you include Pickford's challenge on Van Dijk. Lucky to be finishing on 10.
88'
Richarlison given a straight red for a criminal challenge. Studs up and not even close to finding the ball.
86'
AA fires the FK well wide. A waste in a great position.
85'
LIV FK on the edge of the area.
81'
Liverpool come within a hair's width of scoring once again after Mané and Robertson fire home. Great game from Pickford today.
80'
GOAL EVERTON: Calvert Lewin scores one of his specialties! A great header from an angle that meant that Adrian had no chance.
79'
Liverpool continue the attack! they want to put this one to bed once and for all.
76'
Great save by Pickford! He could have just kept Everton in contention. How did he get a hand to that!?
74'
Everton will be disappointed to concede such a sloppy goal after a close game, what a shame.
71'
Absolute belter from Salah! He took it on the half volley from the edge of the box after a week Everton clearance. Pickford didn't even get close!
69'
Gomes booked for a foul on Fabinho off the ball.
66'
Mané will be lucky to not be booked for that jumping challenge!
64'
Great movement by James and a great shot that is just turned wide by Adrian.
60'
There's been some great football played today, but out and out chances seem lacking after a good defensive performance from both sides.
58'
Robertson trips up over his own feet to put an end to what could have been a good Liverpool attack down the wing. Even he had to smile at that.
55'
Liverpool are putting Everton under some great pressure as they struggle to create chances in the Liverpool half.
53'
Silly foul by Everton could've been dangerous as Robertson is still on the floor 2 minutes later.
49'
Klopp's side were lucky then!!! Calvert Lewin came close to scoring after an Everton cross but was stopped by Adrian.
49'
Richarlison is dispossessed after a nice touch. Possession is changing hands much more in the second half so far,
48'
Underwhelming finish from Henderson who puts it well over.
47'
Throw in from Liverpool could lead to a dangerous attack!
46'
Players on both sides look fired up today! Fabinho fires well over from far out.
46'
On our way to a great game so far! Let's go!
45'
HT: Great first half from both sides with Liverpool getting the bigger share of chances and possession.
45'
45+2: Liverpool look to slow down the pace before half time after surviving a dangerous Everton comeback.
45'
Great counterattack by Everton with a great physical run by Doucoure which saw him outspeed and strength Salah!
44'
James picks up a yellow for a clear foul on the edge of the area.
43'
Richarlison fires well over from a central position outside the box after a snap turn.
42'
Liverpool have had the lions share of the possession so far but Everton look great with the possession they do have.
42'
Expect some added time to this first half after Coleman and Van Dijk injuries.
40'
Great chance as Richarlison can't connect to on a low cross the was deflected across the box.
38'
Great chances being created by Liverpool are the stand out of the first half, both sides have shown quality.
35'
Fk for Liverpool wasted after an Allan foul in a dangerous position. Liverpool corner.
34'
Mané fires wide after what was almost a carbon-copy of his first goal! Everton need to defend those low crosses from out wide better than this.
32'
Thiago fires home and isn't far off from scoring! Welcome back!
29'
Coleman comes off after an injury.
28'
FK well defended by Everton. Liverpool look to keep up the pressure on the rebound.
27'
Allan fouls Thiago after a great challenge that maybe came in a bit too strong. Liverpool FK.
25'
These Merseyside games are famous for how many cards and fouls they usually have. We're certainly racking up the fouls today!
22'
Great save by Pickford!! That was almost in from the FK!
22'
A dive but the ref has given the FK due to Gomes high foot.
22'
Everton foul on the edge of the area as Mané goes down without contact to win a FK on the edge of the area.
21'
Every small error by both sides will be punished in this match. Both sides are playing impressively today.
20'
All tied up at Goodison Park. What a derby!
19'
EVERTON GOAL: Keane scores a great header from the corner. Adrian couldn't get enough power behind the ball to stop it!
18'
Calvert Lewin is stopped by Adrian who positioned himself perfectly. Everton corner.
16'
Calvert Lewin will regret that! He had space at the edge of the area but couldn't quite control the ball and fired it straight at the keeper.
15'
Mané goes down after some contact from Doucoure, the referee gave the FK.
12'
Great clearance from Pickford who punches the ball clear of his area after a promising cross for Liverpool.
10'
Joe Gomez comes on for Van Dijk after Pickford's terrible challenge.
9'
Everton look for weaknesses in Liverpool's defences who are so far presenting a solid wall against them. Massive improvement from the Villa game.
5'
No penalty!! Not given due to Van Dijk's offside position in the move. Everton should be counting their lucky stars!
5'
Terrible foul on Van Dijk by Pickford, that has to be a penalty. Van Dijk will be lucky to walk away from that one.
4'
Liverpool have fire in their veins today. They look hungry for goals and are playing a great game.
3'
Mané was left free in that move, Everton can't give Liverpool opportunities like that or they will finish them!
2'
LIVERPOOL GOAL: Mané slots in a goal in the area after a low cross from Robertson. A great team goal.
1'
Second foul by Van Dijk. The tempo of the game is high, as are the tempers!
1'
James brought down by a clash with Van Dijk. No card needed. FK for Everton.
1'
Let's go at Goodison Park!
Prev.
One of the biggest rivalries in English football is about to play out as the players begin to take the field.
Prev.
Not long to kick-off now, put your predictions in the comments!
Prev.
Adrian will start in goal for Liverpool after being criticised in the loss to Villa.
Prev.
Everton pay tribute to their Spanish fans and players. James has revolutionised the Toffees!
Prev.
Can Liverpool recover from their thrashing in the face of Villa? They face an impressive Everton who have recovered some key players such as Allan.
Prev.
The tension will be palpable in Merseyside today. The current league leaders face off against the current league champions. And all that is in a derby!
Prev.
LIVERPOOL XI: Adrian, Alexander-Arnold, Matip, van Dijk, Robertson, Henderson, Fabinho, Thiago, Salah, Firmino, Mane. Subs: Wijnaldum, Milner, Gomez, Jones, Minamino, Jota, Kelleher.
Prev.
EVERTON XI: Pickford, Coleman, Mina, Keane, Digne, Doucoure, Allan, Andre Gomes, Rodriguez, Calvert-Lewin, Richarlison. Subs: Delph, Sigurdsson, Iwobi, Bernard, Godfrey, Davies, Olsen.