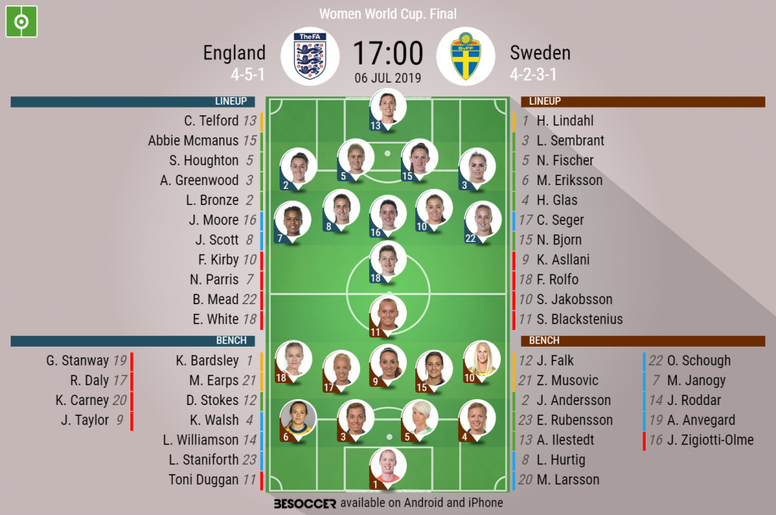 England V Sweden - As it happened.
Inglaterra

Suecia

94'
FT: England 1-2 Sweden. A very levelled game, but Sweden ends with the victory! Phil Neville's team gave it a fair effort and were close to levelling the score a few times. The Lionesesses fall to the turf as one, as do Sweden, in a massive celebratory pile-on. They're bringing home the bronze.
93'
Moore is booked for bringing down Blackstenius, breaking clear on the halfway line. It should probably be a red card, but the game is about to finish...
91'
And Sweden with the counter-attack! Wonderfully cleared by Telford!
90'
Four minutes of added time!
90'
THAT SHOULD HAVE BEEN IT! Bronze with a wonderful strong shot, but the Swedish defense was well placed and the score stays the same. Fischer who stopped that will have a strong headache... But that's a sensational clearance!
88'
Sweden is looking tired now, and they know they've basically got it... They try to go for goal, a bit unenthusiastically.
86'
That could have been it for the Lionesses! Bronze, out on the right, sends a dangerous cross towards the far post. Taylor's waiting for it, but Lindahl catches spectacularly. Amazing goalkeeping from the Swede there.
84'
Lindhal is booked for time wasting after an England free kick.
83'
Last switch for England! Daly in place of MacManus.
83'
Moore tries it from the distance, but it doesn't lead to anything significant.
79'
Free kick! And a chance for Sweden to run down the clock a little.
76'
Sweden getting a lot of opportunities at the moment. England hold firm.
74'
Karen Carney comes in for the 144th and last time of her career. She replaces Parris.
66'
Sweden had the possession and Jakobsson tries to go for the 1-3, but Telford comfortably saves it. Waste of an action from Sweden.
64'
A long pass down the inside-right channel nearly finds Taylor, but Lindahl comes out of her box to clear it.
62'
Houghton heads harmlessly over the bar when meeting the ball at the near post. Decent opportunity from England, who will be disappointed not to have done better there.
60'
Kirby has been the best English player by far today. She dribbles with purpose down the right and sends a cross-cum-shot towards the near post. Taylor also providing quite a few chances since having come on.
56'
England definitely looking sharper in this second half. Sweden's performance has not dropped for a second. Goal kick for Sweden.
52'
Missed chance for England! Huge error from Sweden's Lindhal, who is fortunate enough to face off a surprised Taylor who can't manage to score.
50'
Taylor comes off the bench to replace Mead for England!
48'
And again, a nice levelled start to this second half. Both teams properly going for it now. Worthy of a final...
45'
HT: England 1-2 Sweden. Magnificently levelled match at the moment. England could easily be winning, easily be losing, or easily be levelled. However, Sweden have the possession and are providing more of a team effort, so they deserve to be leading the way.
45'
White goes at it on a one on one with Lindhal! England had it!!!
45'
Houghton attempts to chest the ball back to Telford, who doesn't come to claim. Blackstenius nips in between and wedges an instinctive effort over the keeper ... and just over the bar. There's a VAR check for a potential penalty, the ball having brushed Houghton's shoulder, but that would have been uncalled for...
45'
5 min of extra time in this first half!
44'
Moore has a frustrated kick at Asllani, and is fairly fortunate not to go into the referee's book. Still a free kick though, and one which results in Jakobsson sending a weak ball towards Telford.
43'
Jakobsson flies by past Greenwood, who is not having her best game. This will need to be sorted out in the 2nd half if England want to go for the bronze medal.
40'
Free kick for England, but it's wasted.
36'
Not much of a consolation prize, but England have definitely woken up now; they're playing much better football. They're not at their best, and not nearly as good as they were against the USA, but it seems they are getting there slowly.
32'
And the goal is disallowed by a supposed handball... VAR will once again make headlines this afternoon.
32'
AND ANOTHER ONE!!!!!! ENGLAND LEVEL THE SCORE!!! Kirby with the goal!
31'
Scott draws a couple of players in the midfield and slips Kirby away down the right. Kirby's been in a no-nonsense mood from the get-go, and here she drives towards the Swedish box, cuts in from the right, and sends a precision curler across Lindahl and into the bottom left. What a finish!
30'
GOAAAAALLLLL!!!! THE LIONESSES SCORE!!!
27'
England had it! Too wide of an angle from the English player, who fails to put the score at 2-1.
26'
he players get moving again. Sweden are down to ten women, with Rolfo off the field receiving treatment.
22'
Sweden lead the way with a superb second goal! Jakobsson has been running riot down the right, but here she pops up on the left, taking up a cut-back from Blackstenius near the corner flag. Jakobsson strides into the area, and curves a glorious shot across Telford and into the top right! Amazing finish!
17'
Early set back for the Lionesses, but there is still a lot of time to make up for it. Meanwhile, the Swedes have been keeping the match very action packed and high pressured. Great performance.
14'
Eriksson nearly concedes a corner with a ludicrously overhit backpass, but Lindahl does extremely well to scamper after it and stop the ball dead on the line, before launching a quick counter attack.
11'
A mistake by left-back Greenwood and not the best goalkeeping by Telford means England pay the price. Unstoppable shot by Sweden, who deservingly have the lead.
10'
GOAAAAALLLLLL BY SWEDEN!!!
10'
Stephanie Houghton goes down with an injury, but she quickly recovers.
8'
Asllani, thankfully fully recovered after that worrying knock towards the end of the semi-final against the Netherlands, feeds Rolfo down the left. Rolfo reaches the byline and whips in a low cross that Houghton does well to nick clear.
4'
Sweden start off hot, providing a corner in the first few minutes.
Prev.
Fridolina Rolfö is back from her suspension and the only other change from the semi-final is Björn instead of Rubensson - just as Gerhardsson had prepared to start in Lyon, but Björn then felt unwell and the medical team decided she would not play.
Prev.
Ellen White retains her place up front, Carly Telford starts in goal, while Alex Greenwood returns at left-back. We're still expecting to see both Jodie Taylor - and the outgoing Karen Carney - come off the bench.
Prev.
Phil Neville said England were determined to come back with bronze and he's fielding a starting XI which should provide a very strong test for Sweden...
Prev.
Great news for Sweden as Kosovare Asllani is fit enough to make the starting eleven. It's the same 4-3-3 formation that Gerhardsson has gone with during the entire tournament.
Prev.
Fans are reminding us how important this tournament has been for the advancement of women's sport, which should always be taken as seriously as the men's equivalent.
Prev.
Karen Carney - who will retire from football after this game - said, among other England traditions, she would miss singing the national anthem the most. She's just wiped away a few tears on the touchline and is being consoled by her friend Jodie Taylor; an emotional moment for Carney as today she prepares to hang her boots.
Prev.
Some teams news while we wait for kickoff!
Prev.
The game is about to start! Hymns have been sung, and the players are placing themselves on the pitch.
Prev.
Sweden starting XI: Lindahl, Glas, Fischer, Sembrant, Eriksson, Bjorn, Asllani, Seger, Jakobsson, Blackstenius, Rolfo.
Prev.
England starting XI: Telford, Bronze, Houghton, McManus, Greenwood, Kirby, Scott, Moore, Parris, White, Mead.
Prev.
Hello and welcome to our minute to minute coverage of the Women's World Cup, where England and Sweden will battle it out for the 3rd place!