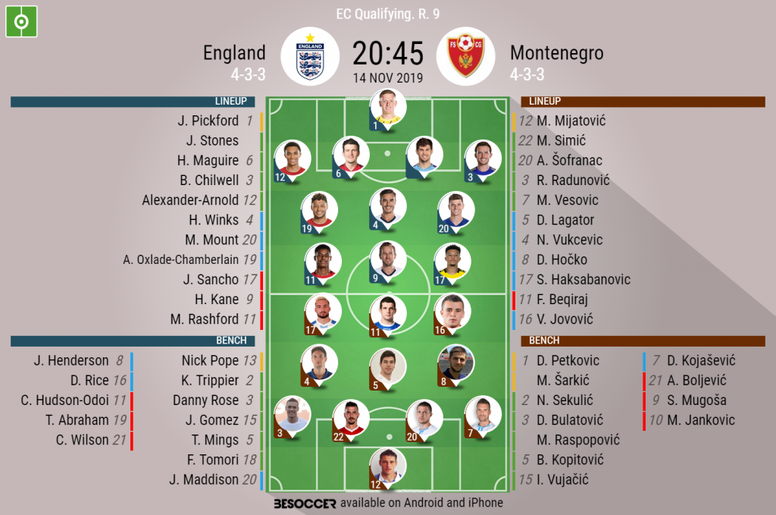 England V Montenegro - As it happened.
England

Montenegro

Post.
As always, we thank-you for joining us tonight. See you soon!
90'
FT: England 7-0 Montenegro. England's youthful team has once again proven they have the goalscoring ability, as Montenegro suffer through and through. Goals from Kane, Oxlade-Chamberlain, Abraham, Rashford and an unfrotunate own goal by Sofranac means England have now qualified as top of their group.
89'
Maddison tries to sneak a pass through to Sancho buts gets his calculations just wrong.
84'
Chilwell slipped in Sancho wide on the left. The winger plays a careful low pass towards the near post, where Abraham, having made sure he got to it before the defender, slides it into the net. Good stuff from the England youngsters.
83'
ABRAHAM GETS HIS FIRST ENGLAND GOAL!!!
78'
Boljevic has space to threaten down the left for Montenegro, but he slices his left-footed cross behind for a goal-kick. Not a good moment for the winger. Match is dragging along now.
77'
Maddison wins a free-kick for England 35 yards from goal and Chilwell clips the resulting free-kick towards Gomez, but Simic rises to head clear of danger.
75'
Boljevic on Haksabanovic off.
72'
Alexander-Arnold clips a teasing cross into the box towards Abraham, but Mijatovic races off his line to gather ahead of the forward.
70'
Gomez replaces Mount for the home side that will see Alexander-Arnold shift further forward.
69'
Mount and Sancho almost combine in the final third, but the Chelsea man's control lets him down before he shape too shoot under pressure from Simic.
66'
SO UNFORTUNATE! It was going in anyways, but Sofranac has scored a really unfortunate own goal after a great link-up for England's boys. Rashford did brilliantly, cutting through the defence on the left and then pingingin a mid-height cross. The keeper got a little touch, Sancho headed backwards from cose range, Mount shanked the follow-up... and the defender drove into his own goal via the underside of the bar from five yards!
65'
Montenegro substitution: Jankovic on, Jovovic off.
62'
OVER! Chilwell swings a corner in from the left flank towards the back post. Maguire rises above his man to head at goal, only to send his effort over the bar.
59'
England are intent on retaining possession. The high-risk passes they were playing in the final third in the first half have declined to some degree. Southgate is eyeing a clean sheet.
55'
Maddison makes his England bow as he replaces Oxlade-Chamberlain in the middle of the park, while Abraham comes in for hat-trick scorer Kane.
54'
DISALLOWED! Best chance in this second half comes through a great England link-up, but it's offside. Mount sees an effort chalked off for offside from close range as he pounces on a rebound following a Kane strike. Replays show that it was a tight call to say the least.
51'
Oxlade-Chamberlain brings down Vesovic in the middle of the park, but Montenegro are unable to threaten from the resulting free-kick.
46'
Back underway! Raspopovic replaces Radumovic for the visitors.
45'
HT: England 5-0 Montenegro. The hosts are comfortably dominating the game with goals from Oxlade-Chamberlain, Rashford and a hat-trick for captain Kane. Meanwhile Montenegro are clearly feeling the pressure, and the yellow cards could be more frequent... See you in 15!
42'
WIDE! Rashford and Oxlade-Chamberlain combine in a move from the left flank to the edge of the box. Rashford lines up the strike, but he sees his effort deflected wide of the target.
40'
Some stats as England keep dominating! Kane is the first player to score a hat-trick in consecutive appearances for England at Wembley, having also netted three against Bulgaria last time out. He's also now England's all-time highest scoring starting captain with 24.
37'
HARRY KANE IS ON A HAT-TRICK! That is the hat-trick. Goal number 31 and he may fancy breaking Rooney's record of 51 tonight the way he is playing. Alexander-Arnold fires in the low cross, Kane's control is superb and he turns to fire it across the keeper and home.
33'
Vesovic is fortunate to remain on the pitch. First he clips the back leg of Rashford to give away a foul. The forward reacts with a shove and then the defender plants his head straight on that of his opponent. The referee does not see the entire incident and brandishes only a yellow card for both players.
32'
BLOCK! England are denied a fifth goal as Rashford backheels the ball towards goal from close range, but Mijatovic manages to stick out a leg to make the block on the line.
30'
4-0!!! Montenegro's defence is all over the place, allowing Rashford space and time to drill an effort into the right corner. England catch the visitors cold from the corner and Alexander-Arnold lifts a deep cross to the back post. Maguire has a free header, but guides his effort straight at Mijatovic, who makes the save. However, Rashford pounces on the rebound and picks his spot with his right foot to find the net.
30'
GOAAAAAALLLLLLL!!!!!! MARCUS RASHFORD!!!!
29'
Alexander-Arnold releases Sancho over the top and he wins an England corner off the legs of Radunovic.
27'
SAVE! Pickford dives to his left to produce a fine stop to deny the visitors. England switch off at the free-kick and Vesovic picks out the run of Simic. The defender connects with a diving header towards the right corner, but the England keeper gets across to palm it past the post.
24'
Easy goal for England here. Another assist from Chilwell - this time from an outswinging corner - another goal for Kane, a header from six yards.
23'
ANOTHER ONE FOR HARRY KANE ONLY A FEW MINUTES LATER!
19'
That's Chilwell's second assist of the game with a fine cross for Kane to head home! Good run from England here.
19'
Chilwell curls over an inviting corner from the left. The defenders get themselves in a muddle and Kane doesn't even have to jump in order to guide a header into the net from six yards. Easy for England at the moment.
18'
GOOOOOOAAAAAAAAAAALLLL!!! HARRY KANE!
16'
Rashford gets a superb chance to add to the scoresheet but the Montenegro keeper makes a clinical save!
15'
Montenegro enter the England half for the first time in a long time. And Vesovic scampers all the way into the box, wriggling past two defenders before Maguire comes across to poke the ball out for a corner.
11'
England take the lead through a brilliant strike from Oxlade-Chamberlain on his first appearance in over a year. Chilwell creates the goal by lifting a cross over the head of Radunovic in the right inside channel. Oxlade-Chamberlain takes a touch before rifling his right-footed strike beyond the reach of Mijatovic into the bottom-left corner.
11'
GOAAAAAAAAALLLL! OXLADE-CHAMBERLAIN!
8'
England are pressing Montenegro deep in their own half. It's hard for the visitors to break out from the back at the moment.
6'
CLOSE! Sancho takes the ball in stride down the right flank and he fires a low ball across the face of goal, but Sofranac is able to intervene just in time ahead of Kane in the middle.
4'
Alexander-Arnold clips a ball over the top down the right flank for Sancho to chase, but the cross from the forward is claimed at the near post by Mijatovic.
3'
Sterling and Joe Gomez have been caught by the cameras... Sterling sits next to Henderson while Joe Gomez is on the bench. Tense.
2'
Corner for Montenegro who has a decent start to the match.
Prev.
National anthems have been sung! Match is about to start!
Prev.
Closer look at the line-up: Sancho comes into the fold to replace him from England's 5-0 win over Bulgaria last time out. Mount replaces the suspended Jordan Henderson in the midfield, while Stones and Alexander-Arnold return in the back four ahead of Trippier and Mings. Ross Barkley's injury opens up a spot for Oxlade-Chamberlain to also start in midfield.
Prev.
There's been a lot of controversy surrounding tonight's game because of the Sterling-Joe Gomez incident, which has dominated headlines... But Southgate hopes a good performance will be enough to silence the ongoing headlines.
Prev.
Despite the relatively experienced central defence, this is England's youngest starting XI since 1959, with an average age of 23 years and 255 days. Impressive!
Prev.
A thought for all of England's greats today... And Raheem Sterling, who has been excluded from this game after his altercation with Joe Gomez.
Prev.
England have a chance to gain the point that would secure the place at Euro 2020 that was in doubt right up until the format of this competition was revealed. As if that's not enticing enough, this is also England's 1000th match! No other country has played so many!
Prev.
Montenegro starting XI: Mijatovic; Vesovic, Sofranac, Simic, Radunovic; Hocko, Lagator, Vukcevic; Jovovic, Haksabanovic; Beciraj.
Prev.
England starting XI: Pickford, Alexander-Arnold, Stones, Maguire, Chilwell, Winks, Mount, Oxlade-Chamberlain, Sancho, Rashford, Kane.
Prev.
Hello and welcome to our live coverage of this evening's Euro 2020 qualifier as England play Montenegro in Wembley!