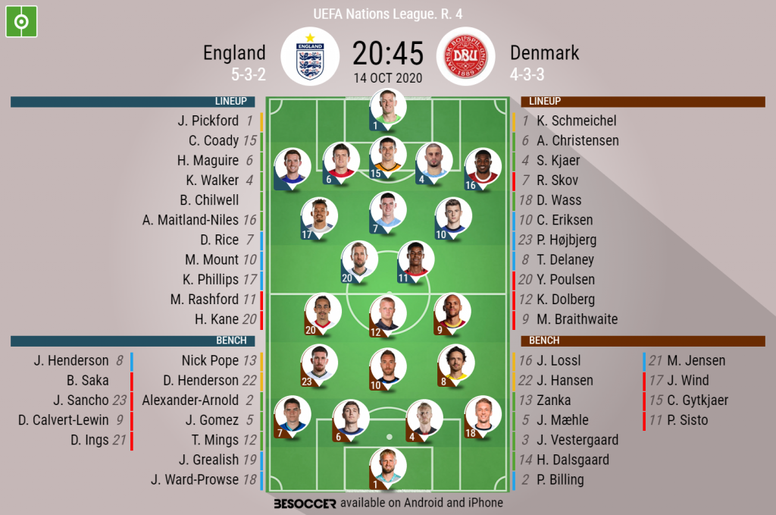 England V Denmark - As it happened.
Inglaterra

Dinamarca

Post.
Well, where to start with that one. England started well and were on top until Maguire's sending off. A lot of blame will lie with him for this one but several referee decisions will certainly go under the microscope as well - not least the Denmark penalty. England did create chances but couldn't capitalise. A very bad night for Gareth Southgate and his team at Wembley.
93'
Horrendous ball from Pickford - that will be the game.
92'
Another England free-kick - somehow these Denmark players aren't getting booked.
90'
Massive England chance as Coady's headed is headed off the line by Kjaer.
89'
Poor ball in from Phillips.
88'
James wins the free-kick.
88'
Long-throw from Walker is cleared away.
88'
Denmark make the change as Jensen comes on for Emil Hojbjerg.
87'
Phillips is booked for dissent now.
86'
Kane wins another free-kick.
85'
Henderson booked for dissent as Phillips gives away a questionable free-kick.
83'
Kane concedes a free-kick with a slide tackle on halfway as he tries to hold-up the ball.
81'
Denmark enjoy some possession before Poulsen has a snapshot saved easily.
79'
Somehow the ball stays out, England appeal for the penalty but the Spanish ref waves appeals away. DCL and Coady blocked each other there at the far post.
78'
James takes a decent effort from the free-kick as Schmeichel touches it over for a corner.
77'
Kane wins the free-kick after DCL brings it down brilliantly.
76'
Jordan Henderson is coming on for Declan Rice - still no Grealish...
75'
A couple of flicked headers but Pickford claims comfortably in the end.
74'
Massive chance for Denmark! Phillips gives it away poorly and Eriksen slips it through to Sisto who shoots poorly. Coady blocks it wide for a corner.
73'
Denmark bring on another centre-back in Vestergaard in place of Braithewaite.
72'
Good to know that Gareth is reading the commentary for my suggestions! Calvert-Lewin is on for Rashford and Sancho for Mason Mount.
70'
Kane is fouled on half-time and wins the free-kick on halfway.
69'
You've got to wonder why the likes of Sancho, Calvert-Lewin and Grealish aren't on here - no harm surely in mixing some things up here with 20 minutes to go.
68'
MAssive Denmark chance as Sisto whips a ball into the far post where Walker has switched off and Was heads over. He should've scored and England are let off.
66'
Unbelievable save from Schmeichel to deny Mount's header from a couple of yards out. So unlucky for England but an unreal stop by the Leicester keeper. Those are the chances England have got to finish.
65'
Rashford has yet another long-shot blocked - he earns a corner this time as the shot is blocked.
64'
Cross in from Sisto is headed well away by Mings and England win the free-kick.
63'
Reece James takes a superb first touch to bring down a cross-field pass from Kyle Walker. A good shot from the edge of the box is easily saved in the end by Schmeichel.
61'
Rice picks it off but the through ball is poor and Denmark are let-off easy.
59'
Sisto with a promising foray forward but his ball in slides out for a goal-kick.
57'
Mount picks up the flick on with back to goal but loses it poorly.
56'
Short corner from Eriksen and Denmark retain possession.
56'
Coady cuts out the cross from Braithewaite who puts it out for a corner.
55'
Rashford takes another shot from miles out that is never troubling the keeper - goal-kick.
53'
Denmark happy to hold the ball and dominate possession - England are left with no choice but to sit back and let them have it.
52'
Brilliant from Reece James and Mason Mount too but his pass to Rice goes astray.
51'
Sancho is told to warm-up...
50'
Denmark win the free-kick on halfway.
50'
Headed away and Denmark counter before Kyle Walker cuts it out and carries it away.
49'
Kalvin Phillips is bundled over and wins the free-kick inside the Denmark centre circle.
48'
Eriksen shoots well over from 30 yards.
47'
Denmark asserting their dominance early on here with a confident and patient period of possession
46'
Two half-time changes for Denmark as booked Christensen comes off for Jorgensen and Skov is off for Maehle.
46'
Denmark get us back underway here at Wembley! - England will be hoping for much much better.
45'
HT: Half-time here at Wembley. England are behind after an Eriksen penalty.
45'
Messy stuff as we enter the final minute of added time. They try to get it up to Kane up top but he can't hold up the play effectively.
45'
Hojbjerg with a high foot on Harry Kane. He will be suspended for their next international game.
45'
The Danes lose possession for an England throw.
44'
Denmark looking good as they hold possession patiently in the England final third.
42'
Another good ball from James but Kane is nowhere near it. Would the benched DCL have done better? Kane is walking about like he really is carrying an injury after all.
41'
England win a throw on the right-hand side, level with the Denmark area.
40'
England are enjoying a bit of possession but they can't do anything with it. Walker appears to have shifted to left-back now as England keep shifting the defence around.
39'
Promising free-kick but Kane is caught offside.
38'
Christensen brings down Kane and is booked.
37'
Denmark bring on Sisto in place of the injured Denmark.
37'
Dolberg is going to have to go off as a result of that Maguire challenge.
36'
England bring on Tyrone Mings to replace Maitland-Niles as they switch to a back four.
35'
GOAL DENMARK - Emphatic from Eriksen to send Pickford the wrong way. Things have just gone from bad to worse from England who were dominating just a few minutes ago and now find themselves a man and a goal down.
34'
Silly again from England. Soft penalty as Delaney goes down but Walker and Pickford gave the ref a decision to make.
34'
England are going to prepare some changes but you can't help but feel like they might be left to rue all those missed chances now they are down to 10 men with just half an hour played. Mings is getting ready to come on.
31'
MAGUIRE OFF - So so stupid from the Manchetser United centre-back. The first yellow five minutes in was silly, this was idiotic. A really poor diving challenge on Dolberg and the ref had no choice.
29'
Big chance for harry Kane on the six-yard box. Clipped ball over from Declan Rice, Mount plays it square to Harry Kane who can't sort his feet out and sees his poor shot blocked. Another wasted opportunity from the Three Lions.
29'
Another cross from England is headed away.
27'
England come forward on the counter but Maguire loses it on half-way for a Denmark throw.
27'
The ball in from Eriksen is headed away by Kane.
26'
James concedes a free-kick level with the England box after a good bit of football from Denmark.
25'
Comfortable from the set-piece again for Denmark.
24'
Mount puts the ball in and Kjaer nods it behind for an England corner.
23'
Dolberg takes a shot on the counter-attack but its week and Pickford recovers to collect.
23'
James again with the cross from the right. Cleared away yet again by the Danes
21'
Rice concedes the free-kick just inside the England half.
21'
Just the final ball letting Southgate's side down so far - they are getting in the positions time and time again but the crosses aren't quite there.
19'
It's all down that right-hand side for England, Rice sees his cross deflected behind for a corner this time after a couple of Mount efforts come to nothing.
18'
Denmark on their own counter - Eriksen had support from Poulsen but takes a really poor shot from the edge of the box. The England defence backed off and got away with one there!
18'
England come forward on the counter but Denmark get men behind the ball and England slow it down again.
16'
Rashford takes a speculative effort from 25 yards out at an angle but it dips comfortably into the hands of Schmeichel.
15'
Mount gets another good ball in that is deflected out before yet another cross from James that nearly finds the head of Kane.
13'
England enjoy their own spell of possession before Mason Mount makes a great run and puts the ball across the six-yard box straight into the hands of Schmeichel - promising stuff though!
11'
More lovely football from the Danes, the cross is headed away by Coady before a Danish player volleys well over.
11'
It doesn't look like we are going to get a repeat of the 0-0 bore draw like last time these sides met...
10'
Denmark looking much much better so far, England can't get hold of the ball right now.
9'
England get it away this time.
8'
Dolberg fires a shot from the resulting corner wide. Phillips got the deflection but it was very close to catching out Jordan Pickford in the England net.
8'
Big chance for Denmark - Coady gets down to cut out Poulsen's cross on the six-yard box that was destined for a tap-in.
6'
Eriksen's ball in is into the wall before Denmark get it back and put it back into the box - Pickford collects it fairly easily and England have possession back.
5'
Maguire is booked retrospectively for an awful late challenge on Poulsen on halfway. Stupid challenge to make this early on.
5'
Nice little move from Denmark before Reece James brings down Braithwaite.
4'
Nice little ball in from Reece James is just beyond Maitland-Niles running in at the far post.
3'
Rashford beats a few players in the box with a nice bit of skill but he can't get it across and Kjaer sends it away.
2'
Denmark give it away poorly to Harry Kane who takes a shot from 30 yards that is deflected up and into the hands of Schmeichel.
2'
Maitland-Niles with a promising little run forward down the left, he wins a throw.
1'
Pickford under pressure early on - he gets in clear just about as England look to settle into this one.
1'
England get us underway at Wembley!
Prev.
Well, where to start with that one. England started well and were on top until Maguire's sending off. A lot of blame will lie with him for this one but several referee decisions will certainly go under the microscope as well - not least the Denmark penalty. England did create chances but couldn't capitalise. A very bad night for Gareth Southgate and his team at Wembley - a dire performance.
Prev.
Anthems done - not long now!
Prev.
The teams are out here and the Nations League anthem is bellowing around an empty Wembley!
Prev.
Gareth Southgate' England top this group by two points as it stands in the race to make the Finals next October!
Prev.
As far as fun facts go, Reece James is the 9th teenager to start a competitive England game under Gareth Southgate and Harry Kane has more goals against Kasper Schmeichel than anyone else in his career (13 in 12)
Prev.
In terms of Denmark's side, it's pretty much as expected, Eriksen and Kjaer are both making 100th appearance tonight.
Prev.
So, England have made five changes. Most notably, Harry Kane is back, I'm sure that José Mourinho will be delighted with the news! Coady and Maitland-Niles are also getting their first starts for the senior side.
Prev.
Hello and welcome to this Nations League clash at Wembley between England and Denmark!
Prev.
Denmark: Schmeichel, Kjaer, Christensen, Skov, Delaney, Braithwaite, Eriksen, Dolberg, Wass, Poulsen, Hojbjerg.
Prev.
England: Pickford, James, Maitland-Niles, Walker, Coady, Maguire, Rice, Phillips, Kane, Mount, Rashford.