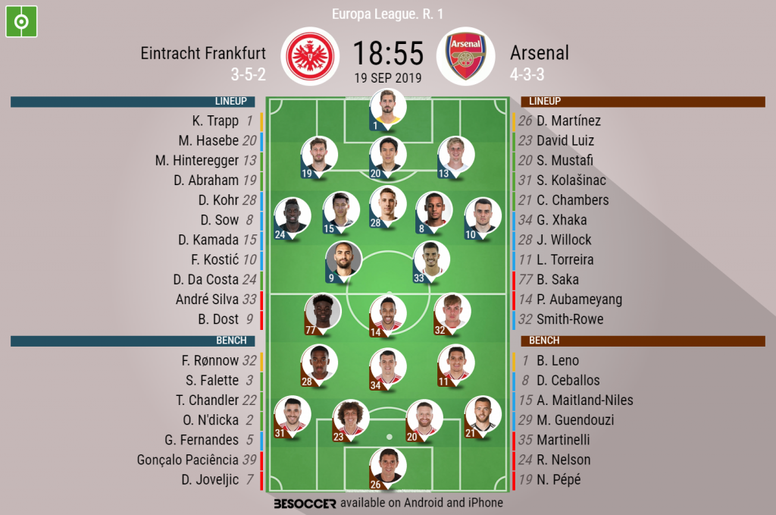 Eintracht Frankfurt v Arsenal - As it happened
Eintracht Frankfurt

Arsenal

Post.
As always, we thank you for joining us tonight! More Europa League football coming your way with Manchester United v Astana.
90'
FT: Eintracht Frankfurt 0-3 Arsenal. Unai Emery's men became too much to handle for the Germans in this second half and they now take the victory. it was a thrilling second half for the Gunners as they got stronger and stronger against a Frankfurt side who had a few decent chances but never managed to score.
90'
3 min of added time to this clash and Arsenal can't stop creating chances!
87'
Arsenal waste no time bombing forward again, and Abraham is caught in possession. Saka slips it through to Aubameyang, who drops a shoulder before slotting the ball past a helpless Kevin Trapp.
86'
Saka is now the youngest goalscorer for Arsenal after Cesc Fabregas, no less.
85'
That makes it 2-0 and that should be the win secured now for the London club. Arsenal initiate another counter-attack with Pepe finding Saka in space on the edge of the box. The Arsenal attacker rolls the ball out of his feet, before slamming a curling effort into the top corner from 25 yards!
84'
What a chance for Arsenal! Ceballos latches onto a long, aerial pass and hammers a volley across the face of goal, and Aubameyang - with an open net at his mercy - somehow manages to scuff his shot wide!
82'
Kamada's booked for a dangerous studs-up challenge on Ceballos - Frankfurt look like their frustration's getting the better of them.
80'
Kolasinac is replaced by Ainsley Maitland-Niles.
79'
Kohl is shown a second yellow card and is forced off the pitch. His teammates protest as his tackle was not that serious, but the clock is ticking and there's nothing they can do.
77'
Arsenal desperately looking to double their lead but they can't manage to finish it off. A few shots into the area but it's not enough for the Gunners to manage to score.
75'
Kolasinac is taking a fair while to throw the ball into play, and the ref is having none of it. He's booked for time wasting.
73'
Now Costa comes out for Chandler for the hosts. This change looks like a switch for fresher legs and creativity as we enter the final stages.
72'
Ceballos comes on for goalscorer Willock.
71'
Frankfurt win a succession of corners and begin to pin Arsenal in their own half. None of their deliveries can quite produce an opening, however.
68'
A breathless passage of play begins with Willock driving into the Frankfurt box and fizzing a shot into Trapp's legs, before Kostic breaks for the home side and wins a corner after his long-range effort is deflected behind.
66'
Dost comes out for Paciencia for the hosts.
64'
Kostic turns Willock on the edge of the box and wins a dangerous free-kick that also earns the Arsenal man a yellow card.
61'
Yellow card for Frankfurt's Kohr.
60'
Smith-Rowe is out for Arsenal's recent star transfer Nicolas Pepe.
58'
What a chance for Frankfurt! Kostic is allowed to advance all the way into Arsenal's box from the left-wing, and he picks out Silva perfectly eight yards out. Silva has plenty of time, but opts to strike it first time and his effort flies desperately over the bar.
55'
Arsenal hit the bar! Xhaka swings in a free-kick from near the corner flag and it loops over everyone and clips the bar! Surely he didn't mean that?
53'
Poor loss of possession from Torreira sees Eintracht break, with Kostic bounding into plenty of space. He opts to shoot from distance. Poor choice with Martinez in this form. Simple save. Arsenal attack at the other end and Chambers goes down for a freekick near the right corner. They could have a good chance from here...
51'
Willock and Saka play a sharp one-two, before the former plays a searching pass forward that Hinteregger does brilliantly to poke away from Aubameyang.
47'
Solid pressing start from the hosts. They're kicking themselves after Dost misses a header from four yards! He jumped too late and the ball launches off the top of his head and over. Andre Silva, just behind him, was ready and waiting to pounce.
45'
HT: Eintracht Frankfurt 0-1 Arsenal. An intimidating start from the hosts with multiple shots on target had Martinez making a couple of saves, but Arsenal have somehow held up and now have the upper hand in this levelled game.
45'
Another top save from Martinez here as we head into extra time in this first half! Portuguese striker Andre Silva slipped undetected into the area, and hit a first time shot powerful and low.bIt was central, which was handy for Martinez, but he's down immediately to get a solid hand on it.
42'
Arsenal have really exploited Eintracht's back three when they counter. They always have four, quick attacking players available to run at the German side's defence and it's causing the hosts a lot of problems now.
40'
The hosts look exposed again as Saka races away again to create a three on three, but Hasebe slides across to dispossess him and remove the danger. Good influx of energy to this game!
38'
Saka picked up the ball deep in centre of the field, before quickly zipping it over to Willock. The youngster raced down the left, and cuts back. It appears as though he's shaping for a cross, but he shoots which takes an immediate deflection. It helps the flight of the ball and completely confuses Trapp in goal. It's over his head and clips the crossbar before dropping down in the bottom right-hand corner. Morale-booster for the Gunners!
38'
JOE WILLOCK SCORES FOR ARSENAL!
36'
Fifth Frankfurt corner here, and it could have lead to something, but Dost's header was too wide!
33'
Three big opportunities for Arsenal now, none of them converted.
32'
Another yellow card as Kamada is booked. Bit unfair by the referee now. Not every tackle has to be a booking.
32'
Great save from Trapp! Arsenal have another huge chance to take the lead as Xhaka does brilliantly to rob Sow on the halfway line, before releasing Smith Rowe clean through. However, Trapp runs out and Smith Rowe can only place his shot straight at the German goalkeeper!
28'
Volley from Hinteregger blocked by the Arsenal defence. An immediate break is on and Aubameyang stretches the Eintracht defence with blistering pace. He cuts the ball centrally and this time it's Willock who spurns a glorious opportunity, side-footing over the bar from close range. This game could have had about six goals so far!
28'
Huge chance for Arsenal as Willock shoots it over the crossbar! Yet another open goal that should have been scored! Yet another poor finish that could cost Emery's men.
27'
Well, Arsenal looked bright in the opening ten minutes, but since then the hosts have dominated. Kostic has been afforded far too much room by Chambers and he's been the architect of many of these Frankfurt opportunities.
25'
Arsenal really starting to struggle now. Yet another shot for the hosts, but it is comfortably saved by Martinez this time. Good bit of play by Da Costa to Dost.
23'
Smart save from Martinez! Frankfurt almost had it with their third shot on target in the past few minutes, but Kostic's good first shot from a low range was not enough to open the score.
21'
Frankfurt go close again! Kostic is wide open down the left flank once more, and this time he hammers a cross low into the six-yard box, where it deflects off a defender before Dost picks up the loose ball and fires an effort just over the bar.
19'
Not the greatest delivery by Silva as it's comfortably cleared by David Luiz.
18'
Corner for Frankfurt now but the referee spotted some pushing in the penalty area... Will it lead to an opening goal?
18'
And Frankfurt immediately has the counter! Kostic had the opening goal but he shoots to the side netting! Good chance for the hosts. Not great from the Arsenal defence here.
16'
Torreira immediately goes to ground and it looks like he might be seriously injured after a link-up play from Saka which could have potentially lead to goal.
12'
First yellow of the evening for Hinteregger for a shirt tug on Smith-Rowe.
11'
Frankfurt tries their shot from afar, but no real danger here.
7'
Arsenal have lost four of their last 5 of their trips to Germany, most of them against Bayern Munich in the Champions League. And it's easy to see why: the home fans are very intimidating.
5'
Arsenal go close! How did Torreira not score that! A smart interchange between Saka and Aubameyang sees the later send a perfect cross for an unmarked Torreira at the back post, who inexplicably shoots it over the bar!
4'
Kostic makes progress down the left flank and eventually finds a square pass to Sow 25 yards from goal, who lashes a shot straight at Martinez.
2'
Arsenal get us started attacking on the right!
Prev.
Players now ready to emerge from the tunnel. The stadium is packed to bursting and the atmosphere is simmering nicely! Eintracht had a surprise guest out on the pitch before this one, none other than Tony Yeboah. A blast from the past, Yeboah had five years here before joining Leeds and becoming a Premier League icon.
Prev.
We are only a few minutes from kick-off at the Commerzbank Arena!
Prev.
The teams are in the building!
Prev.
As for the hosts, last season's Europa League semi-finalists Eintracht have put Kostic back into the starting line-up after he missed Saturday's 2-1 defeat to Augsburg in the Bundesliga. The Germans will be hoping to get a morale-boosting victory tonight, even with fellow Serb midfielder Mijat Gacinovic not making it into the squad after a groin problem.
Prev.
The big surprise ahead of this game was Unai Emery's decision to exclude Mesut Ozil and Sokratis Papastathopoulos from the travelling squad, instead choosing to have them "rest". Alexandre Lacazette is also out with an ankle injury, which means Arsenal will be having to rely on Aubameyang's goalscoring talents tonight, with a possible appearance by Nicolas Pepe later.
Prev.
Arsenal starting XI: Martinez, Chambers, Mustafi, Luiz, Kolasinac, Torreira, Xhaka, Smith-Rowe, Willock, Saka, Aubameyang.
Prev.
Eintracht Frankfurt starting XI: Trapp, Abraham, Hasebe, Hinteregger, Kohr, Da Costa, Sow, Kamada, Kostic, Dost, Andre Silva.
Prev.
Let's look all the line-ups shall we?
Prev.
Hello and welcome to our minute to minute coverage of this afternoon's Europa League match between Unai Emery's men and last year's semi-finalists Eintracht Frankfurt!