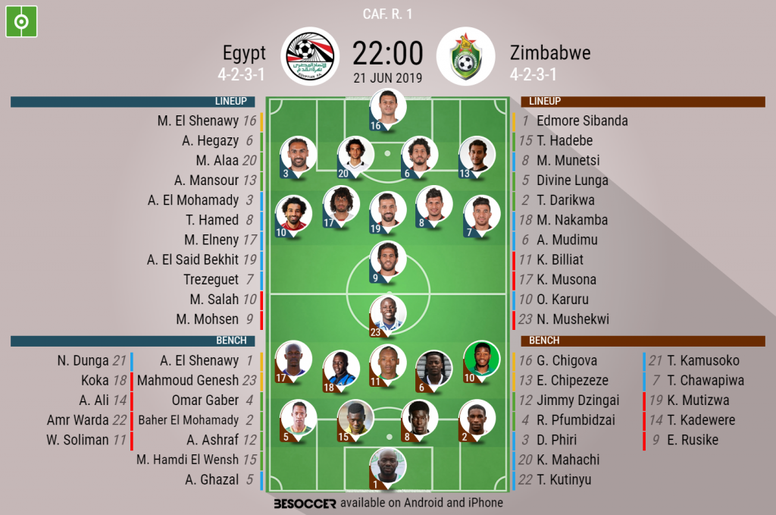 Egypt v Zimbabwe - As it happened
94'
FT: Egypt 1-0 Zimbabwe. Egypt get the win and it was probably the fair result. Zimbabwe had chances but simply couldn't finish them. They looked dangerous though and will be looking to qualify from the group.
90'
4 minutes of stoppage time.
88'
That was almost that one chance Zimbabwe need! Rusike heads over from point blank range but that was a superb chance for Zimbabwe.
87'
Chipezeze makes a superb save to deny Salah from the right of the box, Salah has been very good tonight.
85'
Kadawere comes on for Musona for Zimbabwe.
81'
Zimbabwe make another change, with Rusike coming on for Mushekwi.
80'
Meanwhile, Goalscoring hero Trezeguet is replaced by Dunga.
79'
Sibanda is unable to continue here and he goes off, He's replaced by Chipezeze from the bench.
77'
And that was almost it! Karuru hits it hard from a long way out, with El Shenawy making a comfortable save, it's a good effort from there though.
73'
The game has a strange feel to it at the moment, with Egypt looking by far the better team, but at one-nil it only takes one moment for all that to change.
68'
This second half has not delivered so far in the same way as the first half did, Egypt are the more attacking of the two sides, but they have so far not managed to find the likely game killing second goal.
67'
Salah with an excellent chance there but once again it is well saved by Edmore Sibanda.
62'
Edmore Sibanda took a knock there but he's up and is back on his feet, much to the relief of the Zimbabwe boss.
59'
Mohsen is replaced by Soliman for Egypt.
54'
Zimbabwe with a free-kick... It is dealt with in easy fashion as it lands in the hands of the keeper.
50'
It's almost a direct copy of Trezeguet's goal from the first half, as he looks to curl in a second one, it is deflected out for a corner... Which is dealt with by Zimbabwe.
45'
HT: Egypt 1-0 Zimbabwe. That moment of magic from Trezeguet is the only thing on the score sheet, but it has been some game so far, with both sides showing superb attacking intent. This second half will not be boring.
43'
Salah almost makes it two then with a very good effort that sales just wide of the uprights! That was some effort.
41'
GOOOOOOOOOOOOOOOOOAAAAAAAALLLLL! We have our first goal of AFCON 2019! And what a goal it was too!!1 Mahmoud Trezeguet cutting in and hitting into the right hand side, leaving Sibanda absolutely no chance.
37'
What a chance for Zimbabwe! Billiat can't get it past Sibanda however, but that is probably the best chance we've had so far!
34'
A really threatening corner played in by Salah, with it requiring just the gentlest of touches to go in, however, Alaa and Elneny get in the way of each other and it's a goal kick.
31'
Ahmed Hegazy is down with a bleeding nose, he looks ok to continue but the players are understandably having a drinks break, it is very very hot.....
30'
It's rather turning into the Salah show tonight, as he cuts in and gets a shot away that Sibanda saves easily, it was straight at him, but didn't look like he saw the ball come at him.
27'
It must be frustrating for Salah at times playing without the quality that he may have grown used to at club level, a good ball played through that is not dealt with very well by Mohsen and ends up in the keeper's hands.
22'
Salah is the constant threat for Egypt, he looks more and more dangerous every time he pushes into the box, with the Zimbabweans panicking at the sheer sight of him
19'
In fairness to Zimbabwe, they've looked threatening on the break, Egypt are dominating, but Zimbabwe look like they could nab a goal on the break...
17'
Salah gets it by the goal line and runs into the Zimbabwe box and has a pop at goal, it ends up sailing a long way over though and we're still at 0-0 here
12'
Another miss by El Said here as he blazes an effort over the bar! Egypt are all over Zimbabwe here though...
9'
Another superb save by Sibanda, after some superb passing and movement by Salah, with El Said Bekhit smacking over the bar.
8'
A couple more saves from Sibanda, who looks like he's in for a busy night...
6'
Nothing resulting from the corner however.
5'
Zimbabwe earn a corner after some good work down the left hand side, Ahmed Hegazy makes the block, and he is not happy with how easy it was for Zimbabwe to break...
2'
Great save by Sibanda in the Zimbabwean net after a great looping ball in from Mo Salah causes all sorts of problems
1'
Kick off, AFCON 2019 begins!
Prev.
The anthems are being sung as we speak, and AFCON 2019 is almost upon us!
Prev.
Thus there are plenty of top quality players on show in the tournaments opening game, as Egypt look to make it 8 Africa Cup of Nations victories.
Prev.
Zimbabwe have a couple of players in Europe, with Darikwa plying his trade at Nottingham Forest, whilst Nakamba is at Club Brugge, Forward Mushekwi plays in the Chinese Super League for Dalian Yifang.
Prev.
So then, of course the Egyptian team has the World Class talent of Mo Salah to deploy, with the winger fresh from winning the Champions League with Egypt. Meanwhile, Arsenal's Mohamed Elneny, and West Brom's Ahmed Hegazy are familiar names with Premier League viewers, whilst Aston Villa's Ahmed El Mohamady is still dangerous.
Prev.
LINEUPS: Zimbabwe: Edmore Sibanda; Divine Lunga, Hadebe, Munetsi, Darikwa; Musona, Nakamba, Mudimu, Karuru, Billiat; Mushekwi.
Prev.
LINEUPS: Egypt: El Shenawy; Mansour, Hegazy, Alaa, El Mohamady; Treaeguet, Hamed, El Said Bekhit, Elneny, Salah; Mohsen.
Prev.
So then, let's have a look at the lineups.
Prev.
Egypt, who have won the competition on 7 occasions, (more than everybody else) are one of the favourites for the competition, whilst Zimbabwe will be looking to pull off a shock result by beating the hosts.
Prev.
Hello and welcome to our live coverage of this opening match of the Africa Cup of Nations between Egypt and Zimbabwe.