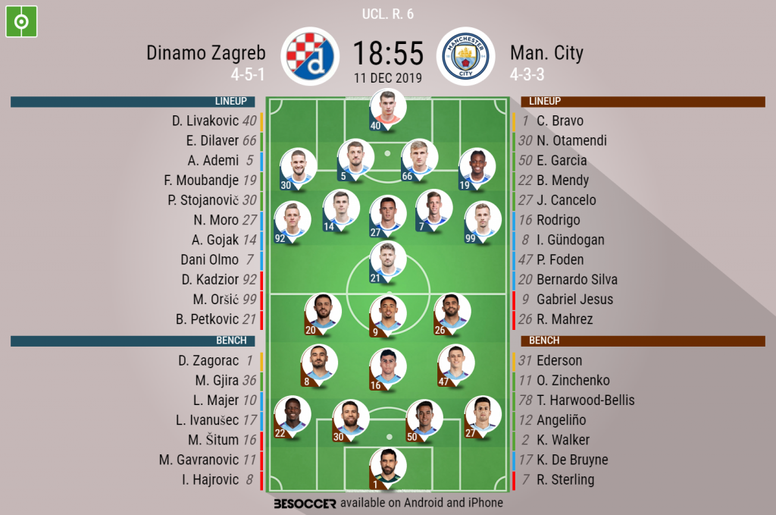 Dinamo Zagreb v Man. City - as it happened
Dinamo Zagreb

Man. City

90'
FT: Dinamo Zagreb 1-4 Man City. A very good 2nd half performance sees City get the win, with Jesus getting a hat-trick and Foden adding a 4th. Zagreb, on the other hand, are out of Europe after Atalanta won away to Shakhtar.
90'
Sterling almost gets a 5th from a tight angle but the keeper saves.
88'
Olmo gets into the box and has a shot but it is blocked by Harwood-Bellis and out for a corner.
86'
Mahrez is played though and is 1 on 1 with the keeper but hits a weak effort that is saved.
85'
Gundogan passes to Bernardo who crosses in for Foden to tap home. Easy for City and a miserable night for Zagreb.
82'
Man City sub: Otamendi off for Harwood-Bellis.
81'
Zagreb sub: Orsic off for Hajrovic.
81'
Zagreb sub: Majer on for Gojak.
81'
2-0 Atalanta and Shakhtar down to 10. Zagreb will be going out of Europe as things stand.
80'
2-0 Atalanta!!!!!!!!!!!!!
79'
The free-kick comes in and Otamendi heads it off the bar but he is miles offside. Sterling scored the rebound though.
77'
Look like City will be happy with this win after going behind. Zagreb need 2 goals or Shakhtar to score.
73'
City sub: Sterling on for Rodri.
68'
Incredible!! Atalanta have just scored which means they are going through so far, Shakhtar will drop to the Europa League and Zagreb will be going out. Still a long way to go though.
67'
City are playing some lovely football here.
66'
City sub: Jesus off for Zinchenko.
64'
Those 3 again!!! Foden plays it to the advancing Mendy who crosses for Jesus who really should have headed home to get his 4th.
60'
Foden has a weak shot that Livakovic saves comfortably.
59'
Zagreb sub: Kadzior off for Gjira.
57'
Zagreb are in freefall. Mendy crosses in, it is missed by everyone except Cancelo who takes a touch and shoots but blazes wide.
55'
And it's Mendy, Jesus and Foden again. Mendy plays to Foden who plays it back to Mendy, he whips in from the left and Jesus taps home to get his hat-trick.
53'
Despite the scoreline, Zagreb would still be going through to the Europa League as they have a better head to head then Atalanta. However, a goal from the Italians would see them go into the Champions League last 16, Shakhtar drop down to the Europa League and Zagreb eliminated.
51'
Great goal from City. Mendy passes to Jesus, Jesus plays a one-two with Foden, he gets into the box , the defender slides in for the tackle, Jesus takes it past him and it slots past the keeper in the bottom corner. 2-1 City.
48'
Foden has a very ambitious shot from about 30 yards out that flies over the bar.
45'
HT: Zagreb 1-1 City. The hosts started the game well and City got back into it towards the end of the half. A draw would see Zagreb go to the Europa League, but with the current score in Ukraine, they would go through to the last 16 with a win. All to play for after the break.
42'
As things stand it is Shakhtar who will be going through with City. Zagreb would drop into the Europa League.
38'
So folks after that controversial equaliser what would you do if a player was down? Would you kick it out or play to the whistle?
36'
Ademi is booked for presumably his protests.
35'
Controversy here. Dilaver was down but City played on. Foden has been City's bright spark all game and it all came from him. The ball ends up at Mahrez, he crosses in and Jesus headed home. It is in the rule book that you can play on so the goal is 100% legal.
30'
Another chance for Zagreb. The ball comes in the box, Orsic gets up and Bravo makes an acrobatic save which was fairly comfortable for him to catch.
29'
Olma is through and could pass it to Orsic but he takes too long an eventually shoots from outside the box but it flies over the bar.
26'
City are trying to get back into this game but Zagreb are defending really well and not letting City find a way through.
19'
Gundogan has an effort from outside the box that is parried away by Livakovic.
15'
City now haven't kept a clean sheet since a 3-0 win against Aston Villa on 26th October. Worrying times for Pep's men.
14'
As things stand Zagreb are going through in 2nd spot as Shakhtar are drawing 0-0.
11'
What a goal from Olmo. The ball is floated in from Moro. Olmo watches it go over his head and from inside the box hits a volley that flies into the top corner past Bravo who got a hand to it. I told you he was one to watch.
10'
GOOOOOOAAAAAAL ZAGREB!!!!!!!!!!!!!!!!
9'
The hosts are pressing well as they know they need to win if they want to make the last 16.
5'
No chances so far as both teams try to gain a foothold in the match.
Prev.
Olmo and Orisic are the Zagreb players to watch out for. Olmo is a Spain and Spain u21 international and Man City were actually thought to be keen on him.
Prev.
Absolutely freezing here!!!
Prev.
Last time these two sides met City won 2-0 in matchday 2.
Prev.
Zagreb have never made it past the Champions League group stages. Could things change for them tonight?
Prev.
This is a good chance for some City players to make a name for themselves, still quite a strong side though.
Prev.
If Zagreb win this and Shakhtar do not, they the Croatians will go into the last 16. If Zagreb win but Shakhtar win too, Zagreb will go into the Europa League. If Zagreb draw and Atalanta win then the Croatians will be eliminated. So basically Zagreb have better or match Atalanta's result tonight to get in the Europa League, and better Shakhtar's to make the last 16. Don't worry though, we will keep you updated with what his happening during the match.
Prev.
City make 8 changes from the side that lost to Manchester United. Young CB Erik Garcia is playing.
Prev.
Apparently Ederson is unwell and Carson will take his place on the bench.
Prev.
City XI: Bravo, Cancelo, Otamendi, E Garcia, Mendy, Rodrigo, Gundogan, Mahrez, Foden, Bernardo, Jesus
Prev.
Zagreb XI: Livakovic, Stojanovic, Arijan Ademi, Dilaver, Moubandje, Gojak, Moro, Olmo, Kadzior, Petkovic, Orsic
Prev.
Hello and welcome to Zagreb for this Champions League match. City have nothing to play for as they have already won the group, but anyone of Zagreb, Shakhtar and Atalanta can still go through. Team news to come.