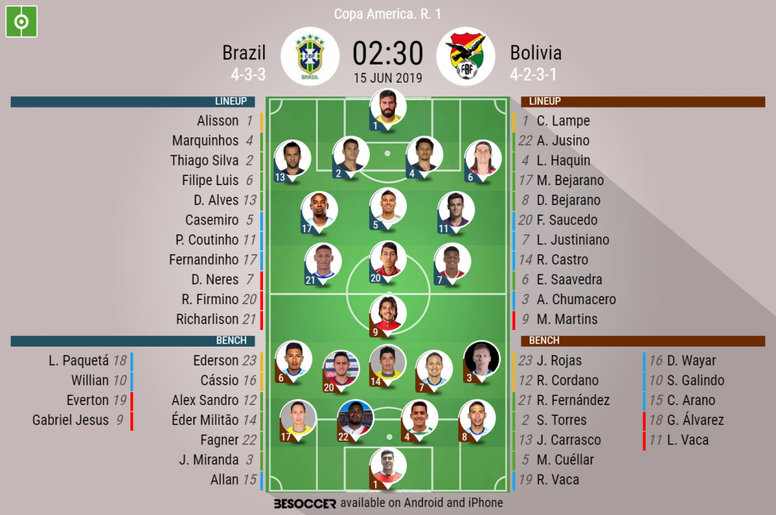 Brazil v Bolivia - As it happened
94'
FT: Brazil 3-0 Bolivia. Brazil cruise to victory in their opener here, Coutinho got the second half going with the penalty and good header and Everton made it more convincing with his brilliant goal from the bench. Brazil were the obvious favourites here and they have delivered with a comfortable victory here, they will be hoping to deliver later on too.
89'
Some excellent dribbling from Filipe Luis there and a good pass too, Willian didn't expect to received it however and it ricochets of his foot and is saved easily.
86'
GOOOOOOAAAAAAAAAAAL! Everton comes off the bench and scores a brilliant goal, cutting inside a few Bolivian defenders before slotting home into the right hand corner, that is a superb goal.
84'
He's had a good game tonight has Richarlison, he leaves the field unhappy, but he should be delighted with his shift today.
82'
Willian comes on for Richarlison.
80'
Everton comes on for David Neres.
78'
Thiago Silva was down with a lower back complaint but he is ok to carry on.
76'
It seems that Brazil now know that they are in total control here, and are simply happy to just keep the ball without being overly fussed about pushing forward... Having said all that... They have a corner which Marquinhos hits straight at the keeper.
71'
Jesus with a lovely turn and pace to get away from the Bolivian defence, however he cannot get a good cross in and it remains 2-0.
67'
Coutinho is booked after giving Vaca a whack.
65'
Gabriel Jesus comes onto the field for Roberto Firmino.
64'
Second change for Bolivia with Leonardo Vaca coming on for Saavedra.
59'
Saucedo is replaced by Wayar, this seems like damage limitation from Bolivia...
55'
Bolivia with a free kick here... But they cannot test the keeper and it remains 2-0 to Brazil.
53'
GOOOOOOOAAAAAALLLLL! Coutinho is at it again! This time with a header from very close range, with a perfect cross into the box from Roberto Firmino, Brazil are coasting now!
50'
GOOOOOOOOOOOAAAAAAALLLLL! Philippe Coutinho gives Brazil the lead finally! Coutinho with an excellent penalty into the bottom left corner.
49'
It's a PENALTY FOR BRAZIL! A handball in the box and after VAR review it is given, Brazil have a chance to take the lead here...
47'
We're up to VAR agaim.... This time it may be a penalty.....
46'
We're back for the second half!
45'
HT: Brazil 0-0 Bolivia. Brazil for all their possession and territory have failed to really test the Bolivian defence or goalkeeper, with Thiago Silva's chance probably the best of the lot for Brazil. It will be interesting to see what happens in the second half.
45'
By the obvious sweat on the Bolivians' shirts, it seems clear it's a classic humid Brazilian night, the players will tire quickly you feel, how important will the substitutes be tonight?
39'
As half time nears, Brazil are growing gradually more and more frustrated, they have had all the ball and all the chances, but they are yet to really create a clear cut chance....
34'
A corner is whipped in and Thiago Silva gets a head on it but cannot put it on target, Brazil have been far the better side so far and it is surely only a matter of time till they score, but Bolivia must be very happy with the current scoreline.
30'
Richarlison has been a real bright spark for Brazil today down the right hand side, big clubs were rumoured to be interested, will a good Copa America performance seal a move?
27'
CLOSE! Richarlison plays a suoerb pass but it doesn't quite reach Firmino in the middle and it remains 0-0. Nothing comes from the subsequent corner either.
24'
Brazil with some really nice passing play there, but in the end Fernandinho commits a foul.
21'
I've got to say he gets a full elbow on the throat of Casemiro there... And after VAR review it is a yellow card only for Saucedo.
18'
We're heading up to VAR for a potential red card call here....
18'
Casemiro goes down in a heap there after taking a knock in the throat by a Bolivian.
17'
Dani Alves is almost played in, but out comes the keeper to prevent it.
14'
Nothing doing from the corner.
14'
Brazil corner... Coutinho to take...
10'
Brazil continue to dominate all the ball and all the territory, however, we are yet to see a real attempt on the Bolivian goal.
5'
Another free kick is won by the Brazilians, with Dani Alves this time blazing an effort over the bar. Nonetheless, a bright start from Brazil.
3'
Brazil have a free kick and there is no competition for who takes it in Neymar's abscence, with Coutinho's effort being saved before the second effort is pushed out for a corner.
1'
Brazil, who are oddly wearing white tonight, get us underway.
Prev.
Of course, Brazil failed to qualify from their group at the last tournament, that is simply not an option this time around.
Prev.
We've had the Bolivian anthem, and now we're seeing the Brazilan anthem being blared out in Sao Paulo, to say the Brazilians have expectations of their team winning this competition is an understatement, they expect to be lifting the trophy at the end of it without a doubt.
Prev.
The players are coming out now, and the excitement is clearly present in Sao Paulo, as Brazil host their first football competition since their disastrous 7-1 defeat in the 2014 World Cup Semi-Finals against Germany.
Prev.
And finally, Bolivia are still searching for their first victory under current manager Eduardo Villegas, who has never won as Bolivia manager (D2 L4). Could this be an historic night for Bolivia?
Prev.
Victory today would give Brazil their 100th win in the Copa America.
Prev.
Brazil have won the Copa America on each of the previous four occasions they have hosted the tournament, in 1919, 1922, 1949 and 1989. Can they make that 5 titles on home soil?
Prev.
Bolivia have managed just one win in their last seven Copa America tournaments combined, beating Ecuador 3-2 in 2015.
Prev.
Brazil have never lost against Bolivia in all competitions, scoring 46 goals and conceding just four times across 11 fixtures.
Prev.
So then, with 15 minutes till kick off, let's give you some stats, cause who doesn't love a stat right?
Prev.
The defence is exactly what was expected, with Marcelo not doing enough to merit selecion, meaning that Filipe Luis is the obvious starter, with Marquinhos and Thiago Silva in the heart of the Brazil defence, Dani Alves is at right back in a very experienced defence, with Alisson in goal, fresh from winning the golden glove in the Premier League.
Prev.
Roberto Firmino is in the centre of the attack and is joined by Premier League rival Richarlison, with Fernandinho and Casemiro joining up alongside Philippe Coutinho in midfield, whose importance has no doubt increased since Neymar's injury.
Prev.
So then for Brazil, who are without the injured Neymar for the duration of the competition, have named a very strong team as expected. Gabriel Jesus is perhaps the standout omission from the starting line-up, with David Neres starting on the left of the front 3.
Prev.
Confirmed lineups: Bolivia: Lampe; M Bajarano, Jusino, Haquin, Bejarano; Saavedra, Saucedo, Justiniano, Chumacero, Castro; Martins
Prev.
Confirmed lineups: Brazil: Alisson; Filipe Luis, Marquinhos, Thiago Silva, Dani Alves; Coutinho, Casemiro, Fernandinho; David Neres, Roberto Firmino, Richarlison.
Prev.
Let's have a look at the lineups then!
Prev.
Good evening and welcome to our live coverage of the opening match of the Copa America, with hosts Brazil taking on Bolivia in Sao Paulo.