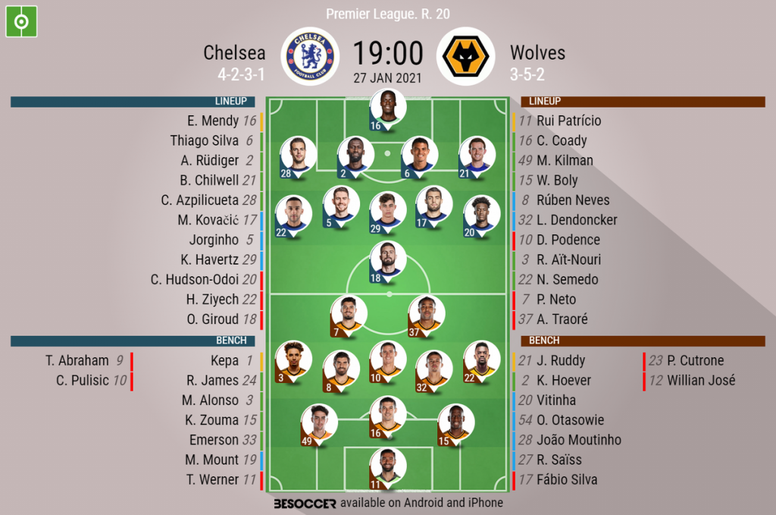 Chelsea V Wolves - As it happened.
Chelsea FC

Wolverhampton Wanderers

90'
FT: That's all for Chelsea tonight! Tuchel made a bittersweet debut in a goalless draw that saw Chelsea completely dominate in passing and possession but fail to create many solid chances on goal against an almost non-present Wolves.
87'
Mason Mount puts a low cross in the middle from inside the area which is sent out for a corner.
85'
Patricio to the rescue after a quick run from Hudson-Odoi into the area ends with a great shot on target.
81'
Kovacic strikes just wide from a central position outside the area! Reminiscent of golden-age Lampard...
78'
Azpilicueta pings a ball into the area and Abraham was very close to connecting with it.
75'
Neto wastes the cleared FK and fires miles wide and high.
74'
Traore is brought down in what will be a great chance for Wolves!
70'
Neto almost chips Mendy on the corner as the keeper was still off his line!
69'
Two Chelsea corners in a row cleared by Wolves as Mendy comes up to the halfway line to put the ball back into the box.
65'
All eyes on Chelsea as Wolves probably haven't had much more than 10 touches of the ball this half.
63'
Some good link-up play around the area as Chelsea start to get creative at last. The ball falls to Giroud on the wrong foot who can't get any venom behind his bach-heeled shot.
62'
Chilwell booked for a late challenge on Adama Traore.
60'
Chilwell smashes one into the stands from inside the area after Havertz does the hard work by setting up the play. What a waste when chances are at a premium.
58'
Giroud comes within an inch of connecting with a cross in the box with his head. It would have almost certainly gone in if he made contact.
56'
Wolves repeatedly throw away their possession under Chelsea pressure. It seems unlikely that Wolves could ever salvage a win from this without having more of the ball, and Chelsea are only taking control more as the game goes by.
54'
Podence brought down by a rough sliding challenge from Kovacic.
50'
Neto booked for pushing over Jorginho off the ball after the Chelsea man tripped him up.
48'
Chelsea have made a promising start to the second half, it doesn't seem like Wolves are going to see much of the ball tonight at all!
46'
We are back for the second half! Will Chelsea make use of their exceptional possession stats?
45'
HT: The 3 minutes of added time passed exactly as expected. In Chelsea's possession but with no chances created!
42'
The first half has consisted almost entirely of Chelsea passing it around the back and then playing a long ball down the wing. Rinse and repeat. They've dominated the ball so far but haven't shown any real danger.
40'
Dendoncker heads over after a Wolves counter catches Chelsea off guard.
39'
Rudiger heads on target but Patricio got down quickly at the far post to block the shot.
38'
Semedo fouls Chilwell in the corner of the pitch and Ziyech steps up to cross it into the box.
36'
Wolves win a FK in Chelsea's half but play it back to their defence. Chelsea promptly steal back possession.
33'
Wolves had there first real team effort of the match end in a blocked cross as Semedo tried to beat Chilwell in the area.
30'
Chilwell volleys Hudson-Odoi's cross well wide. Chelsea still focusing on those wide crosses against Wolves tonight.
28'
Mount warms up on the touchline as Coady is tested for a concussion.
25'
Podence will play on after the play is restarted by the ref.
23'
Podence and Thiago clash in the centre of the pitch. No malice in the challenge but Podence is down injured.
22'
Pedro Neto fires the FK way over.
20'
Rudiger cuts off Podence's run just outside the area. Dangerous FK for Wolves.
17'
Ziyech comes in with a high foot in the centre of the pitch on the Wolves man to concede a FK.
14'
Havertz makes a great run down the centre of the pitch and almost beats two defenders in the box but can't create a good angle to shoot from.
12'
Chilwell fouls the Wolves player to stop a counter. Wolves look to creat from the FK, they've not had many other chances!
9'
The Blues are still firmly in control and are funneling the play down the wings through Hudson-Odoi and Chilwell.
5'
To their credit, Chelsea are full of energy and attacking threat. Wolves have already had to defend two or three threatening crosses.
4'
a somewhat uneventful start so far with Chelsea having the lion's share of the possession.
1'
And we are off for Tuchel's first game with Chelsea!
Prev.
Just moments to go as the players take to the field.
Prev.
The battle for fourth will be a tough one for Tuchel, will he get there?
Prev.
The new boss has arrived.
Prev.
Mount, Werner, Pulisic and Abraham all start on the bench in Tuchel's first game.
Prev.
WOLVES XI: Patricio, Boly, Coady, Kilman, Semedo, Ait-Nouri, Dendoncker, Neves, Traore, Podence, Neto
Prev.
CHELSEA XI: Mendy, Azpilicueta, Rudiger, Thiago Silva, Chilwell, Kovacic, Jorginho, Ziyech, Havertz, Hudson-Odoi, Giroud