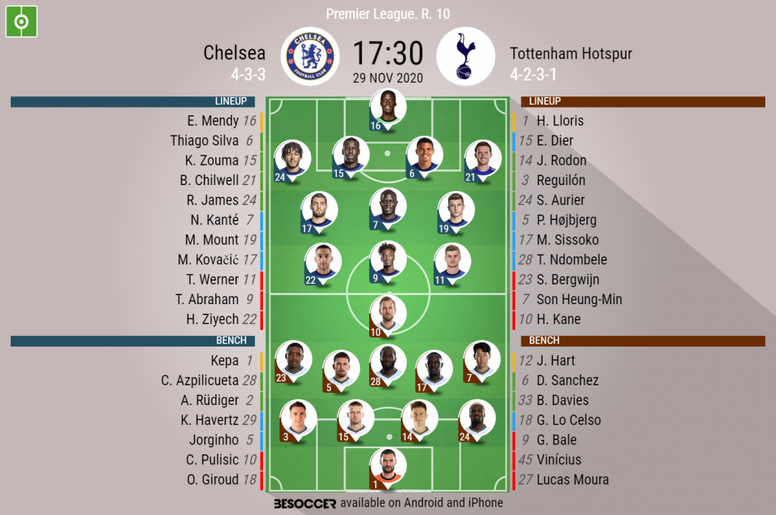 Chelsea V Tottenham Hotspur - As it happened.
96'
Thank goodness that's over! A really dull game of football here at Stamford Bridge ends in a 0-0 draw. There were very few chances all game with the two best probably those that game in the last two minutes of added time. Both sides will take a point quite happily and move on to the next one.
95'
FT: Chelsea 0-0 Tottenham Hotspur
94'
Spurs chance this time! Zouma played it straight to Moura and he teed up Lo Celso who's effort was shocking given the options he had with him. Another huge chance at the death here!
93'
A massive chance for Olivier Giroud! Joe Rodon headed it straight into his path but Giroud scuffs it into the hands of Hugo Lloris! The best chance of the game by far goes begging...
92'
Lucas Moura replaces Heung-min Son.
91'
Free-kick to Chelsea deep inside their own half.
90'
Spurs win the free-kick inside their own box as Rodon takes a knock off Havertz's flailing arm
89'
Mourinho looks to settle for a draw as Bergwijn comes off for Ben Davies.
89'
Reguilón recovers to foul Kovacic just inside the Spurs half.
88'
Mendy comes and catches the Reguilón cross unchallenged.
87'
Pulisic heads a James cross back across the face but Lloris claims with ease.
87'
Kovacic put another ball in and this time Pulisic was just an inch or so away from turning it in but Lloris was out well.
86'
Kovacic heads it out for a Spurs throw as they look to hold the ball for a period at least.
85'
Giroud leaped for the Chilwell cross but it was over him.
84'
Pulisic crosses but Sissoko gets in the way and clears it long.
83'
Kai Havertz is on for Hakim Ziyech.
83'
Mendy makes a diving tipped save from the Son cross to put it beyond everyone.
82'
Lloris catches the Ziyech corner unchallenged.
81'
Mount gives up on the passing and takes a good shot from outside the box - Lloris makes a great shot with his fingertip down in the bottom right.
81'
Aurier fouls Chilwell and Chelsea take it short to try and create something with their passing play.
80'
Kovacic picks Kane's pocket but Lloris comes and makes a comfortable catch over the head of Pulisic.
79'
Giroud replaces Tammy Abraham.
78'
Bergwijn's final ball is cut out by a diving Kurt Zouma but Spurs do have it back.
77'
Kovacic wins it off Son inside the Chelsea area.
76'
Mason Mount is blocked this time - a late foot on halfway.
76'
In fact he is already back on now.
75'
Chilwell is off for now but looks like he will be ok to come back on.
75'
He looks to have rolled his ankle when he went in for a challenge on Sissoko.
74'
Chilwell has been down for a while here now - it doesn't look good.
74'
Pulisic is on to replace Timo Werner.
73'
Chelsea have it back inside their own half and look to rebuild.
72'
Lo Celso takes this time and Abraham heads it away at the near post.
72'
Son's ball-in is flicked towards the far post and it bounces behind for another corner.
71'
Lo Celso wins a corner off Kante.
70'
Kane wins the free-kick after beating a couple of men inside his own half.
69'
Werner's shot is blocked by Sissoko and Aurier inside the top-left of the area.
68'
Kovacic's through ball rolls into the hands of Lloris.
67'
Chilwell cuts out the Dier pass and finds Ziyech but the Moroccan volleys shockingly over the bar - abysmal finish.
66'
Ziyech's curling cross is straight out for a goal-kick - another poor final ball from Chelsea.
66'
Bergwijn is swarmed and loses it deep inside the Chelsea half.
65'
Lo Celso on for Ndombele - a shame for him, he's bene the best player on the pitch.
64'
Another great ball-in for Abraham but yet again he misses the ball completely! It was Werner's cross from the left this time.
64'
Silva steps in and wins the ball back for the Blues.
63'
Spurs are controlling possession now at the Bridge - still goalless and that doesn't look like changing for the time being at least...
62'
Out for a Spurs through on the far side.
61'
Kante finds Abraham well in behind but his cross is blocked by Aldeweireld.
60'
This time Reece James' cross is straight out and behind for a goal-kick.
59'
Chelsea are back controlling possession here at the Bridge.
58'
Ziyech's delivery is headed over by Chilwell but it was deflected and Chelsea earn the corner.
57'
Sissoko fouls Werner this time out wide.
57'
Abraham's pass goes astray and then Ndombele hands it straight back to the Blues.
56'
Werner was in on the counter-attack but Abraham fouled Dier off the ball.
55'
Zouma is blocked this time - he caught Ndombele late.
54'
Hojbjerg steals it off Ziyech and clears it long.
53'
James is fouled for catching Reguilón with a flailing arm - ridiculous reaction from the Spanish who was barely touched.
53'
Reguilón is tackled by Kante inside the Chelsea box and gets it away.
52'
Ndombele is fouled in the centre-circle.
51'
It's like a broken record now - James crosses well to Abraham but the England striker can't get onto it well enough.
50'
Bergwijn is booked for breaking up the counter.
49'
Another James cross into Abraham but the flick from the striker is poor and behind for a goal-kick.
48'
Mount's switch ball is out for a throw.
47'
Ziyech crosses into Werner well and the German brings it down superbly before Rodon gets back to block the shot.
46'
Silva cuts out the flick through from Son inside the Chelsea box.
46'
We are go again at Stamford Bridge - who will find the breakthrough?
45'
HT: Chelsea 0-0 Tottenham Hotspur
45'
Aurier wins it off Kante just outside the box and Kovacic fouls Reguilon to stop the counter.
45'
Chelsea are just camped out on the edge of the Spurs box.
44'
Another James cross is headed away by Rodon again.
43'
Ziyech's cross is beyond Werner on the counter.
42'
They try the ball over the top to Son but it is cut out again.
41'
Abraham tried to get on the end of another James cross but Rodon made the intervention.
40'
Rodon deflects Chilwell's cross back into the hands of Lloris.
39'
James cuts out a Dier switch.
38'
Ziyech's cross found Abraham with an acrobatic effort but the flick goes just past Werner and out for a goal-kick.
37'
Chilwell volleys well over
37'
Mount takes and his cross is headed away by Kane at the nearpost
36'
Dier tackles Abraham and puts it behind for a corner.
35'
Ndombele's flick through the Chelsea back-line is cut-out by Zouma.
34'
Spurs' turn for the conservative approach now... No-one is going for this game that's for sure.
33'
More conservative play from the Blues as Mount plays it back into the backline.
32'
Son's ball in finds Kane but the Chelsea defenders manage to get it away.
31'
Ndombele did really well to beat two men and wins a free-kick in the end.
31'
Chilwell is fouled on halfway.
30'
Kane's free-kick is well over.
29'
Ziyech is booked for a professional foul on the edge of the Chelsea box.
29'
Mount fires over from the edge if the box.
28'
Awful Kovacic pass to Ziyech and Spurs are handed the goal-kick.
27'
Spurs hit back on the counter but Bergwijn's final ball was poor.
27'
Zouma's eventual pass is cut out by Sissoko.
26'
Chelsea look to work an opening with another short period of possession, shifting it from side to side.
25'
Lloris claims the Werner cross with ease.
25'
Kane fouls Chilwell deep inside their own half.
24'
A really poor Bergwijn pass across hands it back to Chelsea again.
23'
Ziyech found Werner on the dead ball line but the German couldn't keep it in.
22'
Spurs come on the counter again but James and Kante work together to win it off Kane inside the Chelsea box.
21'
Lloris sends it long but Spurs just lose it far too easily again.
20'
A poor Kane touch and Chelsea have the throw on the nearside inside their own half.
19'
Sissoko beat Silva for a brief moment but the Brazilian recovered and played it back to Mendy.
18'
Sissoko sends it long downfield and the Blues win possession back.
17'
Kane finds Son over the top but he is offside.
17'
Back with Chelsea dominating the ball just inside the Spurs half now.
16'
Bergwijn's flick in the box hands possession back to Chelsea.
15'
Mendy makes a great save down to his right to deny Serge Aurier from outside the box.
15'
Son's outswinger is headed away by Abraham at the near post.
14'
Bergwijn's cross towards Kane is headed behind superbly by Silva.
13'
Chilwell heaves it long - another throw.
12'
The ball is stuck in the Chelsea half for now as Spurs win a series of throw-ins.
11'
The ball was in the net but it won't count! Mount and Chelsea hit Spurs on the break and Werner finished superbly into the top-right but he was just offside.
11'
Berwijn's longshot is blocked inside the box.
10'
Spurs are enjoying their own little period of possession inside their own half for now.
9'
A big Spurs chance after a superb counter - it fell to Berwijn in the box but he lent back and scooped his shot over the bar.
9'
Good long ball to Werner but his first touch is poor and Spurs counter.
8'
Abraham loses it inside the box and Spurs clear it away through Reguilón.
7'
Mount's cross goes over everyone before Aurier chests back the subsequent James ball back in.
6'
Chelsea pick it up again inside their own half.
5'
Zouma breaks up the Spurs counter
5'
Silva tries a switch ball but loses possession.
4'
Aurier half clears another Reece James cross before Rodon heaves it away.
3'
Chelsea are controlling possession early on with Spurs happy to sit back behind the ball.
2'
Comfortable Lloris save to deny Ziyech's long-range effort.
2'
Dier heads away the James cross.
2'
Rodon shanks it out for a throw on the near side.
1'
Thiago Silva steps in early to break up a Spurs ball down the line.
1'
Kick-off at the Bridge!!!
Prev.
Not long to go here now - the players are out at Stamford Bridge!
Prev.
So, Joe Rodon gets a first start for Spurs and Antonio Rudiger is replaced by Thiago Silva. Otherwise, both teams are unchanged.
Prev.
Tottenham Hotspur: Lloris; Aurier, Dier, Rodon, Reguilon; Hojbjerg, Sissoko, Ndombele; Bergwijn, Kane, Son. Subs: Hart, Sanchez, Bale, Lo Celso, Lucas Moura, Davies, Vinicius.
Prev.
Chelsea: Mendy; James, Thiago Silva, Zouma, Chilwell; Kante, Kovacic; Mount, Ziyech, Werner; Abraham. Subs: Kepa, Rudiger, Jorginho, Pulisic, Giroud, Azpilicueta, Havertz.
Prev.
Thanks for joining me at Stamford Bridge as Chelsea welcome Tottenham Hotspur in the Premier Laague - Line-ups are on the way!