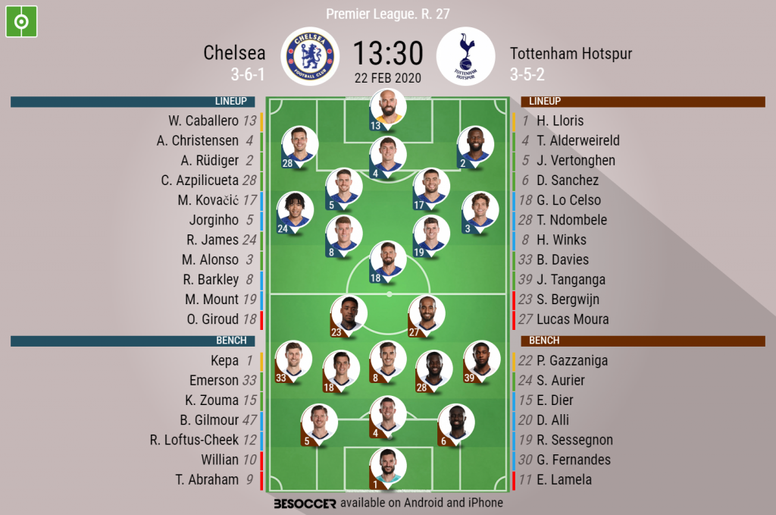 Chelsea V Tottenham Hotspur - As it happened.
Chelsea FC

Tottenham Hotspur FC

Post.
Thank you for joining us this afternoon!
94'
FT: Chelsea 2-1 Tottenham. Lampard celebrates as Chelsea get the three points after a hard-fought second half. The Blues were better throughout despite a few mistakes defensively, but Spurs' weakness and passiveness were not too much of a threat. Inconsistency has been a problem for both these teams, and this match puts it in full display.
93'
Lo Celso looks for the ball over the top, but it deflects off Jorginho and travels safely into the hands of Caballero. Alli is furious with his team-mate in the box.
90'
SAVE! Willian has the opportunity to respond almost immediately. He breaks into the left inside channel, but can only send a tame effort straight at Lloris.
89'
OWN-GOAL!!! Rudiger will be kicking himself for this one. A lifeline for Spurs late in the game as Lamela's low ball into the middle deflects off Rudiger to find the back of the net. The Argentine surges down the left flank and forces a low ball towards Alli. Unfortunately for Rudiger, he makes the interception but it deflects off his ankle and past Caballero at his near post. There will be no clean sheet for the Blues.
82'
OFF THE BAR! Alonso is denied a second goal by the bar. The Spaniard curls his effort over the wall with pace towards the top-right corner. Lloris is beaten, but Spurs are saved by the woodwork before Kovacic's acrobatic effort on the rebound travels wide of the post.
81'
Lo Celso brings down Mount on the edge of the box and the Argentine is booked for his challenge. He could have easily been sent off earlier, so he's let off easy here.
79'
CHANCE! Mount gets the better of Vertonghen down the right with a neat spin. He sends a perfect low ball towards Abraham in the middle, but the forward is denied by a brilliant save from Lloris on the line.
78'
Alli comes on to the field to replace Bergwijn. Aurier makes his way on to the field to replace Alderweireld.
74'
PENALTY SHOUT! Winks goes down under pressure from Rudiger in the right inside channel, but the referee is not interested in his appeal for a penalty.
70'
Olivier Giroud is replaced by Tammy Abraham. The Frenchman gets a standing ovation.
69'
Lamela slips a pass down the right for Bergwijn, who is brushed off the ball by Christensen with ease. Bergwijn hasn't featured at all today. It's a shame, he'd been a welcomed boost for Spurs since coming on to the fore.
66'
Lamela takes on the strike from the free-kick, but his effort deflects off the top of the wall and sails over for a corner. Frustration mounting now.
65'
Lucas takes a neat touch in the final third and he draws a foul from Christensen to earn a free-kick within shooting distance. Christensen is booked for the foul.
63'
Ndombele makes way for Lamela as Mourinho searches for a spark in the final third.
60'
Ndombele has a chance for a clear shot as he charges into the Chelsea box but he's stopped in his tracks by Chelsea's defense.
59'
Caballero takes a risk at the back as he races off his line to deal with a ball over the top. He controls it on his chest ahead of Bergwijn and then clears.
55'
Jorginho tries slipping Mount in down the left but Sanchez shepherds it out of play. the pair then have a little tussle as tempers flare and the referee calms things down.
53'
Lo Celso remains on the pitch, although Lampard is not happy with the decision. The Argentine escapes even without a booking.
52'
Lo Celso is late on Azpilicueta, catching the Spaniard on the ankle with his studs raised. VAR takes a second look at the incident after the Tottenham is not punished. It does not look intentional, but a second angle puts that into question.
50'
SAVE! Barkley turns with menace down the left flank and he goes for goal with a powerful drive on his right foot. Lloris has to act at his near post to push it over the bar.
48'
What a strike this is! The ball's worked across the face of the Spurs box, right to left. Giroud to Mount to Barkley to Alonso, who strides in from the left and pearls a first-time daisycutter across Lloris and into the bottom right. That's a stunner.
48'
GOOAAAAAAALLLLLL!!! MARCOS ALONSO!
45'
HT: Chelsea 1-0 Tottenham. There's been chances for both sides but Chelsea has had the upper hand throughout. Lampard's men are in no rush and they have been more clinical in the final third, but there's no telling who will take the three points yet. See you in 15!
42'
Not much happening now. Both teams seem to be waiting for the clock to run down as we head into half-time.
40'
Just wide frm Barkley! He goes for an early shot on goal on his left boot, only to smash his attempt into the side-netting.
36'
Alderweireld sends a wonderful ball over the top with Tanganga charging forward and his heavy touches takes it past Caballero but it dribbles just wide of the post. That would have been a bizarre goal.
34'
Spurs get two chances in a few minutes! First Lucas Moura tries to slip the ball in from the edge of the box but Azpilicueta blocks. It leads to a corner, which Davinson Sanchez intercepts and gets very close to scoring a great header, but Caballero makes a clinical save.
31'
OVER! Winks takes a risk with a shoulder charge on James. The referee plays on and Giroud collects and goes for a strike from distance on his left foot. However, his effort travels harmlessly over the bar.
28'
Lo Celso goes down under contact from Mount and there's some tension between the two but the referee opts not to take further action other than award a free-kick to Spurs for the initial challenge.
24'
CLOSE! Alonso latches on to a loose ball on the edge of the Spurs box and connects with a right-footed volley. He catches it flush and it soars towards the top corner, but just drifts narrowly over the bar.
23'
Winks loses out to Jorginho and pulls back the Chelsea man. He goes into the book for his challenge.
21'
Caballero scampers off his line to clear ahead of Bergwijn as Winks tries to send a pass through the Chelsea defence for the winger.
17'
VAR checks for a possible offside but it's very much within the rules. Meanwhile, Mourinho looks frustrated. His team just gave Chelsea three shots on goal in the space of seconds. Terrible defending.
16'
Jorginho curls a glorious pass down the inside right channel for Giroud. He takes his shot, but Lloris saves... Then Barkley gets onto the rebound and slams a shot against the right-hand post. Finally, Giroud latches onto that rebound and drives home!
15'
GOAAAAAALLLLLLL!!! OLIVIER GIROUD!
14'
CHANCE! Alonso sends Mount into the left inside channel with a fine pass. The England man goes for a low strike on his left foot towards the near post, but Lloris reads the strike and pushes it behind for a corner.
12'
CHANCE! Alonso sends Mount into the left inside channel with a fine pass. The England man goes for a low strike on his left foot towards the near post, but Lloris reads the strike and pushes it behind for a corner.
9'
Save!! Moura shoots from outside of the box but Willy Caballero makes an impressive save. If Spurs get more chances like these, they could very well win this despite not having the possession.
6'
Rudiger loses possession and Winks has the opportunity to release Lucas behind the Chelsea defence, but the midfielder overhits his throughball out for a goal-kick.
3'
Spurs are, as predicted, opting to sit deep early on with a very flat back five around the egde of the box. Chelsea are enjoying the vast majority of the possession but no clear opportunities so far.
1'
And we're off in Stamford Bridge!
Prev.
There are notable absentees from both teams: No Willian or Kepa for Chelsea, and no Dele Alli for Spurs. These absences speak volumes about each player's current situation for their club.
Prev.
Both teams have injured players but Mourinho definitely has the hardest absences to deal with. No Son or Kane for Jose for the rest of the season, while Lampard is without N'Golo Kanté.
Prev.
This is a London derby, so big things are naturally expected, but the added confrontation between Lampard and his former coach Jose Mourinho definitely adds some spice to this.
Prev.
Serge Aurier and Gedson Fernandes also make way; Jan Vertonghen, Tanguy Ndombele and Japhet Tanganga take their places.
Prev.
Meanwhile there's no room in the starting XI for Tottenham's bottle-and-boot-juggling malcontent Dele Alli. He drops to the bench, one of three changes made in the wake of the Leipzig defeat.
Prev.
Ross Barkley, Mason Mount and Marcos Alonso also step up, taking the places of Michy Batshuayi, Pedro, Willian, and the injured N'Golo Kante.
Prev.
Chelsea hand Olivier Giroud his first start in three months. He's one of four changes to the side that went down at home to Manchester United.
Prev.
Tottenham starting XI: Lloris, Tanganga, Sanchez, Alderweireld, Vertonghen, Davies, Winks, Ndombele, Lo Celso, Bergwijn, Lucas.
Prev.
Chelsea starting XI: Caballero, Azpilicueta, Christensen, Rudiger, James, Jorginho, Kovacic, Alonso, Barkley, Mount, Giroud.
Prev.
Hello and welcome to our minute to minute coverage of this afternoon's Premier League clash as Frank Lampard hosts his former coach José Mourinho in Stamford Bridge!