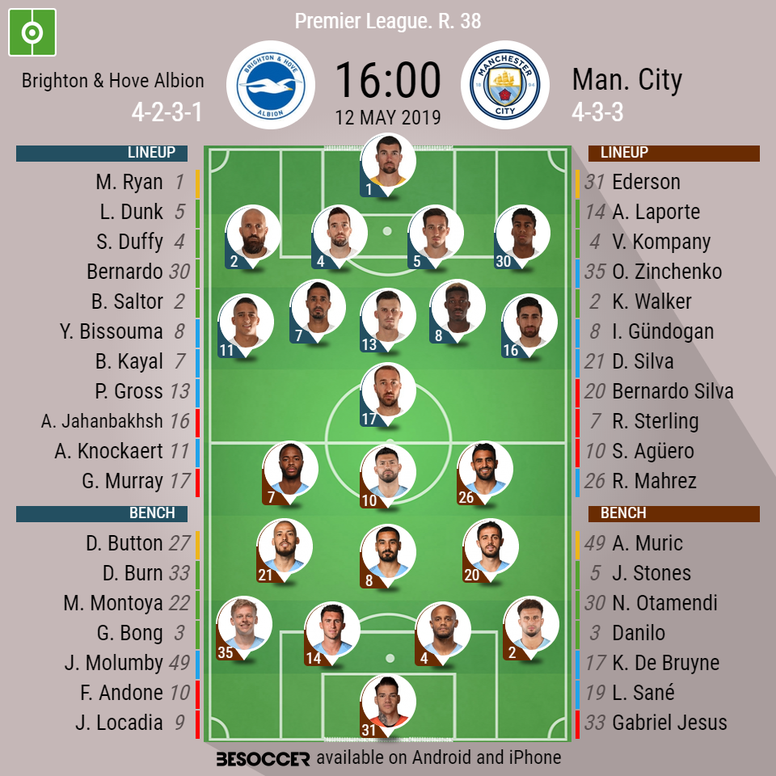 Brighton v Manchester City - as it happened
Brighton & Hov…

Manchester City FC

Post.
As always, thank you for joining us, and see you next time!
92'
FT: Brighton 1 - 4 Manchester City. Guardiola can't quite believe it. We shouldn't underestimate how hard it is to retain the title. Some of the great sides of the last 50 years, including Revie's Leeds and Wenger's Arsenal, didn't manage it. And Pep Guardiola becomes only the third manager to do so in the Premier League era after Sir Alex Ferguson and Jose Mourinho.
92'
And that's it folks! City players on the pitch for the expected celebrations!
91'
Pep Guardiola's titles have generally been won at a canter, certainly since he left Spain: 19 points, 10, 10 and 19 again last season. 30 seconds away from glory.
89'
Missed shot in the last min for City! Aguero tries to go for goal, but his shot is stopped by the Brighton defense.
87'
And another sub for Man City! Time wasting, but I guess justified... Kyle Walker out, Danilo in.
87'
Kompany and Guardiola are cheering. They know they've won it. No small feat.
85'
Man City captain Kompany out, Otamendi in.
85'
He is replaced by Martin Montoya.
82'
Emotional farewell to Bruno, who is playing his last match today. The entire stadium claps and he can be seen visibly emotional. Lovely moment.
81'
The last dropped points in the title race were on 3 March, when Liverpool drew 0-0 at Everton. I don't know whether that counts as Everton denying Liverpool the title, but it will give them bragging rights of sorts over the summer.
78'
And there it is! David Silva out, De Bruyne in.
76'
Kevin de Bryune is seen on the sideline, it looks like Guardiola is ready to make the first substitution of today's match.
75'
15 min left to this clash... Meanwhile, fans in Anfield are probably aware that Liverpool have done incredibly well, but it just wasn't enough.
74'
Noel Gallagher, known to be a huge Man City fan, is seen cheering in the crowd.
72'
Insane shot from Gundogan, who's been having an exceptional game, and has just sealed the victory for the Citizens.
72'
GOAAAAAAAALLLLLLLLLLLLLL!!! What a volley!!!
67'
Substitutions for Brighton! Double change: Florin Andone and Jurgen Locadia for Murray and Jahanbakhsh.
65'
I bet the critics won't question Pep's line-up choices anymore...
63'
Mahrez with a grat strike! And coming from the man who hasn't played in almost a month! City got their needed result!
63'
GOAAAAAALLLLLLL FOR MAN CITY!
58'
David Silva almost slithers through on goal, only to stumble slightly and allow Dunk to come across and clear. City need a third goal; if they don't get one in the next 15-20 minutes, they'll be taking their life in their own hands.
58'
Although City are clearly still nervous... They have given away way too many free kicks against Brighton.
56'
67% possession by City right now...
53'
Free kick for Brighton, but the shot is way too wide for it to turn into anything.
52'
Although they're definitely dominating play, no clear chances have happened yet.
48'
An abysmal pass from Knockaert goes straight to David Silva, just outside the area on the left. City have made a fast start this second half.
46'
No subs during half time!
45'
HT: Brighton 1 - 2 Manchester City. Guardiola's men were not off to a great start, but picked up the pace after Brighton's goal and have proved that they're looking for the victory, and most importantly the title. It is also worth nothing that Brighton are having a GOOD game.
45'
What a volley! Brighton almost equalises! Ederson's talents as a goalkeeper have definitely come in handy there.
45'
Free kick for Brighton for a foul by Kompany, who argues with the referee. Las action of this first half.
45'
1 min of added time in this first half.
44'
Only a few minutes left of this first half! Time is flying! Been an intense first half for both teams... What's at play is clearly in everyone's mind.
43'
Let's see if they keep it up... Could also just be a good spell, but who knows if it continues throughout the game.
41'
City have woken up and there's no stopping them now! Guardiola's men have had a good 10 min right now, probably due to the change of position from Mahrez, and the goal chances are rolling in.
37'
Laporte with a beautiful and extremely tactical header! Mazhrez curled the cprenr to the far post, where Laporte lost Murray with ease and planted a downward header into the corner from six yards. Textbook football.
37'
GOAAAAAALLLLL FROM MAN CITY!
36'
Another missed shot for Man City, who have definitely taken some dominance back, but are struggling to find the goal.
35'
Sterling and Mahrez have swapped positions, so Sterling is now on the left and Mahrez is playing the right-sided central midfield.
31'
Missed shot after missed shot from City right now! They've had two good attemps in the past few min.
30'
Hard to describe both goals, as they were definitely equally amazing. Brighton's top goalscorer Murray scored the first one with a beautiful header, but Aguero was very quick with the counter attack, and scored the goal thanks to an assist from David Silva.
28'
And Sergio Aguero equalizes straight away!!! What an insane two minutes!
27'
GOAAAAAAAAALLLLLLLL FROM MANCHESTER CITY!!!
26'
Brighton SCORES!!!!! GOAAAAAAAAALLLLLLLLLL!!!!
25'
Brighton's defensive side is incredibly, and surprisingly strong today. Man City have not managed to reach the goalkeeper's box comfortably yet.
23'
Another action that could have lead to goal completely wasted... The goalkeeper tries to divert it, but it was not actually necessary, and in fact could have made it worse as it bounced from his hands.
20'
Manchester City are not at their best today... Nervousness to win the title is getting the best of them, including manager Guardiola who looks with a very worried expression.
15'
Mahrez tries to go for goal with a shot from 25 yards away, but the goalkeeper stops it.
14'
Brighton are looking exceptionally well, considering this same team was close to relegation as little as a week ago. They've had a few shots and could even make it more difficult for City.
12'
Sterling's cross skims off the head of the leaping Aguero on the six-yard line, allowing Bong to clear. City haven't started well, Bernardo Silva excepted.
11'
Bernardo Silva wins a free kick in the defensive half.
9'
How could he miss that! Jahanbakhsh had a great chance to score for Brighton, especially with the very poor defending from Man City. HE was given too much space.
8'
City could really use an early goal... MAnchester City fans have had quite the intense two weeks, as the team have not managed to score before the second half lately.
5'
Brighton with the counter attack! A corner leads to some interesting play fom the Seagulls, but it doesn't translate into goal.
4'
Bernardo Silva with a beautiful run, which could have assured safety early on...
4'
Missed chance for City! Domination is an understatement.
3'
City will be looking to dominate possession early on, and it looks like they're doing just that right now.
Prev.
And that's it folks! manchester City proceed to the expected celebrations!
Prev.
Players are in the tunnel, match is about to start!
Prev.
Players are gearing up...
Prev.
So did Hughton: "It's a high-profile game, which is brilliant for this football club and the exposure it will get. As a collective team, we want to put in a performance and see where it takes us."
Prev.
Pep spoke to the press and stated the following: One more game. We will try to do our best, and the players will decide what we deserve. We are here to try to win the title. If we score four goals in the first 10 minutes it would be incredible. I don't know, honestly, what is going to happen."
Prev.
The Citizens have arrived, the stage is set... 15 min to kick off!
Prev.
City have won each of their last four encounters, including all three league games since Brighton got promoted in 2017 as well as this season's FA Cup semi final.
Prev.
The two clubs have faced each other 21 times in their history, with City winning on 12 occasions. Brighton have five victories and there have been four draws.
Prev.
Now for some stats and their head to head record!
Prev.
Whatever happens, it will be a day of celebration, as Cardiff City's defeat against Crystal Palace last weekend confirmed that Chris Hughton's team will be in the top flight again next season.
Prev.
Aditionally, today's fixture will be Bruno's final appearance for Brighton after announcing his decision to retire following this weekend's match.
Prev.
Chris Hughton has confirmed that Davy Propper and Jose Izquierdo will both miss out due to injury; but goalscorer Murray will hopefully be making up for it.
Prev.
The crowd is said to be aware of the improbability of a win though, as they are aware that Man City will be looking for goals to secure the title win.
Prev.
Meanwhile, hosts Brighton & Hove Albion have already achieved safety and are aiming to sign off with a first win in nine top-flight matches.
Prev.
Manchester City are targeting a 14th straight Premier League victory, which would ensure that they finish above Liverpool and retain the title for the consecutive year.
Prev.
City have plenty of insurance on the bench, with Leroy Sane, Gabriel Jesus and Kevin De Bruyne all ready for action in today's huge clash.
Prev.
Phil Foden drops out of the team and even the squad, with Bernardo Silva moving back into midfield.
Prev.
An intersting selection from Pep Guardiola. He has decided to start Riyad Mahrez, who hasn't been seen on a football field for over a month.
Prev.
Manchester City starting XI: Ederson; Walker, Kompany, Laporte, Zinchenko; Gundogan; B Silva, D Silva; Mahrez, Aguero, Sterling.
Prev.
Brighton starting XI: Ryan; Bruno, Duffy, Dunk, Bernardo; Kayal, Bissouma; Knockaert, Gross, Jahanbakhsh; Murray.
Prev.
Good afternoon and welcome to one of the biggest Premier League final weekends in recent years. Manchester City will face Brighton & Hove Albion today, and a win or a draw could be enough to win the title and make history, as they seek to become the first side to retain the Premier League since cross-city rivals Manchester United in 2009.