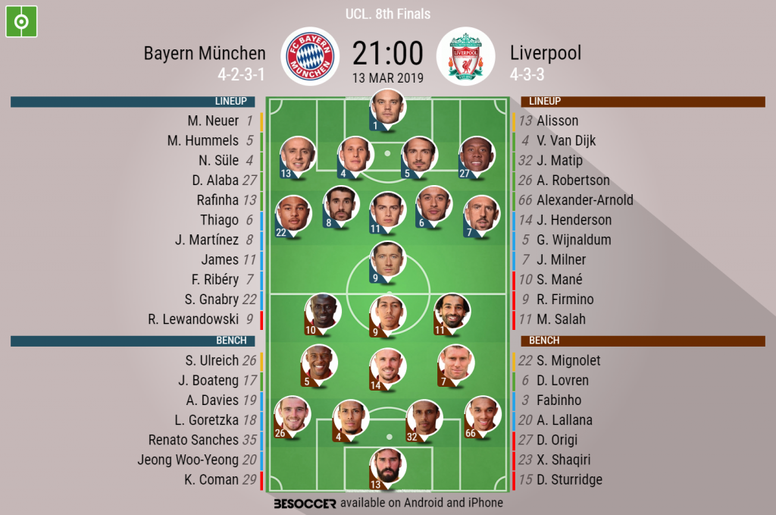 Bayern Munich v Liverpool - As it happened
Bayern München

Liverpool

93'
Thanks for following our live coverage, we hope to see you again soon!
93'
FT: Bayern Munich 1-3 Liverpool - A bizarrely easy night for the visitors, who the press had tagged as underdogs for this one. Sadio Mane opened the scoring with a fine goal on 26 minutes before a Joel Matip own goal brought the hosts level. But an utterly dominant second half saw Liverpool through, with a Virgil van Dijk header and a second from Mane putting the Reds out of sight.
92'
Bayern's ultras have begun bouncing around and making a lot of noise. Fair play to them, but the rest of the stadium is rapidly emptying.
88'
James Milner makes way for Adam Lallana.
86'
Bayern have been poor, it must be said. There will surely be inquests into this result.
85'
GOOOOAALL FOR LIVERPOOL!! It's all over now! Salah sends in a beautiful cross with the outside of his boot for Mane, who makes no mistake with a superb diving header.
84'
Firmino is replaced by Divock Origi. A solid shift from the Brazilian, who takes about a minute to walk off the pitch.
81'
LIVERPOOL CHANCE - Roberto Firmino lets fly from the edge of the area but Neuer makes a smart save.
80'
Still all Liverpool. Bayern can't get out of their own half - a situation nobody expected at this stage of the game.
78'
Remember Renato Sanches? He's on for James Rodriguez.
75'
LIVERPOOL CHANCE - Salah dribbles through the Bayern defence but scuffs his shot under pressure. Should have scored!
73'
Bayern make a change - Leon Goretska is on for Javi Martinez. An attacking switch, they're throwing caution to the wind now.
70'
GOOOOAAALL FOR LIVERPOOL!! And from that corner they've scored! Virgil Van Dijk rises highest to power a header into the bottom-left corner of the net. Now Bayern need to score two more!
68'
LIVERPOOL CHANCE - Alexander-Arnold sends in a corner that looks like it's heading for the top corner, but Neuer does brilliantly to tip behind for a corner.
65'
Bayern's Thiago Alcantara is booked for a foul on Georginio Wijnaldum as the Dutchman looked to start a counter-attack.
64'
Kingsley Coman is on for the largely ineffective Franck Ribery.
63'
Matip goes in the book for bringing Lewandowski down. It wasn't a bad foul in itself, but was about his fourth minor offence.
61'
After 15 minutes of Liverpool dominance, Bayern are finally getting a foothold on the game.
57'
Van Dijk brings down Lewandowski near the halfway line to give Bayern some respite.
54'
Liverpool still enjoying more of the ball. Everytime Bayern get it back one of Liverpool's forwards tracks back brilliantly to pickpocket them.
50'
LIVERPOOL CHANCE - Mohamed Salah has a powerful snap-shot on the edge of the area which forces Neuer to parry. Jurgen Klopp grimaces. Either side of the goalkeeper and that would have been a goal.
48'
Bayern looked the more threatening side at the end of the first half, but Liverpool have begun this one on top.
45'
HT: Bayern Munich 1-1 Liverpool - An absorbing half of football. Liverpool took the lead through a brilliant Sadio Mane individual effort, before a Joel Matip own goal brought the scores level. The visitors will progress as things stand, however, having scored more away goals. A very tense second half to come, I'm sure.
45'
BAYERN CHANCE - Huge opportunity for Robert Lewandowski, who is put clear through on goal and dinks the ball over Alisson. Luckily for Liverpool, it bounces just wide.
44'
BAYERN CHANCE - David Alaba's free-kick is accurate but lacking power. Alisson can save comfortably and roll the ball out to start a counter-attack.
42'
Fabinho clatters into the back of James Rodriguez, conceding a foul and a free-kick in a very promising position...
40'
1-1 on the night and on aggregate, but as it stands Liverpool are still going through.
38'
GOOOAAALL FOR BAYERN!! Well that came out of nowhere! Serge Gnabry bursts down the right and sends a cross bouncing across the six yard box. Joel Matip, keen to intervene before Lewandowski can get a touch, stretches a leg out but inadvertently pokes the ball into his own net.
36'
Liverpool have a succession of corners, but they come to nothing. They're well on top at the moment.
34'
LIVERPOOL CHANCE - Mane slips in Andy Robertson down the left, and Scottish full-back slams a shot against Neuer from a tight angle.
31'
How will Bayern react? They haven't done a lot in this game so far.
29'
That of course means Bayern Munich have to score two goals to go through, with the away goals rule meaning a score draw will result in Liverpool progressing.
27'
An extremely complicated goal as it turned out! Props to Mane for pulling it off, very impressive.
26'
GOOOOAAALL FOR LIVERPOOL!! Route one stuff! A long ball is launched forward for Sadio Mane, who holds off his marker and rounds Bayern goalkeeper Manuel Neuer before spinning round and lobbing the ball over the arriving defenders into the net.
25'
LIVERPOOL CHANCE - Roberto Firmino lets fly on the half-volley from 20 yard out, but his effort hits the side netting. Decent attempt.
22'
Not a lot happening. Very even, very tight game so far.
18'
In fact Liverpool have actually edged possession so far.
17'
To Liverpool's credit, they are trying to play the ball out from the back where they can. Alisson has already made a lot of passes this evening.
15'
Not the worst player to bring on...
13'
He can't continue. Fabinho replaces him.
12'
Henderson's down again - his right foot still seems to be playing up. Looks like he might have to come off.
11'
The hosts have a penalty shout after Lewandowski goes down under pressure from van Dijk, but the referee waves away the appeals. He did look to have gone down very easily to be fair.
9'
And Henderson's back on the pitch now, much to Liverpool's relief.
9'
BAYERN CHANCE - Thiago Alcantara has a pop from range but his effort flies well over.
8'
He spends a bit of time off the pitch while he receives treatment. Liverpool are momentarily down to ten men and will have to take care not to concede here.
7'
Jordan Henderson is on the floor. This doesn't look good - Fabinho has started warming up on the touchline.
6'
Bayern have had a little spell on the ball but Liverpool are pressing and harrying them at every opportunity.
5'
Niko Kovac is off the bench and is now standing, looking pensive.
3'
Liverpool surprisingly edging possession in the opening stages. It probably won't stay that way for long.
Prev.
The players are making their way onto the pitch, here we go!
Prev.
Three English teams (Tottenham, Manchester United and Manchester City) have already made it through to the Champions League quarter-finals. Although they have an admittedly sizeable task ahead of them, let's see whether Liverpool can make it four.
Prev.
The players are out and warming up! Not long to go now.
Prev.
With the first leg finishing goalless, any goal from Liverpool today would be of huge significance, because a score draw would mean they go through. Bayern manager Nico Kovac has said his side won't throw everybody forward in this one, probably with that in mind. But with an impatient Bavarian crowd behind them, we'll have to see how well that goes.
Prev.
You'd be lucky to get tickets for this clash tonight!
Prev.
Jurgen Klopp makes a slightly surprising move in dropping Fabinho, who performed so well in the first leg, to the bench. The midfield trio therefore consists of James Milner, Jordan Henderson and Georginio Wijnaldum.
Prev.
And this evening's visitors, Liverpool: Alisson; Alexander-Arnold, Matip, Van Dijk, Robertson; Milner, Wijnaldum, Henderson; Mane, Firmino, Salah.
Prev.
So Robert Lewandowski leads the line for the hosts, with a potent trio of Serge Gnabry, James Rodriguez and Franck Ribery behind him.
Prev.
Time for some team news, starting with our hosts, Bayern Munich: Neuer; Rafinha, Süle, Hummels, Alaba; Javi Martínez, Thiago; Gnabry, James Rodríguez, Ribéry; Lewandowski.
Prev.
Hello and welcome to our live coverage of the Champions League clash between Bayern Munich and Liverpool!