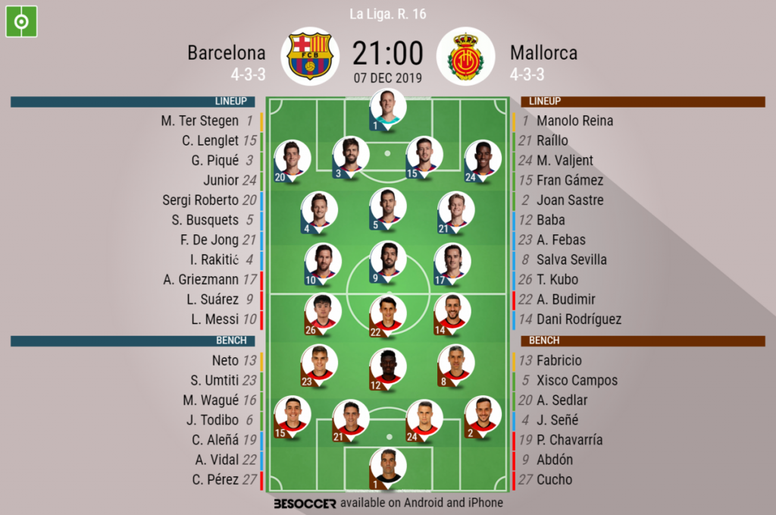 Barcelona V Mallorca - As it happened.
90'
FT: Barcelona 5 - 2 Mallorca. nel Messi scored a hat-trick as Barcelona beat Real Mallorca 5-2 to move back to the top of LaLiga. Fresh from landing a sixth Ballon d'Or crown, Messi marked the occasion in the most fitting of ways. Antoine Griezmann and Luis Suarez were also on target for Barca, while Ante Budimir's brace proved nothing more than a consolation for Mallorca.
89'
Almost an own-goal! Valjent inadvertently diverts a deep Barcelona cross towards goal. However, at full stretch, Reina is able to claw the ball away.
87'
Alena looks to get in on the act as Suarez cushions Messi's zipped pass neatly into his path. However, Reina gets down well to keep out his low volley.
85'
Griezmann is given a terrific ovation from Camp Nou as he goes off to be replaced by Carles Perez.
85'
A final change for Mallorca as Abdon replaces two-goal Budimir, who can be pleased with his day's work.
83'
GOAAAAAAAAAAAALLLLLLLL!!!! HAT-TRICK!!! MESSI MAKES IT 5-2! That was only ever going to be the case, wasn't it?! The skipper completes his treble as he fires into the roof of the net following a neat lay-off from Suarez.
79'
Vidal has his name taken for a professional foul in the centre of the field.
78'
Good save! Barca are looking to put the game to bed and a neatly threaded through ball is raced onto by Roberto. Nevertheless, Reina is equal to his powerful strike.
76'
Almost an own-goal! Roberto delivers a low cross from the right which is met by the sliding Raillo. Fortunately, Reina is alert and able to smother the ball.
74'
Barcelona's second half is very sluggish, and if they are not careful Mallorca could very well score again... Barcelona like to suffer lately.
72'
Rakitic replaced by youngster Aleña!
71'
Another swap for Mallorca sees Baba replaced by Josep Sene.
69'
Mallorca still have hope as we approach the final 20 minutes of this game. Another goal would make things very interesting indeed!
66'
Yellow card for Gerard Pique!
65'
THE VISITORS PULL ONE BACK! Ante Budimir heads from very close range to the centre of the goal and puts his team back in this!
64'
Barca make their first change as Arturo Vidal comes on for De Jong.
63'
Messi must wait for his hat-trick. He tries his luck from the edge of the area following Busquets' backheel, but can only send it high and wide of the target.
59'
Sevilla is replaced by Colombian Cucho Hernandez.
57'
Suarez gets close! The number nine is fed by Messi, but shoots straight at Reina.
52'
Good save! Reina rides to the rescue for Mallorca as he gets down well to deny Griezmann a second goal of the game.
48'
Rakitic tries his luck from 20 yards out with a low drive that flashes just wide of the far post.
46'
Back underway! No changes.
45'
HT: Barcelona 4-1 Mallorca. Barcelona are in complete control at Camp Nou. Goals from Antoine Griezmann and Lionel Messi set them on their way. They were given a slight scare when Ante Budimir pulled a goal back. However, the hosts quickly restored their authority as Messi scored his second, before Luis Suarez got in on the act in exquisite fashion to put them 4-1 to the good.
44'
EXQUISITE!!! SUAREZ MAKES IT 4-1! Count the passes! Following a patient build-up, Barca burst into life on the edge of the penalty area. It eventually leads to De Jong feeding the ball into Suarez, who produces the most exquisite backheel to round it all off.
43'
LUIS SUAREZ!!!!!!!! WHAT AN INSANE GOAL!!!!
41'
MESSI DOES IT AGAIN!!! 3-1 BARCA! The hosts are back on track following yet another quickfire counter. A sharp exchange of passes between Suarez and Rakitic sets up Messi who, similarly to his first goal, curls a terrific effort into the far corner.
38'
Barca look to get back on track immediately and Messi delivers a dangerous free-kick from the left flank. However, Reina reads the flight of the ball well and is able to gather.
35'
THE VISITORS PULL ONE BACK! Well, that wasn't in the script! From one of their first attacks of the game, Mallorca halve the deficit. Budimir races onto a through ball into the box and his effort deflects off Lenglet before looping over the helpless Ter Stegen.
32'
HOW DID THAT STAY OUT? Suarez goes through and rounds Reina but, off-balance and under pressure from the last Mallorca defender, he can only slot the ball wide of the target.
30'
Good save! The hunger of Barca continues to pin Mallorca deep inside their own half. Messi and Suarez play a neat one-two before Reina comes out of goal to deny the Argentine from a tight angle.
28'
OFF THE POST! The woodwork denies Barca a third goal! Following a quickfire passing move, Suarez sees his shot crash against the upright with Reina beaten.
25'
Mallorca simply cannot relax at the moment! Barca are looking dangerous every time they regain possession of the ball and you feel it is only a matter of time before the lead is increased.
21'
Almost three! Roberto managed to get in behind the Mallorca defence and pull the ball across the face of goal. Thankfully for Mallorca, they manage to clear it away in the nick of time.
19'
We are simply running out of the words to describe the sheer brilliance of Messi. He's Mallorca's worse nightmare. He has now scored nine goals in the last six LaLiga meetings between the sides.
18'
WHAT A GOAL FROM MESSI!!! 2-0! Fresh from landing a sixth Ballon d'Or crown, Messi celebrates the occasion in the way that he knows best - with an absolutely glorious goal. Receiving the ball 25 yards from goal, he bends it beautifully into the top corner in trademark fashion - leaving Reina with no chance at all.
17'
WHAT A GOAAAAAAAAAAAAAAALLLLLL!!!! LIONEL MESSI DOING WHAT ONLY LIONEL MESSI CAN DO!!!!
15'
BRILLIANT SAVE! Reina comes to the rescue again with a flying save to tip Busquets' powerful header over the crossbar.
11'
Luis Suárez tries a through ball, but Júnior Firpo is caught offside.
8'
Mallorca look to respond immediately and Sergi Roberto is booked for fouling Kubo on the edge of the area.
7'
1-0 TO BARCELONA! Seconds after Mallorca almost turn in a corner, Ter Stegen's quick goal kick launches a quickfire counter attack. Griezmann subsequently races through on goal, before calmly lifting the ball over the onrushing Reina.
7'
GOAAAAAAAAAAAAAAALLLL GRIEZMANN! Assisted by none other than Ter Stegen!
4'
The hosts are awarded the first corner of the game. Griezmann and Messi play a neat one-two inside the area, but the Frenchman overhits his cross and Mallorca can relax for a moment.
2'
Barca have quickly settled into their stride at the Camp Nou. They are moving the ball around patiently just waiting for an opportunity to present itself.
Prev.
Leo Messi proudly shows off his 6th Ballon D'Or with his children moments before the game. Very cute.
Prev.
The form book will certainly make Barcelona heavy favourites for this game. They have won all six at home this season, while Mallorca have lost all six of their away matches...
Prev.
The form book will certainly make Barcelona heavy favourites for this game. They have won all six at home this season, while Mallorca have lost all six of their away matches...
Prev.
Meanwhile, it's all about surviving for this team after an impressive promotion from the second division earlier in the year. This is a game they aren't expected to even sniff a point out of, so actually getting a point would be an upset and huge in terms of momentum
Prev.
Barça are currently on a five-game unbeaten run in all competitions, and face a Mallorca side who've won just two in the last seven league games, but those victories came against Real Madrid and Villarreal... So maybe they're up for another shock socreline tonight?
Prev.
Lionel Messi will be showing his 6th Ballon D'Or to the expectant Camp Nou crowds. Nice gesture from the captain and star.
Prev.
Mallorca: Manolo Reina (GK); Rallo, Valjent, Fran Gamez, Joan Sastre; Baba, Febas, Salva Sevilla; Kubo, Budimir, Dani Rodriguez
Prev.
Barcelona: Ter Stegen (GK); Lenglet, Pique, Junior, Sergi Roberto; Busquets, De Jong, Rakitic; Griezmann, Suarez, Messi
Prev.
Join us for minute by minute coverage of the La Liga game between Barcelona and Mallorca at the Camp Nou. A win tonight could take Barcelona back to the top of the table and they are sure favourites going into the game.