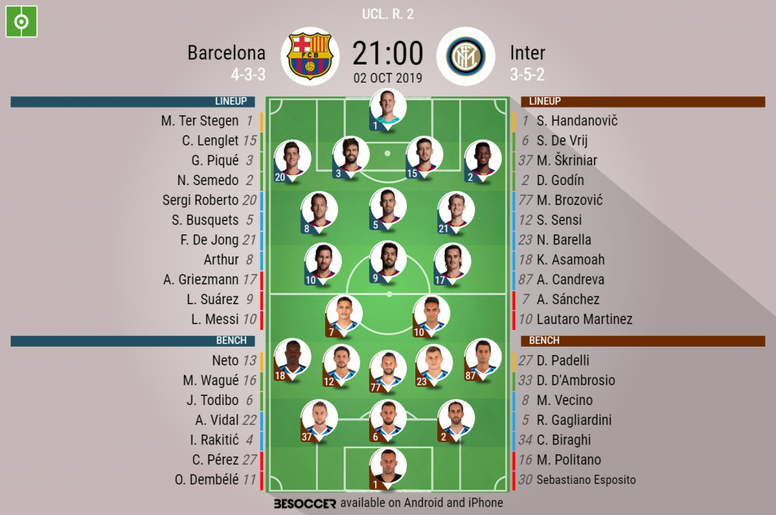 Barcelona V Inter - As it happened.
Post.
As always, we thank you for joining us tonight! See you soon!
90'
FT: Barcelona 2-1 Inter Milan. Valverde's men became themselves again in the second half and there was little Inter could do about it here. Conte's men dominated the first half, with Lautaro Martinez clearly the standout performer, but he was outdone by his fellow Argentinian in the second half with a beautiful - and timely - assist five minutes from the final whistle.
90'
Messi wastes some time by tying his shoelaces... And the match comes to an end!
90'
Three minutes of added time and Messi is back to his wonderful ways!
85'
MESSI AND SUAREZ!!!! The two South-Americans link-up beautifully (where has this been this season!) and Messi's timely assist after dribbling Inter's players lands right under Suarez's feet, who manages to get past Godin and double the score for Barça at home! The Uruguayan had been jeered just last week, but now the Camp Nou cannot stop chanting his name.
84'
GOAAAAAAAAAAAALLLLLLL!!!!! SUAREZ GETS TWO!!!!
82'
Yellow to the Inter coach for protesting!
79'
Sensi comes off for Politano. No more changes for Conte here.
76'
And it's double yellow card action here, as the referee bizarrely hands Alexis Sanchez, who is sitting on the bench, a booking. He must have been protesting.
75'
Yellow card for the Chilean Arturo Vidal, who's been making such a difference here.
73'
The Slovakian goalkeeper makes another comfortable save for Inter. Barcelona getting closer and closer to a second goal.
72'
Corner for Barcelona as Dembele gets dangerously close to the box. Inter have completely faded away here.
71'
Another Inter substitution now, with Candreva coming off and he has been replaced by D'Ambrosio.
68'
SO CLOSE FOR BARÇA! Not too far away at all by Dembele! Powerful strike by the substitute, but he just gets slightly too much on it and the ball flies narrowly over the Inter goal.
65'
Inter also make a change as Alexis Sanchez is replaced by Gagliardini.
65'
Antoine Griezmann is taken out for Ousmane Dembele... What is Valverde's angle here?
61'
Vidal has provided the energy boost that Barcelona were needing and the hosts are now back in this. Griezmann almost scores the second goal with a rare Messi-Griezmann-Suarez link-up with a little help from difference-making Vidal, but he shoots it just wide.
58'
The Uruguayan's terrific volley after Vidal picks him out with a cross at the far post, just on the edge of the box. The striker somehow turns it towards the goal and drills it into the back of the net with a stunning strike, and Barça are back in this!
57'
WHAT A GOAAAAAAAAAAALLLLL!!!! LUIS SUAREZ!!!
55'
Messi drops deep into his own half, turns and sprays the ball to the right for Sergi Roberto. Good play from the Argentine, but not exactly where Barca want him right now... Even Messi is having an off night.
54'
Vidal tries a shot from the edge of the box but his effort is blocked by the solid Inter defense.
52'
Arturo Vidal comes on for Sergio Busquets. A change to the formation here?
51'
Yellow card for Sergi Roberto for a nasty tackle.
49'
Foul on Messi and it leads to a free-kick! Messi takes it...
48'
Barcelona starts off the second half with the possession, but the Catalans are looking a bit disjointed still. Messi tries his best at leading in the attack, but he doesn't look like himself tonight. Still, a dangerous action for Barca here, which could be encouraging in the next few minutes.
45'
HT: Barcelona 0-1 Inter. The Italians are dominating this game and Barcelona are struggling here. The defensive cracks are on full display for Valverde's team here, and even with their best men on the pitch Barcelona can't seem to attack. Conversely, Inter are having what is probably their best game of the season so far, with Lautaro Martinez standing out... And all of this with Lukaku injured!
43'
Arthur Melo gets Barça's most dangerous chance as of yet! Poweful left-footed strike from the Brazilian but it's too high. It looks like the goalkeeper would have made the save anyway.
42'
First half coming to an end soon and Barcelona will no doubt be happy about this. Messi needs to give his team a bit of a pep talk here.
42'
Another great chance for Inter as Sensi crosses it over to Alexis Sanchez, who tries to head it in but it's too wide.
38'
Inter getting into Barcelona's territory again and again. Inter are having their best game of the season, to be fair.
36'
WHAT A SAVE FROM TER STEGEN!!!!! Inter get yet another chance here, but the German goalkeeper makes a clinical save and the score somehow remains the same after a lovely cross from Candreva to Lautaro.
34'
Free kick for Barcelona... Messi takes it and Pique goes for the header, but Handanovic saves it comfortably.
33'
Another chance for Inter! Barcelona had managed to get into the game a little more a few minutes ago, but the Italians are clearly dominating here. It could easily be 2-0 here.
27'
GOAL RULED OUT! Inter have the ball in the back of the net again, but it's ruled out for offside and rightly so. Candreva gets in-behind the Barca defence down the right wing, he then sprints into the box and fires the ball past Ter Stegen at the near post. However, the winger didn't even bother to celebrate as he was well offside.
25'
Decent strike! Messi with a low drive from at least 25 yards out, but Handanovic makes the save!
22'
Yellow card for Gerard Pique for a tackle, the entire team protests! Challenges flying in at the moment. It's a feisty affair here.
20'
Good effort! Barca are getting closer, Busquets with a strike from the edge of the box, after a Griezmann lay off. The hosts are forcing Inter to sit deep and handle the pressure, with Messi, Griezmann and Suarez much more involved now.
16'
Inter almost make it two! The ball is chipped through for Lautaro and he is one on one with Ter Stegen. The Argentine's touch is too heavy, though, and he is forced too wide. He sends a back-heel into the mix, but it is cleared by Barca's defence. A better touch there and it could have been 2-0...
15'
Lautaro makes another solo run almost immediately! This time Barcelona's defence manage to push it aside successfully.
14'
Griezmann is providing Barça's best efforts right now. The Frenchman has a good run and almost tries to score the goal but his shot is wide.
13'
Both teams are pushing their limits right now... A strong tackle by De Jong to an Inter player, who manages to get away with a warning.
10'
Interesting position from Conte's team tonight. They are playing with three at the back, but Kwadwo Asamoah is tucking in as a fourth defender on the left when Barcelona attack... Making things difficult for the host at the moment.
9'
We missed a yellow on Griezmann just a second ago... He becomes the first Barça player to be booked for a poor challenge on Barella.
7'
Griezmann trying to find Suarez on the edge of the Inter area, but the Italian's defence is air-tight right now. Very Italian of him to focus on the defence, but it's clearly proving effective.
5'
Yellow card for Nicolo Barella for stepping on Sergio Busquets. Doesn't look intentional, but it's still a foul...
3'
Lautaro opens the score for the visitors with a brilliant run that manages to get past Barcelona's defence, who was clearly not prepared for such a goal in Inter's very first chance. Messy positioning from Pique and Lenglet who didn't manage to defend properly. Nothing Ter Stegen could do there.
3'
GOAAAAAAAAAAL!!!!!!!!!!!And it kicks off with a goal from the visitors!!!!!!!!
Prev.
The players are getting into their positions; kick-off is imminent now!
Prev.
Barcelona's difficult start to the season is well documented, perhaps because of how big of a team this is, but Inter deserves some more news coverage too. They also drew their opening game at home to Slavia Prague, but Antonio Conte's side sit top of Serie A with six wins from six - and the Nerazzurri should offer the Blaugrana a real contest tonight.
Prev.
Barcelona are usually in pretty good shape when at home, especially on Champions League nights, but it would surprise absolutely no one if this game ends in a draw.
Prev.
Now onto some team news... This match will by no means be a breeze for Barca given their current form and the ongoing worries threatening Valverde's job, and if Inter put in a real performance, they could leave Camp Nou with all three points.
Prev.
Ah, so the Barça admin knows how the entire world feels about this, too.
Prev.
Meanwhile, Conte's Inter Milan has put Alexis Sanchez on the line-up to start against his former club, but Romelu Lukaku is injured. It's a shame, since the Belgian had been scoring his fair share of goals and could have been an interesting addition to this already explosive line-up. They make two changes from the side who won 3-1 at Sampdoria. Legendary centre-back Diego Godin, who's facing former teammate Griezmann, and Italy midfielder Nicolo Barella are in. Roberto Gagliardini and Alessandro
Prev.
It also means that Barça fans will undoubtedly be worried about their star's form, as their (dare we say aging?) main attacking force JUST got the medical clearance. Surely Messi won't play the full 90 minutes? Dembele is also back from injury and on the bench... Maybe 45 minutes each then?
Prev.
Barcelona have brought in the big attacking names tonight! Two changes from their win over Getafe as Lionel Messi returns from a thigh injury and replaces Carles Perez while Nelson Semedo replaces the injured Junior Firpo.
Prev.
Inter starting XI: Handanovic, Skriniar, Godin, de Vrij, Candreva, Barella, Brozovic, Sensi, Asamoah, Martinez, Sanchez.
Prev.
Barcelona starting XI: Ter Stegen, Nelson Semedo, Pique, Lenglet, Sergi Roberto, Arthur, Busquets, de Jong, Messi, Suarez, Griezmann.
Prev.
The line-ups are out! Let's take a look shall we?
Prev.
Hello and welcome to our live coverage of tonight's huge clash between Ernesto Valverde's Barcelona and Antonio Conte's Inter Milan, where Sanchez and the Griezmann-Messi-Suarez trio will be looking to provide some goals!