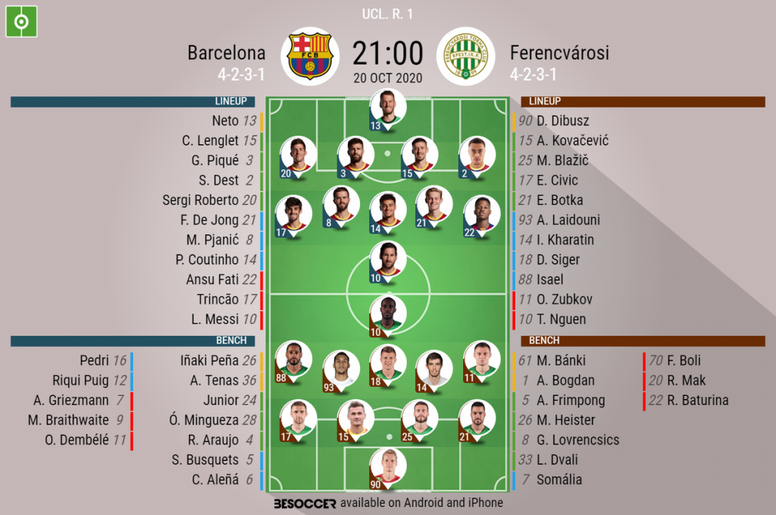 Barcelona v Ferencvárosi - as it happened.
Barcelona

Ferencvárosi

Post.
FT: What a thrilling game! Thank you for joining us tonight. See you tomorrow for more Champions League action.
90'
Kovacevic yellow. FK for Messi on the corner of the box.
88'
DEMBELE GOAL: Messi did the hard work dribbling around several defenders but Dembele didn't hesitate in burying that one!
87'
They almost did just that! Neto had to react to make a great save after a powerful driven shot.
86'
Surely that's all she wrote for today? FER keep up the attacking moves. If they could salvage another from this they could at least walk away proud.
83'
Kharatin yellow card as he slides in on De Jong.
81'
PEDRI GOAL: Dembele made a great run into the area beating several defenders and put a low cross to an unmarked Pedri who made a simple finish.
77'
Fascinating game as FER and BAR trade blows. It only needed Barcelona to lose a man to make it an even match!
77'
Fascinating game as FER and BAR trade blows. It only needed Barcelona to lose a man to make it an even match!
74'
A second goal would not come as a surpise with this FER intensity around the Barca area.
73'
FER are now the ones who are dominating with one man up and hope behind them.
71'
Many questions will be asked of Koeman and the Barca squad if FER manage to come back from such a convincing Barcelona lead.
71'
FER have the momentum now! Can they bring this back?
67'
That red will cause controversy after what appeared to be a very small amount of shirt pulling in the area.
67'
A questionable red. Kharatin converts the penalty regardless!
66'
Cleared by Isael. Barca throw in still in a dangerous position.
66'
Barca corner played short.
63'
Great run down the wind from a fresh Dembele. Excellent tackle to stop the attack from Botka.
62'
Pedri comes on for Fati. Dembele also comes on.
60'
Barca have lowered the tempo and seem to be happy to let FER attack for a while.
58'
Straight into the wall. Disappointing from the Argentinian.
58'
Messi FK on the edge of the area.
56'
Barca have Ferencvarosi pinned down! The Hungarian side can barely escape their own area. Brilliant pressure.
54'
Barcelona seem to have found their stride in the second half. Much more comfortable with the ball.
52'
The assists have been much more impressive than the goals tonight! 3-0 Barca.
51'
Coutinho scores after being left open in the corner of the area. Great backheel assist from Ansu Fati.
49'
Trincao directs a powerful shot at the keeper. Directly at the keeper. Easy for Dibusz to deal with.
48'
Ferencvarosi are defending well but will need to go up with the ball if they want to salvage anything from the match. Barcelona are too much for them at the moment.
47'
Barcelona are on the attack looking for a defensive lapse on the edge of the area.
46'
Barcelona will want to put an end to any hop for FER in this match after a couple of scares in the first half.
45'
HT: A very interesting first half. Barca have dominated the possession but FER had some great chances.
43'
Barca have dominated the match, no doubt, but with some luck the scoreline could have easily been 0-2 to FER with the chances the Hungarians have managed to create tonight.
41'
Ansu Gati scores from a beautiful chip ball into the box. He had most of the work done for him with that excellent delivery.
39'
A sign of a match of extremes when FER's best two players have been the GK and the ST. Phenomenal from Nguen and Dibusz.
38'
Great rub and through ball from FER. Zubkov put's it a mile wide though. Nguen could be man of the match at this rate with that through ball.
37'
Miles offside from Messi who hit the bar on his attempt after a long run anyway. Not a close call.
35'
What a save! Dibusz saves a point black shot with an outstretched foot. Brilliant goalkeeping.
35'
Delivered into the box from out wide but Neto was there to pick it up. Good goalkeeping and a poor delivery.
34'
Let's see what FER can make of this attacking move!
30'
Yellow card given for Laidouni who brought down Sergi Roberto. He was late on that!
29'
More of the passing and dribbling Barca please! A joy to watch Fati's runs down the wings and around the box.
28'
Barcelona call for another penalty. This time it's not given. Come on guys, you can score away from the penalty spot if you want to.
26'
Barca will hope that goal cools the passions of FER. Have the floodgates opened?
23'
Barcelona keep up the pressure. FER have had an impressive game at the back and going forward so far. Full of surprises.
21'
FK: Messi delivers to Coutinho on the edge of the box who fires wide.
19'
FER strike again! off the bar. Barcelona were inches from being down 1-0! What a game we have on our hands.
17'
Now this is Barcelona. Great passing and dribbling from the side who have FER under intense pressure.
16'
Great move by Barcelona. Excellent chemistry between Messi and Fati saw the ball pass over an open net. Dibusz just got to it on time.
14'
Barcelona have had some great intensity today so far but FER are holding on.
13'
FER have their second dangerous attack of the game cleared by Pique. They don't intend to go down without a fight that's for sure.
11'
Messi takes a FK from far out in a central position but it was never a danger.
9'
Ferencvaros score a banger! What a goal and run but the goal is disallowed for an offside. It was close! Barca should be alarmed!
8'
Barcelona corner headed over by Trincao.
7'
Barca have FER hemmed in. They are surely looking to put this to bed early on.
6'
Messi delivers and Dibusz clears. Barca still on the attack.
5'
Barcelona will need to win today to restore morale after a shock loss to Getafe. They show good attacking promise so far.
4'
BAR making good use of Fati on the wings forcing a FK from one of his famous runs.
3'
Barcelona look to be comfortable and try to pass it in from the corner. FER respond in full force and clear the attack.
1'
FER make an energetic start! To be expected when you're facing a giant like Barca!
Prev.
Barca make their way to the pitch!
Prev.
Ferencvaros are a shock entry to the competition. They'll hope to make that shock even bigger with an upset at Camp Nou tonight!
Prev.
Messi to start despite calls for him to be rested. He's had a grueling few weeks.
Prev.
Ferencvaros XI: (GK) D. Dibusz; Kovacevic, Blazic, Civic, Botka; Laidouni, Kharatin, Siger, Isael; Zubkov, Nguen
Prev.
Barcelona XI: (GK) Neto; Lenglet, Pique, Dest, Sergi Roberto; De Jong, Pjanic, Coutinho; Ansu Fati, Trincao, Messi