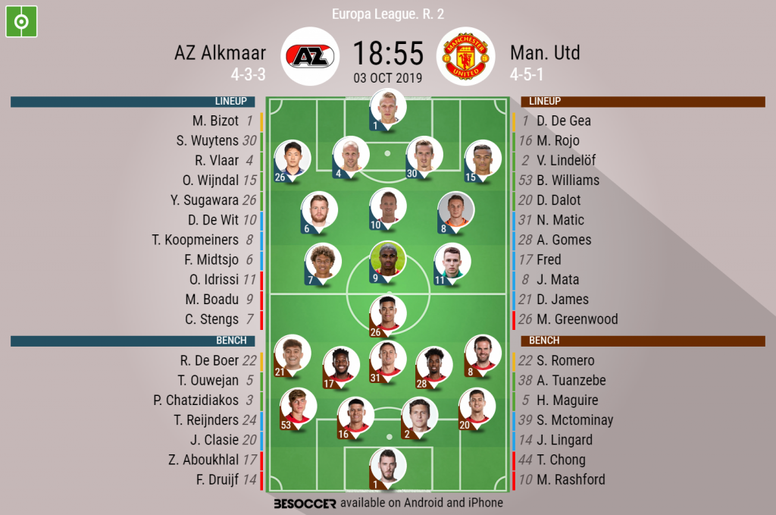 AZ Alkmaar V Man. Utd - As it happened.
AZ Alkmaar

Man. Utd

90'
FT: Alkmaar 0-0 Man Utd. Well this was uneventful. Alkmaar had the best chances of the game as Man Utd didn't manage to do much. The crisis deepens for Solskjaer.
90'
3 minutes off added time in The Hague!
87'
De Wit comes off for Hatzidiakos for AZ.
84'
LINGARD COMES CLOSE! McTominay plays a short pass through to Lingard who turns with the ball before firing his shot towards the top left corner. He's beaten Bizot, but it flies just wide of the far post.
83'
McTominay's first involvement is to join the United players in the AZ area for a Rashford free-kick from the left, but the England forward wildly fires a shot over the bar. That just about sums up United's limp attacking display this evening.
82'
United make their last change. Mata comes off for McTominay.
77'
Idrissi causing problems for Utd once again. He cuts inside from the left and no United players come to intervene when he curls his shot towards the goal. De Gea makes the save.
77'
Lingard comes off for Greenwood, who could not do much for United today despite some good efforts.
73'
Penalty???? Yet another shout rings out around the stadium as AZ feel they should have a penalty. De Wit is just pulled back by Fred when he throws himself to the ground and the referee waves play to carry on.
71'
A good chance for the hosts to get the opening goal. Nobody is closing down Wijndal on the edge of the box, so he has a go himself. He fires his shot towards the target and De Gea gets across his line quickly to palm it away.
66'
Better from United. The introduction of Rashford has given them a better shape, with Greenwood deployed down the left to the right of Rashford.
63'
Daniel James is replaced by the slighty more experienced Marcus Rashford.
60'
Sugawara is dangerously threatening now. If the hosts are to score it will undoubtely involve him.
57'
United try their luck in the AZ backline but the clear lack of quality and team togetherness is showing prevents them from even creating a chance.
52'
Manchester United managing to hold on to the possession a lot better since the start of the second half. Still, defensive mistakes almost just cost them as Alkmaar are getting dangerously close to De Gea's box. Two good chances in under two minutes.
47'
Possible penalty?? Sugawara's cross from the right reaches Dalot at the back post. As he attempts to clear his lines the ball appears to strike his arm, but the referee waves away the penalty claims.
45'
AZ 0-0 Man Utd. The hosts have had the better half despite a not particularly brilliant performance. They create a lot more chances against a struggling United. Solskjaer will probably be making some changes in the second half... See you in 15!
44'
Greenwood plays a good throughball to Gomes who is in a good position on the edge of the box. It looks like he was caught as he tried to get the ball, but the referee doesn't give the free-kick and AZ come away with it.
43'
VIctor Lindelof has been comfortably United's best player, making frequent interceptions to save his team from an embarassing 1-0 such as a crucial one just one.
42'
James plays a loose pass bacj to Dalot and Winjdal comes away with the ball. He tries to quickly set Idrissi off on an attack but overhits his pass in his hurry to get it away and United have possession again.
37'
CHANCE! Dalot has been United's best attacking player, and he almost lays on the opening goal for Angel Gomes. The Portuguese darts down the right and digs out a great cross that flashes across goal to Gomes. It takes the United youngster by surprise, though, and he's rushed into two attempted shot that are blocked.
35'
It's all AZ at the moment. United slowly starting to look more settled but nothing has come of it yet.
32'
AZ get a really decent chance on the counter! It's DOabu with a good header, but De Gea intervenes once again and the game remains goalless.
30'
WHAT A CHANCE! An action lead by Daniel James and Mason Greenwood almost leads to a goal! James pulls away from the Alkmaar defence and cuts the ball back from the byline. Greenwood is there to kick it in, but Vlaar makes an important block.
25'
Man Utd gets their first threatening approach into AZ's box, but there's a clear lack of connection between players at the moment and it doesn't lead to anything of interest. AZ's goalkeeper does make a slight intervention, but it does not look like it could have lead to a goal.
22'
AZ asking real questions of the United defence with three corners in quick succession, but the visitors pass the latest examination. Now they've got to start playing up the other end... Man Utd not looking great offensively at the moment.
20'
AZ break quickly down the left side once again with Idrissi leading the charge. He wrongfoots Dalot before chipping his cross into the six-yard box, but it's Lindelof that's waiting for it in the middle to clear it.
17'
Koopmeiners is playing some brilliant passes in midfield to set AZ off on their attacks. Once again, he's looking for Idrissi from the halfway line, but he overhits this one and it bounces out of play.
14'
De Gea makes a terrific save!!! Good shot from Idrissi, who tries to go from goal from 20 yards out into the botton right corner. AZ definitely the most dangerous side at the moment.
12'
it's been two minutes since their close call, but Alkmaar are really putting the pressure on United at the moment. Very dangerous team, and it's all quite unexpected.
10'
Boadu has a goal rightly disallowed for offside! The corner is played short to Midtsjo and he swings a wonderful cross into the six-yard box to where Boadu is waiting. The forward heads his effort past De Gea and into the net, but the flag is up. What a start for the hosts!
9'
First real chance for Alkmaar here! The Dutchmen are attaching a lot!
6'
Koopmeiners finds himself in some space in his own half and tries to pick out Idrissa with a through ball. The forward has pulled away from Rojo and would have been in on goal if Lindelof hadn't intercepted it. Second chance for the hosts.
3'
United are seeing a lot of the ball in the opening couple of minutes and James has already had a run at Sugawara down the left. Nobody made a run into the box though, so he had to turn around and go back.
Prev.
Louis Van Gaal is seen in the crowd! The Dutchman coached Alkmaar once upon a time.
Prev.
The players are walking onto the (plastic) pitch, the game is about to start!
Prev.
There's been some controversy surrounding the pitch for tonight's clash, with Solskjaer admitting he's ruled out Pogba over fears with AZ Alkmaar's synthetic surface. Strictly speaking the artificial pitch in question belongs to Den Haag – the game is at a borrowed venue because of storm damage at Alkmaar's own ground – but Solskjær is something of an expert on artificial turf and confessed he would not have risked the player anyway.
Prev.
However, AZ have only won one of their previous six home games in the Europa League (D1 L4), conceding at least two goals in four of those, which means their European form is not the best.
Prev.
Meanwhile, AZ have picked up where they left off last season after finishing fourth in the Eredivisie under Van den Brom. They are currently third in the table, one point behind leaders Ajax after winning six and losing one of their first eight league games.
Prev.
Since beating Paris Saint-Germain 3-1 back in March, Manchester United have failed to win any other their nine away matches across all competitions (D3 L6) – they last went on a longer winless run on the road between February and September 1989 (run of 11).
Prev.
Defender Ron Vlaar and midfielder Jordy Clasie should be familiar to Manchester United supporters, but it's an otherwise relatively unknown line-up here, which makes things even more exciting considering Man Utd's current form. The Englishmen should win this, but who knows at the moment.
Prev.
Ole's made eight (!!!!) changes to the team which drew 1-1 against Arsenal. David de Gea, Victor Lindelof and Daniel James are the only survivors from Monday evening. Mason Greenwood leads the line with James, Angel Gomes and Juan Mata providing attacking support. The defence looks unfamiliar with Marcos Rojo partnering Victor Lindelof in central defence. Diogo Dalot is on the right with 19-year-old academy Brandon Williams.
Prev.
Interesting choice for Solskjaer tonight as the young left-back Brandon Williams makes his first start for United, while Mason Greenwood is up front.
Prev.
AZ Alkmaar starting XI: Bizot; Sugawara, Vlaar, Wuytens, Wijndal; Midtsjoe, de Wit, Koopmeiners; Stengs, Boadu, Idrissi.
Prev.
Man United starting XI: de Gea; Dalot, Lindelof, Rojo, Williams; Fred, Matic; Mata, Gomes, James; Greenwood.
Prev.
Hello and welcome to our live coverage of this early afternoon's Europa League clash, where Ole Gunnar Solskjaer's men will be looking for a morale-boosting victory against the Dutch Alkmaar!