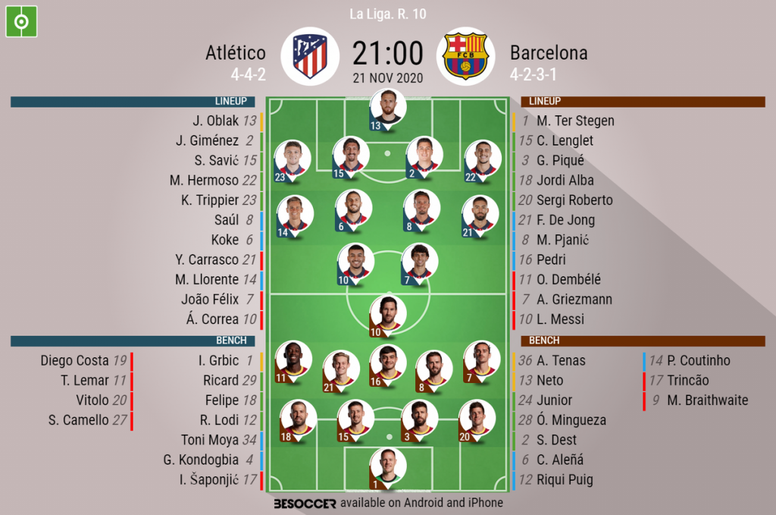 Atlético V Barcelona - As it happened.
90'
FT: Barcelona walk away from the game with things not going as planned. Simeone will be happy to go nine points clear of Barcelona. Koeman will start to worry. Thanks for joining us, see you next time!
90'
+3: Barca fight on! A save FK and a corner cleared at the last second have left Atleti a little shook but there are only seconds left!
90'
Seems unlikely that Barca will salvage something from this at this point. Only a couple minutes left of the game and Atletico aren't exactly the inferior side tonight.
88'
Sergi Roberto looks to have injured himself in the last minute after along shot was deflected for a corner.
85'
Carrasco shoots on the rebound from the corner but it's not on target.
84'
Diego Costa makes his first run of the game and is blocked by De Jong who clears the ball for a corner.
82'
Griezmann will take a rest for Trincao.
81'
Messi cross finds Griezmann in the centre who can do no better than to head it straight at Oblak.
80'
Messi puts it wide from the FK. Barcelona will have to find another way back into the game.
78'
Savic booked and Barca have a FK in a great position not far from the edge of the box.
76'
Barcelona are in possession and look to be creating chances for the first time in what feels like a long time. Have they left it too late?
74'
Felix sends a long ball down to Costa but Costa is outran by De Jong.
72'
Felix leaps for Trippier's cross and Barca are lucky he isn't a couple of inches taller or that would have been in the net!
71'
Diego Costa could be coming on shortly, he's warming up!
69'
Trippier finds Llorente in an attacking position as the ball is cleared for a corner.
69'
Trippier finds Llorente in an attacking position as the ball is cleared for a corner.
67'
Pjanic tries his look from out far but it goes well over.
66'
Felix goes down in the area but he was looking for the penalty. There was almost no contact with Lenglets.
64'
Dembele picks up possession on the corner of the area after a rolling ball from the centre provided by Pjanic and fires just wide.
62'
Dest may add another attacking threat to the game. It could be just what they need as they trail 1-0.
61'
Dest will come on De Jong will likely play at centre back. Pique leaves the game in lots of pain, almost crying.
60'
Pique is back on his feet but is being more or less carried from the field. Dest is warming up.
59'
He took the full weight of the player onto his leg and it looked to bend the wrong way from his knee. He will surely be subbed shortly.
58'
Pique goes down and that is a gruesome injury. Hopefully it looks worse than it is because it looks bad.
57'
Lenglets heads a cross straight into the arms of Oblak from almost point black range. What a chance and perhaps he should have done better, he had beaten his defender.
56'
Coutinho will come on to try and turn things around for Barcelona.
53'
Atleti corner won by Trippier is headed clear by Pique.
52'
Carrasco receives a ball int the box over the top and tries to backheel it but Felix didn't read the play in time. That would have been one for the highlights.
51'
The two sides have settled into the half now. Barcelona can't be complacent if they want to take anything from the game tonight.
47'
Atletico are showing some confidence coming out of the break. Have they knocked Barca's hopes for the night?
46'
A mixed bag from the first half as Atleti just pulled ahead after an even match.
45'
What a way to end the half! Ter Stegen has had an absolute nightmare there! Let's see how Barca respond.
45'
45+3: ATLETICO GO AHEAD! Ter Stegen came way out of his box to stop Carrasco who side steps him and fires in from way out! What a goal!
44'
Dembele will play on. at least for the rest of this half it seems.
42'
Dembele goes down on the Barca touchline and seems to have hurt his shoulder in a clash with the Atleti player. Trincao is warming up!
40'
Messi collects the ball on the edge of the area and fires home after a dribble into the six-yard box. The angle was just way too tight for him to do anything with that.
38'
As the half progresses Atletico seem to be pulling ahead in terms of possession and chances created, although neither team has had many clear shots on goal.
37'
Saul clears a Griezmann run into the corner of the box into the stands, is this the Barca resurgence?
34'
Felix finds an Atleti man in the box with a nice chip pass but De Jong was all over Saul, good pass but better defending.
33'
Atletico once again attack down that right wing with Trippier and Llorente. They two have chemistry but there's been nobody attacking the box...
31'
Atletico might even be edging ahead considering the rythm of the game... Too close to pick a winner so far!
30'
The referee's earpiece has broken! A short pause while the officials fix the situation...
26'
Trippier links up with Llorente on the right wing with some nice 1-2 passes but still no opportunity on goal comes from the move.
25'
Roberto brought down in the centre of the pitch, that was a nasty tackle off the ball. Card well deserved.
24'
Atletico on the attack on the left wing but Barca have a strong defence tonight!
21'
It takes 3 Atleti players to put a stop to a Pedri run near the corner flag, he had nowhere left to go!
19'
Saul puts in a great looping ball to the back post but Ter Stegen had time to size that one up and killed any danger.
18'
Dembele finds Griezmann who gives the ball to a Pjanic that loses possession in the Atleti half. Atleti now have the ball.
17'
Atleti attack ended by a misjudged ball into the area that went out for a freekick. A bit of a waste from Atletico!
16'
Felix is brought down in the centre of the field. No cards needed. Atleti in possession.
15'
Barca corner cleared at the near post but they still have possession in the opposition half.
14'
Dembele is beating the Atletico defence almost at will! what a performance so far from the player.
13'
Messi collects from a great cross from Dembele in space on the corner of the area and tries to chip it into the far corner. Well wide from Messi, he can do better.
12'
Pique shows why he is a legend at the back for Barca and stops Felix in his track calmly and cooly. He would have been open on goal.
11'
Diego Llorente cuts inside after a great pass threads the needle and hits the cross bar!
10'
Koke crosses it in from far out with Atleti players in the box but it is easily cleared.
9'
Dropped into the middle of the box but it is cleared after a Griezmann deflection.
8'
Yellow card for Koke after he brings down Dembele off the ball in a dangerous position.
6'
Llorente on the right wing can't find any gaps in the defence. Atletico are on the front foot for now!
5'
Atletico corner is cleared but Atletico pick it up and belt it back up to an attacking position.
4'
Atletico steal the ball in their defence and are swarmed by Barcelona. Trippier breaks free and crosses it into Saul who fires it in but Ter Stegen saves the day. Great shot and save.
3'
Barcelona have bet on Alba instead of Dest tonight and he's already playing a starring role in the clash.
2'
Dembele crosses it in to the box and Griezmann attacks the ball to beat the keeper but puts it just over the bar.
1'
Explosive start from Barcelona who are showing top form on the ball from the start!
1'
Let's go! Who will strike first?
Prev.
Messi is ready for the night!
Prev.
Players are on the pitch warming up! Not long till kick-off now!
Prev.
Remember to make your predictions in the comments!
Prev.
Let's see how Messi and Griezmann get on on the pitch after the Frenchman's uncle had some choice words to say about him...
Prev.
Diego Costa starts on the bench in a game where Atletico are also missing Suarez due to a coronavirus positive.
Prev.
Notable for Atletico is the return of Oblak who had an injury scare during the international break but has returned and is ready to play.
Prev.
Barcelona are fielding a pretty conventional team tonight with a notable exception. Ansu Fati is injured and will no feature in tonight's clash.
Prev.
ATLETICO XI: (GK) Oblak; Gimenez, Savic, Hermoso, Trippier; Saul, Koke, Carrasco, Llorente; Felix, Correa
Prev.
BARCELONA XI: (GK) Ter Stegen; lenglet, Piqué, Alba, Sergi Roberto; De Jong, Pjanic, Pedri; Dembele, Griezmann, Messi