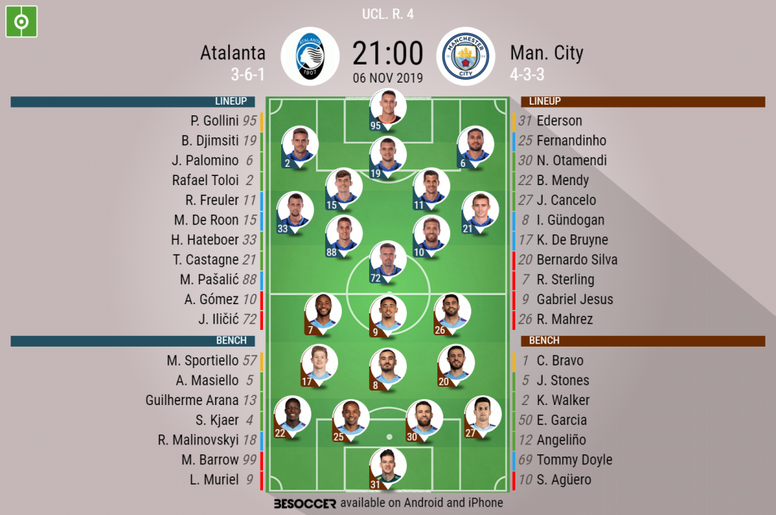 Atalanta V Man. City - As it happened.
97'
FT: Atalanta 1- 1 Manchester City. Atalanta will be furious with themselves that they have not managed to create a meaningful chance since Kyle Walker went in goal. City did brilliantly to kill the game and keep the ball as far away from Walker as possible, and it ends in a draw!
96'
Tensions are running high now. Bernardo Silva is shown a yellow card for protesting.
92'
Castagne coming off and he has been replaced by Muriel.
91'
A yellow card is shown to Mendy for his poor challenge on Toloi and then sarcastically clapping the referee's decision.
90'
Kyle Walker has now made more saves than Claudio Bravo in this match. Let that sink in.
90'
7 minutes of added time to compensate from all that mess!
88'
Malinovsky shoots low and hard through the wall but Walker saves, albeit unconvincingly. He fails to hold on to the ball first time around, but grabs it at his second attempt.
87'
The change is finally made as Kyle Walker replaces Mahrez and takes Bravo's place in the goal.
85'
This all feels a bit surreal. Kyle Walker is wearing Bravo's shirt and nothing seems to be happening yet. A lot of confusion as he waits to come in.
84'
Very weird scenes here as Manchester City take their time to prepare Kyle Walker for Claudio Bravo's place. He is being specifically brought on from the bench, which leads us to believe he has the required practice? The hosts take the opportunity to make a substitution as Freuler Ruslan is replaced by Malinovskiy.
80'
Claudio Bravo is sent off for a terrible foul and it looks like one of City's other players will take his place on the goal! Shocking scenes!
79'
Castagno is given a yellow for a foul on Cancelo.
75'
Guardiola is seen cheering for his team on the sidelines... Not the best game for City, who need to score again in order to feel comfortable again.
73'
Gabriel Jesus - who failed a penalty - comes off for Sergio Aguero.
72'
Aguero is just receiving some instructions on the sidelines for City, it looks like he will be introduced shortly. Atalanta have been the better side in this second half.
70'
Fernandinho is the first City player to be booked after a shove on Hateboer as the two players battled for the ball down the right wing.
67'
City enjoying a little bit more possession now but still struggling to find the goal despite some good chances.
64'
Atalanta playing with seriously renewed energy this second half. What a difference a goal makes.
60'
City are struggling for rhythm here. This will be a good watch for Liverpool fans with City having to play an intense second half.
58'
Palomino brings down Gabriel Jesus with a late challenge and avoids a yellow card. That's his third or fourth such foul of the evening, but he's yet to be booked.
54'
It's end-to-end at the moment, with the momentum with Atalanta, but the visitors look very dangerous on the break and they'll want to get back into the lead as soon as possible.
50'
Atalanta are level, it's 1-1! Pasalic with a bullet header after a terrific cross into the box by Gomez and Pasalic was totally unmarked in the box and he powers the ball past Bravo in the City goal, who had no chance of saving that.
49'
THE HOSTS MAKE IT 1-1!!! WHAT A GOAL!!!!!!!!!!!!!!
46'
Manchester City have made one change as Ederson comes off for Claudio Bravo. Not sure of the reason behind that one. Must be an injury - could be a worry for Sunday.
45'
Half time in San Siro! Manchester City lead 1-0 over an inferior but strong Atalanta. See you in 15!
41'
Oh, and a yellow card was shown to Illcic for the handball. City should be up by at least 3-0 here.
41'
Gabriel Jesus grotesquely misses the penalty!!! The shot was not even on target!
40'
The plot thickens... Mahrez's free-kick is struck into the wall but it looks like it hit Ilicic on the hand. VAR CHECK! The referee has come to his pitch side monitor to review the incident. Could be a penalty here...
39'
VAR SAYS NO PENALTY! Correct call. Instead it's a free-kick right on the edge of the area
39'
PENALTY TO MAN CITY! Sterling fouled. But VAR checks....
36'
SAVE!! City are knocking hard on that door. Mahrez drifts inside and from 25 yards pings a low effort that Gollini has to be alert to palm away down to his left. Great stop.
35'
We are 35 minutes in and Man City could easily be further ahead. Meanwhile, the hosts have barely tested Ederson.
30'
CHANCE! Another Sterling opportunity, after De Bruyne breaks through on goal down the right wing, he sprints through on goal and has Sterling and Jesus to choose from. He opts to drag it back to Sterling, but he perhaps took too long on the ball as Hateboer is able to get back and make a terrific challenge to block the shot.
27'
Djimsiti is the first player to be booked, after he drags Mahrez to the ground, as the winger beat him down the right-wing and then looked to break into the penalty area.
25'
Ilkay Gundogan plays the ball out wide to Mahrez, who pulls it across the edge of the Atalanta six-yard box. Sterling had read his intention and made a lung-busting run to try to convert at the far post, but the ball was too far ahead of him.
21'
The whistles are ringing around the San Siro, as City continue to keep the ball and are currently camped inside the Atalanta half of the pitch.
18'
Benjamin Mendy is penalised for handball as he controls the ball with his arm just inside his own half.
16'
Atalanta attack, with Illicic controlling the ball beautifully in the inside right channel before playing it inside to Remo Freuler on the edge of the penalty area. City clear.
14'
Atalanta are having to sit deep at the moment and soak up the City pressure, they've just lumped a long ball up front in an attempt to break out. However, because they've been sitting so deep, they are unable to get any players near it and City come back at them.
11'
Gabriel Jesus leaps to try and head a Riyad Mahrez corner goalwards. The delivery is a mite too high and he is unable to get much purchase on the ball. Atalanta under serious trouble here.
9'
City now comfortably keeping possession after the confidence boosting goal. . Long night for Atalanta if they defend like that.
7'
The Italians had threatened early, but Raheem Sterling just doesn't miss these days. Bernardo Silva plays a great through ball to Gabriel Jesus who brilliantly flicks it behind him and on it is Raheem Sterling who slots in his 14th City goal of the season.
6'
GOAAAAAAALLLLLLLL!!!! RAHEEM STERLING!!!!
5'
CHANCE! The Italians almost open City up with their full-backs to the fore . Castagne cuts inside off the left and whips a deep ball to the other wing back Hateboer, who is only about six yards out at a tight angle but he punts it into the side netting. City's defence nowhere to be seen.
3'
CIty start us off with the possession but the hosts quickly take it from them, keeping in line with their strong offensive side. Are we in for a surprise or can City thrash Atalanta again?
Prev.
Atalanta's Colombian goalscorer Duvan Zapata is injured, but they will be hoping Ilicic can provide the offensive power.
Prev.
Benjamin Mendy, João Cancelo and Nicolas Otamendi come into defence, while Riyad Mahrez is in for the injured David Silva. Bernardo Silva is expected to fill in for his namesake, with Mahrez lining up on the left of a front three. Sergio Aguero makes way for Gabriel Jesus, who will play as the central striker.
Prev.
With a Premier League game against Liverpool to come on Sunday afternoon, Manchester City's manager has made five changes from the side that laboured to victory against Southampton last Saturday.
Prev.
Meanwhile, Atalanta will be hoping a home crowd can help them deliver a better result, having lost all their UCL clashes until now. However, boss Gian Piero Gasperini has no intention of going defensive in Wednesday's meeting, as he claimed during the pre-match press conference.
Prev.
Pep Guardiola's men will be looking to repeat their win in their last match against the Italian side which saw Raheem Sterling bag a hat-trick and Sergio Aguero a brace.
Prev.
Atalanta starting XI: Gollini, Toloi, Djimsiti, Palomino, Hateboer, de Roon, Freuler, Castagne, Pasalic, Gomez, Ilicic.
Prev.
Man City starting XI: Ederson, Joao Cancelo, Fernandinho, Otamendi, Mendy, De Bruyne, Gundogan, Bernardo Silva, Mahrez, Gabriel Jesus, Sterling.
Prev.
Hello and welcome to our live coverage of this evening's UCL clash between Atalanta and Manchester City!