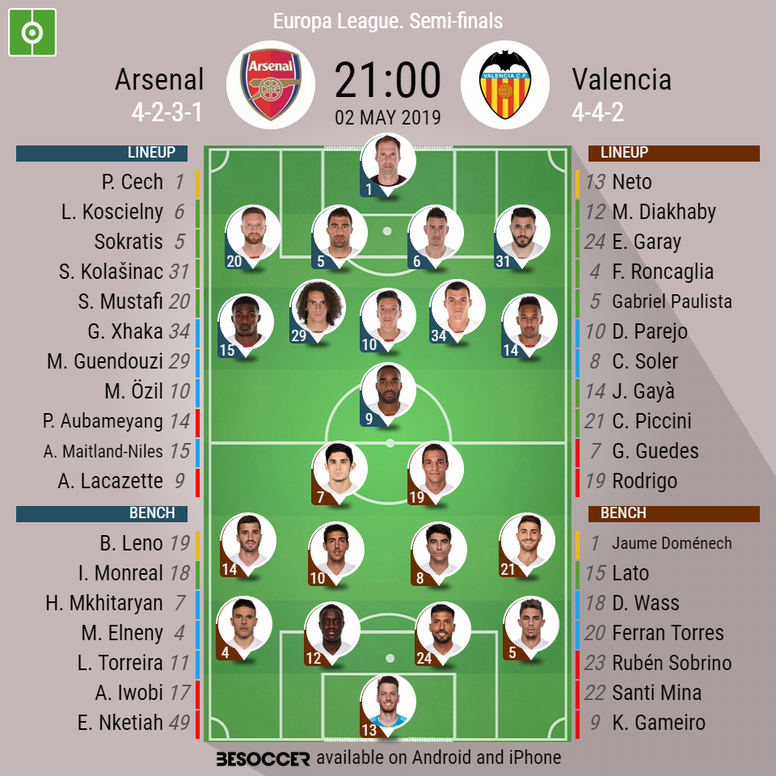 Arsenal v Valencia: as it happened
Post.
As always, thank you very much for tuning into our live coverage! We hope you'll join us for the second leg!
94'
FT: Arsenal 3 - 1 Valencia. No team really dominated play, but Arsenal took the victory thanks to goalscorers Aubameyang and Lacazette. Valencia will be having to pull one of those miracle comebacks their are known for if they want to make it to the final, but with Arsenal's away form this season, it might be possible for them.
90'
Aubameyang makes it 3 - 1. Neto makes a brilliant save from a deflected Lacazette shot, it breaks out to Kolasinac who clips a delicate cross to the back stick, where Aubameyang makes room with some smart movement and volleys into the net.
87'
Xhaka shoots, but he misses his chance! Into the last few min of regular time now...
84'
Mkhitaryan cuts the ball back into the box, into the sort of area he probably expected there to be an Arsenal player, but there was no Arsenal player.
84'
Valencia are desperate for another goal and are clearly pushing for it as much as possible, but the wear and tear of the 80 min are starting to to show for the Spanish side.
82'
Monreal in, Koscielny out!
80'
10 min left of this semi final!
79'
Gabriel is down after bashing knees with Mkhitaryan. Hopefully it's just an impact injury...He limps off the field after his treatment, so he should probably be good to carry on.
77'
Another missed chance for Arsenal, who are on it these past few minutes! Corner for the Gunners.
75'
Substitution for Arsenal! Ozil out, Mkhitaryan in.
73'
Gameiro is in straight away, catching Koscielny - who still looks in some distress - on his heels and nipping in behind the defence, but he tries a little clip over Cech which is saved by the goalie's legs.
71'
Parejo is booked for foul!
71'
Double sub for Valencia, Gameiro in, Gonçalo Guedes out; and Soler comes off and Daniel Wass.
68'
Diakhaby takes the free-kick for Kolašinac's foul on Parejo.
66'
HOW DID HE LET THAT GET AWAY! Arsenal had it, but a huge miss from Lacazette prevents them from assuring a victory.
63'
WHAT A MISS! Lacazette had it! He needed a bit more confidence there...
61'
Piccini is not looking great, and should probably be taken out... But he has not asked for the substitution.
59'
Kolašinac takes a free-kick!
58'
Substitution! Here goes Guendouzi, replaced by Torreira.
56'
Koscielny looks injured... He is limping away around the pitch.
55'
Koscielny clears it! Valencia pushing for it currently.
52'
Maitland-Niles and Guendouzi exchange passes, with the latter cutting back to the edge of the box but it's cleared by Roncaglia.
48'
Missed chance by Soler! Players are waking up now.
48'
No subs for this second half, which has started off slowly.
45'
HT: Arsenal 2 - 1 Valencia. Although both teams are providing some interesting chances now, Valencia started off strong and has increasingly lost their pace. Defensively, teams aren't providing much, which is costing them greatly.
45'
1 min of added time to this first half!
40'
Valencia's average defending is costing them greatly, despite some strong players in attack...
36'
Corner for Arsenal... Can they make it 3-1?
35'
Parejo goes down! Free kick for Valencia!
33'
Aubameyang misses his chance! He was alone too! Should have scored that...
30'
Yellow card to goalscorer Diakhaby! First booking of the match.
30'
To be fair, Valencia are playing better right now, but as is often the case, the result doesn't always reflect the quality!
27'
Goalkeeper almost saves it, but the ball goes in and it counts as a goal! That's football for you...
27'
Just as Valencia was trying to reclaim a bit of control to this game, Xhaka played a lovely cross from outside the box on the left, Lacazette loses his marker and heads down powerfully.
24'
ANOTHER ONE!!! GOAL FROM ARSENAL!
22'
Arsenal missed their chance to get the upper hand there! Great run from the London team.
21'
Diakhaby tries to extend a telescopic leg to hook the ball from Ozil, but only succeeds in hooking the German's leg, and is penalised!
17'
Poor defending from the Valencia side allowed Aubameyang to make a run for it, and with his beautiful assist, Lacazette makes it 1 - 1!
17'
WHAT A GOAL!!! Aubameyang and Lacazette!!!!
15'
Valencia currently dominating both possession and skills. Another missed chance for Valencia!
13'
Arsenal nearly nip in for an equaliser straight away but Garay wasn't having any of it. The home side looking like they're in trouble!
11'
What a header from Diakhaby! Hugely important goal for Valencia, which will no doubt be trying to keep that motivation and advantage.
10'
GOAAAAAAAAAAAALLLLLLLLL!!!!
10'
Valencia are on it now! Another missed chance which turns into a corner.
8'
Valencia almost scored that one! Missed chance!
7'
Free kick to Valencia! Can it turn into a goal?
7'
Foul to Valencia's Diakhaby, and it looks painful...
4'
Arsenal have started off with an intense pace, while Valencia are clearly trying to keep up with the London team.
1'
40 seconds in, and Arsenal asks for a penalty!
Prev.
10 min left of this semi final!
Prev.
Players are in the tunnel, match is about to start!
Prev.
Valencia players look focused!
Prev.
Players and managers are arriving to the Emirates Stadium...
Prev.
Both teams will be looking to go onto the final in Baku, but it seems Emery Unai has a little more riding on this, as his team has under performed this season, and with the shadow of Arsene Wenger over his head, he will have to deliver.
Prev.
Valencia are firmly in the race for a top four finish in La Liga with some strong showings of late, but not without struggle. Four successive wins, including their 5-1 aggregate success over Villarreal was followed by narrow defeats to Atletico Madrid and Eibar.
Prev.
Both team's recent form is not spectacular, as Arsenal are barely clinging on to their top four hopes in the Premier League after losing three consecutive games, conceding nine goals in the process.
Prev.
Arsenal's only win against today's opposition came in during the Champions League quarter finals in 2001 where they beat them 2-1 at home, but they were eliminated on away goals after Valencia won the reverse leg 1-0.
Prev.
The first meeting between these two came back in 1980 UEFA European Cup Winners' Cup, where a 0-0 draw ended with Valencia winning 5-4 on penalties to break Arsenal hearts.
Prev.
These two sides have locked horns on five previous occasions, with the results not making great viewing? for Gunners supporters.
Prev.
Geoffrey Kondogbia is missing for Valencia with a thigh injury sustained in early April, with Denis Cheryshev still out with a stretched ligament.
Prev.
Mesut Ozil and Nacho Monreal both missed Sunday's Premier League clash with Leicester with foot and calf injuries respectively, but Ozil has made it back in time! Monreal is benched, but might be making an appearance later.
Prev.
Arsenal will be without Aaron Ramsey, who picked up an injury in the quarter final clash with Napoli and may have played his last game for the club.
Prev.
Arsenal starting XI: Cech; Sokratis, Koscielny; Mustafi; Maitland-Niles, Xhaka, Guendouzi, Kolasinac; Ozil; Lacazette, Aubameyang.
Prev.
Valencia starting XI: Neto; Gabriel Paulista; Garay; Diakhaby; Roncaglia; Piccini; Soler; Parejo; Gaya; Rodrigo; Guedes.
Prev.
Welcome to our live, minute-by-minute coverage of this Europa League clash between Arsenal and Valencia from the Emirates Stadium! Stay tuned for team news and line-ups!