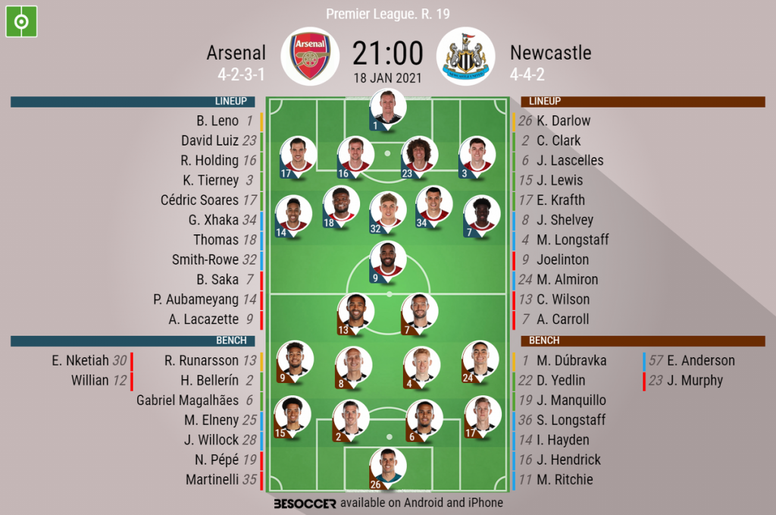 Arsenal V Newcastle - As it happened.
Arsenal

Newcastle United FC

90'
FT: It was a very lackluster game for much of the match tonight. You might be forgiven for thinking the game was more exciting than it was by looking at the scoreline. Arsenal played a solid game and outplayed Newcastle and deserved the win. Arteta can go home happy tonight.
90'
+3 minutes to play as Newcastle seek a consolation.
88'
Arsenal could have easily had 6 or 7 tonight had they been more clinical in front of goal.
87'
Just as he did in the first part, Luiz heads over from a corner.
85'
Willian fires it into the wall.
84'
Arsenal FK on the edge of the D as Laca is brought down.
81'
Martinelli on for Smith Rowe.
79'
Newcastle have had no answer for Arsenal tonight. It seemed like it was only a matter of time and Arsenal have taken advantage of their errors to full effect.
76'
Aubameyang finishes a sitter after Cedricdoes the hard work and puts it at his feet in the centre of the box. Great effort and run from Cedric.
74'
Arsenal attempting to play it out from the back but forgetting that they have to pass it to someone other than one of the defenders and Leno. Thrilling football.
70'
Saka smashes over the bar. He leant back a little too much as Newcastle's defence is being exposed by Arsenal.
68'
Caroll comes off for Murphy.
65'
Lacazette has his header blocked at point-blank after Saka puts in a pinpoint cross to the back post.
64'
Arsenal are doing their best to widen the gap even more. The play seems to be opening up a little more as Newcastle's fatigue starts to kick in and their formation loses some of its shape.
60'
Saka finishes a great play from Arsenal after Smith Rowe does the defender and picks out Saka in the centre of the box unmarked. Questionable defending and a good run from Smith Rowe was enough to inject some excitement into the game.
57'
Saka links up with Laca on the edge of the area but is just blocked by the defender at the last second to send his shot spiralling away from danger.
55'
Andy Caroll squeezes away from the defence and sends one just wide. Newcastle's best (and possibly only) chance this half.
52'
Match ahead looks bleak for Newcastle. Arsenal need to score another two or three to put this to bed and to give us something to watch...
49'
Aubameyang!! Finally a goal, Arsenal put a long ball down thhe centre, Auba picks it up and does well to finish with finesse under pressure at the near post.
48'
Shelvey puts in a very poor corner that is easily cleared.
46'
Darlow pulls out a top drawer save from Lacazette's low driven shot. Great reactions.
46'
Let's hope for something more entertaining in the second half.
45'
HT: Halftime as David Luiz heads a free header wide from a corner kick. Let's hope for better in the second part!
43'
Darlow has to make probably his first save of the game from a deflected Aubameyang shot. Arsenal win a corner.
42'
It's the kind of game that a single goal could win. Newcastle could pinch 3 points they don't necessarily deserve tonight.
41'
Struggling is the word. Arsenal remain in control but have yet to really pull off any attacks of note.
36'
For how much control Arsenal have had, Darlow hasn't really had much to do so far.
34'
Krafth reads Auba's run well and blocks his run inside the area. Good defending from Newcastle but how long can that last?
32'
Barring a couple of counters, Newcastle have not really threatened at all so far. Arsenal look like they will eventually go ahead if this Newcastle side starts to fatigue...
28'
Cedric picks out Laca in the centre of the box but the forward can only do so much under pressure and hits it wide.
26'
Smith Rowe does the hard work receiving the long ball and cutting inside the box but Auba strikes his short pass inside way over the bar.
25'
Arsenal appeal for a penalty from a handball but the check confirms it was outside the area and came off the defender's thigh.
23'
Just as I say that Almiron sprints down the pitch on a counter-attack and fires just over the bar under pressure.
23'
Newcastle really struggling to keep hold of the ball. Arsenal have had almost sole possession so far.
20'
Arsenal corner straight off the training ground as almost the entire squad crowd the six-yard box.
17'
Has to be said Arsenal are playing some great passing football and are pulling off some great moves. They just seem to be lacking tthe ability to convert those plays and passes into chances on goal.
14'
Saka whips a short cross across the goal and Auba hits the post from inside the six-yard box.
14'
Now it's Saka's turn to be fouled and win a FK.
13'
FK is whipped into the box but Arsenal gain possession and quickly seek to counter.
13'
Wilson body blocked by two red shirts. Wins a FK in a central position.
8'
Holding brings down Almiron but it was within the rules of the game even if it was a hard tackle.
6'
Saka flagged offside pretty high up the pitch. A testament to Newcastle's high line.
4'
Xhaka, Laca, and Tierney link up on the left wing but fail to find any gaps and switch the play to the opposite wing.
2'
Newcastle have a promising run down the right wing ended by a poor cross into Leno's hands.
Prev.
Thomas Partey back in the Prem for the first time since December!
Prev.
Not long to go as the player walk through the tunnel!
Prev.
8 changes from Newcastle since the last outing...
Prev.
Bellerin being rested by Arteta tonight.
Prev.
Steve Bruce was absolutely furious after the Sheffield United loss, the squad come win him over a bit tonight with a win at the Emirates.
Prev.
Notable for Arsenal tonight is Smith Rowe who has impressed everyone with his recent performances. He has provided some much-needed creativity for the London side after Ozil's exile.
Prev.
NEWCASTLE XI: Darlow, Krafth, Lascelles, Clark, Lewis, Shelvey, M Longstaff, Almiron, Joelinton, Carroll, Wilson
Prev.
ARSENAL XI: Leno, Soares, David Luiz, Holding, Tierney, Partey, Xhaka, Saka, Smith Rowe, Aubameyang, Lacazette