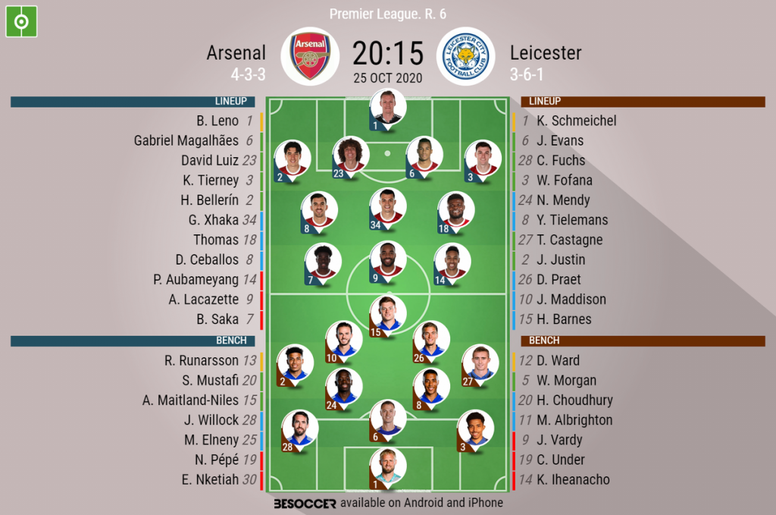 Arsenal V Leicester - As it happened.
Arsenal

Leicester City FC

Post.
FT: Vardy was the star of the day! 1 goal was all it took in a match that Arsenal looked to have under control. Thanks for joining us! Until next time.
90'
Yellow for Xhaka out of frustration more than anything else after grabbing the LEI player to stop the attack.
90'
+4: Arsenal have everyone in the box for what could be the final attack of the match.
90'
+3: Leicester are desperately trying to slow down the game and hold back a resurgent Arsenal!
90'
VARDY! He was close to making it 2-0 after a great through ball put him 1 on 1 with Leno who only stopped it with his head.
90'
There will be +5 minutes for Arsenal to salvage some points!
89'
LEI FK after Vardy is brought down on the corner of the box.
87'
Arsenal are fighting desperately to salvage something from this but LEI have also been energised by the Vardy goal. Either team could score again.
85'
Maddison comes off for Albrighton.
84'
Nketiah comes in with a strong shoulder on Tielemans and LEI win the FK.
82'
Arsenal attack had already been cleared but was offside from the beginning. The tempo is picking up now!
80'
The play came from a long Leicester ball that completely caught the Arsenal defence out! They had gone to sleep but they will be awake now....
79'
LEI GOAL: Vardy scores a diving header from an Under short cross across the box!
78'
Great Vardy ball for Under lands at his feet in the box but he can't control it and puts it out wide! Great chance for Leicester to go ahead wasted.
73'
Lacazette and Tielemans clash heads on the edge of the Arsenal box after a well defended Leicester attack is turned away.
72'
That being said... Arsenal's high-pressure style of play seems to have left them much more cautious in the second half after an energetic first part.
71'
Leicester have been way too slow on the attack today to really cause any worry to Arsenal. Partly due to Arsenal's dominance of the possession as they haven't been able to get out of their half!
67'
Bellerin fires a rocket home from the edge of the box that is only stopped by a brilliant Schmeichel save!
66'
Maddison yellow card after wrestling for the ball.
62'
Arsenal are dominating possession but failing to create clear enough chances to convert it into goals.
61'
Bellerin makes a late sliding tackle on Justin that should see him booked for a second yellow! The ref gives a FK and nothing more.
59'
ARS corner delivered to the front post is easily cleared by the Leicester defence.
58'
Saka finds Tierney with a curling pass down the left wing but Tierney's delivery is turned wide for a corner.
57'
Lacazette runs directly through Evans in the air and is shown yellow.
56'
Maddison puts it way over. Such a wasted opportunity for Leicester.
56'
LEI have lacked chances, they have to take advantage of this!
55'
LEI corner leads to some pushing outside the box and a LEI FK in a promising position.
54'
Maddison takes a shot but the ball is deflected and goes out for a corner.
52'
A quick free kick aiming to catch out LEI was quickly cleared away after a bad delivery.
51'
Saka goes down and Arsenal will have a FK in a dangerous spot in a central position.
49'
Tierney and Gabriel probe the left wing looking for any gaps, Leicester are playing a solid defensive game.
49'
Not the best way for Mustafi to play his first minutes but he'll be happy for the game time.
47'
David Luiz goes down with a problem in his left leg. Mustafi will come on to replace him.
46'
Arsenal probe both wings before passing it back to David Luiz for him to try and pick out Ceballos. Leicester intercept and clear the attack.
45'
HT: No goals but a very active Arsenal!
45'
Can ARS grab one just before whistle? Luiz once again seeks an opening...
43'
LEI pass the ball around the edge of the ARS box looking for any openings or mistakes.
41'
Saka finds the ball on the corner of the six-yeard box but just puts its wide! It was a tough angle for him.
40'
Great run bu Luiz but the two players had their wires crossed.
39'
Aubameyang shot is deflected by David Luiz who was making a run into the box.
38'
David Luiz once again finds Tierney with a great ball across the pitch. It's not the first time he's found Tierney in space on the left wing!
36'
Arsenal have had the better shake of things in this first half but Leicester haven't been without chances! Arteta can take many positives from this performance.
34'
Fofana comes off injured. Just on the sideline walking it off for now after a collision.
31'
Fuchs came in really late to that tackle! Aubameyang's theatrics made it look worse than what it was though. Definite yellow.
31'
Leicester corner after a great LEI attack lead by Barnes.
27'
Great attacking move by Tierney is ended by Lacazette bad header! That was a sitter, he has to score those in the future.
24'
Bellerin delivers the ball to the centre of the box, there wasn't an Arsenal player in sight!
23'
Schmeichel has had a great game for LEI so far! He will have to make more saves if Leicester can't take control soon.
21'
ARS attack is followed by another but Aubameyang couldn't get his head over the looping cross from out wide.
20'
Saka breaks free and shoots but Schmeichel stops that easily. It wasn't a good angle for the forward.
20'
Leicester are putting up a good performance tonight but Arsenal have been by far the more impressive side so far.
18'
Leicester cross the ball across an open ARS box but there was nobody there to collect! What a shame fot LEI.
16'
Leicester are struggling to get the ball out of their own half. ARS are putting on some fantastic pressure today.
15'
The corner is put too far back and goes straight out for a LEI goal kick
14'
Great ball from David Luiz facilitates an attack down the wing but the ball is cleared for another ARS corner.
13'
There was a scramble in the area for the ball and Gabriel had two close attempts!
12'
ARS corner, can they score again?
10'
Evans saves LEI as Bellerin couldn't control the ball on the edge of the 6-yard box.
8'
FK hits the wall and is killed by LEI.
7'
FK for Arsenal as Lacazette throws himself on the CB. Just outside the area.
6'
LEI look confident going forward but Arsenal have presented a solid wall at the back so far.
4'
LEI have been warned! They will have to defend better than that if they don't want to turn this into a full rout!
3'
GOAL ARSENAL disallowed for offside after Lacazette heads it home from the corner.
2'
Leicester threatened with a long shot after Leno had to clear the ball from outside his area and was off his line. It wasn't too far off!
1'
Leicester make a spirited start immediately attacking down the left wing.
Prev.
The players are taking to the pitch.
Prev.
Vardy starts on the bench for Leicester.
Prev.
It's Thomas' first start at the Emirates tonight!
Prev.
LEICESTER XI: Schmeichel, Fofana, Evans, Fuchs, Castagne, Tielemans, Mendy, Justin, Praet, Maddison, Barnes.
Prev.
ARSENAL XI: Leno, Bellerin, Luiz, Gabriel, Tierney, Ceballos, Xhaka, Thomas, Saka, Lacazette, Aubameyang.