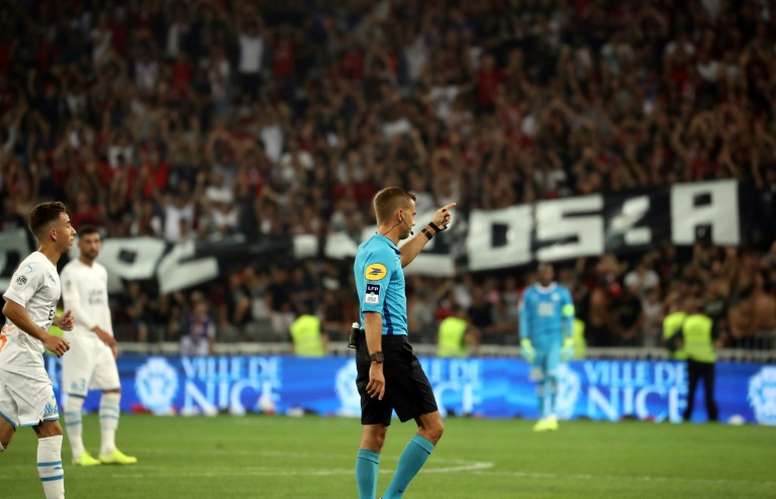 Ligue 1 match halted after Nice fans' homophobic chants
Players from both teams were escorted from the pitch in the 28th minute of the contest following repeated appeals to stop chants of "Marseille are a bunch of queers" and "Go fuck yourself, Ligue 1".
The second chant, sparked by the French league's attempt to stamp out homophobic abuse from the stands, continued as the players returned down the tunnel, where they waited for around 10 minutes for the still-goalless match to recommence.
"We can't stop every match each time some idiot does something, otherwise we will never play," bemoaned Nice midfielder Wylan Cyprien to Canal+ as he waited for the match to restart.
"There have always been insults exchanged between fans, it's part of the game.
"I am against all discrimination, be it against gays or racist abuse. But we can't stop matches as soon as there are insults that have nothing to do with the gay community."
Instructions were sent to referees before the start of the season to stop matches if homophobic songs could be heard, and the Ligue 2 game on August 16 between Nancy and Le Mans was halted for a few minutes -- a first in France.
That match only resumed after Nancy players pleaded with their fans to stop.
The French league has mooted the idea of introducing a list of banned words in football stadiums in an attempt to combat homophobia and bad language.
On Sunday, a referee threatened to stop Monaco's 2-2 home draw with Nimes after the away fans insulted the league organisers with offensive language.
The controversy comes just two days after Ineos announced their purchase of Nice, who were aiming to maintain their perfect start against fellow south coast side Marseille, yet to win under new coach Andre Villas-Boas.
Bob Ratcliffe, the brother of billionaire Jim Ratcliffe who owns petrochemical giant Ineos, looked on embarassed from the stands as his team were forced off the field due to their fans' behaviour.