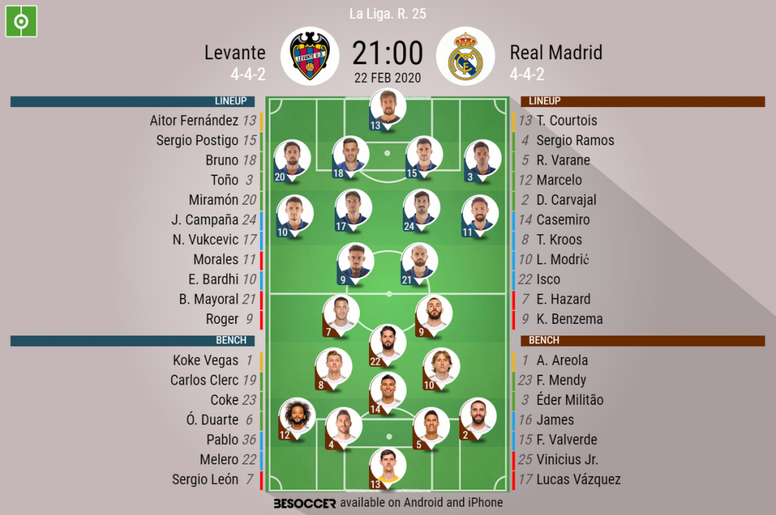 Levante v Real Madrid - as it happened
Levante

Real Madrid

95'
FT: Levante 1-0 RM!!! All over in Valencia! RM have dropped points once again thanks to a Morales stunner 11 minutes from the end. RM were the better team on the night, but they lacked the killer touch in the final third to put the ball in the net. Levante had the odd chance, but Morales' moment of magic was the difference. RM were unlucky to not get a draw, but they once again showed they need a goalscorer. That's all from us, thanks for your company and see you again soon!
94'
Time for one more, RM work it, Valverde's shot from just outside the box is cleared by a defender and that's the ball game!!!
94'
One last throw of the dice sees a ball into the box headed by Ramos, but the ball rolls through kindly to Fernandez.
93'
Levante get a free-kick in their own half as Carvajal is penalised.
91'
Fernandez stupidly punches again, it goes nowhere, the ball falls to Vinicius and Levante manage to scramble it clear.
91'
RM win a corner as four added minutes go up.
90'
RM throwing people forward, but they have a distinct lack of quality in the final third.
88'
Levante sub: Sergio Leon comes on for Mayoral who is exhausted.
86'
Levante go again and Varane has to concede a corner.
83'
Vinicius sets off from the far side into the box, his pass finds Benzema whose shot is blocked by Postigo! The ref gives a goal kick when it was a corner.
82'
Levante clear it through Vukcevic.
82'
Ball into the box and Postigo concedes the corner as Benzema was about to score!
80'
Levante sub: Morales is taken off after scoring his first goal since August while Pablo comes on.
80'
The game was very open, but that was certainly unexpected.
79'
Morales scores for Levante!!!!! Marcelo wants offside! A long pass from the halfway line is played to Morales inside the box and he boots it with his left foot into the goal. It's not offside.
76'
Postigo has picked up a knock, but he is ok to continue.
76'
There have been very few clear chances in the second half.
73'
RM sub: Isco is replaced by Vazquez.
73'
Levante threaten again, but it comes to nothing.
71'
Casemiro is booked for a foul on Morales.
69'
Levante attack again down this near side, Courtois anticipates the cross and claims the ball.
67'
Levante sub: Melero on for Roger.
67'
RM sub: Hazard is replaced by Vinicius.
66'
This game is very open now!
64'
Casemiro brings down Bardhi. The RM player is not happy with the call.
62'
Benzema is caught offside again. Just, but the correct call.
60'
Benzema goes up the other end and fires wide! The flag's up.
60'
Roger shoots at goal when he had teammates to pass to.
59'
RM attacking, but they can't find a way through.
56'
An RM free-kick is headed away, but there's an offside in the build up.
54'
RM want another penalty for handball!! The ball hits Tono on his left arm after Casemiro's header from close range, but it's by his side. This is not a pen. Ramos is then penalised for a handball a second later and Levante get the free-kick.
53'
How did Hazard not score there?? He's one on one with the keeper after a Marcelo pass and he takes a few touches before his poor effort is saved.
52'
Levante get a corner after a mix up at the back between Ramos and Courtois.
49'
The ref runs to the sideline to talk to the stadium manager about something.
48'
Chance for Bardhi who fires wide!
47'
RM claim for a handball at the other end, but the ref says no. It hits Campaña's right arm which is down by his side. Had it hit his left arm, it was a penalty.
46'
Postigo is penalised for a foul.
45'
HT: Levante 0-0 RM! No added time! Half-time in Valencia. RM are playing better, but they are lacking that killer touch in the final third. The clearest chance was when the Levante GK saved from Benzema in a one on one situation early on. A Casemiro header wide and a good save to deny Modric are the only other opportunities of the first period. Will there be a breakthrough in the second half? Stay with us to find out!
45'
RM try and find an opening, Levante keep defending well and the half ends with a soft Hazard strike stopped by Fernandez.
43'
Morales looks to run into the RM box with the ball, but he is stopped in his tracks.
43'
Levante are holding firm so far.
41'
Benzema is flagged offside. Didn't look it. Was very tight.
40'
Fantastic save by Fernandez!!! Modric's shot from 25 yards is knocked away by the keeper.
39'
RM again!! It's a brilliant move, but it ends disappointingly as the last pass can't find a teammate.
38'
Hazard sends a ball to the back stick and Tono chests back to his goalie. He certainly kept a cool head there!
36'
What a pass by Ramos to Isco who controls on the edge of the box and defender gets back to help out. Was offside anyway.
35'
Roger sees yellow for repeated fouling. He barges into Casemiro this time.
34'
Marcelo looks for Isco in the D and even though the ball reaches him, Isco can't control it.
32'
Modric shoots over from just outside the D after Marcelo passes him the ball. The Croatian wants the corner, but the ref thinks otherwise. It was a corner.
31'
Levante are dealing with everything being thrown at them. RM are struggling to create many very clear goalscoring opportunities.
29'
Hazard makes a dangerous run on the counter and Vukcevic makes a quality challenge to win the ball off him. No foul.
26'
Huge shout for handball as Marcelo's cross in strikes Miramon. The ref waves away Real's appeals. Replays show it hit his shoulder.
24'
Marcelo fires over for RM after a long possession!
23'
Levante target the far side again and then Varane knocks away Tono's cross into the box.
20'
RM are by far superior, but Levante do look dangerous at times as well.
18'
Good defence by Ramos to head away Campaña's shot towards goal after an attack down the far side. He even prevented the corner.
16'
What an error by Fernandez!! The corner comes in, it's headed up in the air and the keeper simply punches it back in the air instead of catching it and that allows Casemiro to head towards an open goal. Fortunately for Levante, it's just wide.
12'
Levante counter through Morales, who runs over 50 yards, but it's all for nothing as his pass to Mayoral in the middle of the box is poor.
12'
Real are piling the pressure on.
11'
What a stop by Fernandez! Modric passes the ball to Isco who spots Benzema all on his own and the goalkeeper makes a save in a one on one situation! Then seconds later, Fernandez denies Modric.
10'
Ramos gets the first yellow of the game after Ramos kicks Miramon's right foot.
7'
Marcelo is caught by Vukcevic. The Brazilian screams in pain as he kicks the ball and then the Levante man. It's painful that.
6'
RM work it down Levante's left and the move ends with Benzema's tame effort being easily saved by Fernandez.
5'
Ramos is fouled by Roger after the Levante man elbows him in the back.
4'
Real Madrid have started the better, but little has happened up to now.
2'
Good play by Fernandez after a pass is sent looking for Isco. The GK runs out of his goal to knock away.
1'
Levante get us going from left to right! Both teams in their usual kits.
Prev.
Morales and Ramos shake hands in the middle and we have a minute's silence before kick off.
Prev.
The teams make their way out here!
Prev.
The home side have picked up just three points from their last six matches.
Prev.
Levante lost 2-1 at Villarreal in a local derby in their last match. Bruno and Tono replace Vezo and Clerc in defence from that fixture while Morales comes in for the injured Ruben Rochina.
Prev.
RM drew 2-2 v Celta last weekend and they make two changes from that side. Modric and Isco come in for Valverde and Bale. The Welshman is not in the 18 after suffering from gastroenteritis earlier in the week.
Prev.
It's 13 degrees and dry in Valencia this evening.
Prev.
A reminder that RM host Man C in the Champions League on Wednesday.
Prev.
13th v 2nd. 29pts v 53pts. The home side are seven points above the drop zone while RM will go back top one point ahead of Barca with three points here.
Prev.
Alejandro Hernandez Hernandez is the referee, Guillermo Cuadra Fernandez is the VAR.
Prev.
RM XI: Courtois (GK); Marcelo, Ramos, Varane, Carvajal; Kroos, Casemiro, Modric; Hazard, Isco and Benzema.
Prev.
Levante XI: Fernandez (GK); Tono, Postigo, Bruno, Miramon; Morales, Campana, Vukcevic, Bardhi; Mayoral and Roger.
Prev.
Good evening and welcome to live coverage of the La Liga clash between Levante and Real Madrid!